Rebirth of the Aloha Shirt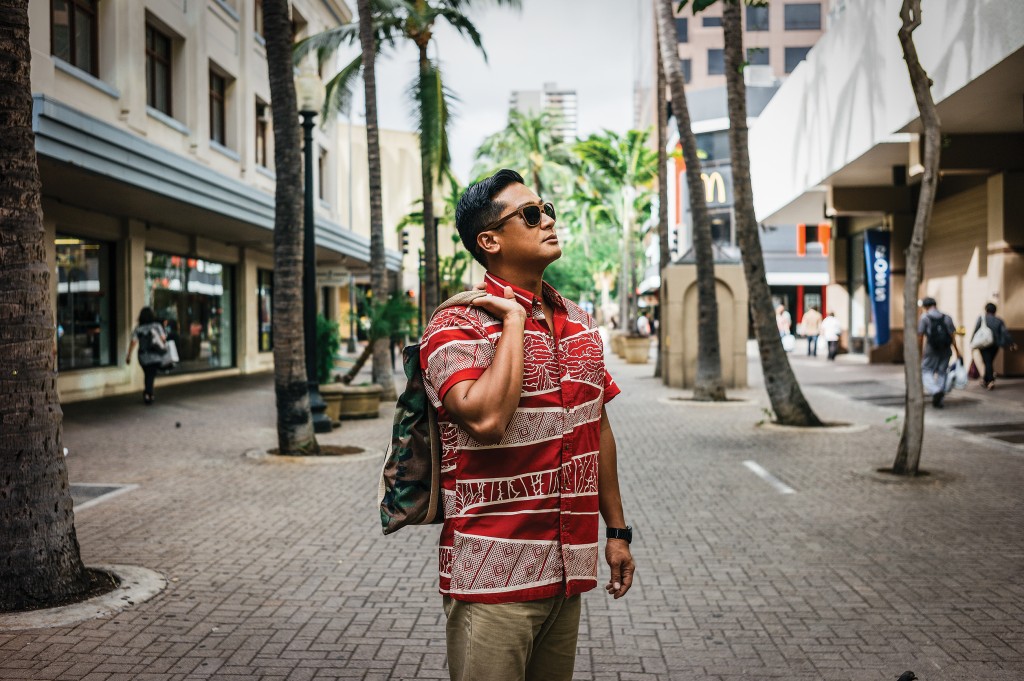 Designers across Hawaii and around the world are reinventing the aloha shirt with both new and retro styles, for business and pau hana
AFTER A PERIOD when many fashion-conscious young men in Hawaii looked askance at the aloha shirt, it is enjoying a fashion renaissance, here and around the world.
The aloha shirt continues to mean many things to many people. While visitors see it as relaxed vacation attire and people on the mainland, in Japan and elsewhere make it a mainstay of summers and casual workdays, on Bishop Street and in offices throughout the islands, the aloha shirt means business year-round.
Dale Hope, an authority on the iconic garment and author of "The Aloha Shirt: Spirit of the Islands," calls it the "unifying symbol of the aloha spirit." Wearing an aloha shirt shares pride in Hawaii and speaks to the authenticity of our unique Island culture.
Amos Kotomori, who designs aloha shirts for Neiman Marcus and is currently a design consultant for Jim Thompson Thai Silk House in Bangkok, says Island men appreciate wearing aloha shirts because "you can wear and say aloha without words."
"When you wear an aloha shirt there's always kind of a story behind it, not just the brand, but a lineage of the shirt itself."

— Jarrett Walters, COO, Hawaiian Building Maintenance
Aloha shirt prints communicate a great deal about who we are and where we have come from. Every print from Hawaii Island designer Sig Zane, for example, celebrates a special aspect of Hawaiian culture. A reverse print Reyn Spooner aloha shirt says unabashedly: "kamaaina." An Avi Kiriaty fish print from Kahala says "waterman." A lifestyle print from Tori Richard says, "Pau hana time."
Going Global
In recent years, aloha shirts have inspired designers from around the world. Prada and Saint Laurent recently featured them on runways in Milan and Paris.
Hope has worked with international brands such as Patagonia, Quiksilver and Lucky Brand to incorporate aloha themes into their clothing. Currently, he is re-creating a line of vintage 1940s aloha prints on knits for Quiksilver that will be sold exclusively in Hawaii stores.
Last year, Iolani Sportswear was called on by Japan's renowned clothing company, Uniqlo, to collaborate on men's and women's clothing featuring Iolani's updated vintage prints.
Brooks Brothers, Urban Outfitters and Opening Ceremony have worked with Reyn Spooner to infuse everything from blazers to dresses with a little aloha.
Updated Look
In recent years, the aloha shirt has seen a transition in silhouette. To appeal to a younger customer, the bodies of the shirts have been slimmed down, often tapered; prints are smaller and feature whimsical landscapes and surf breaks. "If you want to be in the aloha shirt world today, you've got to be doing that," Hope says.
One of the things that has kept the aloha shirt relevant and popular with younger men is a second generation has come along to either take over or help with their fathers' businesses. Josh Feldman has the reins of Tori Richard, begun by his father, Mort Feldman. Lloyd Kawakami took over Iolani Sportswear from his father, Keiji Kawakami. Kuhao Zane is working side by side with his dad, Sig Zane. Jams World is now run by Pua Rochlen, son of visionary founder Dave Rochlen. Even Dale Hope has deep roots in the Hawaii fashion industry, where his father, Howard Hope, worked for many years.
At Reyn Spooner, president Kirk Hubbard says, "As time has gone on, the aloha shirt has become a lot more sophisticated and there are trendy elements that have come and gone. In the '70s it was big, big collars, but those disappeared in the '80s."
In 2010, Reyn's introduced its "Modern Collection, featuring a trimmer fit, curved hems, more long sleeves, fashion elements such as unique contrast stitching in the collar, little embroidered elements in the shirt. A little more fashion forward, not traditional but current in the marketplace and internationally," Hubbard explains.
Prints in the Modern Collection also "tell a different story of our Island lifestyles," Hubbard says. "The prints are not as colorful, but indigo blues from Japan, more subtle prints. We're back to the '30s with Japanese influences. (We took) archival prints from the '60s and tweaked to make them more current."
"A lot of Reyn's customers have large collections of aloha shirts and have worn them their entire lifetimes, but they want new fresh ideas also, so they're attracted to the Modern Collection," Hubbard says.
At Tori Richard, CEO Josh Feldman reports they have made adjustments to all three variables involved in the aloha shirt: print, fabrication and style. "Where things have evolved and are growing fast is with cotton elastane, a standard now, with a little bit of stretch in the garment. Silhouettes are more contemporary – slightly higher armholes, more shape through the waist. "
Long-sleeve aloha shirts, popularized by Honolulu Mayor Frank Fasi in the '70s, have cycled back into popularity in 2015. "We have to adjust the prints to be more small and subtle to work with a long-sleeve shirt," Feldman says. "Bold graphics look dated quickly because prints are so strong. Part of our philosophy is to make an aloha shirt that can be worn anywhere, not just Hawaii."
Seventy percent of Tori Richard's business is now with its more contemporary styles. "The colorations are more subtle and sophisticated now," Feldman says. The modern print and fabrication "combines new attitude of the product. You can't just take the traditional pareu and its detailing and have it reflect modern times."
Tori Richard "has been here for 60 years, so we want to make an entry point for the next generation rather than follow our customers into the grave," Feldman adds. "We want to always be relevant" and offer an aloha shirt that mirrors the times.
Iolani Sportswear is also turning to a slimmer cut, says president Lloyd Kawakami. Another trend, he says, is "a curved hem worn out. It's a younger look. And vintage prints are hot."
Especially on Bishop Street, Kawakami reports seeing an influx of striped or solid Ivy League shirts. "I do see more people wearing non-aloha shirts, the long-sleeve shirts. They're going back to a dressier look, with the sleeves rolled up," he says, adding they are sometimes worn with a tie or vest.
New Designers
Honolulu designer Roberta Oaks was completely focused on wholesale women's wear until she moved into a retail boutique in Chinatown in 2009. When designing, Oaks says, "It's important to let your senses be alive. I was standing in my studio one day and looked out and there were all these businessmen walking to lunch in their aloha shirts. This is so iconic. This is Hawaii. Why didn't I think about that?" she muses.
An aloha shirt "is, by far, my attire of choice. It's comfortable, allows me to express my personal style and celebrates the uniqueness of our Island home."

— Daniel Chun, Regional manager of sales, Alaska Airlines
Oaks was planning to attend Japan's huge Rooms Trade Show in Tokyo and decided to put together an aloha shirt collection to show. "There was not too much thought behind it," she explains. "I wanted to do something bold and colorful. I did checkered shirts with a pop of contrast under the collar and the most obnoxious aloha prints I could find, with lots of hot pink, you know, super '80s." She also tweaked the cut, creating a silhouette that is "more modern, cut to fit sharp on the shoulders, straight through the body; not a slim European cut, a sharp, clean cut with super-clean lines."
In addition, Oaks says, "The rolled-up sleeve is iconic with our shirts. We were the first to do that. You can wear them as a businessman's shirt with nice slacks or dark denim, or thrown on with board shorts. Very versatile." Surprisingly, her best sellers are "anything that has pink in it. I had no idea guys like pink so much. The more bold, the more popular. Statement shirts sell." Oaks says her customers are primarily men in their 30s.
Rick Ralston, the founder of Crazy Shirts back in the 1960s, went shopping for an aloha shirt shortly after retiring from the T-shirt business. "I searched all around and I really had a hard time finding anything I liked, so I thought, 'I guess I'll do them myself," " he says.
By way of research, Ralston "walked around downtown and looked at people on Bishop Street at noon time and I thought, 'There's an opportunity for me to use my skills and product knowledge to make some (aloha shirts) and get the guys from downtown looking sharp.' " Rix Island Wear was born.
Ralston appreciated silk shirts but found them pricey at more than $100, and "I wanted a good value for the customer. There's nothing like cotton in our humidity and I can sell a nice shirt for half the price of silk," he says. He wanted the prints to have a "local, masculine look," so he traveled to Tahiti, Tonga, Fiji and Samoa to study the art and tattoos of Polynesia, which remain the inspiration for Rix prints.
Amos Kotomori has designed two different collections for Neiman Marcus. The first is the Kotomori Collection in 70-percent silk and 30-percent cotton, which he describes as a "full casual cut." His tailors employ the French way of finishing with details such as 14 stitches per inch, mother-of-pearl buttons and engineered prints. His other collection is The Bodhi by Kotomori in linen. It's a longer, slimmer, contemporary cut. There is an indigo collection employing a complex four-part textile process with indigo and turmeric dyes, involving selective removal of the dyes.
Kotomori recently found some Japanese vintage fabrics from the '40s and '50s that harken back to the early days of aloha shirts. Images are hand silk-screened on Fuji rayon, he says, "Exactly what the original aloha shirts were made from for our fashionable surfers."
In or Out?
The look of an aloha shirt can be radically altered when tucked in or left out. For Lloyd Kandell, advertising executive and music producer for Don Tiki, it has to be out. "I wear mine out, never tuck it in, like Montgomery Clift in 'From Here to Eternity,' " he says.
Kandell wears aloha shirts every day and night. During the day, it's a vintage aloha shirt from his vast collection, which he began 38 years ago at a Kauai swap meet. That's where he first fell in love with rayon vintage aloha shirts. "Then I kept collecting $10, $15 shirts at Goodwill, Savers and garage sales," he said. "I have a few silkies, too. They're soft on the skin, whether it's an old, worn soft cotton or rayon or silk. And it makes me feel uniquely from Hawaii. I love men getting out of the preppie button-down prison and wearing fun, colorful stuff." At night, when Kandell transforms into Fluid Floyd for his performances with Don Tiki, "I move into a '70s vibrant aloha shirt," which is often fashioned from the highly valued bark cloth.
On the other hand, Kirk Hubbard, president of Reyn Spooner, says, "A tucked-in aloha shirt, paired with a nice belt and dress shoes, gives men a nice business persona that's unique to the Islands." The aloha shirt is so versatile, Hubbard adds, that on the weekend that same business person can "take it down a few notches and wear an aloha shirt with shorts or trunks and slippers. It's fun that the shirt they're wearing for work here is, in other markets, worn as casual wear. It's more accepted today than it was in the past in many parts of the world. The aloha shirt is perfect weekend wear."
Who's Buying?
It's hard to get a handle on who is buying more aloha shirts: men or women? Everyone agrees on one fact: There are more men shopping for their own shirts now than there were just a few years ago.
Feldman says Tori Richard has been tracking the gender of those purchasing shirts in their stores for one year. Thus far the statistics show that in the stores, 30 percent of men's shirts are purchased by women and, online, 40 percent by women. However, they can only draw the statistics from whose credit card is being used to pay, so it's not necessarily fully accurate, as a woman could select a shirt and a man pay for it.
Hubbard says more of Reyn's young men customers are purchasing their own shirts than ever before. "They appreciate the nostalgia and authenticity of the older styles or vintage shirts. That's true here in Hawaii and even more so internationally."
Oaks says, "Most of our sales on the menswear are to men. We do have women who buy gifts for men but mostly the guys are coming in and shopping for themselves."
Local Tradition
Ukulele virtuoso Jake Shimabukuro wears aloha shirts most of the time, especially when traveling to Japan and the mainland. "When you see an aloha shirt you have a sense of, 'Yeah, I'm from Hawaii and this is what we wear.' It's the perfect advertisement for Hawaii," he says.
Shimabukuro sees his aloha shirts as "a big part of my heritage, and I'm proud of making that part of who I am." As a Japanese American, he relates to the vintage kimono prints that were used in the original aloha shirts during the mid-1930s. He also enjoys aloha shirts as conversation starters, as he has found "they make people feel good. It's very positive. If you could see aloha – if it had an aura – it would look like an aloha shirt."
Shimabukuro's favorite aloha shirts come from Roberta Oaks. "For me, it's really hard to find shirts," he says. "I have a small frame, only 5-feet-6, and to find a shirt that really fits me well is very difficult and, Roberta, well, I like her cuts. It's more of a modern, updated aloha shirt." He also likes her prints, which he says are "very traditional and remind me of Old Hawaii. One of my all-time favorite shirts is one of hers. She carries that sense of aloha and positivity and it shows in her work." The talented young musician hastens to add that he shops at Roberta Oaks himself and always pays rack rates because "I truly believe in her work."
Father and son Jim and Jarrett Walters, respectively CEO and COO of Hawaiian Building Maintenance, both wear aloha shirts to work. Jim wears them every day and his signature look is the Reyn's long-sleeve aloha shirt. "When I came to Hawaii in '94," he explains, "I didn't know how to dress and couldn't find anything I felt comfortable with. When I discovered Reyn's long-sleeve reverse prints, I just felt like I was part of the community. I liked the old prints because it had Hawaii on it, with some history – the ships, the hula girls, a sense of Hawaii."
Jarrett says he treasures his aloha shirts and "I take better care of my aloha shirts than anything else I have. I get them as a gift from my Dad or a special event or something. There's usually a little sentimentality around them. When you wear an aloha shirt there's always kind of a story behind it, not just the brand, but a lineage of the shirt itself."
Dave Heenan, a longtime Island executive and now a visiting professor at Georgetown University, wears aloha shirts every day, at home and when traveling. He appreciates the comfort and informality. Over the years, he says, the styles "have taken all sorts of twists and turns, and mainly for the better. It's really the comfort wear of all time for those who pass through these beautiful Islands."
Heenan's mainstays are Reyn's and Tori Richard. When wearing an aloha shirt, he said, "You exude Hawaii. You're sort of a walking advertisement, especially when you wear them on a cruise or vacation. They allow you to represent these beautiful Islands." He wears both the traditional styles and the more contemporary collections, especially Reyn's Modern Collection.
In the visitor industry, the aloha shirt has also become a sort of uniform for the executive. Daniel Chun, regional manager of sales and community marketing for Alaska Airlines, wears aloha shirts every day. "It is, by far, my attire of choice. It's comfortable, allows me to express my personal style and celebrates the uniqueness of our Island home," he explains. His favorites are the modern collections of Tori Richard and Reyn Spooner as well as Roberta Oaks. "Her designs reflect local urban culture, and you can be sure that the shirts are all unique and aren't owned by everyone else in town," he adds.
There is no question the aloha shirt is here to stay, for business as well as leisure. Prints and styles may change to meet the needs of the modern man, but the aloha will always remain in the fibers of the special garments.