Rent or Buy?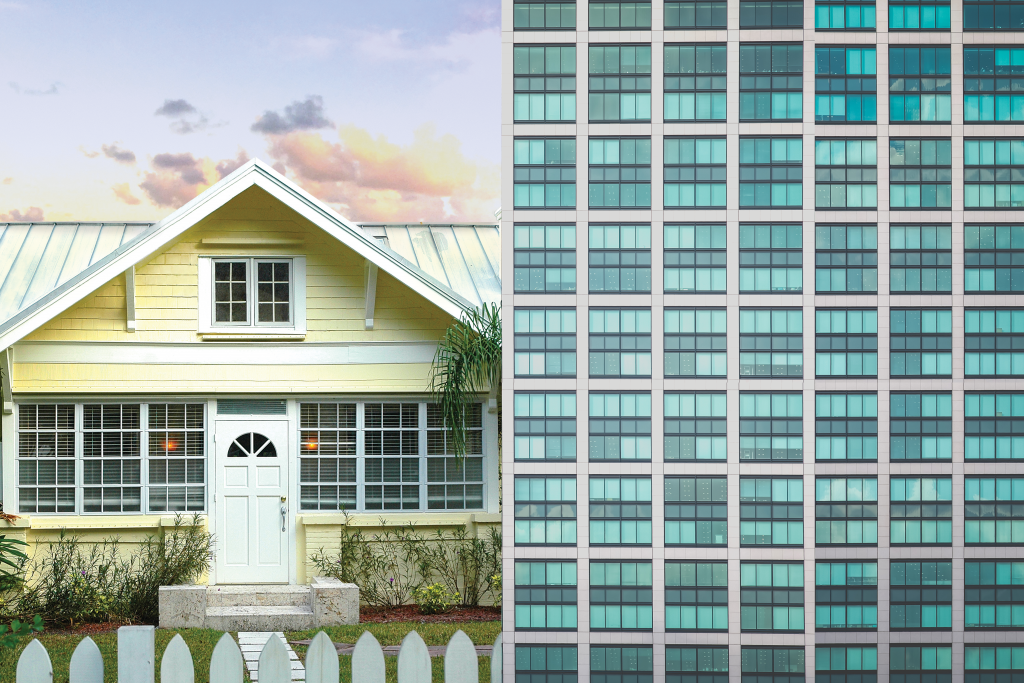 Six factors to consider when choosing whether to buy or rent a home in Hawaii
Trade her peaceful rental on 2 acres in rural Maui for a condo of her very own? No thanks.
Over the 30 years she has lived in the Islands, Lori has owned homes and could afford to do so again, but she says the decision to remain a renter was easy. For $1,400 a month she gets a 1,100-square-foot cottage on 2 acres, with her landlord and another renter living nearby. The owner of a travel business, and in her 60s, Lori says the arrangement she's enjoyed for 10 years suits her just fine. She likes not being responsible for repairs, her neighbors look after her pets when she travels and she loves living in the country with a big garden.
"I couldn't afford to buy something like this," says Lori, who asked that her last name not be used. "I just don't want to have all that capital tied up without really seeing that the return on my investment is worth all the stress and the cash it would cost me."
Whether you're local or a transplant, it's a question nearly everyone living in Hawaii contemplates: rent or buy? With some of the highest housing prices in the country, taking the plunge as a first-time homebuyer can be daunting. But rents are high, too, and continue to climb. And setting aside financial considerations, what about schools, traffic, quality of life and other factors? Realtor Bob Lightbourn, GM for Coldwell Banker Island Properties on Maui, acknowledges it's often not an easy decision.
"I'm in this business," says Lightbourn. "I think it's almost always smarter to buy than to rent, if you can – but I don't know that it's always the best move for every person all the time."
1. BIGGER INVESTMENT THAN ELSEWHERE
The high cost of housing in Hawaii makes it a bigger investment – and, consequently, a riskier one – than a market like Oklahoma City, says Eric Mais, a professor of finance at UH Manoa's Shidler College of Business. "It's a harder decision." On the Mainland, if markets go down, "you could sell it and maybe lose only a little bit of money, but not here."
Over time, buying is cheaper than renting in all of the country's 100 largest cities, according to online real estate listing site Trulia's annual rent vs. buy report. Nationwide, based on median home prices in each city, people who can afford to put 20 percent down and keep their home for seven years will save 37.7 percent more money than those who rent for the same period, the survey found.
But guess which city saw the slimmest financial advantage in homeownership? Honolulu ranked dead last in the website's October 2016 survey. With a median home value of $629,606, and median rent of $2,500 a month, homeowners would save just 17.4 percent over renters in a seven-year period. That's a slimmer margin than even high-priced San Jose, which saw an 18.6 percent advantage of buying over renting. At the other end of the spectrum, buyers in Miami found it 53.2 percent cheaper to buy instead of rent over seven years.
A change in housing prices or interest rates could alter the equation, but even pricy Honolulu has a long way to go before renting becomes the cheaper option, according to the Trulia study. The report found that housing prices would have to increase by 23 percent to tip the scales, while mortgage rates would have to hit 5.3 percent.
2. WHAT'S YOUR LONG-TERM PLAN?
Whether or not you're planning on staying put and can hold onto your house for awhile is one of the key factors to consider when deciding whether to rent or buy, local experts say. "It's not a get-rich-quick scheme," says Lightbourn. How sure are you that you'll still be here in two years? If the prices for real estate are high, and you think you might have itchy feet, maybe it's better to keep renting for now.
On the other hand, while the market may fluctuate from year to year, he reminds potential buyers that real estate in Hawaii has only appreciated over the long term. "If you can put the money together and you're going to be there for awhile, then I would say buy." There's also "a big, fat tax advantage" to mortgage payments over rent, he adds, because you can deduct mortgage interest from your income to reduce income taxes.
"The truth is, everyone's situation is very different," says certified financial planner Chieh Fu Lu, assistant VP and team leader for the wealth advisory division at First Hawaiian Bank. He says the question of whether to rent or buy is one of the most common issues clients raise, and there's no rule of thumb. The person's income, other assets, commitments, debts and life plans are all factors, Fu Lu says. "We look at it from a broad perspective and incorporate real estate as a piece of their overall financial plan."
3. STEADY INCOME OR CYCLICAL?
Even if you plan to stay in Hawaii for the long haul, will your current income stick around as well? Someone getting a steady salary might feel more comfortable taking on a mortgage payment than a freelancer halfway through an 18-month contract. "When you take out a mortgage, you agree to keep paying it, no matter what happens to your income or to the value of the house," Mais says.
Think about how the timing of a real estate purchase might impact other financial decisions or obligations that are on the horizon, suggests Fu Lu. If you need to make a big contribution to your IRA for tax purposes this year, you may not have the cash for a down payment now. "If that's something needed in your overall financial plan, it's something we can't overlook, because once you miss that deadline, you can't go back and change your mind," he says.
That's one reason he recommends discussing the decision with a financial planner. "There are so many moving parts to consider," he says. "The critical thing is to invest the time needed to look at your situation, take a financial snapshot of where you stand and compare that with where you want to be."
You may be stuck with a mortgage payment, but that can also be a good thing. Lightbourn notes that, while rents keep going up, once you commit to a fixed 15- or 30-year mortgage, payments will stay the same. "Even if your mortgage payment looks a little high now, five years from now, when rents have gone up, your mortgage payment will be the same," says Lightbourn. Plus, "As your earning power goes up, the percentage of income you spend on housing is going to go down," he says. And a constant mortgage payment can make it easier to budget long-term.
4. MONEY IS NOT THE ONLY CONSIDERATION
Location might make a difference in deciding whether to rent or buy, especially if a desired location isn't affordable. "Young families cannot afford something in Honolulu proper, just because it is so expensive," says Sue Ann Lee, a realtor with Properties of the Pacific, and president of the Honolulu Board of Realtors. "They have to consider going out further, and that's a major decision, because they may not be located close to their families for support."
Faced with the choice, some young families rent a house closer to their support system, or live with their parents while they build their savings.
Lifestyle is also an important consideration, Lee says. "I've had young couples that make really good incomes, two engineers," Lee says. "They're used to a certain style of living, eating out all the time, taking vacations. So, when they're thinking about buying, they put it off for a long time, because it's hard to give up the luxuries in life and start saving."
5. TIMING IS CRUCIAL
Even if you can afford to buy, and plan to stay put, think about timing, Lightbourn says, and the fact that the real estate market in Hawaii has historically moved in cycles. If you're at the top of the market, consider renting for a few more years until prices come around again. "I think we're about two years from the peak right now," Lightbourn says. He notes that cycles usually run about seven years. While prices have been trending upward for the past eight years, interest rates are still low, and housing prices haven't yet really started to skyrocket, he notes. "Some people think it may last until 2020, but I don't," he says. "It's kind of crystal-ball stuff."
Economist Paul Brewbaker of consulting firm TZ Economics notes that, while the rise and fall of housing prices is cyclical, income has grown steadily. That means there are moments where housing is more affordable, and moments when it is more out of reach. But, he notes, the current growth cycle has not been accompanied by the same runaway housing prices as bubbles in the '70s, '80s, '90s and early '00s. "I'm looking at the data and, brah, it's not as bad," Brewbaker says. "The train is not leaving the station as rapidly this time around."
6. HOW OLD ARE YOU?

Also filed under the "timing" category: age. "If you haven't bought already and you're 70, is that a good time to buy? It all depends on your situation," Fu Lu says.
"It really does make a difference," agrees Lee. "If you have not prepared for retirement, I don't think it would be a good idea to purchase a home, because of the limited funds you might have."
At the other end of the spectrum, "When you're younger, you're basically building equity," Fu Lu says. "But that's when some people will be less committed to certain jobs or certain places."
That was a consideration for William Lee, who was 29 when he bought an affordable studio apartment in Rycroft Terrace near Ala Moana Center. "I was a little scared to purchase," he admits. "The main fear I had was having to commit to paying a certain amount of money each month."
William Lee, Sue Ann Lee's nephew, had been living with his aunt rent free while working a white-collar job in revenue management at a hotel. "It just made sense. I could start paying off my loans and saving some money," he says. After two years, he was ready to move out on his own, but the apartments he found for rent were expensive and "just didn't feel like home." When he qualified for the affordable housing unit, he found the mortgage payment was actually less than he had been spending on rent.
"It's been almost three years, and I couldn't be more happy with my decision," he says. "I'm sitting on my investment. I appreciate that."
Back on Maui, while Lori has been happy in her rented country cottage, life has brought a change. After years of being single, she recently got engaged; her fiance is retired and owns a condo in Kihei. So will she be giving up her rental for the security of a home they own? Maybe not, she says. So far, the couple has divided their time between the two properties. "We're strongly thinking about just continuing to do what we're doing now," she says.
And, she notes, having a second home in the country is definitely a luxury she could never afford to own.
---
THE HARDEST PART OF BUYING
Hawaii's sky-high real estate prices mean that, for many potential buyers, the biggest obstacle to ownership is coming up with the money for a down payment. After all, 20 percent down looks a lot different in Honolulu, where the median home value is almost $630,000, than in Houston, where it's closer to $176,000.
The down payment is a challenge even for buyers with high incomes, notes Chieh Fu Lu, certified financial planner at First Hawaiian Bank. "What I see from a financial planning standpoint is, folks I'm working with have a lot of cash flow, income is strong but they're really lacking on the down payment." A family buying an $800,000 home in Kaimuki may be able to afford the $4,000 mortgage payment, but "to come up with the $200,000 down payment is where everybody seems to struggle," Fu Lu says.
Younger buyers are also often constrained by student debt or underemployment, adds Sue Ann Lee, president of the Honolulu Board of Realtors. "It's really tough for young people nowadays."
But making a larger down payment offers significant advantages, she notes, including saving money on private mortgage insurance costs. For example, she calculated the total monthly housing expense on a $390,000 condo at $2,791 with a 5 percent down payment, but $2,258 with 20 percent down.
How do buyers make it work? "The trend we're seeing is really parents trying to help their kids," Fu Lu says. Pulling together a down payment has become a family affair, he says, with parents and even grandparents contributing funds to reach the goal.
"On top of that, if that's not the case, the trend we see is that the parents will allow the kids to build an addition to their own home to have a place to stay," he says.
Rent-or-Buy Calculators
Many organizations have created free online rent-or-buy calculators. Here are links to three:
Realtor.com: tinyurl.com/HBcalc1
New York Times: tinyurl.com/HBcalcNYT
Bankrate.com: tinyurl.com/HBcalc3
---
POWER OF MORTGAGE

It's not just location, location, location that can make real estate a good investment, it's also the leverage of a powerful financial instrument: the mortgage.
"It's the only asset class where you can take a small amount of capital and leverage it to a large loan," says economist Paul Brewbaker of consulting firm TZ Economics. "You can't call your stockbroker and say, 'Hey dude, can I put 10 percent down and buy these Tesla shares?' "
"You can take out a tremendous amount of debt," agrees Eric Mais, a professor of finance at UH Manoa's Shidler College of Business. If you put $200,000 down on a million-dollar home, and the house eventually doubles in value, "All you owe the bank is that first $800,000," he says.
"That's how people become millionaires in Hawaii, because of that financial leverage," Mais says.
But, while a mortgage can be a powerful tool, Brewbaker says, fewer homebuyers have access to credit today than in the past.
That's due in part to protections like the Dodd-Frank Act, which tightened regulations on lenders in the wake of the 2008 financial crisis. "It's a huge constraint – but let's remember we almost melted down the financial system," he says.
Subprime mortgage lending "got a bad rap," and deservedly so, he says, but, at the same time, responsible subprime lending within limits served a useful purpose in the marketplace, by making it possible for some buyers who couldn't qualify for other forms of credit to buy a house, he adds. "We kind of threw out the baby with that bath water," he says. "We haven't been able to go back to a world with as much accessibility to credit."
While repealing Dodd-Frank altogether "would be a huge mistake," many in the financial industry would like to see less onerous compliance requirements, he says. Younger homebuyers should pay attention to potential changes in regulations that could loosen credit in coming years.
---
20% DOWN IS NOT REQUIRED
Traditional thinking says homebuyers need a 20 percent down payment, but the reality is the average down payment on a purchase mortgage was just 11 percent in 2016, according to the National Association of Realtors. For borrowers under the age of 35, the national average down payment was just under 8 percent, says Jennifer Coutts, Hawaii branch manager for HomeBridge Financial Services.
Coutts, a 25-year veteran of Hawaii's mortgage industry, says there are many ways to get a mortgage with a low down payment or none at all. For example, the U.S. Department of Veterans Affairs' VA loans and the U.S. Department of Agriculture's USDA loans offer no-money-down loans to those who are eligible. In 2016, 16 percent of buyers under the age of 35 put no money down on their home purchases, Coutts says.
She says people think they will have to pay a higher interest rate if they have a smaller down payment, but usually that's not the case.
Conventional programs allow as little as 3 percent down for owner-occupants, while loans insured by the Federal Housing Administration require as little as 3.5 percent down. However, FHA loans require mortgage insurance, which can make them more expensive overall. On the upside, Coutts says, the interest rates on FHA loans are not tied to credit scores. There are no age restrictions for these programs.Prospective buyers should ask their mortgage company to explain the best options for their circumstances.
Coutts says mortgage interest rates depend on several factors: the loan program, the buyer's credit score, the size of the down payment and the property type. FHA, USDA and VA have some of the most competitive rates, Coutts says.
Investment-property mortgages are viewed as riskier than owner-occupied mortgages, so they require a larger down payment, but Coutts says her company has mortgage programs that require a down payment as low as 15 percent.