Report Card: DOE Principals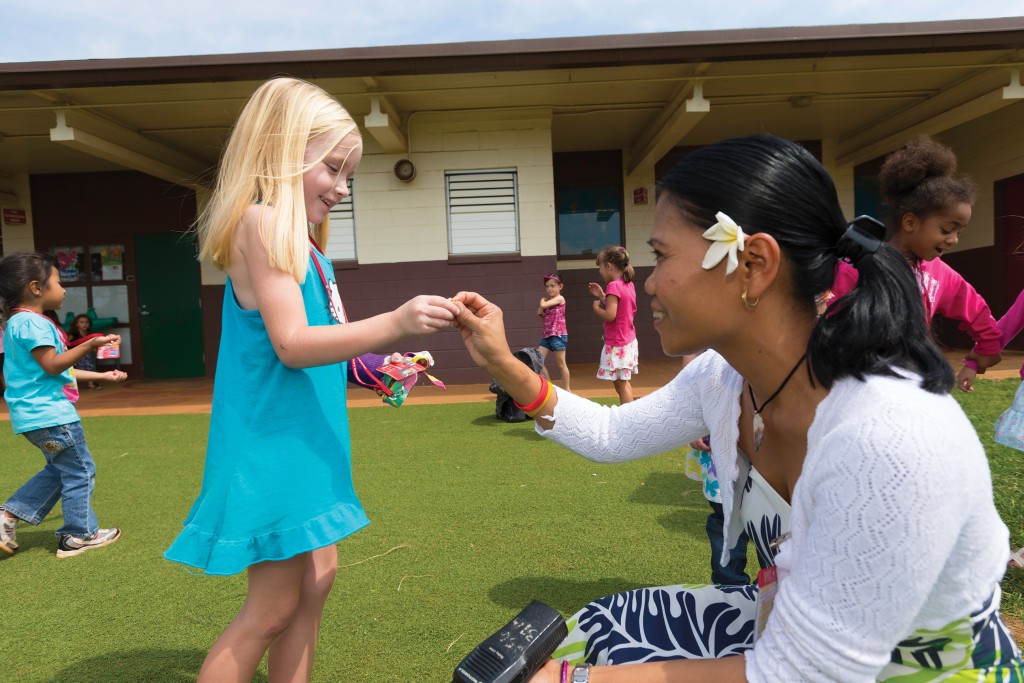 The most important person at a school is evaluated yearly on test scores, creating a good "school culture" and other factors
Principals say success depends on building a strong team and creating support within the community
Every day at Iroquois Point Elementary School in Ewa Beach, children who have done good deeds are invited to reach into principal Ofelia Reed's hand-sewn drawstring bag and pull out a colorful sticker.
Reed buys puffy-heart stickers by the hundreds and gives them out liberally to children and staff in appreciation of the positive actions she sees: purple for leadership, green for growth, blue for problem solving, red for spreading aloha, orange for encouragement and yellow for spreading sunshine.
"It's literally to encourage the kids that they're doing the right thing," says Reed. "They need to know they're individuals and someone cares for them. That actually creates a positive school climate, a culture of belonging."
Reed, in her first year at Iroquois Point, will not be evaluated on puffy heart stickers by her supervisors at the state Department of Education. But one of the things she will be evaluated on is the school culture she helps create. It was the school culture she helped build at Blanche Pope Elementary School that was one of her many successes there.
"That positive climate starts with you," says Reed. "The first year you go into a school, you're the one that's going to create the culture you want to see."
Reed is trying to replicate the success she had as principal at Waimanalo's Blanche Pope Elementary School. In seven years at Blanche Pope, she led the school to "Blue Ribbon" status, a national standard of excellence honoring schools that excel or significantly improve, although at least 40 percent of the students are classified as disadvantaged. At Blanche Pope, 67 percent of students are eligible for the federal free or reduced-price lunch program because of their families' incomes, compared to the state average of 42 percent. Under Reed's guidance, test scores at Blanche Pope improved greatly: In 2007, 21 percent of third-graders met or exceeded math standards, compared with 52 percent in 2010. At the same time, the number of third-graders who met or exceeded reading standards went from 35 percent to 70 percent. Scores also improved in grades four and five, though not as strongly, and there was some falloff in the 6th grade.
As a Blue Ribbon principal, Reed is one of Hawaii's educators who has reached the sweet spot of leadership that leads to exemplary student achievement and national recognition – results the DOE strives to instill and nurture everywhere. She did it at Blanche Pope by forging bonds and partnerships with Waimanalo community leaders, utilizing strengths already within the community, building a unified team at the school based on Hawaiian values, and grounding herself in a deeper understanding of poverty and its challenges, while becoming visible within the community as a caring agent of change.
But school culture isn't the only watchword of a principal's success. It's but one of five categories in the DOE's new system for evaluating its 289 public- and charter-school principals. The other four categories are:
Professional growth and learning;
School planning and progress;
Professional qualities and instructional leadership; and
Stakeholder support and engagement.
Assessments of these five areas make up half a principal's score; the other half is based on student scores from the Hawaii State Assessment tests. These are annual tests that have been administered in the spring and determine whether schools are making adequate yearly progress under No Child Left Behind standards. (This student testing process is now under revision, with a new process being piloted in about 75 schools. A revised test is planned statewide for 2014-15.)
Earlier this year, the DOE and the Hawaii Government Employees Association, the union that represents principals, agreed on this latest evaluation system. It's called the Comprehensive Evaluation System for School Administrators, CESSA, and it's part of an ongoing DOE initiative to strengthen Hawaii's public schools.
"We are not doing this just because of Race to the Top," deputy superintendent Ronn Nozoe says in an email. "We are doing this because our leaders and, ultimately, our students deserve this level of professionalism, and because it is the right thing to do … (the goal is) raising the bar in school leadership, which is critical to student achievement."
Both the department and union see the agreement as an accomplishment. "It's not so simple as saying that at school X you expect a 10 percent rise in achievement or the principal's a bum," says Randy Perreira, executive director of HGEA. "That's way too simplistic. It takes into account as many as possible of the different elements principals have to contend with, recognizing there are substantial challenges, sometimes outside their control."
The old evaluation system used an overall letter grade. The new system rates the five intangibles on a 1-5 system with the worst being "Unacceptable progress" and the best being "exceptional progress" during the interim years. The final grading scale is also 1-5, with Unsatisfactory being the lowest score and Highly Effective being the best. Under both systems, principals could be removed from their schools, which can mean a variety of things, including retirement or being reassigned to other jobs. Principals have lost their posts in the past, Nozoe says, and that can also happen under the new system.
But don't hold your breath. It will be five years before "summative" evaluations are done.
Training for principals is a crucial part of the system, says Perreira. For instance, the DOE's New Principals Academy provides a year of part-time, weekly training for new principals. The private sector has helped pay for training, including the Hawaii Business Roundtable. The Castle Foundation has paid for principal training and other support, largely in Windward Oahu schools.
Darrel Galera, a prize-winning former principal who heads the New Principals Academy, says there are five leadership programs designed specifically to train teachers, administrators, vice principals and new principals in leadership skills, including one that offers a specialized Administrator Certification for Excellence (ACE). Training occurs during the week, on weekends and in the summer. New principals are required to complete a yearlong new principals program, says Galera by email.
"In the ACE program, intern vice principals complete one year of residency, specified university coursework and weekend seminars focused on instructional leadership," he says. They must complete a second year of training to earn the certification.
Nozoe says the evaluation of Hawaii principals has always been based on the Interstate School Leaders Licensure Consortium Standards, and the latest Hawaii system of evaluating principals is based on the newest version of the national standards. The assessment system was also guided by standards developed by the National Association of Secondary School Principals and the National Association of Elementary School Principals.
This year, 2012-13, is the first of a three-year rollout of the new evaluation system in Hawaii's public schools. It allows principals five years to show improvement at their schools. The agreement does not specify a one-size-fits-all level of achievement, but sets individual goals for each school. These goals take into consideration such things as the family incomes of the student population, past student achievement, the number of students who speak English as a second language and the number of students with special needs.
It also calls for the DOE to provide the support that principals need in order to be successful.
"This whole process does ask a lot of all the parties involved," Perreira says. "From the complex area superintendents' perspective, as well as the principals', it's a challenge."
There are 15 complex area superintendents in Hawaii, each overseeing about 20 to 25 schools. At the beginning of each year, principals and their CASs discuss goals, direction, vision and challenges. There are periodic follow-ups and a final meeting each year to assess progress on each principal's individual professional development plan.
"With the new document, you're looking at a principal's growth over five years," says Kelcy Koga, the principal of Waiakea High School in Hilo and a member of the committee that helped create CESSA.
"The school of thought is that it takes about five years to move a school toward positive change," he says. "… In just one year you can't really look at significant change. But over a period of years, you can look at various data points such as test scores, retention rate, graduation rate, and you see trends." It's that five-year perspective that is the most important improvement over the old evaluation system, Koga says.
Principals have many jobs: They set the tone of their schools and are responsible for student scores and progress, the contentment of the staff, the relationship and interaction with parents and the community, the upkeep of the facilities, plus the management of a complex budget process. They must be visible on campus, at school events and in the community, during the week and on weekends.
"Anything that pretty much goes wrong, it's usually the principal who they ask first," says Koga. "If there's a break-in, or anything, the police or the alarm company will call me first. I have cleaned up after a classroom got trashed. I've boarded up windows at 2 in the morning. I've been here the night before Thanksgiving when we had break-ins. It's never-ending."
Koga makes sure he's at all sporting events, sometimes shuttling from one to another. If it's a football game with a longtime rival school, he's definitely there.
"You want to make sure the crowd doesn't get out of hand. You're not really there to watch the game, you're worried about what's going on in the parking lot and you want to show presence there."
The new CESSA standards attempt to take all that into consideration by using the unique demographics of each school to evaluate its leader.
"Every school is different. It's not just a black-and-white world trying to run a successful school," Perreira says.
Irene Puuohau, field-services officer for bargaining unit 6 of HGEA, which represents 700 educational officers, notes that when principals are evaluated, the CASs are expected to consider the differences among schools, the communities they serve and the type of students within each school. That individualization was missing from the past evaluation process, she says.
"In addition, there are systems of support that need to be in place to ensure every school is successful. There also needs to be a systematic means to share information," she says. Committees that include the principals and the area's Board of Education member are designed to provide feedback from the field on how well the system is working. That will likely mean changes to the CESSA over time. "It's meant to be a fluid document and one that we know, through the years, we may have to change as initiatives and expectations change," Puuohau says.
Principals say the way to make improvements is different at each school. At Nuuanu Elementary School, principal James Toyooka says he's constantly pushing for improvement, even though up to 90 percent of his students are meeting or exceeding proficiency in the two main subjects being tested, reading and math.
Toyooka was cautious when he took over Nuuanu seven years ago. He says he spent the first year learning the culture and assessing strengths and weaknesses.
"For me it took at least four years to move forward," he says. "The first year you look around, get a feel for it, and try not to aggravate anybody. I've seen some people go in with a buzz-saw and end up cutting off their legs. You've got to trim with garden sheers. At the opening, you don't know who the good teachers are. You move in baby steps on what needs to be improved. If you trust the teachers, they're more open so they can talk to you and make suggestions, and that comes in years two and three."
Toyooka discovered that Nuuanu essentially just had basic classroom teachers, with no support staff, not even a curriculum coordinator. He got one on board, along with a good student-services coordinator. The curriculum coordinator met regularly with teachers – something the principal rarely had time to do – to discover and plug holes in the curriculum; the student services coordinator recognized more students with special needs. "My new SSC recognized them early and got them the help they needed," Toyooka says.
Then, he hired two part-time teachers to work with small groups of students on specific needs.
As Toyooka worked within the school, Nuuanu's already-high test scores began to go higher. Within a few years, they jumped from a flat line of 75 percent to 80 percent of students meeting or exceeding proficiency to well above 85 percent. Reading scores, in particular, shot up.
"That is always a weak area at most schools," Toyooka says. "So I hired a part-time teacher for that. Now we're in the low 90s in the reading area. … Having help in the lower grades helped when the kids got older."
Toyooka says one of the keys to his success as a principal has been the high quality of his support staff. "They're not afraid to tell me, 'Yes, do this,' or 'No, don't do that,' " he says. "If you try to do everything yourself, that's kind of nuts.
"I always stop and think of John F. Kennedy and what made him a great president. It wasn't just him. He had a heck of a support staff."

James Toyooka, principal Nuuanu Elementary School
No one is more aware of the need for teamwork than Reed. At both her current school, Iroquois Point, and her previous one, Blanche Pope, she needed strong support from community foundations and community leaders to build a strong culture. That support must be never ending, she says.
"In order for principals to be evaluated fairly, the resources also need to be available," Reed says. "If we don't have the resources to make it happen, it's going to be hard. And I'm not talking just about funding sources, but bringing in experts within the fields. Teachers are not all trained to be mathematicians and engineers and science experts. We need the personnel to provide us with the support so we can train the teachers in these areas.
"That's why Blanche Pope School moved forward. It was a partnership for three years, in the beginning, through the Castle Foundation. They paid for the training. But eventually you have to be able to sustain it. You have to build it into your financial plan. If you're not able to sustain that professional development, all that goes to waste."
Reed believes a principal is wise to begin by building strong relationships within the school so everyone knows they're valued and their ideas are important. Then the principal moves outward, to connect with the community.
"It was the Waimanalo togetherness team," she says. "It was all these different organizations within Waimanalo coming together monthly to meet and talk about what they were doing to promote healthy relationships, and find ways students at risk would have opportunities to put their energies into other things.
"We were able to tap into some of the services like the youth programs, the health services, the sports programs. It was also about finding ways to go beyond giving awards for attendance but awarding children for their efforts, and giving awards that were more about honoring their work, and honoring everyone who showed gains."
All that took seven years. Seven years of consistent training, consistent encouragement, consistently attending meetings, consistently forging her staff into a family that stepped up to meet the needs – even if it didn't happen to be their job.
At Blanche Pope, Reed says, the staff became so cohesive that the custodians, cafeteria workers and office staff felt empowered enough to plan school fundraisers and oversee students on the playground, in the cafeteria and after school.
"Everyone's ideas, everyone's experience are valued," Reed says. "When all of us are valued, we all have things to offer."
Three years ago, Blanche Pope made Adequate Yearly Progress gold-star status under No Child Left Behind. It meant every child was moving forward and there were strong gains in student achievement.
"It's because everyone was working together," Reed says. "… You have everyone being accountable and working together as a team at every grade level."
---
Evaluating Principals
After an interim system, the annual evaluations of public school principals will generate one of these scores:
Unsatisfactory
Marginal
Basic
Effective
Highly Effective
You may also be interested in reading: