Interviews with Union Leaders: Corey Rosenlee, President, Hawaii State Teachers Association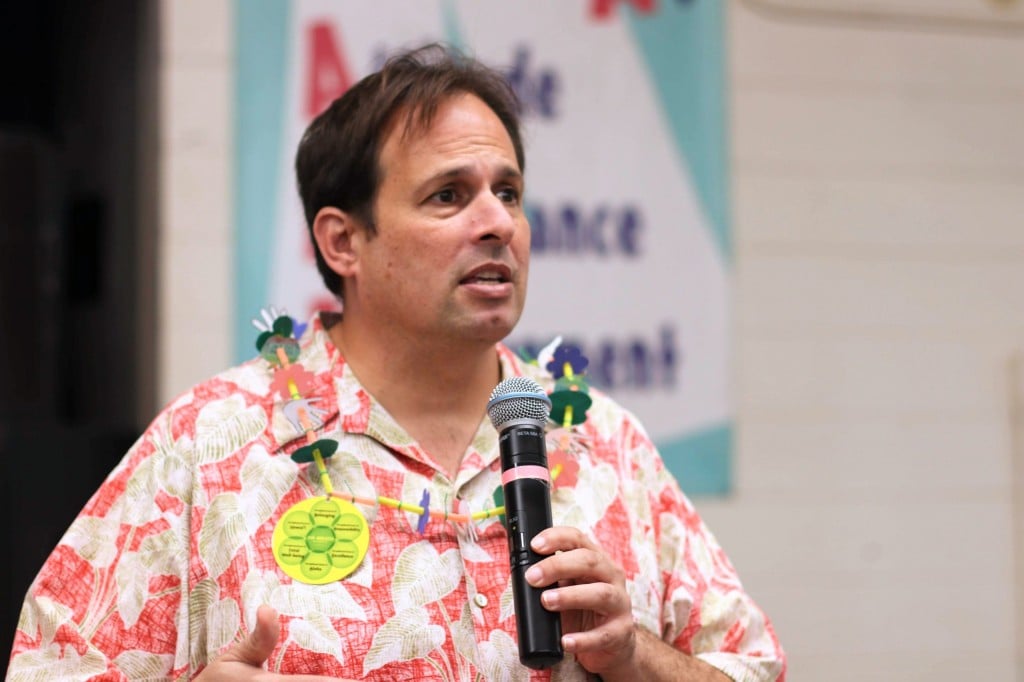 These are tough times for working people. Please tell us how your members have been affected?
Throughout this crisis, teachers in Hawai'i have risen to the challenge to make sure we can still provide an education for our keiki. They've overcome difficulties trying to manage their own kids at home while educating Hawai'i's children at the same time. Our teachers have had to find ways to connect with kids who are homeless, those without internet access, and those who are going through their own hard times at home with unemployed parents.
Our teachers have gone beyond just trying to teach lessons, but also have worked to ensure they are taking care of the social and emotional needs of our keiki. They've also been deeply concerned about the talk of potential furloughs and pay cuts. Some of them may be the only breadwinners right now in their households because other family members have been laid off or their work hours drastically cut. Our educators are under stress from many different sides.
What is your organization doing to support them now?
During the last economic downturn, a decade ago, students, families, and educators had to endure furlough Fridays. To save money, the state furloughed teachers without pay most Fridays for nearly a full school year. And that's still impacting our teachers today. 
When the state cut teachers' pay or didn't fully fund education, there were long-term consequences. Hawai'i's teacher shortage crisis is worse today because many people saw the pay cuts caused by furlough Fridays and chose not to go into education. The HSTA is working to make sure that we properly fund education and our keiki, assuring that we don't exacerbate the teacher shortage even more. We want to guarantee that all of our keiki have qualified teachers in the classroom.
Our educators have appreciated our efforts to make sure that, no matter what's happening in this crisis, we informed them through live streaming social media Q & A sessions, email blasts and virtual briefings of our leaders. Throughout the pandemic, we've always made caring for our keiki a priority. We don't want the schools to open without a plan of how to ensure their safety. Because if we're not careful, we can risk the health of our students and their families. 
What do you see as the most important steps that government, business and nonprofits should take to help everyone who is struggling in Hawai'i?
During this crisis, at one point, Gov. David Ige suggested he would have to cut teachers and other state government employees' salaries by up to 20%. That would have caused a lot of our members to leave the profession and others to retire, to the point where we could not be assured that we'd have enough teachers to start the school year. Our legislative leaders showed how we could look at the budget and how we could leverage loans and aid from the federal government to make sure we can keep our schools open and continue paying our teachers. By doing so, we've avoided potential long-term impacts on the economy with pay cuts that would drive more educators out of the profession. We are grateful to House Speaker Scott Saiki and Senate President Ron Kouchi, along with House Finance Chair Sylvia Luke and Senate Ways and Means Chair Donovan Dela Cruz for their leadership!
Sometimes there are a few silver linings in a crisis? Have you found any?
The federal government waived the requirements for standardized testing during the pandemic. When teachers do not have to teach to the test, they are able to look at many creative ways of reaching our students. That is much better than students just having to fill out the correct bubbles on tests. We can find higher-level ways of engaging our students, such as project-based learning, allowing them to develop intellectually and emotionally. By using real-world scenarios, challenges, and problems, students gain useful knowledge and skills that increase during their designated project periods.
In order to maintain social distancing, one suggestion being explored involves alternating school days in which students would learn face-to-face on some days and would work at home on other days. This type of schedule is conducive to project-based learning. HSTA would like the DOE to ask the federal government for a waiver from standardized testing again this year and instead promote higher-level thinking skills using project-based learning.