Teaching in a New World: Mid-Pacific Institute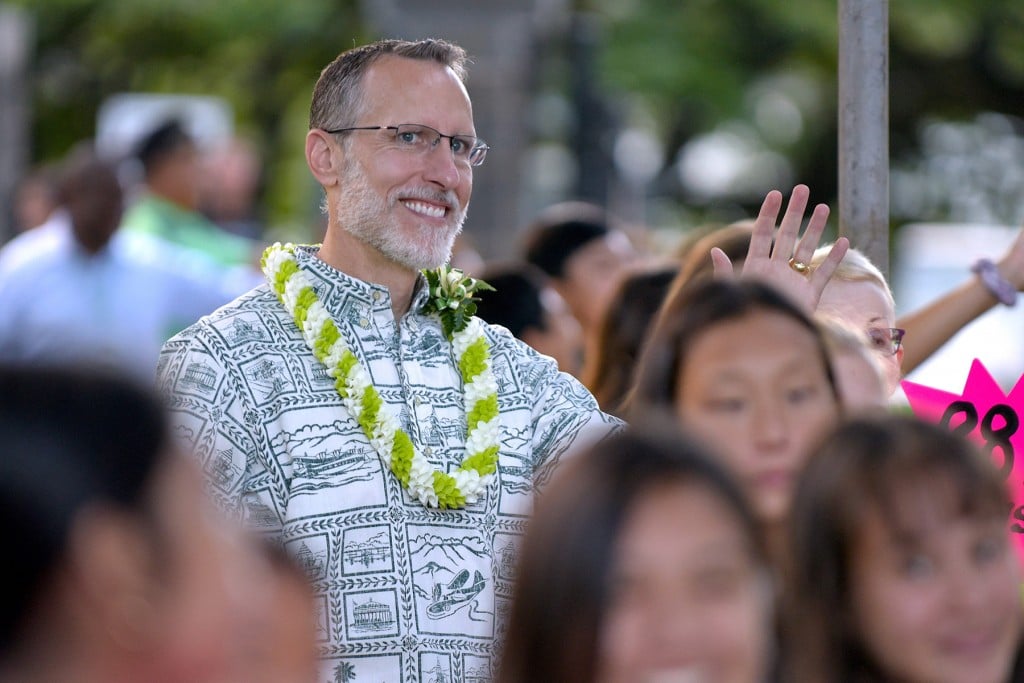 How will the coming school year be different from previous years?
The coming school year will be unique due to necessary social distancing and safety guidelines to protect the Mid-Pacific school community throughout the COVID-19 pandemic. Our School Reopening Team is working hard to put in place safety measures for the start of school in August without sacrificing the integrity of our academic and co-curricular programs. 
We're reopening in August with goals of: 
Prioritizing full, on-campus instruction, with special attention paid to preschool and elementary grades to address distance learning challenges for younger students.
Ensuring a high quality blended/hybrid instructional model (in-person and online) in the event of additional stay-at-home orders by the state.
Maintaining modified school schedules to meet cohort and social distancing guidelines to protect student and faculty well-being.
Offering an athletics program that addresses state and national athletics association guidelines for physical distancing and inter-school competitions, while simultaneously meeting CDC and Department of Health requirements for school reopening.
Offering as many regularly scheduled and modified extended learning classes as possible while following health and safety guidelines.
Celebrating a vibrant student culture that allows students and teachers to feel a sense of belonging and pride in Mid-Pacific, while following social distancing guidelines.
Mid-Pacific is implementing safety measures to protect the health and well-being of our 'ohana including:
Providing Personal Protective Equipment (PPE) to all students, faculty and staff.
Implementing additional cleaning across campus. 
Creating learning schedules based on student cohorts to limit the potential spread of COVID-19.
Implementing daily screening for monitoring student, faculty and staff health. 
Do you think you will make more use of online and remote teaching than usual even after the pandemic passes?
Mid-Pacific has been Hawaiʻi's leader in innovative education and technology for many years. Our transition to a virtual platform was easier because of a technology vision that emphasizes digital storytelling, engineering and computational thinking. With an award-winning Immersive Technology Program that was recognized by Microsoft in 2019, and a virtual reality lab that partners with Stanford University's Virtual Human Interaction Lab and Medical School, our students learn how to be adept at using many platforms to transcend traditional learning and accomplish their educational goals. 
Our rich history in edtech and our shifting focus to virtual learning will continue after the pandemic because we understand the importance of instruction that provides students with flexibility in their academic schedules. Virtual teaching and learning is more than watching online videos and submitting email assignments. Virtual learning can also be immersive. It can connect students with their peers in the classroom across campus or across the world, it can open the door to "anytime learning" on real-world topics, and it can allow them to have more autonomy in designing their academic futures.
How have your partnerships with other organizations changed or continued?
The COVID-19 pandemic opened the door for each of us to work to bring our communities closer. Mid-Pacific has been helping our local and global community in many ways since March, including being one of several schools to 3D print Personal Protective Equipment for Hawai'i Pacific Health, the UH School of Medicine, Arcadia and other healthcare providers. 
When teachers in large education systems and in small schools were forced into virtual environments without adequate preparation, Mid-Pacific's professional learning program, Kupu Hou Academy, provided free virtual training for teachers in Hawai'i and around the world. Kupu Hou Academy will continue its decade-long practice of helping public, charter and private school teachers bring deeper learning into every classroom. 
Culturally, Mid-Pacific's award winning Immersive Technology Program is partnering with Hawaiian Mission Houses to also preserve Hawaii's history through 3D scanning technology. This June, our historic preservation teacher and our educational technology team digitally preserved the entire historic home at the Hawaiian Mission Houses to commemorate its 200th anniversary. By using great technology in a community endeavor, we are helping to bring Hawai'i's history to life in new and exciting ways.
What do you envision for education in your area in the future?
For students to thrive in college and life, they need an education system that reflects the realities of our interdependent world. However, education systems across the country were built for 20th century industrial revolutions, not for the hyperconnected and dramatically shifting world of work that awaits Millennials and Generation Z.
At Mid-Pacific, our goal is to future-proof students by teaching them how to be lifelong problem solvers who can learn, unlearn and re-learn across disciplines. To accomplish this I believe that we, along with all schools, need to focus on a few crucial goals:
Shift learning from silos to systems. By breaking down barriers between disciplines, students will learn how the humanities, arts, science and technology, and entrepreneurship are all crucial elements of a global innovation economy.
Embed boundary-crossing knowledge and competencies in learning. By teaching students how to actively use creativity, empathy and teamwork, advanced technological understanding and entrepreneurial thinking, they will learn how to apply their knowledge with purpose. 
Learning for impact, not for memorization. Our interdependent world needs people who can have a true impact in a team setting and in community work. That requires schools to shift the purpose of learning from memorization and testing to solving real-world problems with an interdisciplinary approach.  
Celebrating the importance of character and community engagement. As our world becomes more interconnected, students will be exposed to myriad opinions and cultural value sets. For students to grow into leadership roles in that interconnected world, they need to find their voice as individuals and as members of a global community. This will require schools and families to partner with each other, celebrating the development of each student's character and teaching each student how she or he can learn from others along life's path.
What advice do you have for your local working parents?
Our world is clearly undergoing a rapid disruption on social, economic and ecological levels. That disruption can draw a person's vision inward and away from the horizon, focusing solely on safety. As an educator and a parent, I encourage all of us to continually gaze above the horizon, not below it. Why? Because our children are watching.
When we allow ourselves to gaze above the horizon, above the confusion and the smoke of violent clashes, we give our children two fundamental gifts: The ability to find hope and joy in the world, and the ability to see the world through their family's values. 
Children are born with imaginations that are built to transcend society's ills. As children grow, they adopt worldviews through their families and school communities. When looking at the value of education in today's world, parents should certainly ask about a school's academic approach. However, I would also encourage every parent to ask about a school's values and its approach to developing a student's character. Now more than ever, character matters.