Returning Home to Hawaii After Years Abroad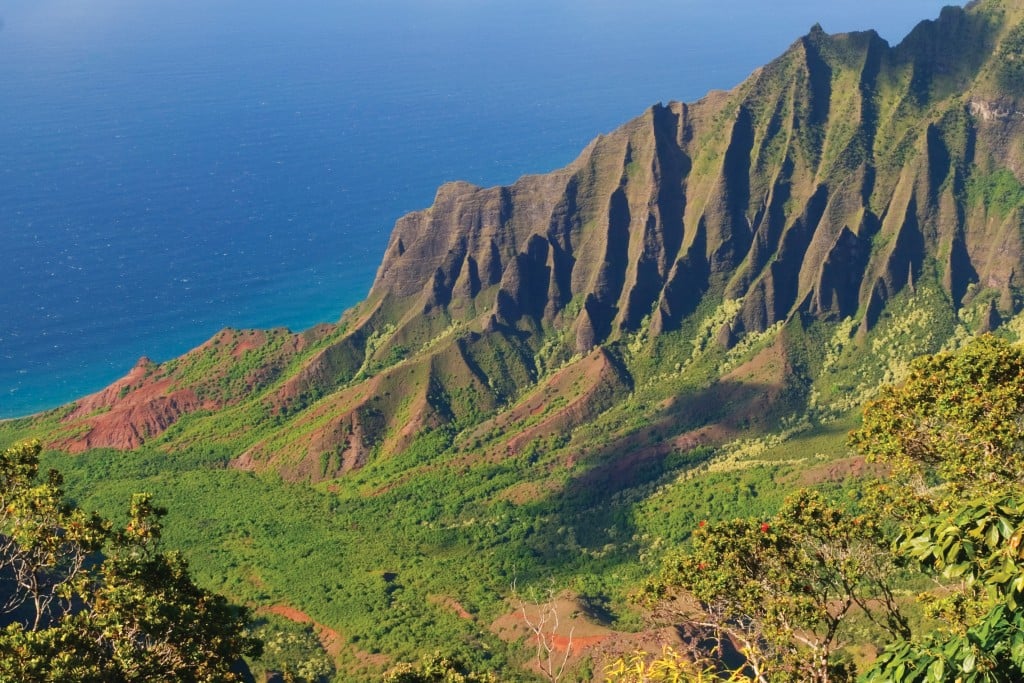 OK, so you grew up in Hawaii. You know your spam musubi and hula kahiko. Then you moved away – for education, for work, to prove yourself. You're having a great time. You visit often, but never stay.
Then, maybe, you surprise yourself by tearing up as the flight lifts off from the tarmac at HNL. Or you find yourself late at night, idly trawling the Web for Hawaii-based jobs while another blizzard rages outside your window. Maybe, when your kids are born, you realize that you want them to have the same experiences you did. Maybe, even after a decade or two, you never stopped calling Hawaii "home."
Move home? But how would I find a job? How do I really know it's time? Will I be happy? Will it be worth it?
Do people actually do this?
Yes, they do. We talked to 11 of them – smart, interesting, accomplished people – to ask how, and why, it's done.
1. Make sure it's really what you want, says Lori Teranishi (Saint Andrew's Priory, '87), who left her corporate job and founded the multicity public relations firm IQPR in part so she could move back to Hawaii. Teranishi says she has "never regretted" her decision to base herself in Honolulu, but knows it's a big step. Ask yourself whether a Hawaii community in your mainland or foreign city, or frequent visits home is enough. Punahou and Cornell graduate Meli James, who returned to Hawaii in 2012 after 16 years on the mainland and abroad, says that seeing a career or life coach can help you set clear priorities. "It's kind of a SWOT analysis of yourself."
"I see Hawaii in such a different way. When I was a kid I never watched the sunset. It's so cheesy, but now I just watch it every day. I never saw how the ocean glitters. Hawaii sparkles. Before, it was just where I grew up."

– Vanessa Kaneshiro
2. If you can, plan ahead.
Dave Kozuki, founder of Global Pau Hana, a Hawaii-expat networking community that began in Silicon Valley and eventually spread to New York, Shanghai and London, has seen "thousands" of Hawaii expats. He says that many in the generation now entering their 30s have a "strong sense" that they'll move back to Hawaii. "They go away for school, they do their thing, but it's part of the plan."
That plan can mean choosing a portable career, or making sure your life partner is open to the idea of a move. "It can be hard to uproot yourself when you're dug in" somewhere else, says Ilima Loomis (Iolani '96), who graduated from Dartmouth and joined the staff of The Maui News: "If you have a spouse, they have a say."
3. Maintain your existing network.
Leilani DeCourcy (Molokai High '90) lived on the East Coast for 10 years, earning a J.D. and working for a think tank before coming home in 2000. She returned to a local legal community whose members often had a "built-in network" because they had remained in-state for their education and early career. DeCourcy, now a partner with Chun and DeCourcy LLC, urges potential returnees to remember that their network isn't just close friends and family. "It's their parents, their friends, their cousins and everyone those people know, too." Keep in touch, and when it's time to think about a move, send out feelers.
"Over the years, whenever I would visit Hawaii, I would see airplanes in the sky on their return flights to the mainland and be reminded that my time here was fleeting. Now, I don't notice them so much. My feet are firmly planted on the ground."

– Robert Gelber
4. Grow your network, too.
Visits back to Hawaii are a prime opportunity to make new connections. With a trip to Hawaii for a friend's wedding on the calendar, Jared Kashiwabara (Iolani '00), who moved to California for college and stayed for 12 years, asked Hawaii-based high-school friends to help him arrange a series of corporate "meet-and-greets" to expand his professional presence. That week, Kashiwabara introduced himself to six institutions. "It was a productive trip."
These days, network-building can also be digital. In 2007, Brian Dote (Waipahu High '90 and UH '95) returned from eight years in Silicon Valley with zero contacts in the Hawaii tech industry. Dote turned to Twitter to build a tech-savvy Hawaii community that led to his first full-time Hawaii job. "You listen to (Twitter) conversations, you add value to those conversations and, the next thing you know, the followers of your follower, follow you. In no time at all, I had hundreds of people in Hawaii that I was talking to."
5. Keep in mind that Hawaii employers want to hear from you.
"When I hear (job applicants were) raised here, or they want to return home, that's a big-time benefit, to me," says Carl Hinson, director of workforce development at Hawaii Pacific Health. Not only do returnees bring new skills and knowledge, but, if they were raised in Hawaii, they are more likely to stick their landing, says Hinson. "They've already got support systems – family members, friends – to help them through some of the tough pieces of making a transition."
"There's a lot going on in Hawaii right now. It's a very exciting time – a really interesting marketplace. There are a lot of people who have moved back, who are bringing new ideas with them, a broad worldview. There are a lot of people (here) that are thinking big picture.

– Lori Teranishi
6. Independent or nontraditional? Build a bridge.
There are plenty of ways for independent or flexible workers to get a foot back in Hawaii's door. Dote, who worked at Apple on the first-generation iPhone and related products, asked the company to allow him to keep working remotely from Hawaii. He doesn't recommend remote work as a long-term solution if you are passionate about your career, but it eased his family's transition to Hawaii.
Teranishi, of IQPR, began taking on Hawaii clients three years before she made her big move, both to build clientele and to test the waters: "I had a strategy, so I was able to see: 'Can I work with clients? Have I become too mainland? Can I function?' " James, who helped create the first wine-ratings app in Silicon Valley, engineered a "soft move," retaining consulting work in the Bay Area while helping launch a company called Hawaii Apps in Honolulu.
7. For those in traditional employment: Line up your ducks and get ready.
A move to Hawaii can be fantastically complex, involving two jobs as well as school, child-care and housing arrangements. When one of Jared Kashiwabara's meet-and-greet appointments led to an offer from Bank of Hawaii, he and his family had to think fast. "We weren't intentionally trying to find a job (in Hawaii) yet," he says. "It actually forced us to make a decision: 'Should I take this and we'll go, like, right now? Or do we just hang back and continue as we were?' " Because other family arrangements had already aligned – and because, like many returnees, they could "eliminate one big variable" and stay with family in the short term – they could make the leap.
"My grandparents have lived at the same house for as long as I can remember, and they still live there now, and they're going to live there until they die. All my friends and all the family gather at my grandparents' house. It's like the rock, everyone's rock, that they can rely on, and know will be there. I want my kids to have something to hold on to like that, when they think about us."

– Jared Kashiwabara
8. Be prepared to make adjustments.
If you're coming from a specialized career in a coastal metropolitan area, salary cuts of 30 to 50 percent are not uncommon, and food and housing in Hawaii will likely cost just as much as, or more than, the place you left.
If you've spent your formative career years elsewhere, your style may need to be tweaked, too, says Teranishi. "I definitely had to change my approach." Now, she says, "I don't just say whatever I think. That's what you do on the mainland, but here, you don't know if the person you're talking to is somehow related to you! Situations come up that you would never have to deal with on the mainland," she says.
It also helps to expect some of what Realtor Kai Brown (Punahou '93) calls "reverse culture shock." Brown, who spent a decade on the West Coast, tells returning friends, "The first year is hard. Remember, you're moving to a new place; you're not just moving back home. You think it's going to be easy, all rainbows and waterfalls, but when you've lived someplace else for 15 years, Hawaii is someplace new."
9. You've gained something invaluable in your time away.
Figure out what it is and share it. James, who is now the program manager at Blue Startups and a co-organizer of Honolulu New Tech, loves "the feeling that you're bringing something else to Hawai'i, that you're enhancing it." For independent videographer Vanessa Kaneshiro (Kamehameha Schools '95), the transfer goes both ways: "I still work for Time. I still pitch to The New York Times. But now I get to help local businesses, too, and I can show off Hawaii to the rest of the world."
If your timing and skill set are right, you might be able to move home while moving your career forward. After two decades in Southern California, which included an MBA and a managerial stint at Disney in technology-dependent interactive marketing, Robert Gelber (Punahou '92) applied cold for a Hawai'i posting he saw on an online job board, "never thinking I would hear back." The application led to a position as the director of interactive marketing for Hawaii Pacific Health, a significant step up in both title and salary.
"I love that I'm just able to come to random family things, not just big weddings where I'm flying in. You know, those special things that happen every day."

– Meli James
10. Give it time.
Some people can slip back into a Hawaii life like it's a comfy pair of slippahs (Gelber says he "couldn't be happier"). But many find the transition tough – and that's OK. "Give yourself two to three years," says Brown. "Know, coming in, that you're giving yourself that amount of time. That's how long it takes to settle in, not just to Hawaii, but to any place you move."
When Dote returned to Hawaii in 2007 after eight years in Silicon Valley, he says, "I felt like an outsider, and I actually wanted to maintain that view. I had done great in Silicon Valley, and I was going to continue to be that guy," while his wife and children enjoyed the benefits of nearby grandparents, warm weather and the beach.
But, as time passes, says Dote, "It just kind of chips away at you. When I came back, it was 'me' as a person and 'them' as a community. Then, over time, it (became) 'we,' as a community. One day you wake up, and you're a local again."
"When I was 18, I thought I would be coming home for Christmas, or a couple of weeks in the summer. I thought it would be enough. But some indefinable, integral part of my self is being from here. Even though I'm not Hawaiian, I am from Hawaii. That's who you are, and you can't explain that to people who aren't from here.

– Leilani DeCourcy
Beyond Sun and Surf: Six Reasons to Work in Hawaii
1. Work-life balance is ingrained in the culture. Ilima Loomis, now managing editor for Maui-based Spirituality and Health, a nationally distributed magazine, agrees: "Here, people support and value you having a family. There isn't the same pressure to be putting in a 60-hour week, or to be (at work) every weekend."
2. You can broaden your portfolio. Whereas IQPR specializes in one or two business sectors in San Francisco and New York, says Lori Teranishi, "In Hawaii, we have every kind of client you can imagine. That's what you do in a smaller market. For me it's a positive, because you get to learn and do so many more things."
3. Family can help you have it all – or, at least, more of it. "The subject of working mothers is so big right now: how to succeed, and 'lean in,' and all of that stuff," says Loomis. "I think grandmothers are the best-kept secret of being able to do that. For many of us, I think, having that help is literally the difference between success and failure sometimes – not just for childcare, but for everything. It's a huge advantage."
4. The online and mobile revolutions have multiplied your list of potential clients."Anything you put on the Web is international," says Vanessa Kaneshiro. "I'm collaborating with New York very easily," says Teranishi. "Technology, and the way the world has evolved, is making boundaries less so."
5. Hawaii's business cycles run on a different rhythm, which can be a good thing.For nearly three decades, Andrew Ishii (Campbell High '72 and UH '77) lived and worked in financial centers all over the United States. Then, in 2007, the commercial real estate business "evaporated with the recession," but "the banks here still needed people." He returned to Hawaii with his wife and daughter, then 6. She got to grow up surrounded by family, and Ishii became a VP at Bank of Hawaii.
6. You get to write your own script. "If I was still in Silicon Valley, I would still be at Apple," says Brian Dote, who founded Tapiki, a successful Hawaii-based app-development company: "That (corporate) umbrella is incredibly powerful. I have many friends back there still, and I'm like, 'You guys have so much talent. You guys could leave from under the wings of Apple and start your own companies and turn them into multi-million-dollar companies,' but it's hard."
---
Timing Is Everything
When is the right time to move back to Hawaii? We asked returnees and compiled the most common thoughts.
Early in Your Career
Pros: From a practical standpoint, this is the easiest time to head home. You're probably single and only need to worry about yourself, and a salary reduction of 30 percent may be easier to take if your pay is smaller to begin with. Moving back when you are young also means you have a lot less ground to make up against high school classmates who chose a college in Hawaii and have been networking ever since.
Cons: If your high school friends have also moved off-island, chances are they're still MIA – and that can be isolating when you come back. Also, coming home before you've really competed in a national marketplace can leave you wistful about what might have been.
After You've Made Your Mark
Pros: You left Hawaii not just to see the larger world, but to be part of it. If you fight the fight until you've been a part of something big, you'll take that sense of accomplishment wherever you go.
Cons: It is hard to choose to slow down your career momentum unless you have a compelling reason, and truly lateral moves to Hawaii from high on the career ladder can be very difficult to achieve. You may need to be flexible if you're looking for employment, or strike out on your own if you want to maintain your title and/or your compensation level.
When It's Not Just About You Anymore
Pros: Grandma. Cousins. The beach. Barbecues all year. A whole keiki-friendly culture. Need we say more? Having children tends to tip the balance; this is also the time when returnees we spoke to say their friends with small children began to flood back, too.
Cons: Don't wait too long, because the younger your children are when they move, the easier will be their transition, and the greater their sense of growing up in and belonging to Hawaii.
When You Feel Your Priorities Changing
Pros: Life in a big, anonymous city can be exhilarating when you're young. But, as you get older, the fact that, in Hawaii, you can't go to Longs without running into someone you know may seem increasingly appealing. When you start feeling like you want to drop out of the rat race and put down roots, and you want those roots in volcanic soil, it's time to think about making a move.
Cons: It's hard to foresee this shift in advance. By the time you feel the urge to get back to the Islands, you might already be married to someone who feels an equally strong connection to, say, Duluth. Have this conversation before you feel you need to.