The Rich and Famous Love the Neighbor Islands
Those with homes there include Jeff Bezos, Oprah Winfrey, Mark Zuckerberg, Jason Momoa, Michael Dell and Willie Nelson. But don't expect to see all of their names on the deeds.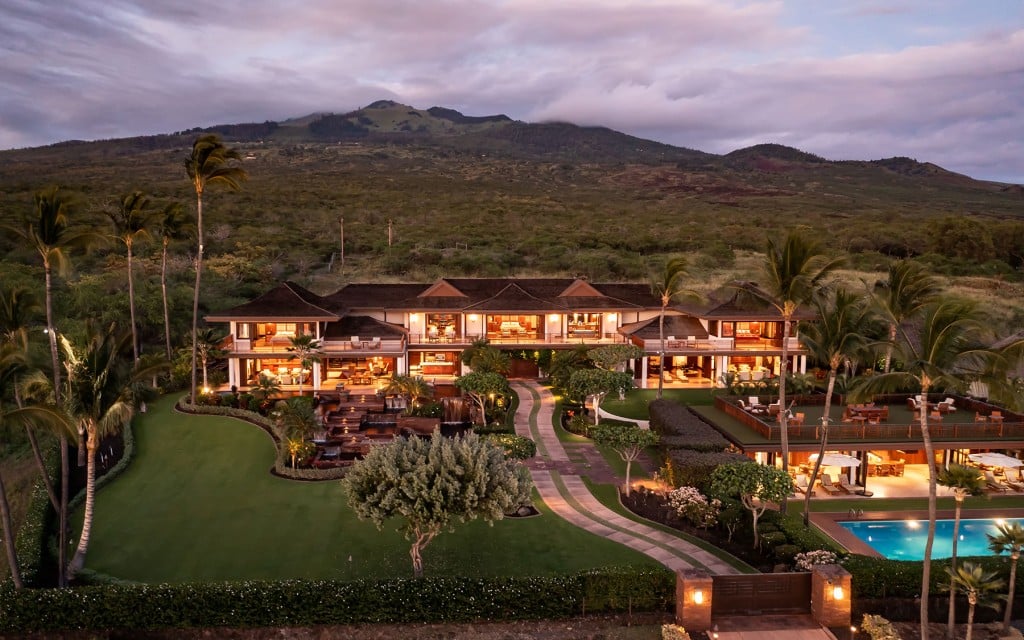 Maui, Kauaʻi and Hawaiʻi Island are favorite getaways for celebrities looking to escape Hollywood's glare, and some have made the state their second home, buying luxury properties in some of the sweetest spots in the Islands.
But it's difficult, if not impossible, to track all of the celebrity home purchases in Hawaiʻi. That's because most of the time the official buyer is a limited liability company or a trust that is registered to an attorney or wealth manager to the stars.
That's what Julia Roberts did when she bought several properties on Kauaʻi's North Shore. And when she sold a beachfront estate in Hāʻena, across from the National Tropical Botanical Garden's Limahuli Garden, in 2020 for $20 million, it was to an entity registered to an attorney in Miami.
Rocker Steven Tyler of Aerosmith also used an LLC to buy his oceanfront home on Maui more than 10 years ago, paying $4.8 million for the Mākena property that borders conservation land.
Other celebrities who own homes on Maui include music legends Willie Nelson and Kris Kristofferson, media mogul Oprah Winfrey and full-time resident Mick Fleetwood of Fleetwood Mac fame and proprietor of the Fleetwood's restaurant on Front Street in Lahaina.
Buy the LLC – It's More Discreet
Amazon.com founder Jeff Bezos, the second-richest person in the world according to Forbes, took an unusual route by buying the LLC that owned a secluded estate in Mākena. It's the same tactic Larry Ellison, the eighth-richest billionaire in the world, used in 2012 when he bought 98% of Lānaʻi, where he now lives full time. In both cases, the name of the company remains on the deed – a practice that can make it difficult to determine who the real owner is.
However, some well-known homebuyers place their own names on the deed.
That's what actor Matthew McConaughey did when he bought his home at the Kūki'o Golf and Beach Club on Hawaiʻi Island in late 2020.
Legendary guitarist Carlos Santana also doesn't hide when he buys real estate. Santana last year paid $20.5 million for an 8,200-square-foot spread in Princeville, under his own name, as he did with two other properties he previously owned on the Garden Island.
Former James Bond actor Pierce Brosnan and his wife, Keely Shaye Brosnan, also own property in Hāʻena under their own names, and Jason Momoa and Lisa Bonet, who split earlier this year, have owned a 5.5-acre property on Kauaʻi's North Shore for more than 20 years, according to tax records. 
Where Tech's Ultra-Rich Live
Momoa and Bonet's property is not far from Facebook founder Mark Zuckerberg's estate, which comprises more than 1,400 acres of land owned by several LLCs.
Most tech billionaires seem to prefer Hawai'i Island, however.
Michael Dell, founder, chairman and CEO of Dell Technologies, and No. 24 on the Forbes billionaire list, is a longtime owner of a large estate at Kūki'o, as is Charles Schwab, founder and chairman of the investment firm that bears his name, and Intel co-founder Gordon Moore.
Another tech billionaire on the Forbes list, Salesforce co-founder, chairman and CEO Marc Benioff, has had a second home there for more than 20 years.