Sages Over 70: Simeon Acoba
Still active today, he was a Hawai'i Supreme Court associate justice, member of the UH Board of Regents and chair of the Access to Justice Commission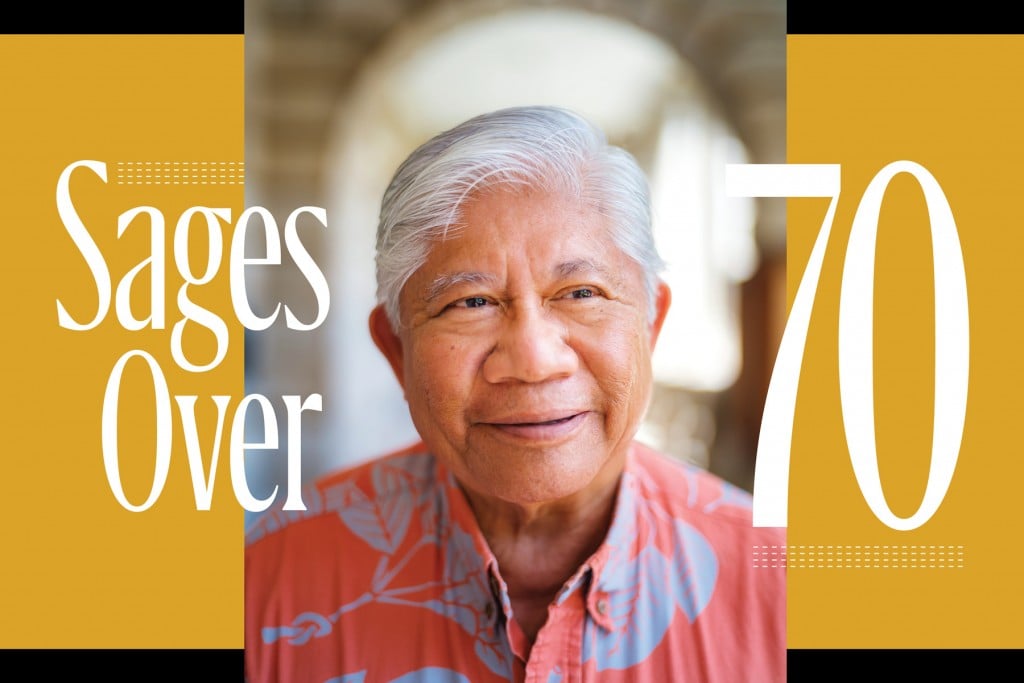 Third in a series of profiles of Hawai'i's "Sages Over 70"
---
Simeon Acoba is now 77, but he still remembers a part-time job he had during his undergraduate years at UH in the 1960s. With a chuckle, he describes working nights as a janitor.
"That didn't last long," he admits. "I would fall asleep in class."
But packaged with government loans and a scholarship, that paycheck and others helped pay his way through college and law school. It also helped instill a powerful work ethic in the man who would become a Hawai'i Supreme Court associate justice and a member of the UH Board of Regents.
And it gave him an abiding gratitude for scholarship assistance – a gratitude that helped inspire him and his wife, Carolyn, to create in 2015 an endowed fund that supports UH law students today.
"Periodically I get letters from students," says Acoba, who served on the state's high court from 2000 to 2014. "They tell us what their plans are and how they intend to use the funds."
Acoba still lives his convictions. When his two terms on the Supreme Court ended on his 70th birthday, he became a volunteer lecturer at UH's Richardson School of Law, and has served as chair of the Access to Justice Commission, which he helped found with Chief Justice Mark Recktenwald in 2008.
The national Access to Justice movement aims to expand services to underserved and vulnerable low- and middle-income citizens who often cannot afford legal help for civil cases.
The Hawai'i commission inspired the creation of self-help centers on every island. They're staffed by volunteer attorneys who help thousands of people in cases that include family law, landlord-tenant issues and collections and debt problems.
"Everything we do is on a volunteer basis," says Acoba. "Now, considerations of access to justice are included in any legal activity. It's something that's on everyone's mind."
Recktenwald praises Acoba's chairmanship of the commission from its start and the passion and energy he still brings to the movement. "After his retirement, Justice Acoba never wavered in his commitment to providing equal justice for all – he just found new ways to fulfill it," Recktenwald writes in an email.
"Justice Acoba's unwavering commitment to improving the administration of justice has been a key factor in bringing Hawai'i to the forefront of national access to justice efforts," Recktenwald adds. "The Justice Index's 2021 Findings released by the National Center for Access to Justice ranked Hawai'i sixth overall for best practices."
"Clerking for him, I saw the humanity of judging, which made me think one day I might want to be a judge." – Summer Kupau-Odo, State District Judge
Acoba has mentored many law school graduates who held clerkships with him and have gone on to become judges, legislators, attorneys and community leaders. He admits he was an exacting boss.
"I would leave messages at night on their phone and call them in the morning on their phone. They didn't escape. It was a lot of hard work and they met the challenge," he says.
His mentorship style also meant including his clerks in decision-making. State District Judge Summer Kupau-Odo remembers those days well for they helped chisel her own judicial style.
"My favorite parts of the clerkship were the regular late-afternoon meetings where Justice Acoba and I would debate various positions on a case," she recalls in an email.
"I remember the first meeting. I was stunned that this brilliant jurist, with decades of legal experience, wanted to hear what I thought about the appellate issues. Even when we disagreed, Justice Acoba listened to what I had to say and valued my opinions. He showed me the best judges maintain their humility, open-mindedness and zest for learning."
Kupau-Odo remembers how Acoba worked around the clock, thought about the appeals constantly and inspired in her an interest in criminal law, and the confidence to become a trial and appellate attorney with the state Public Defender's Office.
"Many times, his face showed how the cases weighed on him, and how much he cared about the parties and making the right decision," she writes. "Clerking for him, I saw the humanity of judging, which made me think one day I might want to be a judge."
Before his appointment to the Hawai'i Supreme Court, Acoba was an associate judge at the Intermediate Court of Appeals and a Circuit Court judge, handling both criminal and civil cases.