Salesperson of the Year: Mufi Hannemann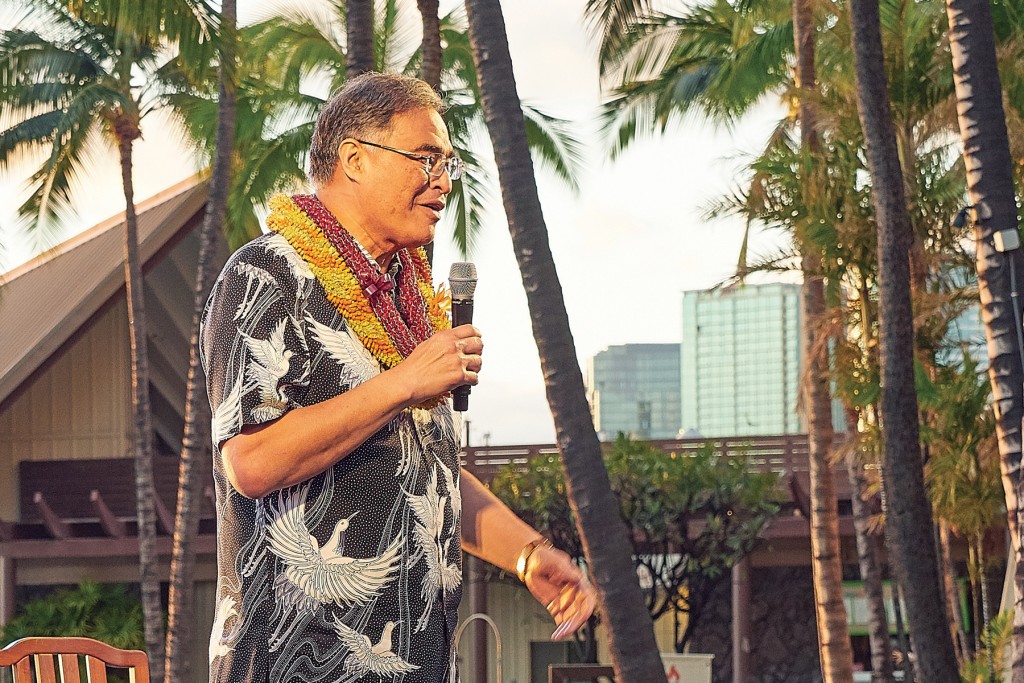 Named Salesperson of the Year, the CEO of the Hawai'i Lodging and Tourism Association discusses collaboration, diversification in tourism, building tomorrow's workforce and much more.
Mufi Hannemann was named Salesperson of the Year by the Honolulu Chapter of Sales and Marketing Executives. Hawaii Business Magazine Publisher Cheryl Oncea asked Hannemann about responsible tourism, the future of the industry and what keeps him up at night.
Oncea: Congratulations on the award. You have a long history of public service, including two terms as mayor. This award is for Salesperson of the Year. How do you see sales and what does that mean in the public service sector?
Hannemann: They are both about making Hawai'i a better place. In every responsibility I've held I've tried to take it to the next level through collaboration. I think it was Laotzu who said you want the people to feel they did it themselves. It shouldn't be about who gets the credit; it should be about involving people and making them feel good that they contributed.
In tourism it's making Hawai'i known as a welcoming place, and not just for visitors. The industry should also contribute to our local residents: Do they feel we tried our best to ensure that what we enjoy today will be there in the future?
Oncea: You serve as president and CEO of the Hawai'i Lodging and Tourism Association. What is the core mission of HLTA?
Hannemann: Education, advocacy and philanthropy. Tourism is the No. 1 industry in the state; we provide the largest number of jobs, yet we're a fragile industry. Nothing in Hawai'i comes close to replacing tourism, so we have to transcend being just a sea, sand, surf and spirit of aloha destination to one where people can learn from, invest in or be part of. This leads to opportunities for health tourism, cultural tourism, environmental tourism, educational tourism or sports tourism, all while embracing the Hawaiian culture and preserving our fragile ecosystem. This requires education.
Advocacy is a healthy relationship with government. It's a balance: We can't do without government; government can't do without tourism. As government collects certain taxes, we want to ensure they correlate to the industry. When the private and public sectors partner, good things happen. We're willing to contribute to the general welfare of the economy, but at the same time don't overtax us; don't over-regulate us. We care about the same things as you. For example, sex trafficking is a huge issue. We don't like the fact that our keiki, especially women, are being taken advantage of. That's why we're partnering with groups like Ho'ōla Nā Pua. We say, "That's an area that you don't have to mandate upon us; we're gonna do it anyway. Maybe you could help in other areas."
The last part is philanthropy. We recognize that – as the Good Book says – to whom much is given much is required. Giving back is in our DNA. We partner with organizations to award scholarships to those pursuing a career in the industry. In addition, we provide monetary assistance for emergencies and natural disasters, particularly to those who help our visitor industry.
Oncea: What role does HLTA play in helping tour
ism grow responsibly? For example, the Palau Pledge is just one idea that has been floated.
Hannemann: We meet regularly with the Hawai'i Tourism Authority and Hawai'i Visitors & Convention Bureau to pursue responsible tourism. When we come up with solutions, we make sure that information gets down to our membership. For example with the coronavirus, we are constantly communicating with our hotels and allied members.
On the Palau Pledge, I have some concerns. I feel it communicates, "You're part of the problem, so we want to put controls on you." That runs counter to the aloha spirit. If we do a good job of educating through the Kuleana campaign, of explaining that we are a special place and how we expect you to interact with our environment and culture, that's a better way than forcing them to sign a pledge.
Also, if you're going to charge visitors for it, how do you know that money is going back to the stated purpose? I have no problem assessing fees but I know from experience that when you do, you've got to make sure that when the visitor comes back to that park or beach, they're going to see improvements.
Another important topic is public safety. Visitors have illusions of grandeur to go on this trail or surf that big wave when they've never surfed before. So every year we partner with the Hawai'i Tourism Authority to do a visitor industry public safety conference. One of the reasons people continue to come here is they consider us a safe and secure destination. We take that very seriously.
Oncea: There are a wide range of issues affecting tourism, from the possibility of global pandemics to disruption of the hotel industry by vacation rentals to workforce development to climate change. What keeps you up at night?
Hannemann: Our industry needs to be proactive and collaborate with others. We're not against short-term rentals. I believe people should have choices when they travel, but the situation had gotten out of control. When we couldn't get the state to come to a consensus, I said to folks in the industry, "Let's take our crusade to the counties." We worked with the Honolulu City Council to pass a bill to regulate the industry and preserve opportunities for people to live in those neighborhoods and rent affordably. It's not the perfect bill, but I do see healthy signs that we're on the right track.
I'm pleased we have more collaboration among industry stakeholders than ever before. We emphasize community engagement statewide. It's not just marketing Hawai'i to generate business; we want to know how the local people are benefiting. One example is the Hawai'i Food and Wine Festival. This past year, working with Chris Tatum, we were able to bring in Neighbor Island high school culinary academies to be a part of Keiki in the Kitchen.
If I'm up at night, it's an opportunity to be creative and do things that have never been done before.
Part of workforce development is the Ho'oilina scholarship for students from Hawai'i who want to pursue a four-year degree in hospitality. I'm also big on mentoring. We have a program that partners our hardworking general managers with hospitality students. We also have the HYPE program, all about encouraging young professionals. As the No. 1 industry in the state, we have to ensure that those who are to follow us are prepared, educated and given the best benefit of our mana'o to assume their rightful roles of leadership.
Oncea: Hawaii Business Magazine and HLTA are collaborating to host a gala in June to celebrate hardworking individuals in the tourism industry. Why do you think collaboration between the overall business community and the tourism community is important?
Hannemann: Kalākaua Avenue and Bishop Street don't often work together except in times of crisis. I'm thankful for this opportunity to partner with aio Media Group to identify other businesses and organizations that should be recognized for the good they do. We're going on our third year. It's not just the executives that make this industry nō ka 'oi; it's the frontline folks of every business in town. If a person doesn't feel welcome at a hotel, a restaurant, an attraction, they'll say, "All that talk about aloha spirit, I certainly didn't feel it today."
Oncea: What gives you optimism about the future of Hawai'i's tourism industry?
We recognize that the decisions we make today impact the future. We're more than just a service industry; we've really embraced technology. You go to any hotel now and check in, room service: It's all technology-driven. We are also a very green industry. Every year our resorts and hotels are recognized by Hawaii Green Business Awards for promoting sustainability.
By creating synergy with other initiatives, be it health, environment, technology, academics or the military, this is how we ensure continued growth.
Oncea: What do you think will be the most important issue facing the person who's elected as Honolulu mayor
this year?
Hannemann: There are a few. The first is the rising crime rate. The most important responsibility of a mayor is to ensure public safety.
The second is housing and homelessness. I love our partnership with IHS to address the mental illness aspect, but more can be done. The third is the environment and climate change. And no discussion with me is complete without rail. It's going to take some bold, decisive leadership. The next mayor has to make sure the people ride sooner rather than later, like H-3. Once people started experiencing H-3, all that protest disappeared. It's not just about alleviating traffic congestion, it's for that better quality of life.
Oncea: Will we see you run for public office again?
Hannemann: (Chuckling) I've learned to embrace this model: It's not where you serve, it's how you serve. But every election year, people ask me, "Are you ever gonna come back in?" You never totally shut that door, but I believe that you've got to take care of what's in front of you right now. What's in front of me right now is the industry itself. At the end of the day, I'll do what I think is not just best for me but what's best for our community.
Honoring Mufi
A dinner honoring Mufi Hannemann as Salesperson of the Year will be held Friday, April 3, at 5:30 p.m. at the Hilton Hawaiian Village. It will feature cocktails, dinner and entertainment.
For tickets, call Sales & Marketing Executives Honolulu at 942-7000 or email Janel Denny at info@smehonolulu.org.
Celebrating the Best in Hawaiʻi Tourism
The aio Media Group and the Hawai'i Lodging and Tourism Association each year honor the tourism industry professionals, events, businesses and organizations that keep Hawai'i a premier global destination.
Join us June 26, 2020 for the awards gala on the Great Lawn at the Hilton Hawaiian Village, starting at 5:30 p.m. There will be great food and cocktails, entertainment and fireworks. Buy tickets at hawaiibusiness.com/hlta2020.
View this post on Instagram