Salvaging the Ferry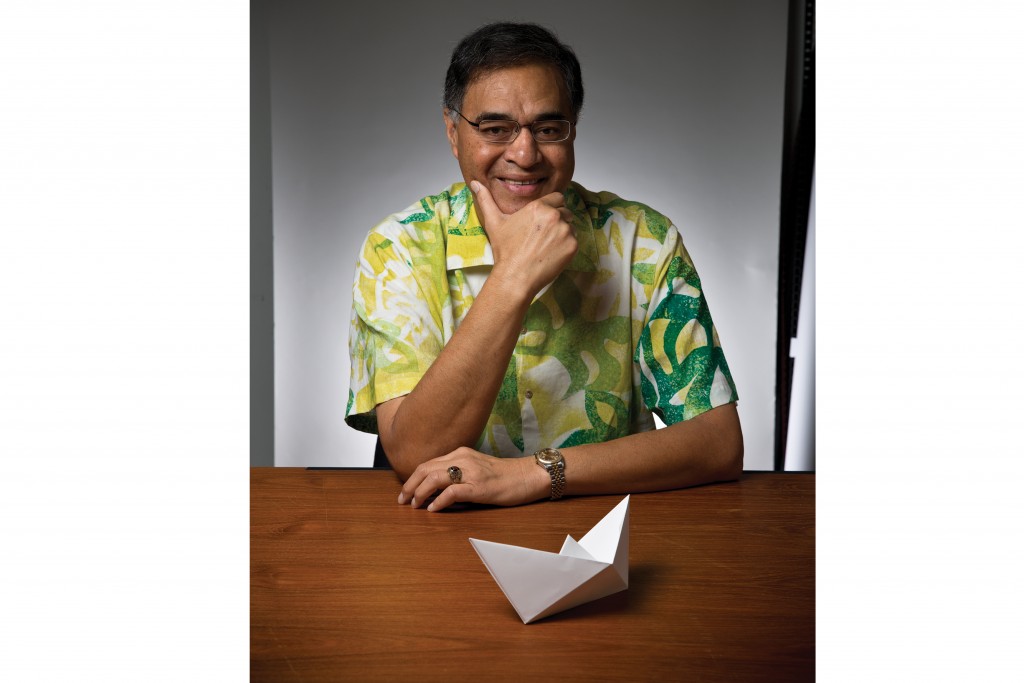 It's been six years since the Alakai sailed out of Honolulu Harbor for the last time, yet somehow the Hawaii Superferry won't go away.
It haunted the 2014 campaign like the ghost of elections past. In June, an unscientific online poll by the Honolulu Star-Advertiser showed support for the Superferry's return at 87 percent. Ideas floated at a ferry conference in October included allowing on-board gambling to help fund the venture.
All this, without there being any sign of a single person, government agency or private company, in Hawaii or beyond, that's interested in putting money behind the idea and actually doing it.
So why can't we give up on an interisland ferry?
"It's a no-brainer," says Mufi Hannemann, who campaigned on the issue in 2014 while running for governor. "We're one of the only archipelagos in the world that doesn't have a ferry service. Even Samoa and Tahiti have it. When you're on the outside looking in, you say, 'Why don't you have a ferry?' "
That unmet need lured Timothy Dick to the Islands 13 years ago. The former transportation consultant looked into market conditions and liked what he saw. "Is the market too small? The answer was no," he says. "It's an open-ocean environment, but there are open-ocean ferries all over the world."
Dick was scheduled to fly to Hawaii on Sept. 11, 2001, when the World Trade Center and Pentagon were attacked, and air traffic was grounded. The issue "became very stark," he says.
Hawaii Superferry was born.
That venture ended in disaster, but the conditions that made it a good idea haven't changed, Hannemann says. Bringing back an interisland ferry now will be difficult, he adds, but not impossible.
"It's like rail," says Hannemann, who made transit a keystone project of his administration while Honolulu mayor. "Rail has taken a long time, over 45 years. [A ferry system] is going to be difficult to do here, but it's certainly worth it if the right pieces come together and that broad support materializes."
In Superferry's Wake
Families wistful for interisland car-camping trips may recall the Hawaii Superferry fondly, but investors have darker memories and those will hang over any new venture.
"We have a huge black eye out there," Hannemann says. The Superferry story "hurts us, at least initially. It ended so abruptly, and lost a lot of money that had been invested. It left a sour taste in people's mouths."
Dick agrees.
"The state lost all its money, we lost all our money. It was a catastrophe, scorched earth, and those facts are well known to anyone who's contemplating doing this," he says. "I think it will be very difficult to attract private capital to this again."
Hawaii Superferry began service between Oahu and Maui in 2007, and was suspended two years later, after the Hawaii Supreme Court ruled in favor of environmental groups and said a law allowing it to operate while an environmental impact statement was being conducted was unconstitutional. The company filed for bankruptcy two months later.
In its brief life, the Superferry stirred up an impressive amount of controversy and opposition, perhaps most famously when protesters aboard canoes and surfboards blocked the ship from entering Nawiliwili Harbor, ultimately causing the company to abort plans to serve Kauai.
Dick says anyone contemplating an interisland ferry today can expect to encounter the same opposition.
"I'm a 100 percent positive that the same people who filed lawsuits last time would do it again," he says. "So you'd have to have the cash and the legs to stay with that."
Joe Souki agrees. The speaker of the state House of Representatives, who is from Maui, strongly supported the Superferry and feels certain another ferry venture will face resistance. "Even though the majority of the public is in favor of it, you're still going to have the activists trying to stop you at every corner: 'Save the whales' and whatever they want to think of," he says.
Hannemann says the majority that favors the ferry would need to be mobilized. "It's got to be a positive effort going forward, bringing everyone together," he says. "The private sector and the federal government won't even look at us if they think it's going to be divisive and confrontational."
Critically, he adds, the venture would need major rebranding.
"Going forward, we need to refer to it as the interisland ferry," he says. "I would never again refer to it as the Superferry."
Everybody on board
Launching a new system while memories of the Superferry linger would be similar to Honolulu's experience reviving rail transit more than a decade after the City Council killed it in 1992, rejecting millions in federal transportation funds, Hannemann says. Restoring the project's credibility in the eyes of key players will be essential.
"This can't be done purely with state tax dollars," he says. "We've got to leverage the federal government, we've got to leverage the private sector and they've got to know it's real this time around."
The consensus must include both state and county lawmakers and transportation officials. "It really has to be with all the county mayors being on board, and not hanging the state out there to dry," Hannemann says.
Perhaps most important, the project will need a strong statewide leader to take the reins and keep it moving forward.
"Someone has to emerge as the champion of this," he says.
The next stage will be taking the time to build broad community consensus and address critics' environmental and other concerns completely and up-front, before moving forward with financing discussions or infrastructure planning, he says. A key first step in the process would be to launch a "broad-based, community-based planning effort," such as establishing a working group to lead discussions or funnel comments back to decision-makers, he says.
"The people must be involved from the get-go," he says. "It has to be not just the proponents in the big tent, but also the opponents, and an earnest effort made to address their concerns."
In the spirit of building consensus, Hannemann says, completing another environmental impact statement would likely be necessary.
"Things change over time, and you need to make it up to date," he says. "At the end of the day, if we have environmental concerns, they need to be addressed, no different than we did for rail."
Not everyone agrees, with Souki noting that Superferry's EIS was triggered by state harbor improvements, not the ferry service itself, and that no other ocean-going interisland transportation service is required to undergo an environmental review.
"You look at Pasha," he says. "They came out with a whole new vessel here, roll-on-roll-off, and that didn't require an EIS."
Irene Bowie, executive director of Maui Tomorrow, one of the groups that sued for Superferry to suspend operations until an EIS was completed, agrees with Hannemann that any concerns should be addressed up front.
"As divisive as that issue was, I think it would be foolhardy to come forward again without a thorough environmental review," she says.
Starting the process with a task force or coalition to discuss the issues and address concerns could go a long way toward diffusing opposition, she adds, as long as a balance of interests is represented on the panel, and environmental groups are included.
"We would really want to participate in a working group like that, and with those things in mind we could all seriously consider what might work," she says. "We said all along that it was not a ferry service per se that we were opposed to, but it was this specific Superferry and the issues that go along with a fast ferry."
Although it was too soon to say what the Ige administration's position on a ferry service would be, Lt. Gov. Shan Tsutsui agreed on what would be critical to demonstrating the viability of ferry transit to a private backer: clear support from government, a plan to address environmental concerns and a consensus-based process "making sure that everybody's on board."
"What we've all learned is that, if you're going to do it, you really need to do it the right way," he says. "No shortcuts."
A slower boat
The planning and development process isn't the only thing supporters propose slowing down. Several ferry proponents say the Superferry was too fast, and that a slower boat would have a greater chance of long-term success. Although Hawaii Superferry originally touted a fast trip as one of its selling points – Alakai made the passage between Oahu and Maui in around three hours – the boat's speed was criticized by environmental groups concerned about whale strikes, Bowie noted.
It also worsened seasickness, says Christian Yuhas, who served as chief engineer for Hawaii Superferry and is now a patrolman with the Oakland Marine Engineers Beneficial Association, a nationwide maritime union that helped organize the October ferry conference in Honolulu. Complaints of seasickness were a consistent issue for Superferry, which saw ridership dip as low as a reported 25 percent of capacity during winter months when the ocean was rough. The boat's catamaran design cut down on side-to-side rocking, but not the up-and-down motion that makes people feel sick, Yuhas noted. The Superferry's speed caused it to rise and fall faster, "just like a roller coaster," he says.
"That's what throws your stomach out," he says. "And when you paid the VIP money to sit in the front, you got the worst ride by far."
The speedy boat was also costly to operate, burning around 8,000 gallons of fuel on one round trip between Honolulu and Maui, Yuhas says, much more than a slower vessel would consume.
Dick didn't see seasickness as a significant factor in Superferry's demise, and says it shouldn't prevent another ferry from succeeding in Hawaii's waters. He noted that places like the Canary Islands and others around the world support ferry service, in spite of similarly rough conditions.
"It's a fact of life," he says. "They're fairly short trips. The good thing about being seasick is that after 10 minutes on land, you're recovered."
The Superferry needed special harbor improvements to accommodate the vessel and offload vehicles, which added cost and controversy to the project, but Souki says other ferry designs are equipped with their own docking capability, which could mean another system could operate without the upgrades.
Yuhas says the Superferry's design seemed "excessive," and that a smaller, single-hulled, conventional-speed vessel capable of docking at most ports without special upgrades would stand a better chance of success.
"What we really learned is that it's a feasible idea," he says. "People really wanted to travel with their belongings in their vehicles, with their family and their pets, and if it took all day instead of three hours, I still think they would do it."
"Nothing happening"
But while key players may agree on the need, process and general design of a viable interisland ferry system, no one is coming forward with a concrete proposal to make it happen.
Yuhas says the mariners' union heard rumors in the summer of 2014 that a private investor was inquiring into the financial viability of a ferry system, but never learned any concrete information. "There's interest," he says. That's one reason the union helped organize October's "talk story" session. "We're planning on hosting it annually until the ferry comes back to Hawaii," he says.
But Dick believes the only way for a ferry to return to Hawaii's waters now would be as a public system, saying the private sector will be unwilling to risk a repeat of Superferry's losses and the messy challenges and lawsuits by environmental groups. In addition, he notes, the state is in a better position to capture federal funding, by qualifying for the same federal highway funds that subsidize public ferry systems in Alaska and Washington State.
"In my mind it would be very difficult to attract private capital again, so that to me is the best shot and a pretty reasonable shot," he says.
But state leaders say that's probably not going to happen.
"We have so many things on the agenda right now," Souki says. "I think the state would like to do things they can afford, such as looking at the (harbor) facilities, but for us to be the major investor? No, we don't have that kind of money."
Tsutsui stresses that the administration hasn't yet engaged in serious discussions about the issue, but notes that, during his 2014 campaign, Gov. David Ige indicated he was "open to the idea."
Tsutsui agrees with Souki that it's unlikely the state government will take up Hannemann's mantle of "champion" for the project.
"We'll probably need a private company to provide the service," Tsutsui says, adding that the most important thing the state could provide would be "good guidance."
"I can't anticipate the state having the financial resources to invest like we were intending to on the first go-round," he says. If federal funds are available, "it would have to be up to the private entity to seek out those funds," he adds.
With leaders from both the private and public sectors each saying the initiative for a ferry would need to come from somewhere else, the project may dead in the water for the time being.
"I haven't heard of anyone," Souki says bluntly. "If there is an investor who's interested, of course the state would like to sit down and talk with them, but right now there's nothing happening, and there's no one who's interested except Mufi, and he's not the governor."
That left Bowie wondering whether the idea at this point is anything more than rhetoric.
"I get the feeling that every election somebody throws this out, and I don't know how much it's really looked at seriously," she says. "It just seems like it's kind of bread for the masses."