Secrets of Healthy Workplaces
Mark Tanouye's wake-up call was actually a fire alarm. The 50-something data analyst at American Savings Bank was sitting in a conference room when a fire drill began.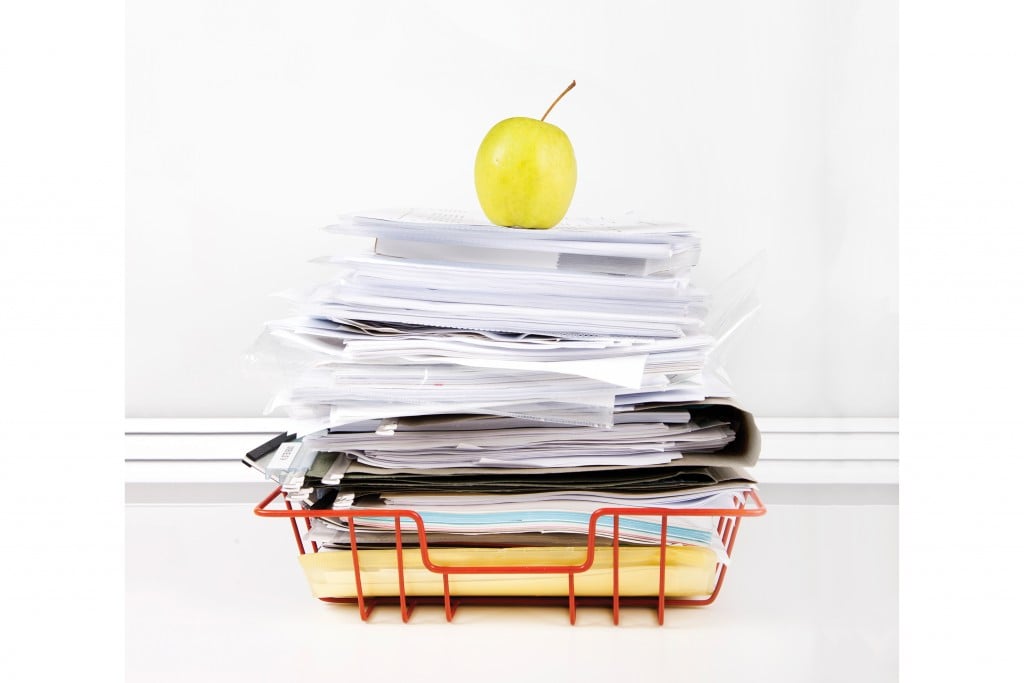 "We had to walk down the stairs for 30 floors. I was so winded and, for two weeks afterward, my legs were hurting, just from walking down the steps," he recalls. "I knew I had to do something."
Tanouye signed up for a weightloss challenge through ASB's "Life Balance" wellness program. Using advice about exercise and healthy eating in the program's literature, he dropped from 188 pounds to 135 in six months, a weight he still maintains five years later. He avoided having to go on blood pressure medication, and he won both the challenge and an iPad.
Tanouye's is the kind of success story that employers want to hear when they launch workplace wellness programs with such things as workout rooms, weight-loss challenges and on-site massages. There are many types of programs that aim to keep workers healthy, but the underlying goals are usually also to make employees happier, more productive and likelier to stay with the company.
About half of all U.S. employers offer some form of wellness initiatives, according to a 2013 report by the Rand Corp. commissioned by the federal government. Among employers offering lifestyle management programs, almost 80 percent included interventions for both weight loss and smoking, around 70 percent promoted fitness, about half targeted substance abuse and stress management, while more than 30 percent offered health education.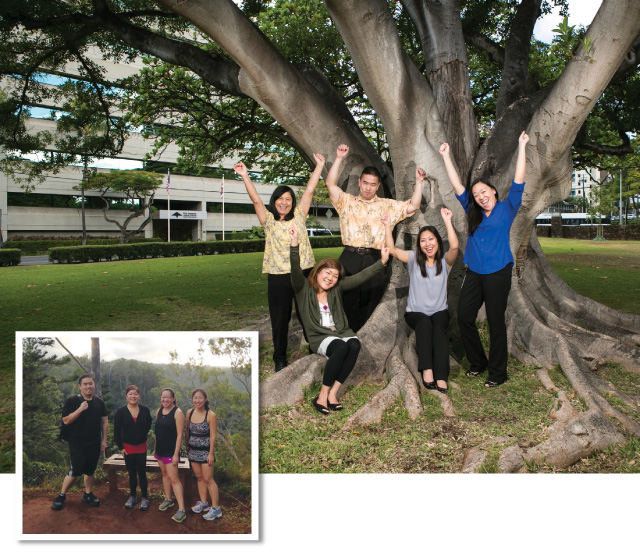 But are wellness programs worth the investment? The answers depend on how you measure success, says Howard Lee, CEO of UHA. The Hawaii health insurance provider is considered a leader in workplace wellness initiatives and the founder of the Hawaii Health at Work Alliance.
Lee says he's often approached by employers looking to implement wellness programs that will reduce their healthcare costs. But he's frank that, while it may be a worthy goal, it's often not the result. "These programs may have an effect on health insurance cost, but, in general, we don't really know if that's going to happen," he says. "And the evidence is that health insurance costs keep going up." Instead, businesses should aim to build healthy-workplace programs that improve employee satisfaction and productivity. Wellness, he says, should be one of the many benefits that help companies attract good workers and keep them happy. "To do it to reduce health insurance costs makes it less meaningful to the employees," he says. "Employees want to know you're doing it because you care about them – not to put money in your pocket."
Mae-Lynne Swoboda, manager of worksite wellness at Kaiser Permanente Hawaii, says that, when employers ask her if a wellness program will reduce their insurance premiums, she warns them not to look for results overnight. Better measures of success might be reduced absenteeism and increased employee satisfaction, she says. "The primary reason employers want wellness programs is to engage their employees" and improve the employees' outlook about their employers, she says. Those conclusions are supported by national statistics.
According to the Rand study, more than 60 percent of employers with workplace wellness programs said they were confident the programs had reduced medical costs, but only half said they had made a formal assessment of the program's effectiveness and only 2 percent reported actual savings. A closer analysis determined that participating in a wellness program did reduce health costs – but only by about $2.38 per member per month on average in the first year, increasing to $11.12 per member per month in the fourth year, changes that were considered statistically insignificant.
Does that mean workplace wellness programs aren't worth the investment? Far from it, says Lee. UHA's own companywide wellness programs include health screenings and flu shots, on-site fitness classes and massages, ergonomic training and assessments, personal counseling sessions, educational brown-bag sessions on health and wellness topics, walking meetings and "wellness bucks," in which employees can receive up to $75 per month to be used toward health activities like gym memberships and massage, with an additional $25 for each qualifying family member. Employees also get two hours a week to exercise on company time. The cost of all those perks? $245,000 in 2013, plus an additional $12,000 to stock break rooms with fresh fruit and healthy breakfast and snack options. Lee acknowledges that figure might give some businesses pause, but he notes it's a drop in the bucket compared to his annual $10 million in payroll costs, which include health benefits.
"Wellness should be one of the many benefits that help companies attract good workers and keep them happy." – Howard Lee, CEO, UHA
"I think it's well worth it," he says. He urges employers to change how they think about the value of wellness. "I ask people, 'What does it cost you to have a sick employee, in terms of lost time and customer service? What does it cost you to have a disgruntled employee, in terms of turnover, in terms of lawsuits?' " he says. "To me it just makes sense to have healthy, happy and productive employees, and not to look at this as a cost, but to look at it as an investment."
That's the idea behind American Savings Bank's "Life Balance" program, which goes beyond basic health and fitness initiatives, says Chief Administrative Officer Beth Whitehead. In addition to CPR training, flu shots and classes on health and nutrition, offerings include "financial checkups" for employees; health challenges, including weight loss and walking; and personal coaching for employees with specific health goals, such as smoking cessation or fitness. Whitehead declines to say how much ASB spends on the program, but says leadership looks at it as a line item with a place in the budget alongside spending on health care and dental insurance. "We think of it as any other employee benefit," she says.
One secret to the success of American Savings Bank's Life Balance program has been paying close attention to what works and what doesn't, and listening to employee feedback.
Whitehead says the initiative grew out of efforts to increase employee engagement, improve satisfaction and promote teamwork. "It's core to who we are," she says. "In addition to being a high-performing bank, we want to be a great place to work." The plan has succeeded: ASB was ranked first overall this year among large companies in Hawaii's Best Places to Work.
---
Do Incentives Work?
Nationwide, more than two thirds of employers with 50 or more employees that have workplace wellness programs use incentives to encourage participation, and 10 percent offer incentives to workers who meet certain health benchmarks. But do these rewards work?
According to a 2013 report on workplace wellness programs by the Rand Corp., incentives can be effective in increasing participation. Employers who used incentives for clinical health screenings saw an average 57 percent participation, versus 38 percent without incentives.
But incentives may not lead to lasting results. Programs that offered financial rewards to employees who quit smoking may attract more employees to participate in tobacco cessation programs and increase initial quit rates, "but they generally do not achieve long-term behavior change," according to the study.
And those rewards don't come cheap. According to the Rand report, the average financial incentive paid for stopping tobacco use was $682 per employee.
Several Hawaii employers say rewards and incentives are an important tool to boost participation and engagement.
American Savings Bank rewards employees who participate in "Life Balance" programs with points redeemable for everything from novelty items like water bottles and T-shirts to restaurant gift cards, iPads and TVs. All employees who reached the highest incentive level were entered into a drawing for $2,000 worth of points.
Were the rewards worth it? Chief administrative officer Beth Whitehead points to the company's 80 to 90 percent annual participation rate in its wellness program.
To encourage participation in its wellness program, "The Good Life," First Insurance Co. of Hawaii offers cold, hard cash: Employees can accumulate points and earn up to $600 by participating in health and wellness events sponsored by the company.
VP of human resources Janis Kushimi believes the incentive helps get people in the door.
"When you want to start a program and sustain it, you have to try different things," she says. Offering a financial incentive "allows us to reach people who otherwise might not be interested in wellness. Although that may be an initial trigger, the benefits of a 'well' lifestyle may be what really turns a person."
---

One secret to the success of ASB's Life Balance program has been paying close attention to what works and what doesn't, and listening to employee feedback. Since 2009, the bank has added workshops on elder care, after learning it was an issue that affected many employees at home.
Organizers also responded when they noticed low attendance for many fitness programs and health education classes. They realized many employees were interested in the classes, but weren't able to attend because of work commitments. That wasn't surprising, considering the bank has around 1,200 employees at 56 branches across the state, including many that are open on weekends or at unusual hours.
"Our challenges have been the logistics: How do you have the same meaningful program on the Neighbor Islands as you do at headquarters?" Whitehead asks.
The solution was to create an online platform that allowed employees to participate in the Life Balance program – including taking classes, joining challenges, setting appointments and earning rewards points – on their own schedule. That increased participation, and the bank complemented online programs with in-person offerings, including sending instructors to Neighbor Island branches to teach classes. Whitehead says the focus of the program has been employee engagement and satisfaction, not health-care costs, although, she notes, "We see benefits in those areas."
"It's an investment in your team, and seeing your team succeed on a personal level is more important than any ROI that you could track," she says.
Using an online platform also helped First Insurance Co. of Hawaii manage its workplace wellness program, says Janis Kushimi, VP of human resources. Workers can track their participation in classes and health challenges, and earn incentive points for activities like reading articles on health.
Kushimi says First Insurance's program has evolved over time. The company has long provided biometric screenings and health-risk assessments, and began expanding wellness offerings a few years ago, before formalizing "The Good Life" program in 2013. The program was one reason that FICOH was ranked as the second-healthiest workplace among large companies in this year's Best Places to Work list.
For the first quarter of 2015, the company has focused on healthy eating with a "Five a Day" initiative focusing on the benefits of fruits and vegetables. Offerings include a voluntary "Five a Day Challenge," where employees strive to eat five servings of fruits and vegetables a day for 30 days. "They say it takes 30 days to form a habit, so if you do this consistently you're learning a new habit that's going to be healthy for you," Kushimi says.
As part of the initiative, the company brought in speakers for brown-bag sessions on nutrition, sent a weekly recipe to employees featuring healthy ways to prepare fruits and vegetables, and worked with the cafeteria to provide employees with a healthy meal every week.
Other initiatives have included a "Bumboocha Loser" contest, a takeoff of the Biggest Loser TV show, in which 59 participating associates lost a total of 300 pounds.
But a step challenge the company tried earlier wasn't as successful. "We provided pedometers and thought, 'Just wear it while you're at work, it'll encourage you to walk,' " she says.
But the pedometers that administrators chose didn't work – employees complained they fell off or didn't record their steps accurately. "It was hard to keep the momentum up for that program," she says. "You really need the right tool."
Kushimi says FICOH is just starting to track the performance of its wellness programs. But, like other companies, she says, FICOH is more focused on employee satisfaction than the bottom line.
"Our goal is always about the well-being of our associates," she says. "That leads to a healthier associate, who's present at work, and the productivity is that much better."
The same goal holds true for some smaller companies, such as accounting firm CW Associates, CPAs, which ranks as the healthiest workplace in the small-companies category of this year's Best Places to Work. While CW may not provide the multiprong wellness programs offered by large employers, the firm's top leadership has made it a priority to establish a culture that promotes health, family and worklife balance, says managing partner Rodney Harano. That starts at the top, with senior partners who encourage younger associates to be involved with activities outside of work and lead by example, such as participating in yoga, working out at the gym or training for marathons.
"Our goal is always about the well being of our associates. That leads to a healthier associate, who's present at work, and the productivity is that much better." – Janis Kushimi, VP of Human Resources, First Insurance Co. of Hawaii
One of the biggest ways the firm promotes "sanity" is by selecting clients with an eye to spreading out workloads. Whereas traditional CPAs have a busy period from January to April, CW Associates also looks for clients and industries that will extend their tax season through September, such as by offering audit or tax services to nonprofit organizations, many of which end their fiscal year on June 30. "I think what we're trying to have is a less stressful workplace," Harano says.
Like others, Harano says the value he sees in employee satisfaction is good for the business' bottom line.
"I think our staff appears to be happier," he says. "They seem to work better together. Because of our culture, we have a pretty low turnover rate. We tend to retain staff for several years, and our clients like that."
While big employers might have the budget for elaborate wellness programs and flashy incentives, Kaiser's Swoboda says, the real key to a healthy workplace is leadership. She says that, in the most successful programs she's been involved with, the CEO has been directly involved in introducing the program, explaining why it's a priority and encouraging participation.
"When they come out and speak passionately about it? Huge, huge difference," she says, noting that a message delivered in person by the CEO carries more weight than a mass email.
Also important: clearly communicating with employees about how the program works, how they can participate and offering feedback on results.
"Some smaller companies will say that these larger companies have a bigger budget, but if the CEO isn't on board and they don't have a good communication plan, it's for nothing," she says, "while in a smaller company, where it's a family business and everyone knows each other, that can be so much more powerful."
UHA's Lee agrees. "Unless the CEO is agreeing that health is part of the culture he wants to endorse, it won't move," he says. Equally important, he adds, is creating a physical and social environment in the workplace that sets employees up for success. Too many employers think of health and wellness as a choice made by the individual.
"You create that culture in the organization where the employees can make healthier choices," he says. "If I'm saying health comes first, but I give you an environment where all you have access to is junk food, and I don't give you time to exercise, then my message is not consistent with my actions."
At UHA, Lee had to practice what he preached. After starting with walking competitions and transforming an unused office into a space for fitness classes, "I had to be the bad guy – I got rid of the Coke machine," he says.
The reward has been seeing wellness initiatives take on a life of their own.
"Employees started forming these social networks and doing things outside of the workplace," he says. "We have hikers who meet on the weekend and go hiking, we have the runners – they've formed these healthy cliques."