Small Local Companies Versus Mainland-Based Giants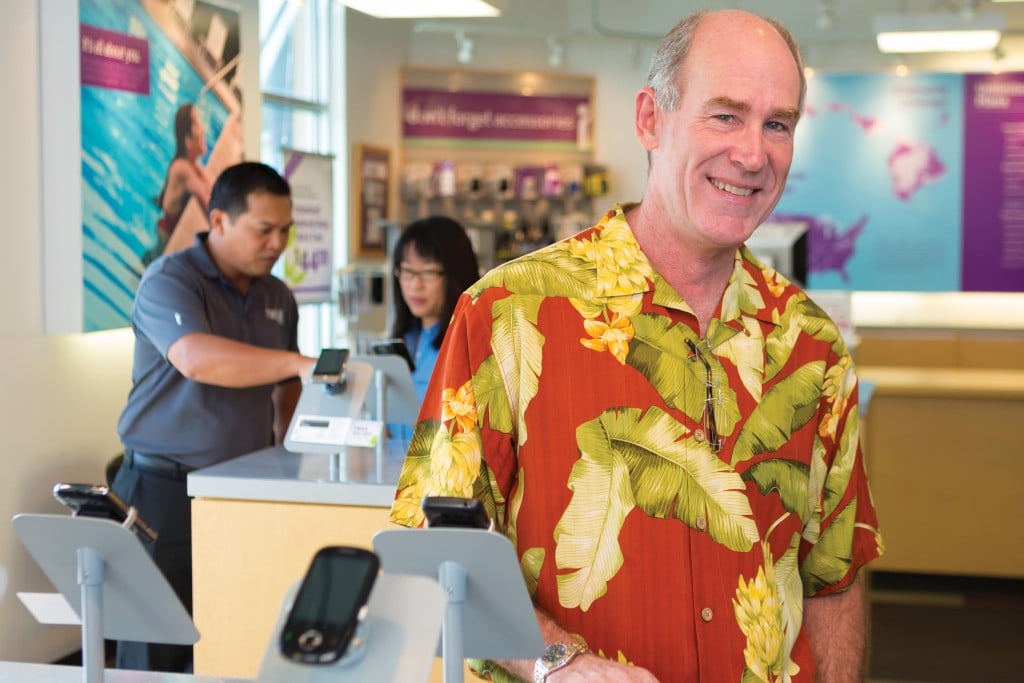 Before Bill Jarvis took the helm seven years ago at Mobi PCS, a Hawaii-based wireless phone company, he had spent two decades working for other, bigger national brands.
So he knew what not to do.
"We could really study the category and see what's broken with it," says Jarvis, Mobi's president and COO. "We knew how the big companies thought and ways they got one over on the customer. We thought, 'What if we did the opposite?' "
Today, Mobi PCS has nine retail and service locations and thousands of subscribers, lured by the company's no-frills approach. Unlike its mainland-based counterparts, Mobi PCS started by offering unlimited talk, text and data for one flat rate, with both contract and no-contract options. That's been what sets it apart from the big national brands like AT&T, T-Mobile and Sprint. Jarvis says an independent survey found the company had a 96-percent satisfaction rate among its customers.
"The key was we looked for ways we could be different," Jarvis says.
That's the key for most local businesses up against mainland competitors with deep pockets, which can give them different advantages. Sometimes the advantage is lower prices, other times it's more locations or bigger stores, and often it's huge advertising and marketing budgets.
"It's tough to do business here," says real estate expert and consultantStephany Sofos. "And what separates businesses here is location, convenience and service. If everything is equal, then it comes down to price point, that becomes the key issue."
It's a common theme in Hawaii: a big-box retailer moves in and smaller, locally owned shops close up. But there are hundreds of local businesses that compete successfully with bigger mainland rivals and, in some cases, have even knocked them out of Hawaii.
City Mill is one local business that has survived fierce competition from not one, but two mainland giants, Home Depot and Lowe's. Both have locations that are within walking distance of City Mill's 60,000-square-foot flagship location on Nimitz Highway. Nonetheless, the hardware store chain is actually growing, with its ninth Oahu store opening this year at the new Laulani Village Shopping Center in Ewa Beach.
"I think the key for local businesses is to understand their strengths and weaknesses and not necessarily play the game with the other guys," says Steven Ai, president of the company started by his grandfather, Chung Kun Ai, in 1899. "If you can't match the prices, you have to offer something else."
That's value, he says.
Value can come in different forms, from the quality of the products sold to the knowledgeable customer service you get while you're shopping.
"It's really not about price. Price is what you pay, value is what you get," Ai says. "If prices were everything, everyone would be buying their clothes at Costco. But they don't. Different people want different things. … Providing value, that's the key to the success of a business."
Title Guaranty traces its roots back to 1896, when F.W. Makinney left Santa Clara, Calif., to become an abstractor of land titles in Hawaii. His company merged with another title business, forming Title Guaranty in 1952. For more than 100 years, it has weathered the fluctuations of Hawaii's economy and housing market to remain the state's oldest and largest title and escrow company, despite competition from three mainland-based companies.
"We focus on our people and our employees," says Michael Pietsch, VP of operations at the family-owned business. "And being a local company enables us to make better decisions in regard to the community."
Because Title Guaranty is located in the state it serves, it says its employees have a better sense of what its customers need and want. They can meet with clients face to face, get immediate feedback and make decisions on the spot. Mainland-based companies aren't always able to do that.
"Other companies outsource their title operations; we employ all local employees," Pietsch says. "When clients have questions, we have people here in Hawaii with a wealth of knowledge and resources to solve their problems. The mainland competition cannot offer this."
One Sunday afternoon, Jarvis was shopping inside Times Supermarket in Kahala and overheard a shopper talking on his cell phone to his wireless provider. Jarvis couldn't help but overhear him, and quickly realized the customer was talking to a Mobi representative. Jarvis tapped the man on his shoulder, told him he was the president and listened to his complaint. Jarvis got his number and fixed the problem the next day.
Not only did he learn about a text-messaging issue between Hawaii and the Philippines after talking with this customer, he was able to resolve the problem quickly.
"You're not going to run into the president of a national carrier at a supermarket on a Sunday afternoon and get him to help you with your problem," Jarvis says, laughing. "But it's that kind of thing that does allow us to make changes quickly."
Since Mobi doesn't require two-year contracts like some other carriers, Jarvis feels his company has to earn back its customers every month.
"That pressure forces us to be resourceful and creative every day," he says. "We have to be simple, different, better."
As a student at the University of Hawaii at Manoa, Tom Park had worked in a high-end shoe store, cultivating a passion for the products. He knew he wanted to open his own shop but had to figure out a way to differentiate it from the more established department stores and specialty retailers.
He decided to be different. Very different.
Instead of carrying the usual brands of men's footwear, he focused on specialty and exclusive lines in an intimate setting that made customers feel comfortable and important.
"My goal was always to create a classy, comfortable place for men to shop for shoes," says Park, who owns Leather Soul, a specialty shoe store for men, with locations in Waikiki and Beverly Hills, Calif. "Our product mix is curated and unique."
The boutique carries some of the best brands from around the world, including exclusive models available only at Leather Soul. It's even the exclusive retailer of three U.S. brands, making it a destination for men who are particular about their footwear.
Keeping his business fairly small – 10 employees and two locations with a third expected to open by the end of the year – has had its benefits, too. It's given him more control over his business.
"I'm able to move on a dime, versus dealing with corporate politics and structure to get something done," Park says. "I can make quick changes and improvements immediately."
Like Park, Jarvis knows and understands his competition, but he doesn't focus on it. The focus, instead, is on customers and what they need and want. That shift in attention and effort has helped Mobi PCS become, despite its size, a bonafide player in Hawaii's wireless industry.
"We knew we could never play the game by imitating our competition," Jarvis says. "We wanted to be a disruption. It was an opportunity to do something different. And better."
• Be different:
That's the mantra for many local businesses, including Leather Soul, a retailer of exclusive men's footwear and accessories in Waikiki. "We offer better service, genuine relationships, more product offerings, exclusive models and a blog-based website," says owner Tom Park. "Don't try to compete. Try to innovate and improve."
• Know your competition:
This holds true for any business: Knowing your rivals is a way to better position yourself in the marketplace. What do they offer? What's their service like? What are their prices? When you figure that out, you can try to do things better. "We looked for the flaws in their business models and we positioned against them to compete," says Bill Jarvis, president of Mobi PCS, a Hawaii-based wireless telephone company. "We differentiated ourselves from them and found out what the customers wanted, and that's what we gave them."
• Use word of mouth:
Small local businesses often can't compete with the big advertising budgets of their mainland counterparts. But there's a benefit to doing business in Hawaii: the power of word-of-mouth marketing. "This is so much a part of Hawaii's culture, more than anywhere else," says Bill Jarvis, president and COO of Mobi PCS. "We saw it as a really good opportunity and took advantage of that."
• Reward loyalty:
One of the reasons City Mill and Title Guaranty have lasted despite mainland competition is the loyalty of local customers. "What makes it fun is I'm getting calls from clients that my grandfather serviced," says Michael Pietsch, VP of operations at Title Guaranty. For its 115th anniversary, the company gave out Scott Hawaii slippers to its staff and clients. City Mill offers a reward program for its employees.
• Focus on service:
The 10 employees at Leather Soul aren't typical salespeople. They remember your name, your last order and your taste in shoes. That has set the boutique apart from big department stores and has contributed to its growing customer base. "We strive to make long-term relationships with our customers and offer the best and most comfortable customer service," Park says.
• Stay local:
Know your customers and give them what they want. That includes stocking the right products and following local customs. "Local people are ferociously loyal to the businesses they like," says real estate expert and consultant Stephany Sofos. "And City Mill, like Foodland and Longs Drugs, has a big, loyal group. And they've been able to compete by keeping it local. They know what their customers like and need."