Solar Power Pays Off for Businesses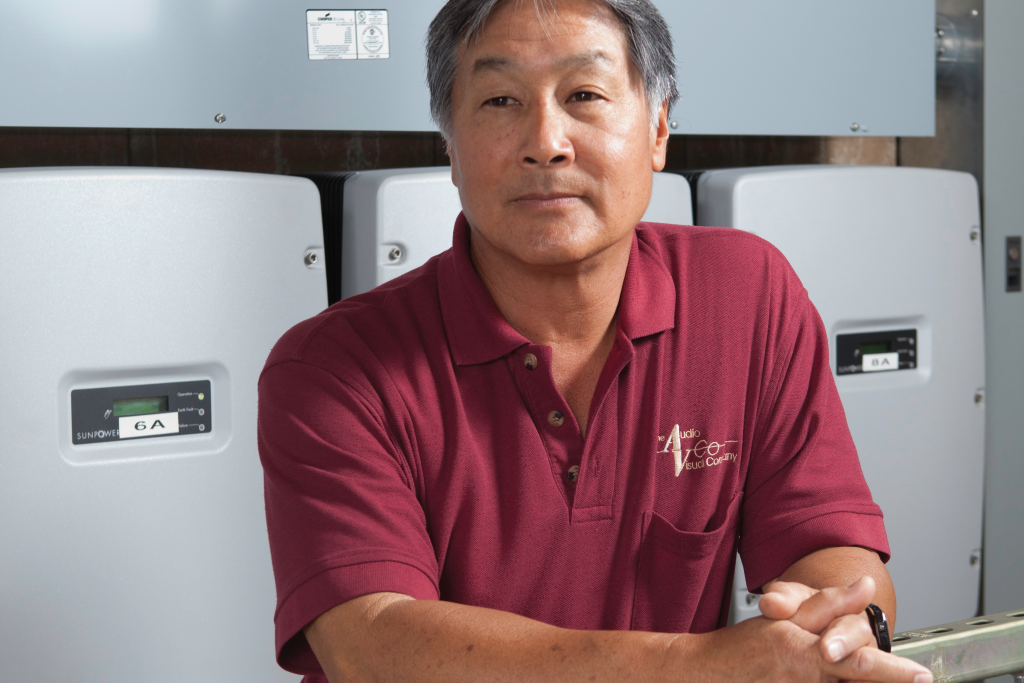 When Thomas Lee, owner of The Audio Visual Co. in Waimalu, decided two years ago to expand his work space – from 15,000 to 24,000 square feet – he knew his electricity bill would likely grow, too.
With air conditioning running in the equipment server room around the clock and offices operating seven days a week, Lee paid $3,000 to $4,000 a month for electricity in the smaller space. After expanding, he would have paid even more unless he found an energy alternative.
By the end of 2009, Distributed Energy Partners, a Hawaii-based firm specializing in commercial-scale renewable-energy projects, had installed a 108-kilowatt photovoltaic system on his roof. The array of 352 solar panels and 15 inverters cost $685,000, which Lee paid upfront.
After receiving state and federal tax credits, in addition to a 30 percent cash grant, and factoring in depreciation, the cost of the system dropped to about $150,000. It saves him an estimated $4,000 a month in electricity, which means the system will pay for itself in less than four years.
Now he's looking for a PV system for his Royal Summit home.
"It was a no brainer," says Lee, who only has to pay the minimum service fee — about $650 a month — to Hawaiian Electric Co. "With all the tax incentives at the time, if I didn't jump on it, I would have regretted it. The timing was perfect for me."
Renewable energy experts agree: This is the time for businesses to go solar PV.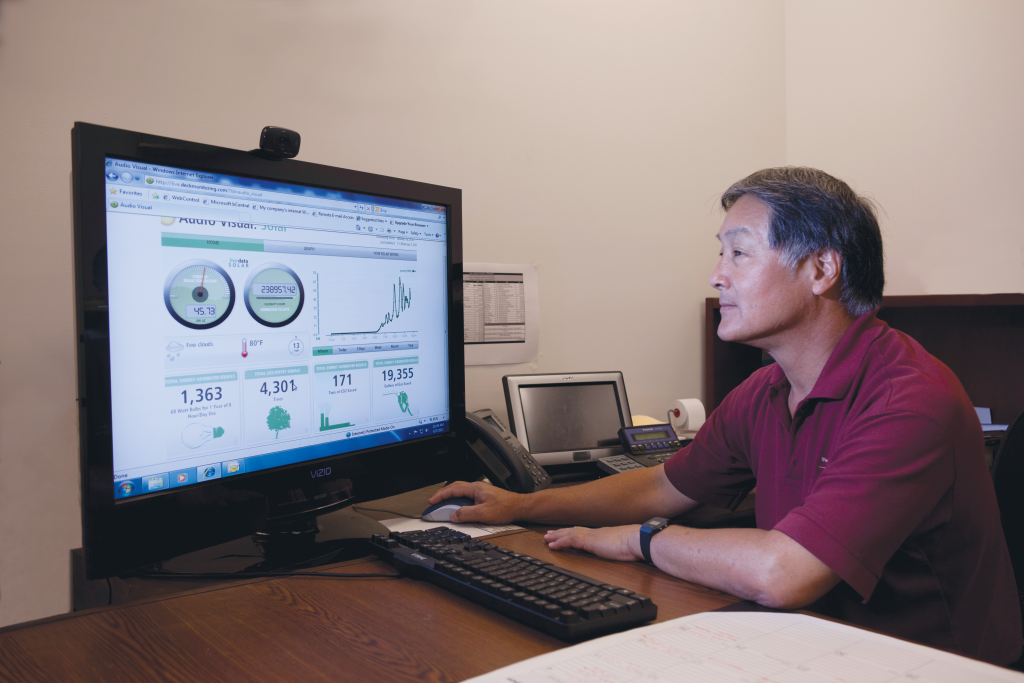 The cost for conventional energy is rising. State and federal governments are offering substantial tax breaks — we're talking up to 65 percent of the cost of the system — and allowing solar systems to be fully deducted over a five-year lifetime. Businesses can opt for a 30 percent cash grant through the 1603 Program, part of the American Recovery and Reinvestment Act of 2009, if the system is installed and operational by the end of this year. That's a rebate check in your pocket in 60 days.
"Literally, if you're in an area where the circuit you're on can accommodate your system and you're a business, you should do this tomorrow," says Mark Duda, president of the Hawaii Solar Energy Association and founding principal at Distributed Energy Partners and RevoluSun. "It's really only going to get worse. The incentives are as high as they'll ever be. … If you have the money or capacity to borrow the money, there's just nothing to wait for."
Here's the deal: Electricity is one of the biggest expenses companies incur, and it's not uncommon for businesses to pay thousands of dollars a month for power. A properly designed and installed solar PV system can reduce, if not eliminate, that expense.
While they may be costly upfront – solar panels can cost between $5 and $9 per watt, which means a 10-kilowatt system may cost between $50,000 and $90,000 – the long-term savings start as soon as you turn on the system.
According to HECO, PV systems on Oahu have exceeded two megawatts of total capacity, and that number is growing.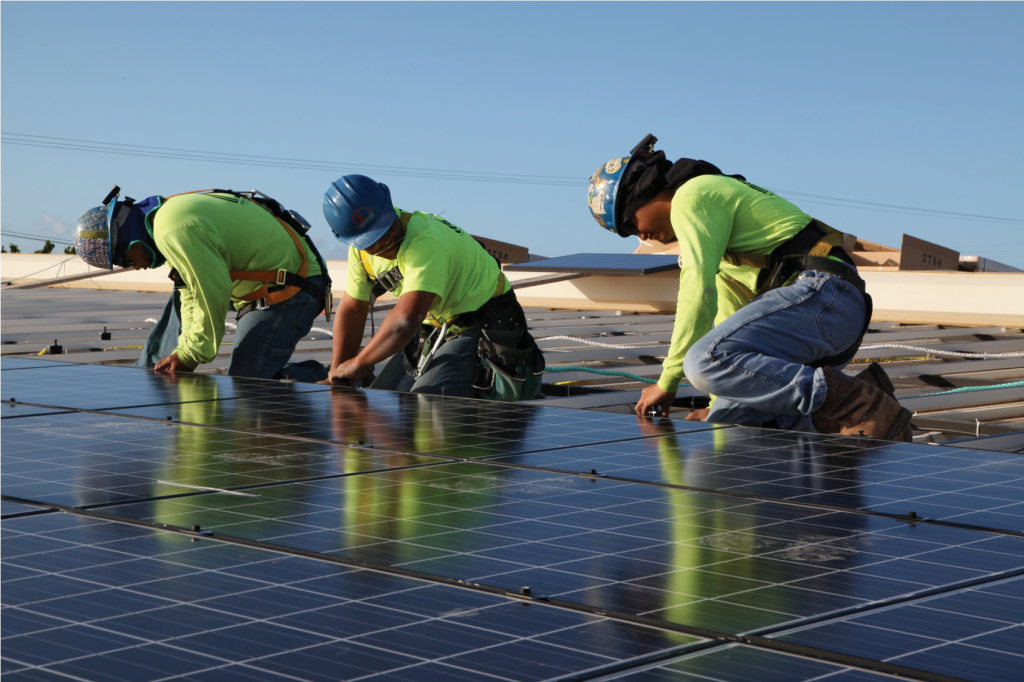 Nationally, solar energy is the fastest growing energy technology, according to the Solar Energy Industries Association, a national trade association, with global brands such as Google and Whole Foods going solar. The U.S. solar market grew to a $6 billion industry in 2010, up 67 percent from the year before. The trend is expected to continue, with solar PV installation projected to double by the end of this year.
Hawai'i leads the nation, with the highest per capita installation of solar-powered devices, including solar water heaters. Companies such as Oceanic Time Warner Cable in Mililani, Pacific Ocean Producers Fishing & Marine off Nimitz Highway and Castle & Cooke on Lanai have installed huge solar PV systems. Punahou School has several PV systems on its campus and the design vision for the not-yet-built Culinary Institute of the Pacific, a project of Kapiolani Community College and the University of Hawaii at Manoa, includes solar water heaters and PV.
"I don't understand why every company in Hawaii isn't looking at this seriously," says Joseph Saturnia, president of Island Pacific Energy, a local developer of solar-energy systems. "The economics are just too good right now."
Even small businesses can benefit.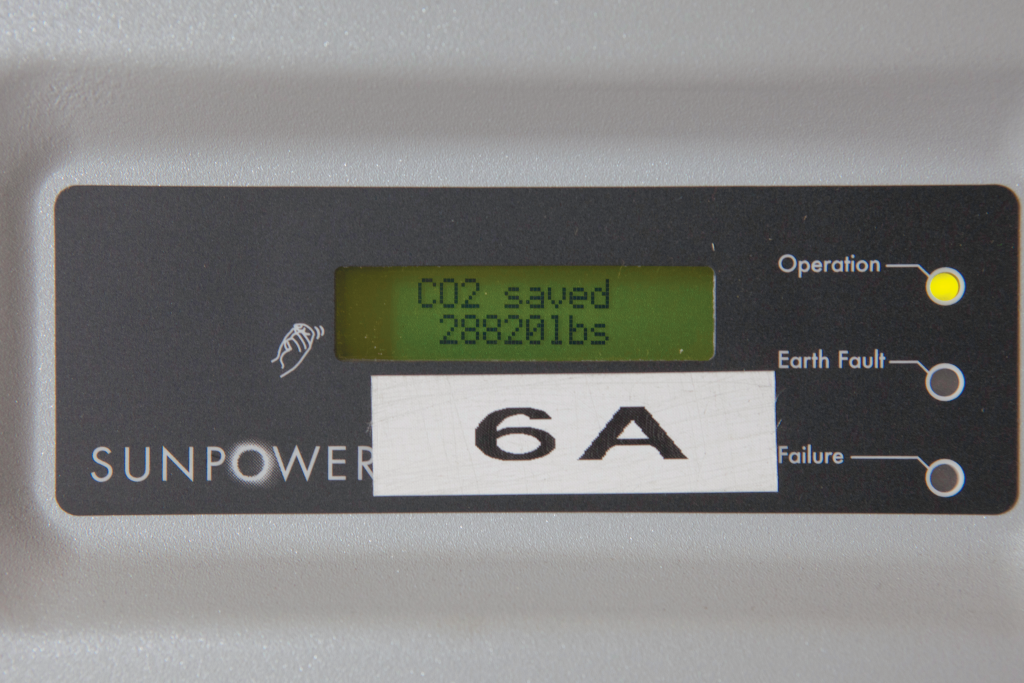 What Sherman Louie, president of Air Masters, sells – air conditioning – is one of the biggest contributors to high electric bills. And just about every company uses it.
Louie paid about $600 a month in electricity, powering the company's 8,000-square-foot warehouse and office space in lower Kalihi. After installing a $95,000, 13-kilowatt PV system in December 2010, he's only paying about $50 a month – without changing his energy use.
"You really don't believe it until you get the bill," says Louie, who also installed a PV system in his Kaimuki home and reduced his monthly electricity bill from $500 to $80. "After you pay that much, you think this thing better work. And it performs."
Oahu Solar Systems Connected to the Grid
1,916
End of 2009
3,967
End of 2010
Factors to Consider
Business owners interested in installing solar photovoltaic systems should ask themselves these questions:
How do I pay for it?
A solar PV system isn't cheap, but the long-term savings are real. "People who were paying $5,000 a month are now paying $50 a month," says Joseph Saturnia of Island Pacific Energy.
There are different ways to pay for a system. You can pay the entire cost upfront (from your savings or with a bank loan) and take all the tax benefits. You can also lease the equipment, where the lessor who buys the system will receive all the tax benefits, while you get a monthly payment lower than your current electricity bill. Or you can get a power purchase agreement (PPA), where a third party buys the system and sells you the energy.
Will I benefit from the tax credits?
If you own a small business that doesn't pay a lot in taxes, the tax-credit option may not be the best deal. You might want to consider, instead, the Treasury Grant, which gives 30 percent of the cost of the system back to you in the form of a check. But the system has to be installed and running by the end of the year in order to qualify for this option. (The 30-percent federal tax credit doesn't expire until 2016; the 35-percent state tax credit doesn't have a sunset date.)
Do I have the space?
Solar PV systems have two components: solar panels and inverters. While finding space for the inverters isn't the biggest challenge, finding enough roof space for the panels might be. Ideally, you want a large, flat roof that gets direct sunlight. Each kilowatt takes about 100 square feet of space, Saturnia says.
What if I don't own the building?
If you don't, your landlord has to make a decision about installing a solar PV system. If you're in a long-term lease, you could get permission from your landlord to install a system. You would get your money back after the first three to four years and reap the savings thereafter. Or your landlord could provide the PPA to tenants and sell the energy back to HECO in a feed-in-tariff program.
Can the grid accommodate my system?
There's a limit on the amount of PV-generating capacity that can be connected to any one of the more than 450 circuits on Oahu that make up HECO's grid. When the amount of the PV on a circuit hits 15 percent of the total capacity, HECO usually requires the business (or homeowner) to conduct an interconnection study, which can cost $40,000 or more and take months to complete. It's a cost that you likely will have to shoulder.
Nonetheless, on Oahu, only six out of 465 circuits are at or near the 15-percent limit, HECO says. And the solar industry is lobbying for a higher limit and more cost-sharing when a study is required.