Standing Fit Converts Countertops into Stand-up Desks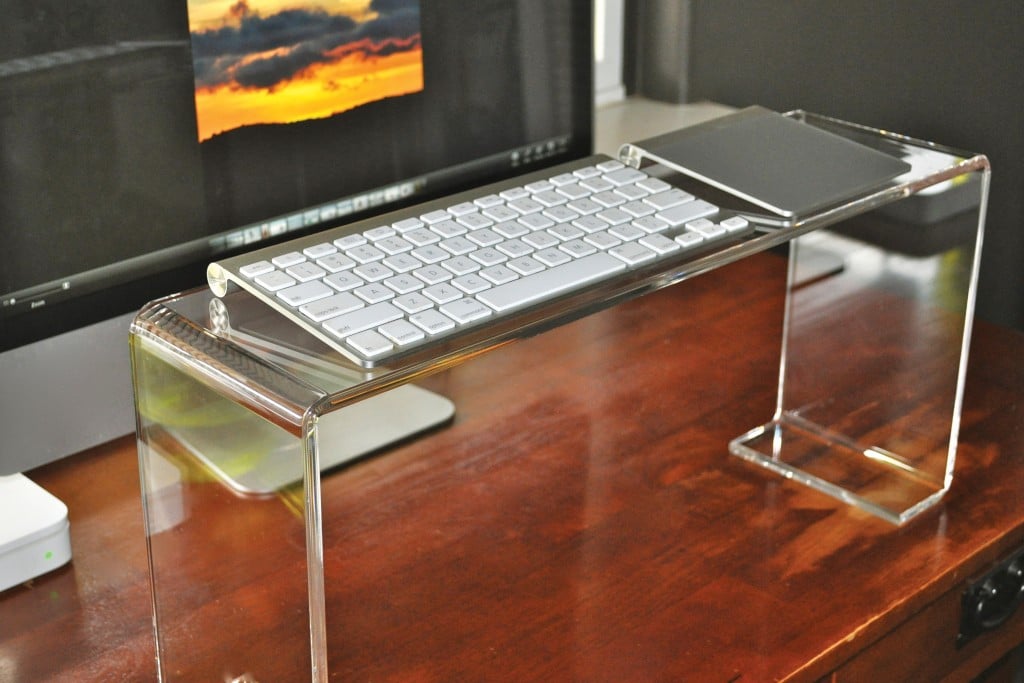 WHAT IS STANDING FIT?
Standing Fit converts tables or countertops into stand-up desks. It's a 3/8-inch-thick plexiglass stand designed by Kona native Tiffiny Taylor, and manufactured and shipped to customers byGlasplex LLC, based in New Jersey.
Unlike a traditional stand-up desk, you can sit or stand while using it. For instance, it can host your laptop or tablet on your kitchen counter, sparing them from spills of your morning juice or coffee.
ORIGIN OF THE IDEA
Taylor the momtrepreneur says she already knew the health benefits of standing up to use a computer, but found that stand-up desks were retailing for up to $3,000. Though she found desk stands for monitors, she says, she found nothing for keyboards or laptops. Then, while working in her kitchen with her laptop perched on top of piled-up books, she decided she could create something inexpensive by refining the stack-of-books principle.
"I realized this could be something," Taylor recalls. Version 1.0, as she describes it, was a little smaller, narrower and more wobbly than the current version she created with the help of Glasplex's Tom D'Angelo.
MANUFACTURER
"There are things that look like it, but Tiffiny spent a lot of time seeing what would work height wise," notes D'Angelo, who has been in the plastics business since 1982.
"It's not something I normally would do, but I got a feeling about her and the product," says D'Angelo, who began working with Taylor in December. "To be frank, it's not like I'm making money on it right now. This is just to get it out there. Hopefully, it will take off and she will do well."
MARKET
Studies have linked prolonged sitting to heart disease, diabetes, obesity and other ills, hence the interest in standing desks. Taylor has compiled health information atstandingfit.com; click on "In The News."
How to order:
Standing Fit costs $74.95 plus shipping and can purchase it at standingfit.com.