State Website Turns Heads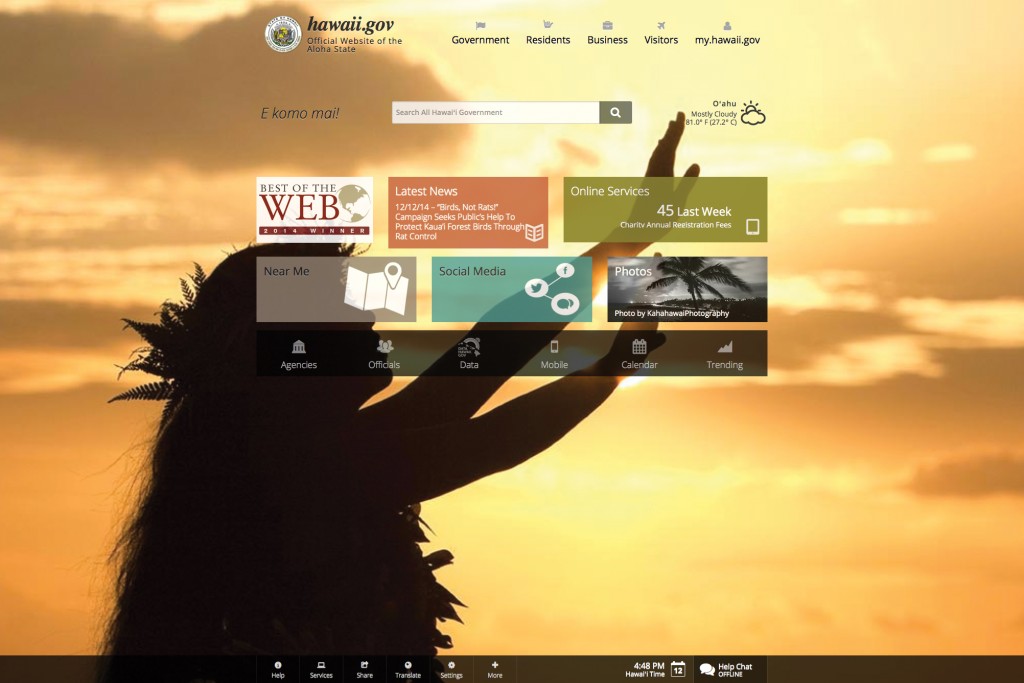 It's three years into the state's Business and Information Technology Transformation 12-year plan and some improvements are becoming noticeable. This year, the newly redesigned hawaii.gov website won seven awards, including the Center for Digital Government's top award for 2014, best website in the state portal category.
Utah's and California's websites "have huge staffs working on them, so they've been consistent in winning these awards," says Karen Higa, open government program manager for the state's Office of Information Management and Technology. "We came from behind. I think we caught everyone off guard, so it was very exciting."
Among the other national honors won by the state's website was the Web Marketing Association's "Best Government Website" for 2014.
Higa's office worked with a private company, the Hawaii Information Consortium, to redesign the state's Web portal. The goal was to create a better user experience, make it easier for citizens to find things online, and employ a responsive design that adjusts to all computers, tablets and smartphones. "We upgraded the websites across all 18 departments and several of the attached agencies," Higa says. The redesign was launched last year, but additions continue to be made each month.
Denise Yamaguchi of Denise Hayashi Consulting LLC uses the website once or twice a month to research information and make filings, and likes the changes she's seen. "It's more attractive and user-friendly than it was a year ago. Most of the department pages are updated with a new format and menu bars that make navigation easier," says Yamaguchi.
The website also features a My.Hawaii.Gov portal that personalizes information. Anyone can sign up for an account and it will notify you of business filings, licenses or renewals that you need. Gamification features were also added to make the experience more engaging.
"The biggest thing, and probably why it won, was the gamification and personalization of it," says Russell Castagnaro, general manager for HIC. For instance, if you want, a community board will confidentially compare you to other users on how many trees you saved by doing business online and how many hours you saved by not waiting in line. It's anonymous, he adds, so no one can access your information.
Castagnaro and his team are discussing future gamification features, but points out these features are only there for those who want to participate. "If you're not interested, you don't have to mess with it," he says.
While statistics show a large growth in visitors to the state site since its relaunch, there are areas that still need improvement. "About 60 to 70 percent of new businesses file their initial paperwork online and 90 percent of existing business file their annual reports online, but only about 20 percent pay taxes online," says Castagnaro. He says he's trying to learn why so few pay taxes online, and hopes that outreach and educating people in a fun way, such as using gamification, will help increase the rate.
Behind the scenes, the redesign has changed the speed at which state employees can change their department websites and share information with the public. "Before, you needed the IT staff to put up any changes to the website, and it might take days or weeks to get that information up. Now, if they have pictures of an event, they can just upload them through their phones," says Higa. "We made the process so much simpler and easier."
Even more important, the staff's ability to post information on their own means that more information will be posted and shared with the public, Higa says.