Surfing Through Hawaii's Past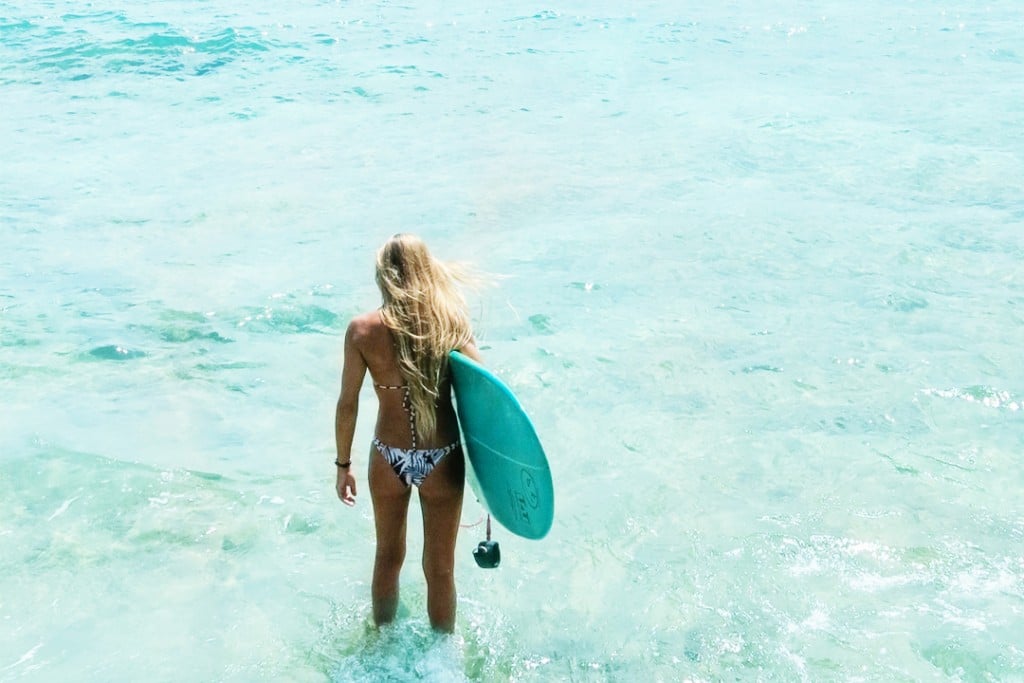 Landmarks are common sources of surf-spot names, so many have been named after businesses on shore or businesspeople who owned beachfront homes. The following examples and the stories behind the names are from John Clark's book "Hawaii Place Names: Shores, Beaches and Surf Sites," published by the University of Hawaii Press.
Oahu South Shore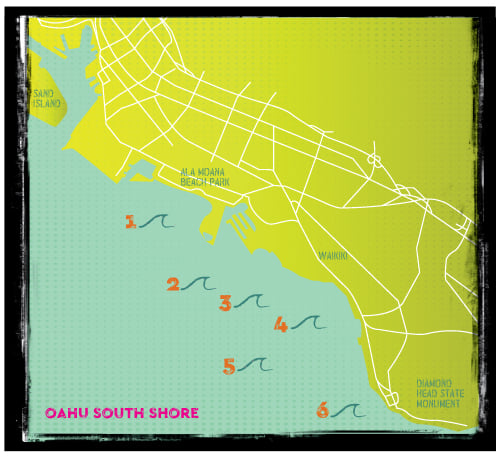 1. Concessions. In the early 1970s, the City and County of Honolulu's Department of Parks and Recreation opened a food concession at the east end of Ala Moana Beach Park. Today it is run by L&L Hawaiian Barbecue.
2. Kaiser's. In 1955, Henry J. Kaiser opened the Kaiser Hawaiian Village at the west end of Waikiki. Although Conrad Hilton bought the resort in 1961 and re-named it the Hilton Hawaiian Village, the surf spot is still named Kaiser's.
3. Baby Royals, aka Sandbars. The Royal Hawaiian Hotel opened on Waikiki Beach in 1927. Back in the day, the smaller, beginners' waves of several Waikiki surf spots were named "baby," such as Baby Canoes and Baby Queens.
4. Cunha's. Emmanuel Sylvester Cunha had a two-story home in Waikiki at the intersection of Kalakaua Avenue and Kapahulu Avenue.
5. Castle's. Samuel Northrup Castle arrived in Hawaii as a missionary in 1837. In 1851, he and Amos Cooke founded Castle and Cooke Co. Castle built a three-story beachfront home at the east end of Waikiki in the 1890s, which was later purchased by the Benevolent and Protective Society of Elks. Today it is the site of the Elks Club.
6. Tongg's. Ruddy Fah Tongg, who founded Aloha Airlines, had a beachfront home at the east end of Kalakaua Avenue from 1946 to 1961. His sons Michael and Ronnie were surfers and their home was a focal point for neighborhood surfers.

7. Brown's. George Brown had a beachfront home on Kaalawai Beach at the foot of Diamond Head. Black Point residents and surfing legends John Kelly and Fran Heath named the spot in the 1920s.
8. Hilton's. The Kahala Hilton Hotel opened in 1964 at the east end of Kahala Avenue. Although the resort is now The Kahala Hotel and Resort, the name of the surf spot is still Hilton's.
9. Paiko's. Manuel Paiko came from the Azores in the 1800s and had a beachfront home in Kuliouou. After he died in 1891, his descendents continued to live on Paiko Drive until 1947.
10. Irma's.* During the 1960s, Irma and Willy Akima owned and operated Irma's Lunchwagon on Kalanianaole Highway at the Kealahou Street intersection.
11. Alan Davis, aka A.D.'s. From 1932 to 1946, Alan Davis, a former head trustee of Campbell Estate, leased 3,000 acres at the east end of Oahu, which he called Wawamalu Ranch. He and his family lived there until the tsunami of April 1, 1946 destroyed their home.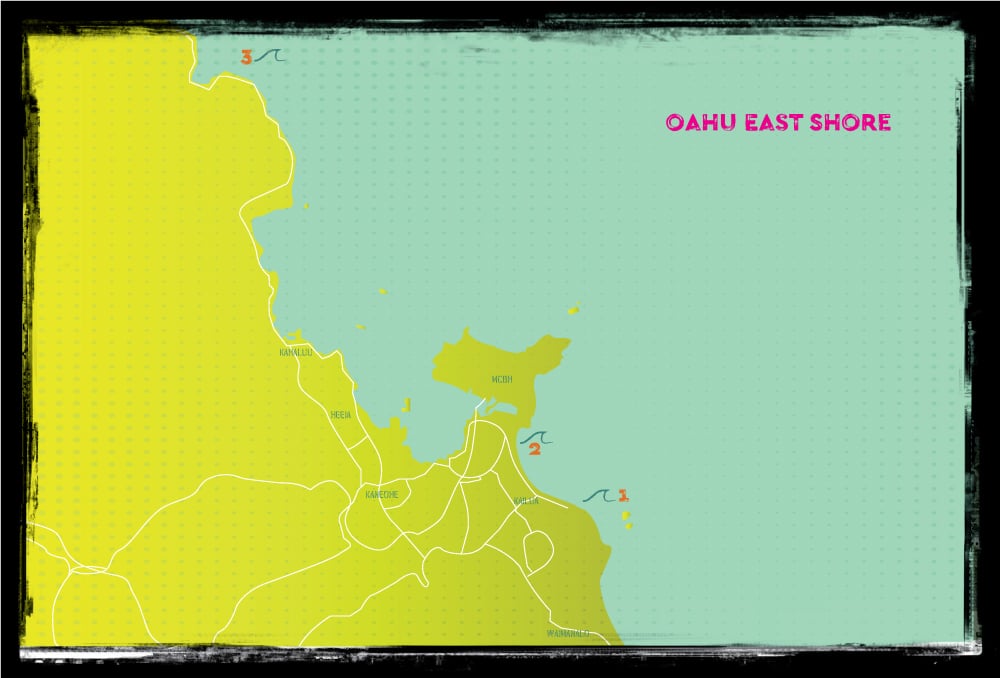 Oahu East Shore
1. Mid-Pacs. Mid-Pacific Country Club was established in Kailua in 1926 as an amenity of Charles Frazier's new subdivision, Lanikai.
2. Castle's. In 1925, Harold Kainalu Long Castle opened the first housing tract in Kailua, which he named Kalama after Queen Kalama, a former landowner. The Castle family had a beachfront home at the north end of Kailua Beach.
3. Crouching Lion. The Crouching Lion Inn opened in 1951, when the former home of George F. Larsen Sr. was converted into a restaurant. Larsen built his home in 1928 below the rock formation known as the Crouching Lion. The restaurant is currently closed for renovations.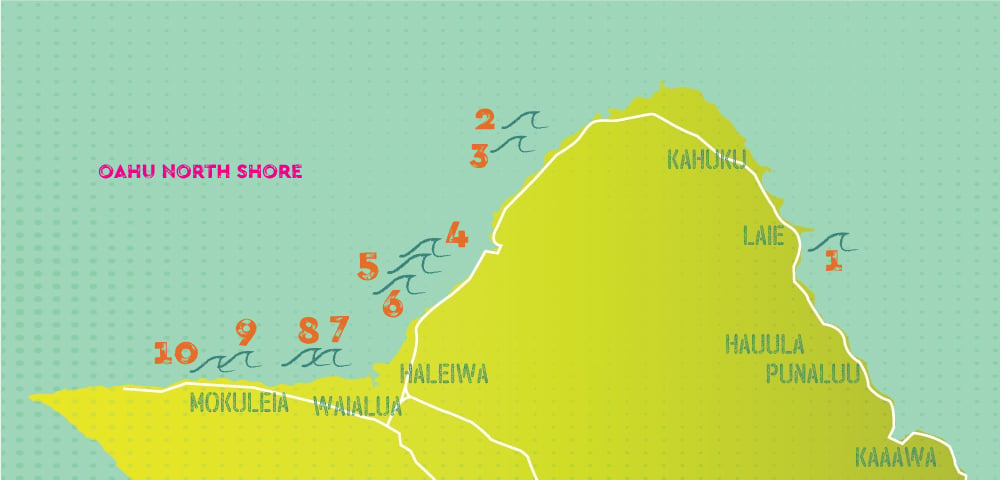 Oahu North Shore
1. PCCs. The Church of Jesus Christ of Latter-Day Saints started the Polynesian Cultural Center in 1963 to provide jobs for students attending Brigham Young University-Hawaii in Laie.
2. Velzyland, aka V-land. In 1958, California surfboard manufacturer Dale Velzy hired Bruce Brown to make a promotional movie about surfing. While Brown was in Hawaii, he and five other California surfers "discovered" a North Shore surf spot, which they named Velzyland.
3. Kammieland, aka Kammie's. Gladys and Henry Buck Chon Kam opened Kammie's Market on Kamehameha Highway at Sunset Beach in 1961. Kam, who came from China at the age of 15, was known as Mr. Kammie.
4. Kamisugi's. Sunao "Flash" Kamisugi bought a lot and built a beachfront home on Kamehameha Highway in 1963.
5. Paty's. William Paty, a former Waialua Sugar Co. executive, bought a lot and built his beachfront home on Kamehameha Highway in 1957.
6. Chun's Reef. John Ah Choy Chun (1914-1996), a member of the Honolulu Fire Department, owned Chun's Store in Haleiwa. Chun's children were avid surfers and their favorite spot was the reef break near their beachfront home on Kamehameha Highway.
7. Fujioka's, aka Fuji's. The Fujioka family opened Fujioka Super Market in Haleiwa in 1910 and owned a beachfront home on Crozier Drive in Mokuleia.
8. Sylva's Channel, aka Silver Channels. Edward Sylva built two beachfront homes on his property at the west end of Crozier Drive in Mokuleia in the 1960s. Surfers originally called the spot Sylva's Channel, but today it's more commonly known as Silver Channels.
9. Day Star. The Day Star is a 73-foot-long, 22-foot-wide, 100-ton commercial fishing boat. It was built by Carroll Hoeppner from 1971 to 1978 on the sand dunes west of Mokuleia Beach Park. When the boat was completed, Hoeppner used bulldozers to push it into the water.
10. Quarries. The Kaena Quarry was located at the west end of Dillingham Airfield, where it produced construction-grade gravel from blue rock.
Oahu West Shore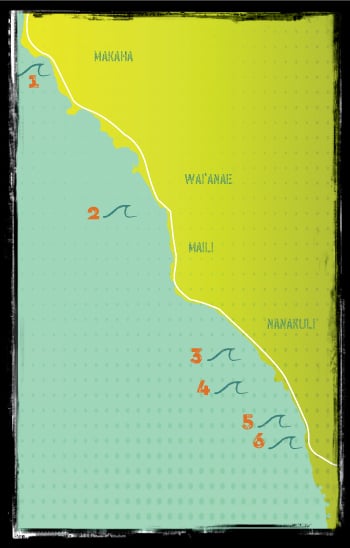 1. Klausmeyer's. David Klausmeyer had a beachfront home at the south end of Makaha Beach. His home served as the headquarters for the Makaha International Surfing Championships, which began in the 1950s.
2. Green Lanterns. The Green Lantern Restaurant was located on Farrington Highway near the Mailiili Channel until 1958, when it was purchased by Vickie and Anson Rego and renamed.
3. Depots. Benjamin Dillingham started the Oahu Railway and Land Co.'s (OR&L) train service in 1889 and by 1897 had extended the line along the Waianae coast and around Kaena Point to Haleiwa. The Nanakuli train depot was located at the intersection of Farrington Highway and Haleakala Avenue.
4. Keaulana's. John Keaulana, one of the original homesteaders in Nanakuli in the early 1920s, had a beachfront home on the point in the Nanaikapono Subdivision. His nephew is legendary surfer Richard "Buffalo" Keaulana.
5. Tracks. The OR&L train line near Kahe Point ran parallel to Farrington Highway on its way along the coast. Although the trains stopped running in 1947, the tracks in this area were never removed.
6. Kamokila's, aka Turtles. Alice Kamokila Campbell was one of four daughters of Ewa landowner James Campbell. In 1939, she built a weekend retreat on an 11-acre beachfront parcel on the western edge of the Ewa plain, which she named Lanikuhonua.
Kauai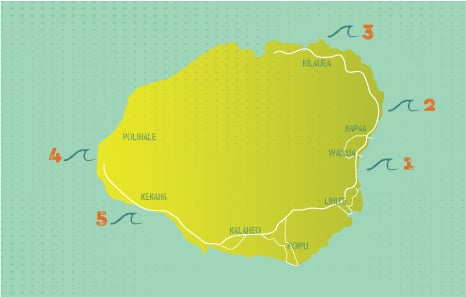 1. Horner's. Albert Horner, a pioneer in Kauai's pineapple industry, was the manager of Hawaiian Canneries Co. from 1920 to 1953. In 1929, he built a 20-room home on a 4-acre beachfront lot at the north end of Wailua Beach. In 1976, Pauline and Mel Ventura purchased the Horner estate. They disassembled the home, reassembled it on another lot in Wailua as their home, and built the Lae Nani condominium on the beachfront parcel.
2. Crack 14. Waves here break on a reef off a former Lihue Plantation sugar field called Makee 14. Surfers called the surf spot Crack 14 after a large crevice, or "crack," in the reef.
3. Kahili. The Kahili Quarry was located on the east side of Kilauea Point near the mouth of Kilauea Stream. In 1971, a 400-foot boulder revetment was built to protect the quarry equipment from high surf.
4. Rocket Reef. In 1964, the Pacific Missile Range Facility in Mana built a pad at the west end of the facility to launch rockets that test military defense technology.
5. Davidson's. John Douglas Davidson, an employee of Kekaha Sugar Co., built a two-story home across the street from the beach in 1922 and lived there until his death in 1949.
6. PK's. PK is an acronym for Prince Kuhio. A small beachpark nearby, Prince Kuhio Park, commemorates the birthplace of Prince Jonah Kuhio Kalanianaole, who was Hawaii's delegate to Congress from 1902 until his death in 1922. He is still recognized today for his efforts to establish the Hawaiian Homes Commission Act.
7. Brennecke's. Dr. Marvin Brennecke came to Kauai in 1931 and worked as a plantation doctor until he retired in 1972. He bought a beachfront lot in Poipu and built a house on it in 1936. When Hurricane Iwa destroyed his home in 1982, he never rebuilt. The county acquired his lot and used it to expand Poipu Beach Park.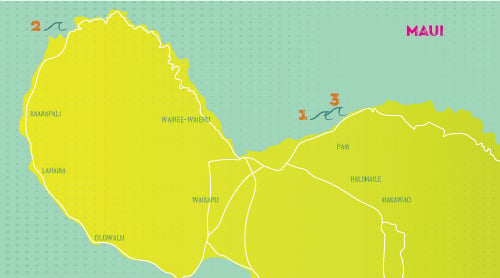 Maui
1. Baldwin's. Baldwin Beach Park was named for Harry A. Baldwin (1871-1946), son of Henry P. Baldwin, co-founder of Alexander & Baldwin. The park was originally a company recreation site for Hawaiian Commercial & Sugar Co. (HC&S), a division of A&B.
2. Fleming's. David Thomas Fleming was the manager of Honolua Ranch in 1912 and converted it into a pineapple plantation. D. T. Fleming Beach Park was named after him.
3. Tavares Bay. Antone F. Tavares had a beachfront home on the shore of Kuau Bay.
Molokai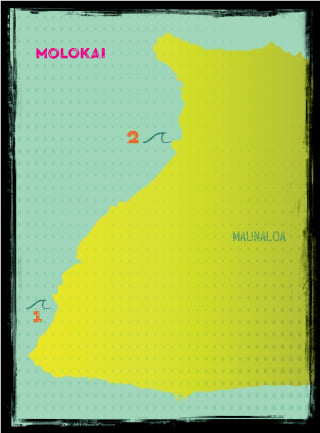 1. Egusa's. Kimi and Takujiro Egusa were employees of Molokai Ranch who lived near Kamakaipo Beach for about 20 years before World War II. Takujiro was a beekeeper for the ranch and a caretaker for its Kaupoa beach home.
2. Sheraton's. The Sheraton Molokai Hotel opened on Kepuhi Beach on March 15, 1977, with 292 rooms and an 18-hole golf course. The resort was later run by Molokai Ranch but is now closed.
Hawaii Island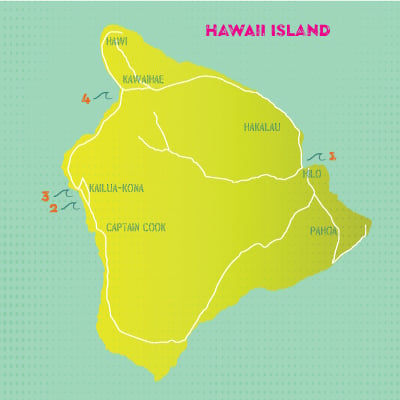 1. Richardson's. The Richardson Ocean Center in Leleiwi Beach Park is the former home of Elsa and George Richardson.
2. Lyman's. Barbara and Howard Lyman built their beachfront home on Holualoa Bay in 1956. Lei Collins, a former curator of Hulihee Palace, wrote the song "Laimana" about their home.
3. Tiki's. The Kona Tiki Hotel is on Alii Drive about 1 mile from the town of Kailua-Kona. The surf spot is in a cove adjacent to the hotel.
4. Ruddle's. The former beach home of Annabelle and Albert Ruddle was located on 7.5 acres at the makai end of Puako Beach Drive. The Ruddles purchased the property, which was known as Paniau, in the late 1930s.