Sustainable Schools Earn An A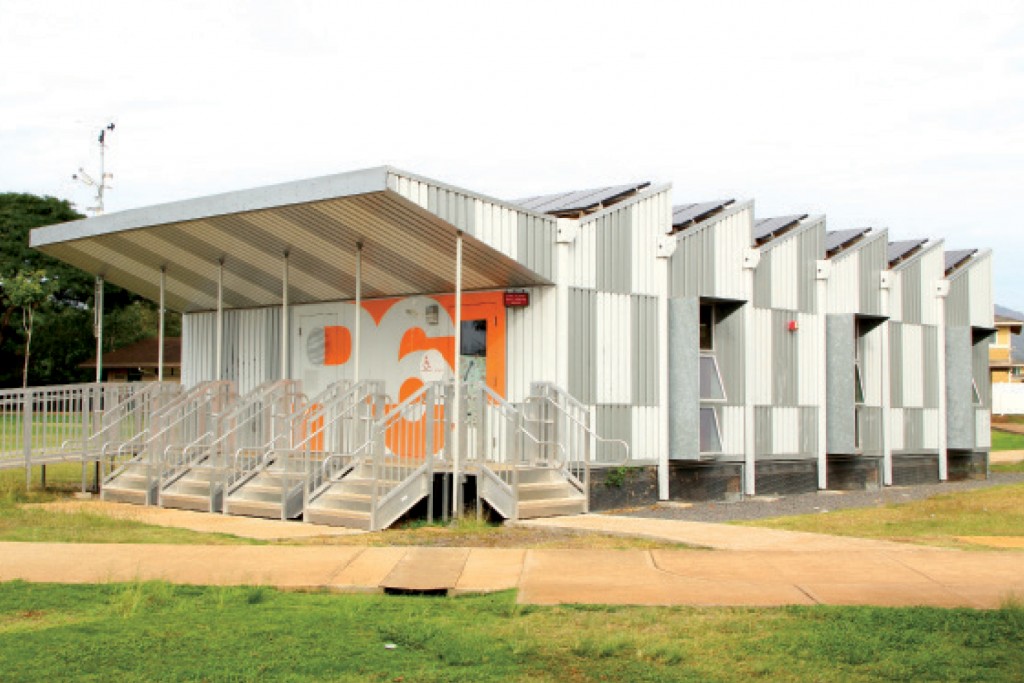 Private and public schools discover many benefits to their sustainability programs, including financial, educational, motivational and recruiting returns.
For companies, the path to sustainability often starts with a volunteer task force (a "green team") and some small initiatives with quick financial paybacks, before moving on to larger projects. A similar movement is underway to green many of Hawaii's private and public schools. By all appearances, that effort seems to be far ahead of the business community's.
Last year, the state Department of Education put forth Ka Hei, a comprehensive statewide sustainability plan for K-12 schools. Donalyn Dela Cruz, DOE director of communications, calls the plan ambitious and far-reaching.
"Ka Hei will transform the learning environment, reduce operational expenses and provide engaging educational opportunities for our students and community," says Dela Cruz. The program created practical strategies to bring clean energy to all 255 state schools, reduce total energy by 25 percent and water use by 30 percent over five years.
More immediately, the state plans to open in July its first net-positive school building at Ewa Elementary – which means the building will produce more energy than it consumes.
Sustainability projects at many private schools are equally ambitious, and lots are already in place. So why are schools seemingly outpacing businesses? Charles Kaneshiro, president and COO of Group 70 International and one of the first LEED-certified architects in Hawaii, believes there's a perfect storm of motivations for schools.
$2

7

,000
Amount Hawaii Preparatory Academy says its ground-mounted PV system (above) is on track to save the school each year.
"The payback periods are a prime driver," he says, "as the schools often own the land. Green buildings tend to be more durable and last longer. For private schools, there's an element of attracting the best student candidates. Donors are attracted to the green aspects, and there's a PR contingent as well: the school's standing in the community. But there's also a sense that, if a school isn't going green, it's missing a component students are going to need in their careers, so schools are driven to make sustainability part of the educational process."
There are many reasons sustainability makes good sense on campuses. Like businesses, schools have high energy bills as well as motivated stakeholders who become early-adopter volunteers. While schools may not have as many accountants and financial planners to drive high-ROI initiatives as companies do, their educational missions help turn them into leaders in sustainability.

"Many of our best [student] gardeners work with a confidence they don't always have in their math class,

but in the garden, they cultivate their leadership skills and their confidence in other arenas."
– Eliza Lathrop,
Garden Coordinator for Punahou School
Eliza Lathrop, school garden coordinators for Punahou School, agrees it's the educational missions that help set the course for sustainability initiatives at schools. Many schools struggle to find ways to really engage students' interest and activate their learning, and the key is often simply to find something they are passionate about. Punahou tapped into this by growing food on campus.
"Many of our best [student] gardeners work with a confidence they don't always have in their math class," says Lathrop, "but in the garden, they cultivate their leadership skills and … their confidence in other arenas." Punahou now boasts 20 gardens, including hydroponics and aquaponics. Students take charge of producing food, from seed to harvest, and learn the economics of the food system.
At Central Union Preschool, the educational mandate is also infused with religious studies, and the keiki are encouraged to think about being a keeper of Eden. "It's about respecting nature, respecting what God has created," says program director Marie Hook. She says that 4- and 5-year-old students start with things they can readily understand, like plastic waste that's washed up on Hawaii's beaches, and create initiatives based on these studies. As a result, Central Union has partnered with the Kokua Foundation to create a plastics collection and recycling program.
Hawaii Preparatory Academy in Waimea on Hawaii Island is one of many schools taking this experiential learning an extra step and integrating sustainability into its curriculum. Its agroecology course gives students credits toward graduation and gets them out of the classroom at the same time. "Students [in this course] have been involved in restoring Hawaiian terraces and studying sustainable practices in agriculture," says Phyllis Kanekuni, director of public relations at HPA.
The school offers a sustainability program that integrates core skills (math, science, writing and the arts) into what it calls ecoliteracy. The theme for the summer of 2015 is energy and one of the electives is a green chemistry course, in which students learn about conventional chemical ingredients in shampoos, soaps, sunscreens and the like, and learn ways to use safer and healthier ingredients to create their own products. Cottage industries around creating these types of products have sprung up around the world, and training the product makers can be a key element in making Hawaii's economy more resilient by creating local companies and jobs.
1
7

%
Punahou School says it reduced energy and water consumption by 4 percent and 5 percent from 2007 to 2011, despite significantly more facilities and users. Paper reuse and reduction have cut paper purchasing by 17 percent.
One of the most important drivers of sustainability programs at both schools and businesses is the financial return on investment. Many schools have saved on energy costs by installing solar panels, LED lights, tinted windows and high-efficiency air-conditioning systems with variable frequency drives or variable refrigerant flow. Iolani's Sullivan Center, designed by Group 70's Kaneshiro, is certified LEED Gold by the U.S. Green Building Council. LEED-certified buildings use less energy than conventional buildings, and they have been built at Punahou, Central Union, HPA, Hawaii Baptist Academy, Montessori School of Maui, Halau Hoolako and other schools, and dozens more seem to be in the planning stages.
4

3%
Iolani School's Sullivan Center is LEED Gold certified and designed to save 43 percent in energy and 41 percent in water over a conventional building of the same size.
Some schools dive in head first. Seabury Hall in Makawao on Maui committed to retrofitting its entire campus in 2000. "Seabury is committed to environmental education and leaving a small carbon footprint," says headmaster Joseph Schmidt. One example is its new 26-classroom building, which replaces a nine-classroom building yet uses less electricity by maximizing natural ventilation and using efficient lighting and appliances.
As with anything related to change, not all sustainability initiatives succeed. Punahou discontinued some transportation initiatives when they had less impact than anticipated. New technology can also create challenges: LEED buildings may hum along at hyper-efficiency, but they may also require additional training for maintenance and operational staff.
Despite some potential pitfalls, the benefits of sustainability programs seem to pay dividends in many areas. In businesses, sustainability often results in as many improvements in "soft" metrics as direct ROI metrics, including customer loyalty, PR, employee engagement, recruitment and retention. Schools appear to enjoy similar benefits.
One of the many indirect benefits Hawaii Preparatory Academy says it is seeing is an increase in student applications specifically for sustainability curricula. "It's definitely an attraction," says Kanekuni, "especially for students who want to do independent research." She also says it has helped in recruiting staff, saying the school attracts high-caliber teachers interested in teaching sustainability courses, and "who want to support students with their independent research and serve as advisors for student-led initiatives."
"I look at my son, and I think about his future. …

I want to do my part to help him preserve what we have."

– Charles Kaneshiro, Architect. Group 70 International
Iolani School's Sullivan Center serves many purposes, but one of the most important may be attracting great talent. Allison Blankenship, director of the center, says one such jewel is the school's sustainability champion, Debbie Milliken. "Debbie is a resource our whole school uses, from getting our youngest students into our school gardens to working with our older students on things like water-quality testing and renewable resource assessments for the Hawaiian Islands. The opening of the Sullivan Center, with its green focus, allowed us to have Debbie, who brings this way of thinking to our whole school."
Students' academic performance may also benefit from sustainability initiatives. Parents, in particular, see school lunch programs as particularly important to their children's future, given the proven connection between nutrition and cognitive performance. In fact, parents often lead the charge in helping "green" the cafeteria menu. Fresh vegetables from Punahou's gardens help serve the 3,700 students and 500 faculty on campus. The Waikiki Elementary School garden encompasses perennials and many fruit trees, with parents and community members holding a monthly volunteer garden party to keep food productivity high.
At Haleakala Waldorf School on Maui, students keep honeybees, compost and grow salad greens in the school's biodynamic garden (that means beyond organic), all of which contribute to the daily lunch. Jocelyn Romero Demirbag, director of strategic initiatives, says the garden and its food are big attractions for parents looking for the right school. At Island School in Lihue, several grades have their own gardens, creating a friendly competition between students to produce the most food on site.
There is evidence that these programs support fundraising. HPA received "a $1.5 million energy-conservation grant to continue our work in the area of sustainability and energy-conservation studies," Kanekuni says. Separately, the school received targeted donor support for the school's Zero Waste program and its Energy Lab was entirely funded by an anonymous donor who supported the school's sustainability vision.
$12,
0

00
Annual savings from energy efficiencies. Central Union Preschool says its PV system with 336 panels supplies 28 percent of its needs. Energy retrofits on lighting, air conditioning and window tinting will save a further $62,000 per year.
Damien Memorial School recently raised $12,164 in "loanations" through Blue Planet Foundation's Wefficiency program to retrofit parking and security lighting, which will save the school an estimated $50,000 over the life of the lights. On Kauai, Island School's solar farm, which it says provides 25 to 30 percent of the school's total electricity, was entirely financed by the parent of one student.
Ultimately, the reason to do sustainability in our schools comes back to the keiki, of course. For students, sustainability is exciting and fun. For others, the goal is more about legacy. When asked why he does such work, architect Charles Kaneshiro says simply, "So many places I travel, you see that they've abused their environment. The water is dirty, there's no greenery. … We don't want to leave Hawaii like that. I look at my son, and I think about his future. He wants to live here in Hawaii. I want to do my part to help him to preserve what we have."