Talk Story: Andrew Robbins, Executive Director and CEO, Honolulu Authority for Rapid Transportation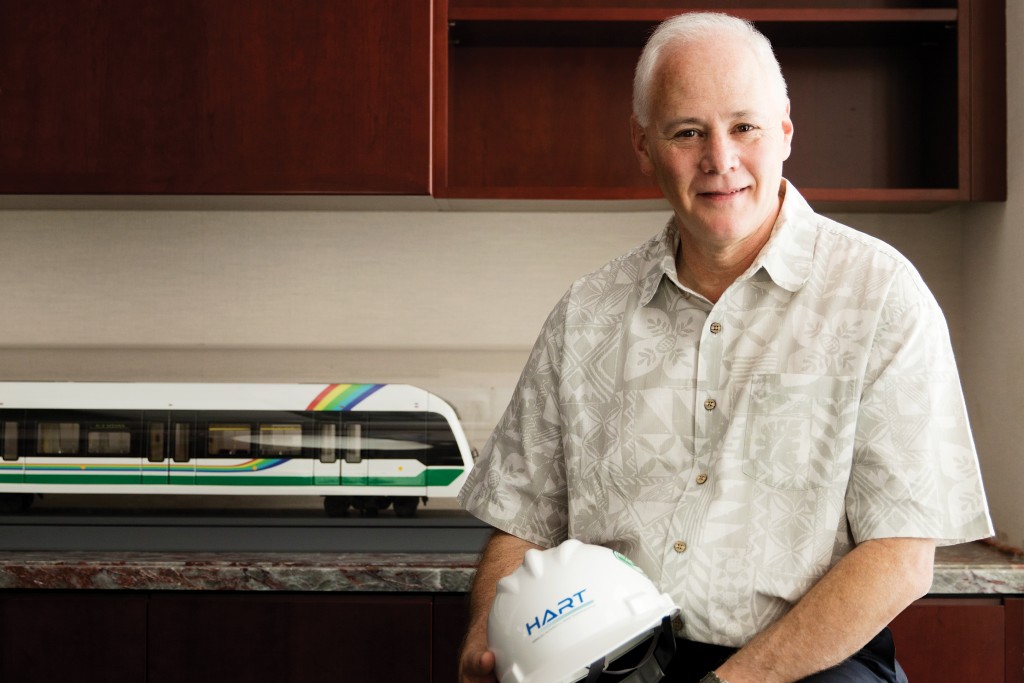 Andrew Robbins began
a job in September that puts him into a hot spotlight, but he says he took the position because the rail project will change people's lives for the better. The career transit man says his only agenda is to successfully complete one of the most complex and controversial projects in the state's history.
---
Q: Becoming head of HART makes you one of the most controversial public officials in the state. Why did you vie for this job?
Robbins: I get asked that question quite a bit. It is what I do. I have been in this line of business for more than 37 years. I believe in this project. It is transformational for the Island. It is extremely important and needs to be finished. It will reduce commute time. The longest ride on the train from Kapolei to Ala Moana Center will be 40 minutes. Today, in an automobile this could take two hours during peak. I have seen how this makes a difference in other places.
Q: The future of this project hinges on whether the Federal Transit Administration approves the remaining grant money. Given the delays, cash shortfalls and turmoil, why should the FTA have faith in this project?
Robbins: First, the FTA is already a major financing partner that has granted $1.55 billion to this project. We have received about $800 million already, and anticipate getting the balance in the future. The FTA studies projects like this all over the country and they saw the merits and importance of this particular project. They want a success as well.
They also recognize the unique challenges of this mega-project that spans over 20 miles through an existing city. We are building it in the middle of the Pacific Ocean. Everything needs to be imported. There are challenges in finding labor. If you are short on material you may have to wait two to three months, which can delay the schedule. 
Q: You have submitted your recovery plan. Have you received preliminary reaction from the FTA?
Robbins: Yes, we have received questions, mainly surrounding the financial planning, which is understandable. They know our timeline and they do not want to be the cause of raising the cost of this project by delaying the grant money. We expect to make some final revisions to our plan, based on recommendations from the FTA during this Q&A period.
Q: What types of revisions?
Robbins: Probably on the financial planning side, in terms of how the funding sources are planned ahead and the reserves that we have (and) looking at the project contingencies. But also looking at our management plan and ensuring that it is robust and sound. One area the FTA is probably most interested in is the part of the project that has not yet been procured, with the city center portion.
Q: What are your chances of prevailing?
Robbins: There are several advantages that we have now: A lot of accumulated knowledge and lessons learned that we can apply to the rest of the project. As the new year unfolds we will be meeting with the FTA and know more.
Q: Critics say that building the rail is a $9 billion gamble (including interest and contingency costs) with taxpayers' money because it will never achieve a high rate of use. What rate of use would you consider a success and why?
Robbins: We already have a strong culture of public transit. TheBus has one of the highest riderships, per capita, in the country. This is another reason the FTA found this project interesting. We have a strong senior-citizen base. We have a lot of students. 
What many people overlook with this project is that it connects many major educational facilities, like the University of Hawaii's West Oahu campus, Leeward Community College, Honolulu Community College and HPU. Eventually the system was planned to go all the way to UH Manoa. So we expect student ridership to be a major component. Everybody who has driven sees the difference in traffic when school is in session. 
We get a lot of bang for your buck with this project. It connects Aloha Stadium, the airport, Pearl Harbor, Downtown – the list goes on. The ingredients for success are there. There are studies that project ridership around 120,000 per day by the year 2030. That is a huge number that eclipses many transit systems in the country.
Q: What are other reasons people would ride the rail?
Robbins: We have an advantage with the technology that we use. We have driverless trains that come very frequently and run at higher average speeds. 
People gravitate toward safe, convenient and reliable transportation. These trains will go by every five minutes during peak, then about every 11 minutes the rest of the day. Compare it to BART in San Francisco, which has 10-cart trains because they need an operator. The time between those trains is about 15 minutes. We have driverless 4-cart trains with 5-minutes waits. You won't need schedules, you just show up.
Q: According to projections, fares will only cover 27 percent of operational and maintenance costs for TheRail and TheBus, leaving Oahu taxpayers to cover $615 million annually. What measures are you taking to offset this burden?
Robbins: Right now, there is a city policy that bus fares have to cover 27 to 33 percent of operational and maintenance costs. That is a policy decision. They could cover a greater percentage if they had a higher average fare. The average fare on TheBus is staggeringly lower than the rest of the country, at about 50 cents per ride. And when you make that kind of a decision, you need to have operating funds that come from elsewhere. Those are decisions that are outside our purview. The city has created a rate commission to make recommendations.
Q: Will TheRail cannibalize TheBus?
Robbins: Again, that is a policy decision. But generally speaking, over longer distances TheRail is more efficient. TheBus is generally more for local transportation. When you have an all-bus system, like we do, you have to have both local and long-distance services. I'm sure the city will be looking at how to migrate from an all-bus system to a rail-and-bus system. 
Going from Kapolei to Ala Moana will take 40 minutes during peak or off-peak hours – it is always the same. The rail will have an average speed of 30 miles per hour. By contrast, the bus has an average speed of 12-13 miles per hour. I read it costs about 80 cents to move a passenger 1 mile on the bus, while roughly 43 cents to do the same on a train.
Q: Construction will soon creep into Downtown, the state's commercial and political center. Does the potential for disruption make you nervous?
Robbins: Most people don't like new construction activity because it can disrupt people's lives. But we have learned a lot of lessons throughout the years that we are going to apply diligently. We know how to advise people ahead of time. We work closely with the community, churches and businesses to keep them informed of our work. They also know how to reach us if there is anything going on with them – and we listen. For instance, if there is a parade or a special event, we can try to accommodate those. We want to be as good a neighbor as possible. 
We fabricate our pieces in a casting yard off site and then we bring them in, so once we have the columns in the ground a lot of the construction can happen overhead and we can maintain traffic flow below. So we don't need a lot of cranes once we have the columns in place.
Q: One of your big goals is to get the rail to go beyond Ala Moana Center and to UH Manoa and Waikiki, but there is opposition. How will you convince stakeholders to go along?
Robbins: There was some misunderstanding about this a few weeks back. The current scope of the project is from Kapolei to Ala Moana. That is our mandate. But we think that part of our responsibility is also to preserve the corridors that lead to the UH and Waikiki, so those extensions can take place at some point in the future.
Q: Construction is taking a toll on the environment. What are you doing to offset this detrimental impact?
Robbins: We are stepping up our sustainability plans. We already have a maintenance facility that has LEED Silver status. We are also looking into solar to help power some of our stations. Energy saving is a big deal for us.
Q: Your predecessor's exit was unpleasant. What lessons have you taken from his experiences?
Robbins: I have thought about that. Certainly transparency is a lesson learned. It is a complex project and there are bound to be mistakes made. We just have to face up to them. It is complicated and we shouldn't be embarrassed to explain that openly – there are difficult issues and it is not going to always be good news. There will be ups and downs. There is risk and we should be open about this. It is how you manage the risk that matters.