Talk Story with Guy Kawasaki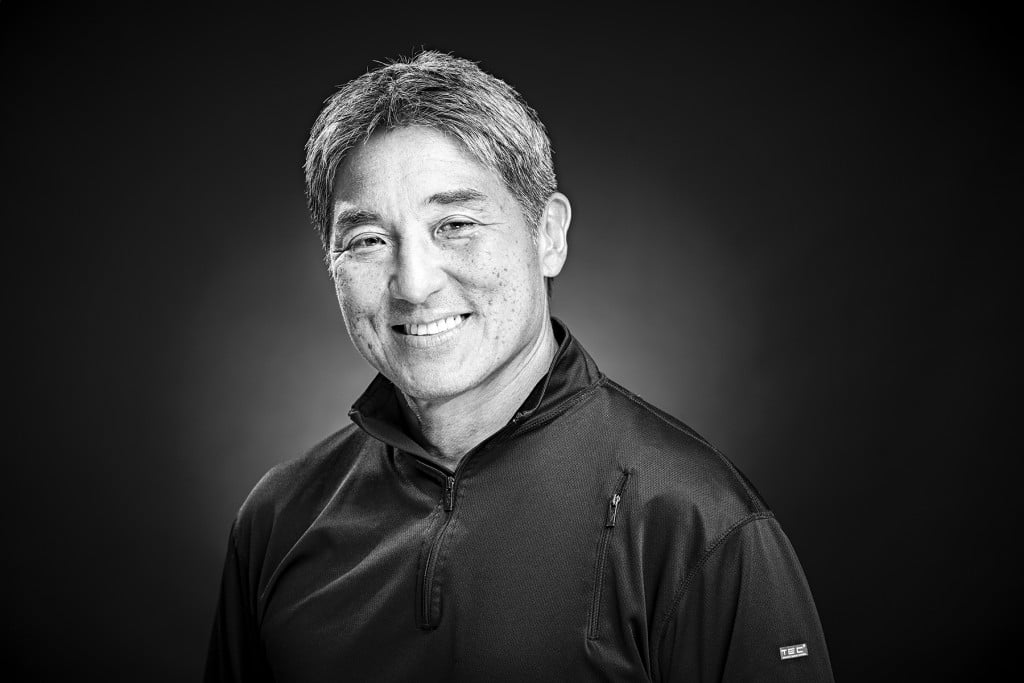 Chief evangelist for Canva and creator of the podcast, "Guy Kawasaki's Remarkable People"
Born and raised in Kalihi Valley, marketing guru Guy Kawasaki went from law school dropout to working for some of the biggest names in tech: Apple, Google and Wikipedia. He's now the chief evangelist for Canva, a popular Sydney-based graphic design platform.
He is also a panelist at Hawaii Business Magazine's Leadership Conference session on Purpose-Driven, Human-Centric Biz Tech. The 66-year-old father of four lives in Santa Cruz (close to his favorite surf break), has written more than a dozen books and sometimes gets mistaken for Jackie Chan.
Q: You got a degree in psychology from Stanford University, yet you wound up in tech. How did that happen?
Kawasaki: Psychology was the easiest major. My career ambition was to be an entrepreneur. I was entranced by Silicon Valley, and in the early '70s, the dream company was Hewlett-Packard. They made cool products: printers, tech stuff. They were creating wealth.
I was interested in tech stuff, but I wasn't a technical person. The tech industry was simply divided into two pieces: You either make the stuff or you sell the stuff. So since I couldn't make the stuff, I had to sell the stuff.
To make my parents happy, I went to law school at UC Davis and I hated it. So I quit after 10 days. I went to UCLA to get an MBA, which is what I was really interested in. I liked business, not law. When I was at UCLA, it was a four-day-a-week program, so I had a three-day weekend every week and I started working for a jewelry manufacturer called Nova Stylings in downtown LA. After I graduated, I went into the jewelry business for about five years, then I went into a software company called EduWare Services, then Apple.
You were at Apple twice in your career. What was your first job?
I started as a software evangelist: My job was to convince hardware and software companies to buy into the Macintosh dream and create Macintosh products. I did that for about four years, then left to start a company. I came back to Apple and became chief evangelist. That was in 1995, when Apple was supposed to die. My job was to preserve the Macintosh community and cult.
Everything you've heard, read or seen about Steve Jobs is true. He was very difficult to work for – extremely demanding. But he drove me to do the best work of my career and I would not be where I am were it not for Steve Jobs. I consider it an honor to have worked for him.
One day he shows up at my desk with somebody and he asked me what I thought of a certain company. I told him the company was mediocre with crappy products, and then he says, "I want you to meet the CEO of that company." That's what it was like.
So what does an evangelist do?
Evangelism comes from a Greek word that means "bringing the good news." I brought the good news of Macintosh, making people more creative and productive. I'm the chief evangelist of Canva, and I'm bringing the good news of Canva, which makes everybody a better communicator by helping them design beautiful graphics. An evangelist brings the good news as opposed to making a sale.
What drew you to Canva?
I became a user because the person who helps me with social media was a user. She used Canva for my Twitter graphics and the company reached out to me.
Canva has democratized graphics and design. This means that anybody can create beautiful graphics. You don't have to be trained as a graphics designer. You don't have to buy Photoshop or Illustrator. You don't have to spend weeks learning these products. You don't have to seek an independent designer or convince a design department to do something for you. That's kind of the antithesis of Canva. You can make your own stuff.
You joined Twitter (@guykawasaki) in 2007, a year after the social media platform was founded. Now you have 1.4 million followers. What did you think of it then?
When I first saw Twitter, I thought it was just irrelevant jibberish of no value. In those days, if you went to the Twitter homepage, you'd see @lonelyboy15 saying the line at Starbucks is long. I don't care who @lonleyboy15 is and I don't care if the line at Starbucks in Austin, Texas, is long. But I started searching for mentions of my name and for competitors. I saw how much action there was about evangelism, marketing, my competitors, my company, venture capital, these kinds of topics. This was a way to find people who shared common interests.
In December, you launched your podcast, "Guy Kawasaki's Remarkable People," and featured some big names, including Martha Stewart, former White House chief of staff Leon Panetta, Apple co-founder Steve Wozniak and Jane Goodall. You've also interviewed Hawaiʻi Gov. David Ige and local chef Roy Yamaguchi. What made you jump into podcasting?
I have been blessed with so many relationships and connections with people. Literally remarkable people. If you look at my guest list, it's up there with NPR's. Even before the pandemic, I was tired of traveling and making speeches all over the world. So I looked at podcasts and thought: "Maybe I can start a new business where I don't have to go all over the world all the time."
The bulk of my energy is spent on the podcast these days. As I look back on my career, of all the books, speeches, jobs and work I've done, the podcast is my finest work. Yeah, no kidding.
The interview was edited for conciseness and continuity.