Talk Story with David Heenan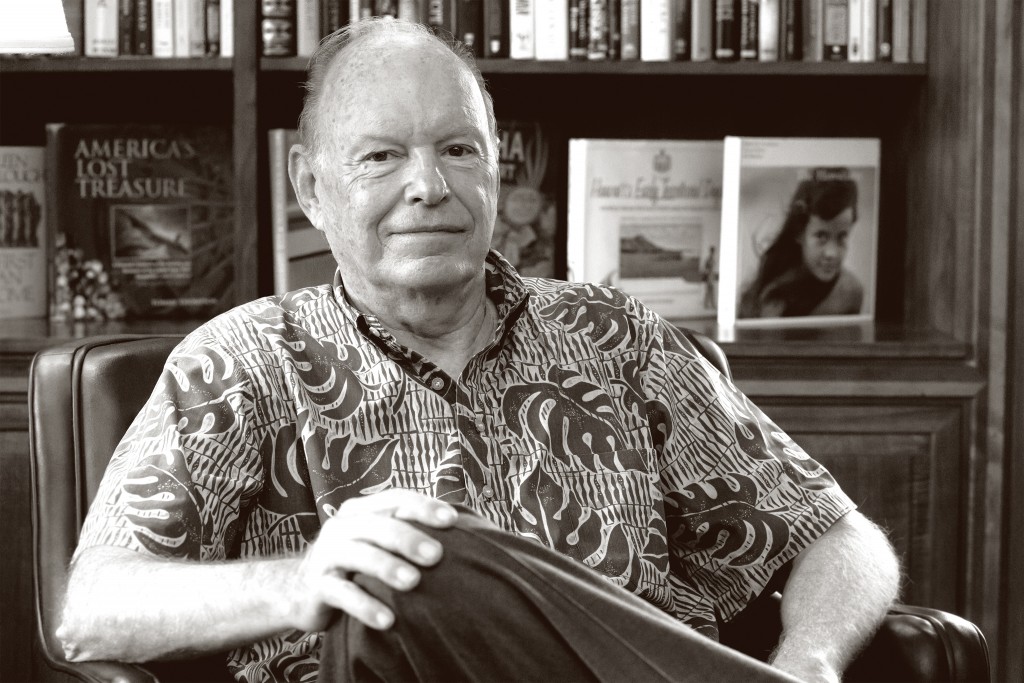 Heenan has served in many influential roles in Hawaii: trustee of the Estate of James Campbell, CEO of Theo H. Davies & Co., dean of the UH-Manoa College of Business and UH VP for Academic Affairs. He is currently a director at Bank of Hawaii. He is also a prolific author of books on business and leadership, including "Bright Triumphs From Dark Hours," "Co-Leaders" and "The New Corporate Frontier." His latest is "Leaving on Top: Graceful Exits for Leaders."
Why write about how to get out when the getting is good?
I've seen a lot of people grapple, more unsuccessfully than successfully, with this rather delicate issue of how and when do you walk away. And I've seen a number of people flub it. It's a very emotional decision and if you get it right you essentially preserve your legacy and reputation. If you overstay your welcome or get sloppy about it, you can tarnish it significantly. People very often are the worst judges of knowing when to move on to the next season of life.
Is it inevitable that people tend to hang on too long?
Not at all. There are many examples of people who left at the top of their game. Take, for instance, Johnny Carson, the most successful late-night television personality of all time. He quit at the peak of his popularity and pretty much retired from show business. His partner, Ed McMahon, wanted to hold on and continued to do television and other events until his life became a soap opera, featuring a string of well-publicized legal, financial and health problems. He didn't know when to quit. There are two points I like to make: It's very comfortable for people to eke things out to the last gulp of the drink or the last mile. The other point is that most people define themselves around their company or their job or their calling. In many respects they don't have an escape route. If you've got nothing else to move to, then it's a lot easier to stay in the U.S. Senate or the corner office. I think men in particular probably have a tougher time with it. They treat retirement as synonymous with castration or euthanasia.
Should everyone exit gracefully?
Not at all. As long as you are productive and engaged, keep at it. Two good examples I describe in my book are heart surgeon Michael DeBakey and entertainer Betty White. The trick is knowing when that is no longer the case. In today's world, when you go into a job, you ought to think about an exit strategy. Think about, "If this doesn't work out, or if things change, what's next for me?" One way to hedge against the downside is to have another dimension of your life by not defining yourself exclusively in terms of your traditional occupation. People ought to develop early an alternative set of interests and pursue them over their lives.
I identify four different approaches to the endgame. They are:
The Timeless Wonders, like Betty White or Warren Buffett.
The Aging Despots, who hang on and refuse to turn over the reins to a younger generation; think Stalin and Sukarno, Mao and Marcos.
The Comeback Kid, who leaves and then comes back for a second round; think of Steve Jobs.
Finally, there are the Graceful Exiters, who quit a successful career and often go on to build a new, second career in a totally different field; think of Dallas Quarterback Roger Staubach, now successful in real estate, or golfer Annika Sorenstam, who left literally at the top of her game and now is successful in fields ranging from clothing to charity to golf course design.
We recently read that Marion Higa, the highly respected state auditor, will step down even though she had several years left on her contract. Is she a good example of leaving on top?
There are several people who fit the bill in Hawaii and she definitely would be one of them. And David McClain, when he left (as president of) UH, he definitely got it right. I think Dick Tomey, who was the UH football coach and went on to the University of Arizona, got it right. And (Dr. Richard) "Doc" Kelley at the Outrigger, who stepped down as chairman four or five years ago, got it right. Kelley and Maurice Sullivan at Foodland were both people who built family businesses and got it right. Usually founders of organizations have a terribly tough time moving on, but Foodland, Outrigger, Servco and Zippy's are all examples of companies that were able to perpetuate themselves in large part because their leaders left on top.
If you are a business leader, are there signs that tell you it's time to exit gracefully? There are definite signs. A lot emanate from your boardroom. You can start to see a chilliness coming from the board. But usually the most manifest sign is the company is floundering, losing money or market share, or all of the advantages it used to have are under attack or failing. Or if you're losing key people consistently. These are warning signs that a CEO should be aware of.
What are your latest endeavors?
I define myself primarily as a business guy, but, because I came up as an academic and professor, I've always been writing and teaching, and I've been doing a lot of executive teaching at places like Georgetown, Stanford and Dartmouth. I typically would take our summer vacations and teach in focused executive programs that generally were a month long. At Georgetown (in fall 2012), I was teaching a module for two and a half months about global strategy, a second-year MBA course. This was my seventh year of doing that.