Talk Story with Robbie Alm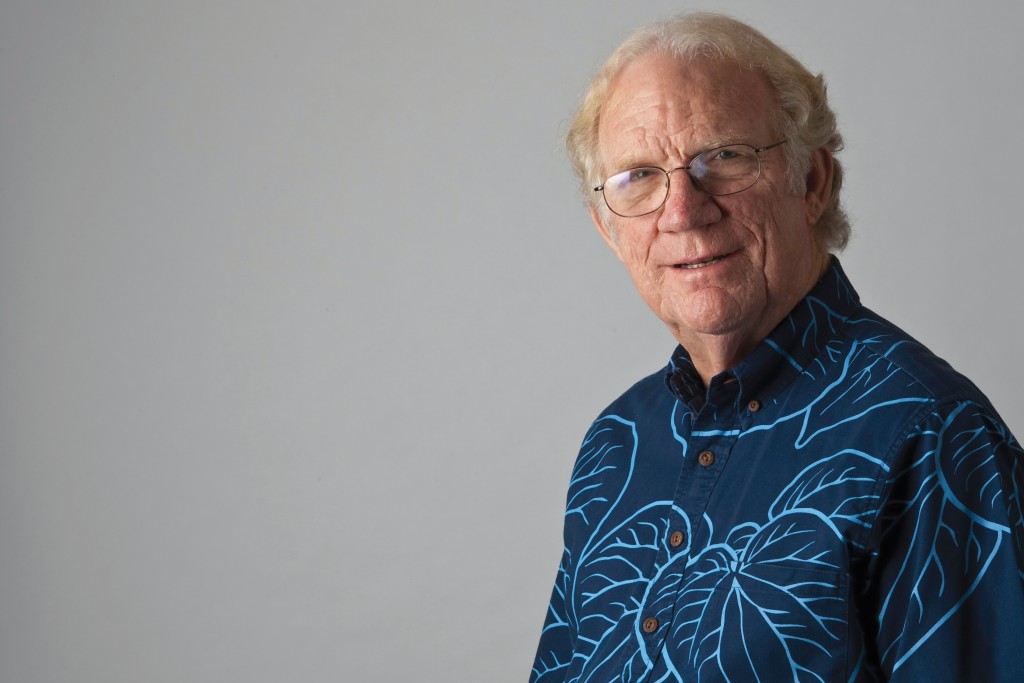 After years of working on contentious issues, such as whether to build a new power plant in West Oahu or wind farms on Lanai, Alm has learned valuable lessons about building community consensus. Now, as the leader of the new Collaborative Leaders Network, he's trying to apply what he's learned to other big problems facing Hawaii.
What does your new role with the Collaborative Leaders Network mean for Hawaiian Electric and the Clean Energy Initiative?
At Hawaiian Electric, one of the things that was important to me was to have that group of younger folks be in a position to lead the company. The current CEO is 61 and I'm 60; so, if you look at a timeline, the need for the next generation of leaders to get ready to go is pretty strong. What I want to do is to help that group really establish themselves as the next leaders of the company.
I do have a commitment – to the public, to the company, to a lot of people – to see Clean Energy through, and I'm going to do that. So, I'm not leaving the company. For key Clean Energy activities particularly, I'm still very much involved in the choices being made: how we handle the filings and the activities we need to do to move Clean Energy along. I'll still make speeches about it; I'll still be on lots of panels. But even there, I'd like the next generation of leaders doing that stuff. And they are now. Wherever possible, I'd rather see them than me. If it's important for it to be me, I'll still be there, because my passion for Clean Energy as the key to Hawaii's future has not changed.
In the past three to six months, oil prices have made it even more apparent that we've got to get away from oil as a commodity. I'm still a regular employee and I am now spending more of my time in the community, which I used to do and really enjoy.  And, at the same time, I'm creating some space, which other people have to fill. Hopefully, the next CEO will emerge out of all that.
What is CLN and how did you get involved?
I had been working with the Omidyar Family Enterprises, looking at how we can best work with our different communities to try to move forward on some of the important issues facing Hawaii. What they had done was get a half dozen of us – Peter Adler, Kem Lowry, Linda Colburn, Diane Zachary, Tusi Avegalio – who have engaged in this kind of community work, and we spent a year and a half meeting once a month, going over how we worked on projects in the past, talking about what we saw as best practices for engaging communities on how to reach agreements. Basically, we captured strategies on these collaborative approaches to problem solving, which you can see on our website at clnhawaii.org.
At the end of those case studies, the Omidyar Family folks talked to a bunch of people about what would be good next steps and they asked me to take it on. The first thing that was needed was to talk to leaders in the community, people in a position to make decisions, and see if they were willing to approach problems in a more collaborative way, to think about doing them in different ways than we do them right now. Instead of rushing into a quick series of meetings to try to support a decision you've already made, taking the time to really engage the community. Step back and try to include all the significant players in the conversation. Spend enough time listening to them to try to understand what they were really concerned with. … The key is to be willing to take the time in the beginning. The expression I like to use is, "Go slow to go fast."
What are the prospects of success for the kind of community-based, collaborative problem solving that you and CLN are advocating?
At this point, my value to the process – if any – is the hope that I can get the leaders that I've worked with – political, business, nonprofit and community leaders – to see if there's a desire to try this approach. So, I'm kind of a missionary.
I gave a talk recently at TEDx Honolulu where I said that I think we're terrible listeners as a society. Our job at CLN is to help people become better listeners. And some folks are very nervous about this process, because, in order to make it work, you may have to give up a good deal of control. You can have a desired outcome, and that can be taken into account, but you have to let the community guide the process in order to see it through. And I think there's significant discomfort with that.
I don't have the exact translation, but there's a piece of Zen wisdom that roughly says, "The tighter I gripped onto it, the more it slipped away." And that's true. If you really try to hold onto your positions no matter what, they're almost guaranteed to slip away. But, if you're really doing the right things, people feel that and they'll work with you. Maybe not all of them, of course, but that's how you reach a real consensus. But it's hard for people who've built up careers by always being in control. Many leaders have gotten there by trying to control everything around them. Then we come along telling them, "Let go and see what happens." And so the Zen wisdom concludes, "The moment I let go, it all came back to me."
Other CLN Leaders:
Diane Zachary is president of Kauai Planning & Action Alliance, an organization that helps convene and facilitate groups working on major challenges facing Kauai.
Kem Lowry, former chair of the University of Hawaii at Manoa's Department of Urban and Regional Planning, is the director of the UH Program on Conflict Resolution.
Linda Colburn, is a well-known facilitation and mediation expert. She has worked with organizations such as the Office of Hawaiian Affairs, Alu Like and the East-West Center.
Tusi Avegalio, director of the Pacific Business Center Program at the Shidler College of Business, has worked across the Pacific to help bridge traditional and Western practices.
Peter Adler, president of Colorado-based Keystone Group, is a nationally known mediation and conflict-resolution expert.
Collaborative Leaders Network
clnhawaii.org