Talk Story with Vicky Cayetano of United Laundry Services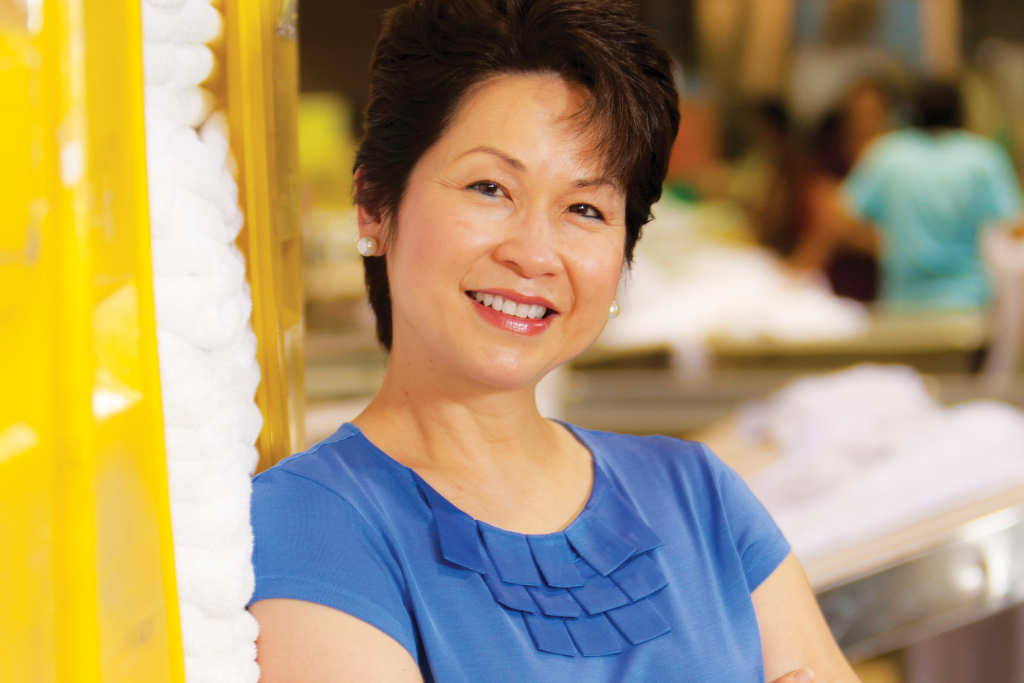 Q: You often tell people, 'I do laundry,' including Gov. Ben Cayetano when you first met him, but how did you get into that business?
I had always been an entrepreneur, but I had just taken time off to have William, my son. It was 1987, and Masa Tasaka, head ofKuakini Medical Center, approached me. It was his vision that the hospitals band together with an entrepreneur and create an entity to run their laundry operation.  So we pooled our resources – Kapiolani, St. Francis and Kuakini – and they brought the business and looked to me to manage it. We added two more partners, Kyo-ya, which owned the Starwood properties, andOutrigger, and opened in 1988.
All of us put money in and were six equal partners. We're still equal partners. In the beginning, we did about 1,000 pounds an hour; now, we're doing 18,000 pounds an hour. That's about 12,000 sheets an hour. Now, we have 12 hospitals and about 40 hotels and we're about to bring a new customer aboard – the Disney Aulani property. We started with about 25 employees and now there are 400.
Q: What are your biggest challenges as a businesswoman?
They're the same challenges as for all businesses – the quality of the workforce, and the unpredictability of the times. For instance, in the past, we could forecast (hotel) occupancy; today, even one week out, things can change considerably. There's no such thing as going out two to three months. You have to accept that and make sure your organization is structured so you can respond quickly.
Q: How did your company respond to the recession?
By trying to be creative. We created a couple of new programs that helped us go outside of our traditional areas. One was starting a spa rental program. When you're in a down economy, people cut back budgets, so they'd prefer to rent rather than buy linens. So, even with the challenges, there were opportunities. We also took the opportunity to redesign our organizational structure to respond to the conditions quickly and be flexible.
Q: Can your business be a bellwether for the economic health of the state?
It's not as easy as more tourists equaling more sheets to wash. About 10 years ago, the hotels started implementing a "green" program, which meant they weren't changing the sheets every night. That's part of our challenge; we don't know when they're all going to change the sheets, and they all seem to change on the same day. We have to be prepared with equipment and staffing.
Q: You're no longer actively involved in politics, but you're still highly involved in volunteer activities. Tell us about that.
I've been helping Kapiolani Medical Center with its capital campaign to expand the hospital and parking. We've been in the quiet part of the campaign and have raised $10 million to $11 million, but now we've gone into the public portion and are looking to raise $35 million as soon as possible.
There's also a group of us called the Symphony Exploratory Committee and we're in the process of getting a 501(c)(3) approved by the IRS to bring back symphonic music to our community. We're hoping for a first concert in October and we have signed an agreement with the musicians.
I also help the Hawaiian Humane Society because my sister Ginny is involved. She's always making these calls that there's a dog that needs to be in your home. We now have 10.
Q: Tell us how you met your future husband in the mid-1990s, when he was governor.
We met at 5:30 in the morning at the Honolulu Club, working out. He came up to the machine I was on and asked how long I was going to be using it. That was his entrée to saying "hello." We had a cordial conversation and it led to coffee and evolved from there. I remember he said to me, "If I would ask you to dinner, what would you say?" I said, "That would be very nice." But then he stopped. So, the next week, I asked him to lunch and asked him why he had stopped. He said he didn't know what to say, because he didn't know I'd say yes.
Q: On your first date, I understand, you brought him flowers.
Yes, I'm from San Francisco and we always bring flowers to lunch to friends as a gift. A friend at Ito Florist did a very nice oversize bouquet and I held them out to him and said, "These are for you." He said, "These are nice flowers," and gave it to his bodyguard, this big Hawaiian guy from Waianae. He said, "Matt, hold these for me," and you could see him thinking, "Boss, I'll take a bullet for you, but not the flowers."
Q: You were in a movie with Elvis as a child. How did that happen?
It was all because of my sister Ginny, a pianist, who was discovered by Ed Sullivan and is the real talent in our family. She and my other sister had been in one movie with Elvis –"Girls, Girls, Girls," in 1961 – and the producer had another the following year and wanted Ginny for the lead role. My father had committed Ginny to perform for President Kennedy, but he's very resourceful, so he sent me, instead, telling me I had been selected. But I knew when I walked in, though I was just 6, that I was not the one they had asked for. So I auditioned for it and got the role. And it made me more determined than ever. I thought, "If my big sister can do it, I can do it, too."