TedxMaui Shares 'Ideas Worth Spreading'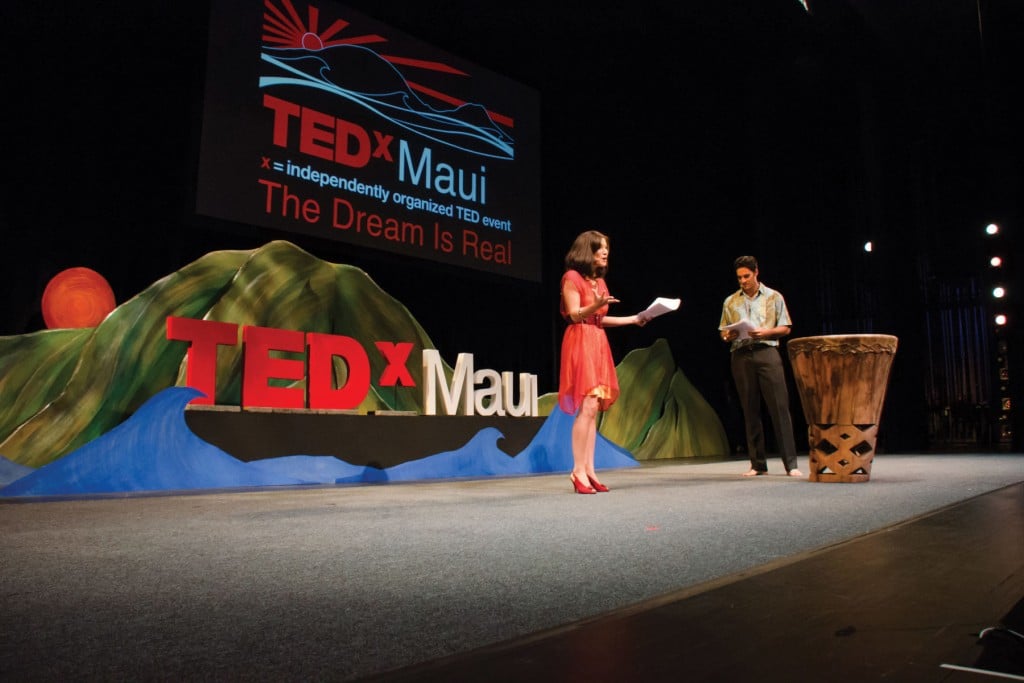 Big ideas often have humble beginnings. Just ask TEDxMaui founder Katie McMillan, whose first brainstorming session for the event unfolded at Baldwin Beach Park in Paia, with sand between her toes and sunscreen on her shoulders. The casual affair – even by Hawaii standards – was the start of a movement that continues to stir Maui's intellectual melting pot.
"(Co-producer) Sara Tekula and I went to the beach, got in the water and started throwing out ideas," laughs McMillan. "It wasn't exactly your typical business meeting."
TED, short for Technology, Education and Design, is a nonprofit that shares "ideas worth spreading" through public talks. In 2010, McMillan attended a TEDWomen conference in Washington, D.C., that inspired her to bring a similar event to Maui.
Here's the thing about big ideas: They're often considered crazy.
"That first year, people thought I was nuts for doing this," recalls McMillan. "They were like, 'People on Maui will not want to sit in a theater all day and listen to a bunch of people talk at them.' "
McMillan proved skeptics wrong by selling all 750 tickets for the inaugural event in 2012. Last year, more than 1,200 people attended. Organizers expect the 2014 TEDxMaui to happen sometime in September.
"I would always hear people say, 'There's no intellectual community on Maui,' but I knew that wasn't true," McMillan says.
Singer-songwriter Makana
Hawaii's first TEDx, launched in Honolulu, held its fourth annual conference in November 2013 at the Hawaii Theatre. A group in Hilo is trying to organize a TEDx there.
For the past two years, TEDxMaui has hosted both national and local speakers at the Maui Arts & Cultural Center's Castle Theater. Maui-based presenters have included national poet laureate and two-time Pulitzer Prize-winner W.S. Merwin, lifeguard and Hawaii Waterman Hall of Fame inductee Archie Kalepa and Dr. Gary Greenberg, an inventor and scientist who uses three-dimensional microscopes to study sand grains, moon dust and more.
But presenters are just half of the TED formula. The hope, says McMillan, is that audience members will open their minds to new ideas – including their own.
Some TEDxMaui attendees have used the event as a springboard for new projects. Dania Katz says she was motivated to finally launch her own locally sourced popup restaurant named Kupu Maui.
Seabury Hall junior Jasmine Doan is organizing the first TEDxYouth@SeaburyHall, scheduled for April 6 at the Upcountry campus. The daylong event will feature presenters from middle schools and high schools across Maui.
"As teenagers we're often nervous to tell people about our ideas," Doan says. "I hope that this event will inspire my peers to go out and make those thoughts a reality."
tedxmaui.com
tedxyouthseaburyhall.com