This Big Island Startup Turns Degraded Land into Thriving Ecosystems
Terraformation started by planting 7,200 trees and plants. The ultimate goal: restoring 3 billion acres across the globe.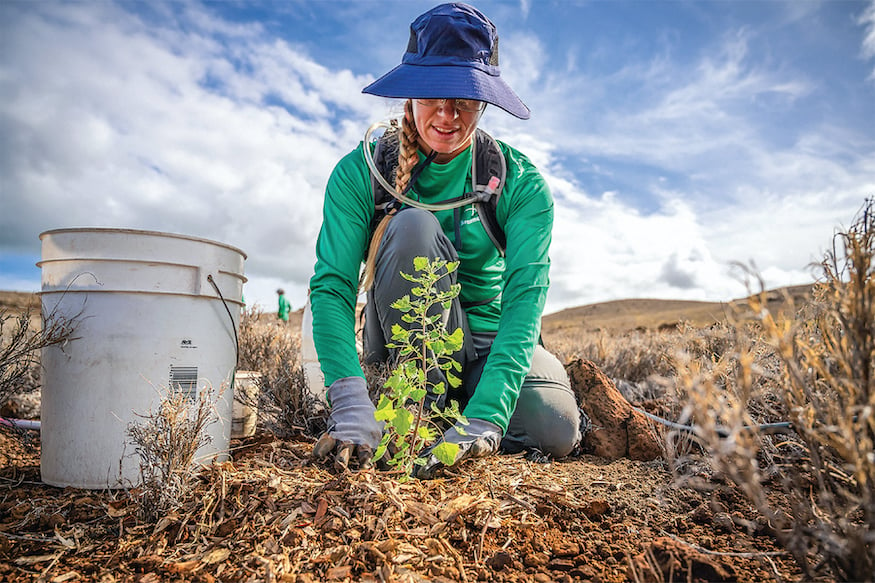 After the clear-cutting of 'iliahi (sandalwood trees) and nearly two centuries of ranching, a large swath of landscape along 'Akoni Pule Highway in North Kohala had been left dry and barren.
Now, a local startup has begun planting trees and other plants on the land in an effort to revitalize the ecosystem and eventually help bring back additional coastal ocean life.
Terraformation, a forest restoration company based on Hawai'i Island, has planted about 7,200 trees and plants on a 45-acre site adjacent to the highway, called Pacific Flight at Kaupalaoa, including more than a dozen native species.
The company has three other biodiversity projects on Hawai'i Island and a seed bank at the Natural Energy Laboratory of Hawaii Authority in Kona, says Keali'i Thoene, Terraformation's community programs manager.
He says Terraformation aims to help solve the planet's carbon emission problem and restore degraded land across the globe by sowing native plants and trees, with Hawai'i Island leading the way.
Carbon Emissions
The company was founded in 2017 by CEO Yishan Wong, formerly the CEO of Reddit and an engineer at both PayPal and Facebook. It has about 100 employees including engineers, arborists and biologists, half of them in Hawai'i.
Wong purchased the 45-acre property along 'Akoni Pule Highway to retire and build a "little community" for friends and family. While starting that project, he was living in Waimea, known for its cooler climate, yet the town was experiencing unusually warm nighttime temperatures, Wong says. That got him thinking about global warming and how to capture the carbon emissions that lead to it.
Planting trees seemed like the right answer.
Thoene says Terraformation's other projects on the island are 'Ōhi'a Lani on 174 acres in Mahiki, which is being planted with koa and 'ōhi'a; the 51-acre Ho'ohui Agroforestry Project in Pāpa'ik-ou, north of Hilo; and 49 acres at Future Forests in Honokōhau, Kona.
At Pacific Flight at Kaupalaoa, Terraformation has planted mostly acacia trees, which should reach maturity in about 10 years. Native sandalwood will then be introduced, because sandalwood needs another plant to act as a "host," says Thoene.
Just planting trees won't do the job, however.
"Planting long rows of a single species of tree is not as effective at drawing down carbon and storing it in the long run. Biodiverse native forests are 42 times better at doing that," Thoene says.
To reestablish native ecosystems, in the coming months Terraformation says it intends to sow 25,000 plants from 22 native species, including ferns, shrubs, berries and forest hibiscus.
Combating Climate Change
Terraformation is currently supporting reforestation projects across five continents by providing seeds, specialty software and advice on how to find funding for the projects.
"By and large the things that are slowing people down are water, money and lack of expertise," Thoene says.
Terraformation's ultimate goal is to revitalize 3 billion acres of degraded land across the globe – roughly the size of the U.S. and Mexico combined. Thoene says it was on track in 2022 to plant or support planting a million trees worldwide.
"We need to times that by 100, every year for the next decade," he says. "We're not sure we're going to get 3 billion acres of land planted, but we know we have to try. We know this is the right thing to do, so we're taking the first step."
Investors seem ready to commit. At the 2021 United Nations Climate Change Conference, COP26, $7.2 billion of private investment was committed to protect and restore forests.
Terraformation received $30 million in early-stage venture funding in 2021. And in October, it announced the formation of a Seed to Forest Alliance with three forestry nonprofits to help build up the reforestation movement worldwide.
Reforesting and the Ocean
To water the plants and trees at Pacific Flight, Terraformation says, it installed a solar-powered facility that uses reverse osmosis to desalinate 26,000 gallons of ocean water a day – comparable to what it takes to water a golf course. The company says similar systems could provide fresh water for other restoration projects.
"We don't want to have to do this forever, only about another decade," Thoene says. By that time, he says, the ecosystem should be self-sustaining.
A thriving sandalwood forest is one goal, but the ultimate success at Pacific Flight will see the return of a spring-water trench that once attracted sperm whales to the Kohala Coast.
"You can't just plant trees and call it a day," Thoene says. "If you look at what was here before, I think our task will be finished once we see the sperm whales return to the ocean shores. That's when we will know our ecosystems are back." To that end, Terraformation has partnered with Arizona State University and its Center for Global Discovery and Conservation Science, which has a Hawai'i facility adjacent to UH Hilo.
Center director Greg Asner says while Terraformation is restoring native vegetation on land, his team, along with the state's Department of Land and Natural Resources, is leading coral reef restoration programs. The inter-agency program, called Hawai'i Coral, uses aircraft to map all the reefs in the state every year or so.
The biggest killer of coral reef isn't bleaching but nearby land erosion, Asner says.
"My team has been particularly interested in pairing up with Terraformation because they have expanded their business model to include nearshore coastal lands, where a large part of the reef problem lies," Asner says
"My team is the only source for mapping coral reefs across the state and assessing coral reef decline across the Hawaiian Islands, and from those many diagnostic studies, we know we cannot save corals without a very large land-based intervention. Terraformation is a part of that solution."
Maui Nui Botanical Gardens, in Kahului, has also expressed interest in Terraformation's seed bank. According to Executive Director Tamara Sherrill, the gardens have started a seed storage program and have been trying to find a partner for some time. The Bishop Museum on O'ahu has also expressed interest, Thoene says.
"With all of its different climate zones, any creature from the planet Earth can come here (to Hawai'i Island) and find a comfortable place to live," he says.
"In that sense we are a representation of the globe in general. If we get it right here in Hawai'i, we can be an example for what we can do in the world. The goal is to be a big, shining example."