Tetris Evolves into Facebook Phenom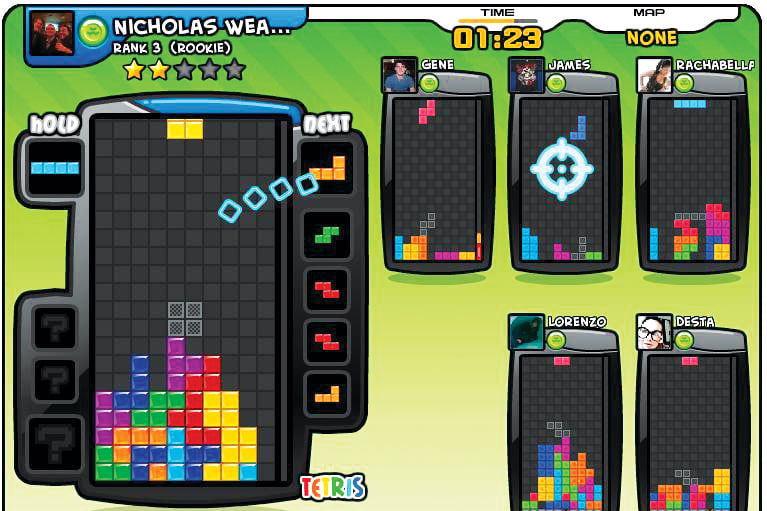 COMPANY:
Tetris Online has been headquartered in Honolulu since its launch in January 2006. Co-founders Henk Rogers and Minoru Arakawa have homes in Hawaii, and Rogers' other organizations, including Blue Planet Software and Blue Planet Foundation, are based in Honolulu.
P​RODUCT:
Its most popular game is Tetris Battle, which applies elements to the original Tetris game that are suited for social environments such as Facebook, according to Casey Pelkey, Tetris Online's VP for marketing. Unlike Tetris, Tetris Battle can be played with others online 24/7, 365 days a year.
POPULARITY:
Tetris Battle is experiencing explosive growth, as reflected in statistics compiled by AppData, an independent application service tracking the Facebook platform and mobile platforms. AppData reports that Tetris Battle is ranked among the 10 most popular games on Facebook, with 4 million daily active users (DAU) as of mid-February.
MONETIZATION:
Revenue is generated two ways. The first is micro-transactions/virtual item sales. "Users spend real money in exchange for Tetris Cash, which may be used to buy more than 150 items, such as decorative or functional items, to enhance the gaming experience," says Pelkey. "The second revenue producer is banner advertising, which helps monetize 100 percent of the users."
The company won't provide specific numbers on generated revenue, however, Pelkey says the industry average for "average revenue per daily active user" (ARPDAU) in the United States is in the realm of 1 to 2 cents for puzzle games and the company doesn't intend to settle for the average. The conservative estimate of revenue based on the ARPDAU and the DAU would be approximately $1 million per month.
FUTURE:
Tetris Online's design team is working on continuous updates loaded with new features, performance and enhancements. "Our development team has done an amazing job managing the increasing load, such as bandwidth and processing required to support the number of players who visit the game each day," explains Pelkey. "This has allowed us to create a service where users now consume over 1 billion games of Tetris every month. The team is convinced we're really just scratching the surface on the game's potential."
Know about a great innovation?
Send your idea to feedback@hawaiibusiness.com and type "Innovation" in the subject line.