The Business of Sports in Hawaii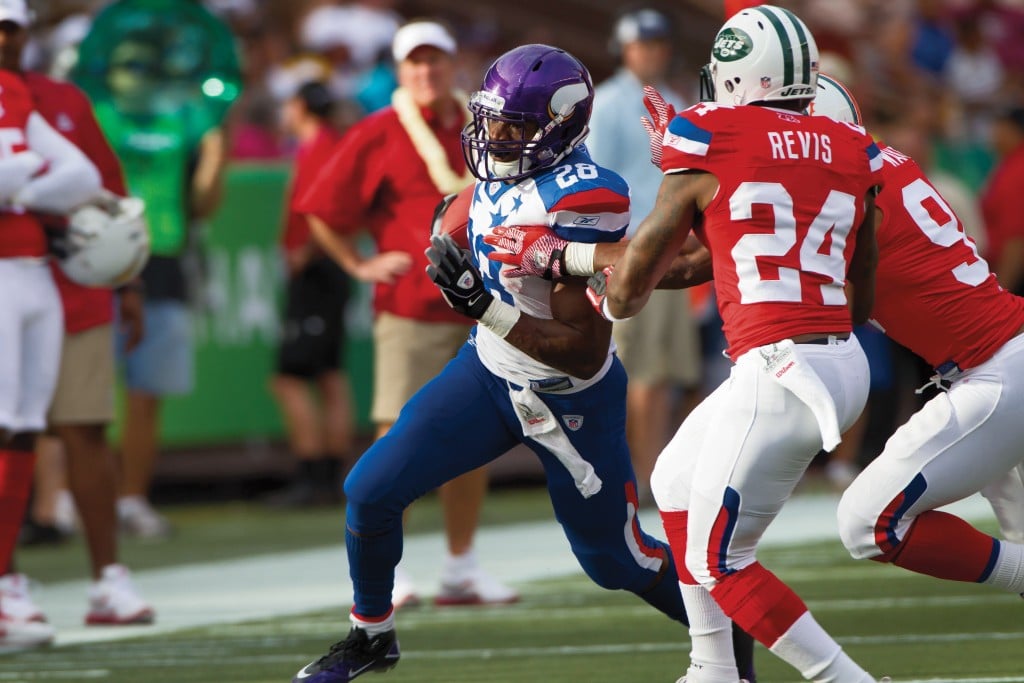 When the University of Central Florida's football team lost its last scheduled game in 2005 to Tulsa, its consolation prize was a berth in the Sheraton Hawaii Bowl. "Let me get this right," coach George O'Leary quipped. "We lost and we're going to Hawaii?"
O'Leary's delight in getting a free ticket to Hawaii is shared by a lot of athletes, from Pro Bowl football players to the world's best female golfers to surfing stars. That enthusiasm makes it possible for Hawaii to host elite sporting events that draw tens of thousands of tourists a year and generate hundreds of millions of dollars in spending. Plus, these events get national and international TV coverage and other media attention that is free advertising for Hawaii tourism.
Take the Sheraton Hawaii Bowl, which is played on Christmas Eve at Aloha Stadium and broadcast by ESPN to the rest of the country, much of it shivering in miserable winter weather.
"For the past three years, the beauty of the game is that there have been thunderstorms on the East Coast," says Hawaii Bowl executive director David Matlin.
"When Hawaii played Notre Dame in 2008 and the temperature was 20 degrees in South Bend, Hawaii looked pretty good on TV. Our net reach was about 20 million that year," the bowl's highest number of overall viewers ever.
Major Hawaii sports events, including the Pro Bowl, the PGA's Sony Open and the Ford Ironman World Championships, generate spending of more than $200 million a year, according to statistics provided by the Hawaii Tourism Authority and the Honolulu Marathon Association.
"We look at sporting events as being able to help Hawaii's economy, drive tourism, provide media exposure at national and international levels, help us highlight unique attributes across the state from each island as well as showcase Hawaiian culture," says Michael Story, HTA's tourism brand and sports manager.
HTA conducts annual studies on the economic impact of these big sporting events. For instance, HTA reports the 2012 Pro Bowl generated $25.3 million in visitor spending that would not have occurred without the event. (However, the NFL is considering whether to suspend the Pro Bowl in 2013 because of criticism that the players make little effort.)
The figures for other events in 2012 and 2011 are not yet available, but in 2010, the PGA Tour's four golf events in Hawaii, including the Sony Open, brought in $27.48 million in visitor spending, and the Ironman triathlon in Kona brought $21.7 million, according to the HTA.
Many of the events commission their own economic impact studies, though comparing their numbers to the HTA studies is like comparing apples to oranges.
"We can't really compare," says Daniel Nahoopii, HTA's director of tourism research. "Our formula is very conservative. We're talking about money that comes in. But, in our calculations, it has to be a visitor that came here specifically to participate in, or attend the event. We don't include family members or friends traveling along if they don't go to or participate in the event."
A separate economic-impact study conducted for the Honolulu Marathon Association by Jerry Agrusa, a Hawaii Pacific University professor of travel industry management, takes into account family members and friends who come with the participant, regardless of whether they also attend the marathon.
Agrusa, who has conducted the study for the past 10 years, determined the 2011 Honolulu Marathon accounted for $107.7 million in visitor spending and generated $5 million in state taxes. The marathon is the state's largest participatory event, with 22,615 registered runners in 2011. About 85 percent of the non-Hawaii runners were from Japan, according to the study.
HTA only studies events to which it lends financial support, and that doesn't include the marathon. This year, it is supporting 13 sporting events with a total spending of $7.44 million. More than half went to the NFL Pro Bowl, $4.15 million.
According to Diana Bertsch, Ironman race director, a 2006 study commissioned by Markrich Research determined Ironman athletes stayed 30 percent longer than average tourists. The economic impact amounted to $25.9 million, according to the study, but Bertsch says even that number does not show the overall impact the event has on the state year round.
Most studies use a direct formula based on the number of visitors who came to Hawaii for the event, length of stay and average amount spent per day. However, Bertsch says, there are other economic factors that are harder to measure.
"The Ironman is the No. 1 media-credentialed sporting event in the state, with 325 media representatives on site," says Bertsch. "And now there's even more media interest with (seven-time Tour de France winner) Lance Armstrong competing in the Ironman. He recently bought a home in Kona and brings attention wherever he goes. When he talks about training on Queen Kaahumanu Highway, it puts the event front and center."
In addition, she says, numerous triathlon camps operate in Kona year-round and professional triathletes often move to Hawaii Island for months to train. Fifty percent of the athletes also visit a Neighbor Island during their stay.
The Ironman first became widely recognized when ABC's Wide World of Sports broadcast the emotional end to the 1982 race as women's leader Julie Moss collapsed less than 500 yards from the finish, losing to Kathleen McCartney.
"TV coverage of that race put Kona on the map," says Bertsch. "That's the point where the event started to grow." NBC now broadcasts the event nationally and ESPN International broadcasts it worldwide.
The Hawaii Bowl's Matlin also serves as executive director of the Hawaiian Airlines Diamond Head Classic, a three-day, men's college basketball tournament hosted by UH that regularly features some of the country's top-ranked teams, and the Hawaiian Islands Invitational, a two-day soccer tournament featuring some international soccer stars. He says the three events are owned by ESPN, which does not conduct economic impact studies. However, Matlin closely monitors TV ratings and says the 2011 Hawaii Bowl's net reach, defined as unduplicated viewers who tune in for at least part of the game, was 13.5 million viewers.
"There are two types of sporting events," explains Matlin. "There are events like the marathon where you have lots of people coming in from Asia – a lot of heads and beds. Then you have events where you have a lot of people coming in, like the Hawaii Bowl, where you also create a lot of exposure for Hawaii to the rest of the world."
HTA's support of those three ESPN events for 2012 is $975,000. As part of the agreement, ESPN uses $25,000 to help support smaller, intrinsic events in Hawaii.
"What we consider intrinsic events are sports like surfing or outrigger canoe paddling," explains Story. "These are sports that showcase what Hawaii is all about."
One such event is Van's Triple Crown of Surfing, which marks its 30th anniversary this winter. The event commissioned its own economic-impact study in 2010 through Brigham Young University-Hawaii, which estimated $11 million in visitor spending, says Triple Crown communications director Jodi Wilmott.
Wilmott says last winter's event set a record in the action or extreme-sports industry with its live HD webcast from the North Shore. Ten million unique viewers watched the events live over the 13-day competition, including people in Australia, the mainland U.S., Europe and Asia. China Central TV broadcast it and China's growing interest in surfing helped launch the country's first professional surfing event this year on Hainan Island.
Surfing events in Hawaii stimulate the Asian travel market, as does professional women's golf. Lotte, a South Korean food and shopping conglomerate, was the title sponsor of this year's only Hawaii LPGA event. The April tournament at the Ko Olina Golf Club drew many of the tour's top pros, including Asian stars.
"The LPGA offers a number of different benefits," says Story. "The player mix is great, with top golfers from Korea and Japan. That's our market. And these women are like rock stars in the golf world."
HTA is considering working with the LPGA to bring more events to Hawaii, as well as bringing in field hockey, rugby and the growing collegiate sport of sand volleyball, adds Story.
The HTA says it looks at seven performance indicators to determine whether to fund a sports event:
media exposure;
market penetration to HTA's major markets, which are the United States, Asia, Australia, New Zealand and Europe;
ability to highlight diversity;
ability to highlight Hawaiian culture;
community involvement;
potential support of intrinsic events by the sponsors; and
economic impact.
The date of the event is also important, according to David Uchiyama, HTA's VP for brand management.
"We look for sports events that are in the shoulder periods of the spring (April and May) and the fall (September through the beginning of December), so they  align nicely with periods when we don't have a lot of business," explains Uchiyama. "Ultimately, we're trying to create new experiences for people to have here while building a consistent flow of visitors to the Islands. You need to have the community connection and support of these events, because visitors want to connect while they're here. That's how you create the customer who wants to come back again."
Pro Bowl Stimulus
| | | | |
| --- | --- | --- | --- |
| | 2011 | 2012 | Change |
| Spectators | 49,311 | 48,423 | -888 |
| Visitors | 21,204* | 18,873** | -2,331 |
| Visitor Spending | $28.15 million | $25.30 million | -$2.85 million |
Source: Hawaii Tourism Authority
*17,048 came specifically for the Pro Bowl
** 15,098 came specifically for the Pro Bowl
Honolulu Marathon Participants
2011 Breakdown
12,359 from Japan
8,201 from Hawaii
1,367 from U.S. Mainland
688 from other foreign countries
Source: Hawaii Pacific University/Honolulu Marathon Association
HTA Funding of Sports Events
ORGANIZER
EVENT
AMOUNT
NFL
Pro Bowl
$4,152,256
PGA Tour
The Sony Open in Hawaii
Hyundai Tournament of Champions
Mitsubishi Electric Championships at Hualalai
$1,765,000
ESPN
Sheraton Hawaii Bowl (college football)
Diamond Head Classic (college basketball)
Hawaiian Islands Invitational (pro soccer)
$975,000
WTC
Ironman World Championships
$200,000
LPGA
Lotte Championship
$150,000
Team Unlimited
Xterra World Championships
Xterra Trail Run World Championships
$100,000
Kemper Sports
Maui Invitational (college basketball)
$54,000
Quicksilver
Waikiki Paddle Festival
$40,000
TOTAL
$7,436,250
Source: Hawaii Tourism Authority