The Career Game: How to Find a Job Or Keep The One You Have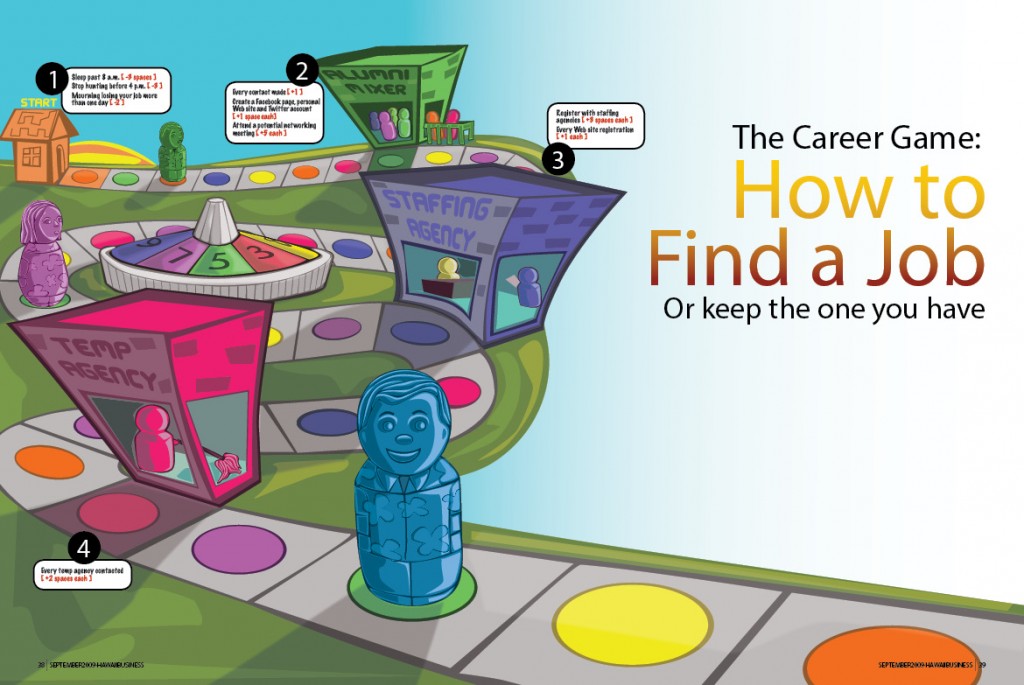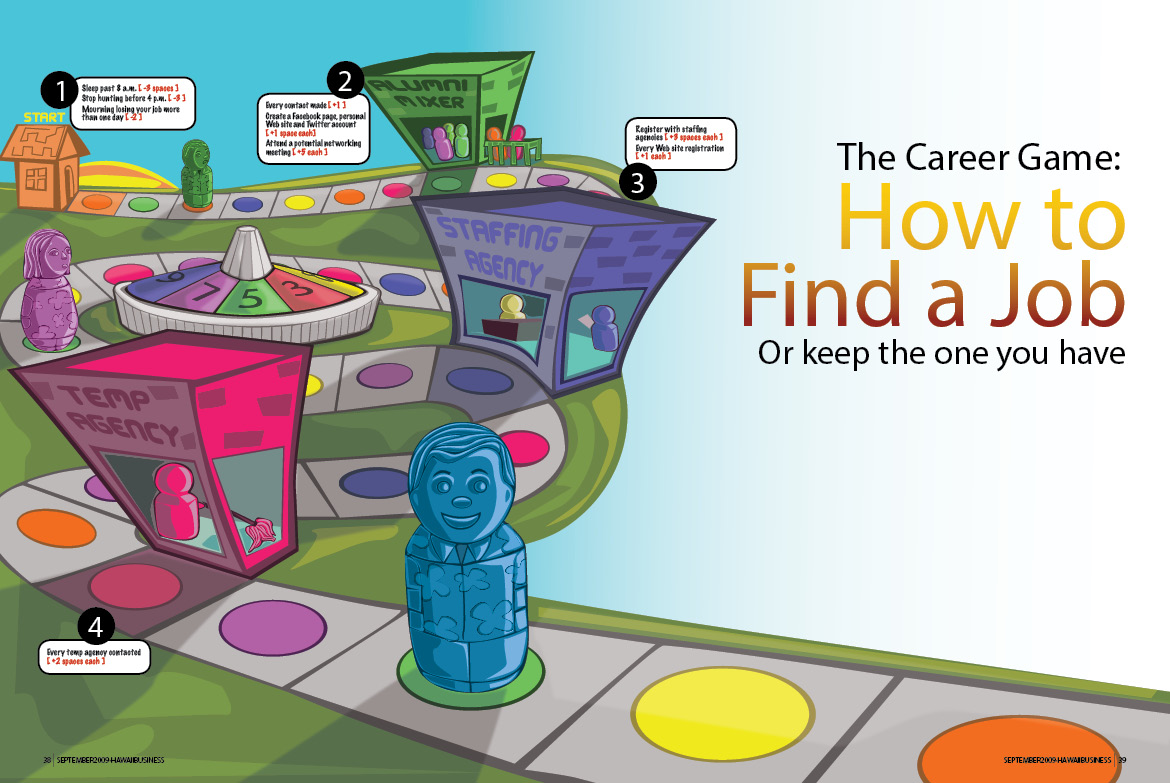 OK, you've lost your job, been laid off or quit. You can spend a day crying, but then dry the tears and kick yourself into gear, say Hawaii's top employment agencies. Don't look at this moment as a loss, they say, but as an opportunity to find a better fit for your skills and a job about which you're passionate.
It won't be easy. Job hunters can take from three to six months to land a new position in this down economy. Instead of 20 people vying for one job, today there could be 200. You need to stand out from that crowd, and here's how to do it.
1. Consider being out of work as a job. Get up promptly in the morning and get going. Make at least 10 contacts every day.
2. Networking is a key first step to finding the best job. That means calling friends, relatives and acquaintances, and sending resumes all over town. But networking also includes using new social networks to get the word out that you're looking.
3. Register with every staffing agency in town. Many employers only use word-of-mouth and staffing agencies to fill positions, says David Bower, director of business development for Altres, the state's largest staffing company. A single interview with a staffing firm can lead to dozens of job opportunities. Also list yourself with Internet sites such as JobsFreeForAll.com, CareerBuilder.com and Monster.com, and use daily newspapers, Craigslist.org and the general Internet.
4. Consider temporary jobs, volunteer work or starting at the bottom. Companies often hire from the temp pool or from volunteers because they have already test-driven the employee. "Eighty percent of temporary jobs turn into full-time jobs," says Signe Godfrey, president of Olsten Staffing Services. Besides, a temporary job may last as long as a year.
5. Prepare for job interviews, says Altres' Bower. Sit down with people in the industry to pick their brains. Role-play with a friend and practice answering tough questions. Research the company so you know how your skills mesh with what it needs. When you land an interview, exude positive energy and confidence. Nobody wants to listen to a downer. Talk about your experience and skills. And if a prospective employer asks why you were let go, say that while you gave it your all, the job wasn't a good fit for you. If you were let go, says Kelly Services district manager Brenton Wong, "maybe it was telling you that you weren't right for the position. … It's actually a good thing that people get laid off. It affords them an opportunity to find out what they're truly passionate about."
6. In the interview, don't immediately ask what the pay and benefits are. Instead, ask how you can help the company and fit into the company's needs. Offer flexibility on pay, hours and scheduling. Avoid saying you're interested because you just need a job.
"Because I'm now with staffing services, I see a lot of people come through our doors and they were in management and they're very adamant that they're not willing to go down in pay … That just shuts the door," says Michelle Neumann, an Altres manager. "Be humble and open to anything."
Afterward send a thank you note or e-mail immediately. Not only does it speak to your manners and professionalism, it shows you're really interested and helps them remember you.
7. Don't just go looking for a job, look for what you're passionate about. One-third of your life will be spent on the job, so you ought to love what you're doing, says Brenton Wong of Kelly Services. Do a self-assessment of your strengths, weaknesses, skills and passions, then look for employment in that area. "As an employer, that's what I look for – someone fired up, eager to learn, a hard worker," says Wong.
8. Dress right for an interview. Look neat and wear a skirt and blouse, or a dress, if you're a woman, or nice slacks and a neatly pressed shirt if you're a man. A suit isn't necessary for a woman, says Signe Godfrey, president of Olsten, one of the state's top staffing agencies. Olsten surveyed 100 companies in the past five months, and found that companies no longer expect women to wear suits. The survey found that even sleeveless tops are now acceptable. But avoid tank tops or anything low-cut. Also acceptable now are open-toed shoes or slip-on sandals with a small heel, but nothing that looks like slippers. For the executive suite, a little dressier outfit is appropriate, including a jacket.
9. If you're lacking important skills, take courses and get yourself up to speed. Community colleges teach computer skills at a reasonable cost.
If you've never worked in an office or are coming right out of high school, practice skills such as answering the phone, greeting strangers and being helpful to customers. Before the downturn, Olsten's Godfrey offered a four- to six-week "school" to train workers in business etiquette. Check with the company (523-3313) to see when it will be offered again as the economy improves.
If you already have a job, but are worried about hanging on …
A. Prove you care: Don't be a clock-watcher; don't leave on the stroke of 5 p.m.; and pitch in for extra work or responsibility by saying, "I can do it." "Everybody really needs to take into account how their employers are struggling through this situation," says Godfrey.
B. Bower of Altres also suggests being punctual; completing tasks beyond your job description; helping co-workers finish projects; and, of course, being enthusiastic.
C. It would also help to follow most of the job-hunting tips in 2, 8 and 9.