The Careerist: Policies Evolving on Kids at Work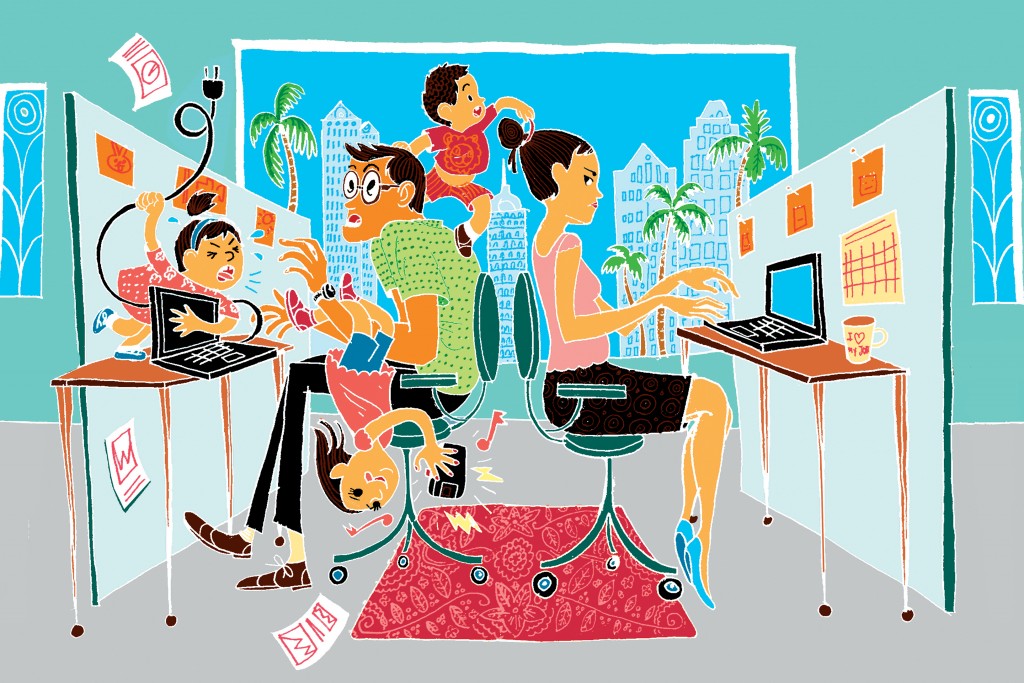 Expert careerist, Powell Berger, gives her input answering  questions about kids at work, fancy fundraisers and unlimited vacation.
---
Q: There's a single dad who occasionally brings his two kids to our office. I feel for him, but I don't think it looks good when clients drop by and I worry it sets a precedent for other employees that could get out of control. I'm running an accounting firm, not a day care!
A: As someone who showed up to work as Tinkerbell one Halloween, the sidekick to my 4-year-old son's Captain Hook, I hear you. That was 22 years ago, and I was the only employee who doubled as a parent at The Hawthorn Group, a serious public affairs firm in Washington, D.C.
I figured my days were numbered. Luckily, my boss decided the unused cubicle in the back was a good spot to stash a kid. My son grew up there when daycare fell through or on those wretched teacher development days. He landed there again when he needed a part-time job during college, the first professional hit on his now impressive resume.
When pondering your question, I asked John Ashford, Hawthorn's founder and CEO (and my old boss), why he let my kid hang out. "I went to my dad's office as a kid. I was made to feel at home, and I knew important work was being done there. I want a professional staff that have a life and neither suffers at the hand of the other," he said. "And besides, your kid was the only one to call me Mr. Ashford."
The folks at the Society for Human Resources Management, the national organization for HR professionals, cast a wary eye. "The presence of children in the workplace with the employee parent during the employee's workday is inappropriate and to be avoided except in emergency situations," SHRM writes in its sample HR policy materials.
However, SHRM recently partnered with organizations like the Families and Work Institute to take a closer look at the issue. As with so many HR issues, liability, policy and flexibility seem to be the keys to success. Consider establishing a policy that addresses children in the workplace. Talk to your employee about how his kids are expected to behave, where they can (and can't) wander, your expectations of him, and that it's his job to make sure the kids aren't disruptive to other employees. Talk to your insurance agent (and perhaps your attorney) to understand your liability should something happen.
Your employee knows he's fortunate. Police officers, ER doctors and construction workers don't have a workplace that's remotely kid-friendly. Find common ground that meets your needs, your employee's needs and preserves a productive workplace, and you're likely to find yourself with a loyal, happy, money-making employee – and maybe some extra Legos for when you need a break.
---
Q: Help! My boss just handed me two tickets to another fancy fundraiser dinner and asked me to represent the company. Don't get me wrong: I love elegant dinners, dancing and open bars, but my closet looks more like Macy's sale racks, not the couture gowns aisle at Bloomingdale's. (And my bank account seconds that reality.) Should I decline?
A: 'Tis the gala season and, like Cinderella, you've got no gown for the ball. You may not have a fairy godmother and a mouse-drawn pumpkin carriage, but don't toss those tickets for a mop and pail just yet. Those fancy affairs are a star-studded investment in your career, way more beneficial than another Saturday night with Netflix and a pint of Ben & Jerry's.
To find help, I turned to Kitty Lagareta, CEO of Communications Pacific and a player in Hawaii's movers-and-shakers scene. She recalled her first such event, over 30 years ago. "I stood in the corner alone for an hour trying to figure out what to do," she says. "I finally looked for the friendliest faces I could find and introduced myself."
Remembering those early days when money was tight, she recommends skipping the big department stores and turning to consignment stores and prom and wedding dress shops during their sales. "People remember how you treat them, not what you wear," she says, suggesting you find one go-to outfit that fits your personality and will work every time.
"Especially here in the Islands, the more you know your community, the better you are at your job," she says, pointing out that it was through such events that she learned about local issues. "Pretty soon you realize you know a lot of people."
Today, Lagareta's schedule is packed with fundraisers and events several nights a week. If you're the one standing alone in the corner trying to figure out what to do, she'll probably say hello. "I remember how it felt, so now I always look for the person trying to find a friendly face."
---
Q: Yo! I just read that some companies now offer unlimited vacation time. Is that for real and where do I sign up?
A: Hang on to your surfboard, Dude! Yes, it is for real, and it's even hit the shores of Hawaii nei. Tyler Kimura, a partner at accounting firm Spire Hawaii LLC in Honolulu, reports its unlimited vacation policy is a huge success.
"It's a good way to retain employees and attract new talent to the firm," he says. "Vacation is a real thing here. We want people to unplug and recharge, then come back ready to work."
However, Spire employees know they have to make sure their projects are covered and they leave things in good hands when they leave.
"We don't even call it vacation," Kimura says. "We believe in a flexible work schedule. People just have to make sure their job gets done."
But Kimura knows similar policies will never be universal. "We're small and collaborative and everyone knows what everyone's working on. It may not work for all companies."
Before you start hunting for unlimited-vacation companies, consider this: Only three companies on Fortune's 2016 100 Best Companies to Work For list offer unlimited vacation, and several companies (including Netflix and LinkedIn) have ditched their unlimited policies, returning to old-fashioned accrued leave.
Also, most Americans don't use all their vacation time, fearing their absence might put job security and their career track in jeopardy. That's true whether they get two weeks off a year or have unlimited vacation time.
In her annual recommendations to SHRM, Families and Work Institute president Ellen Galinksy declared "workplace flexibility" the new HR buzz words, pointing to research that shows 88 percent
of employees report flexibility as "extremely" or "very" important in making job decisions. Her point: Employers need to shift the culture, not just give it lip service.
As for me, I'm with the French. Close up shop every August and head to the beach.