The Partridge Family
Inspired by the "12 Days of Christmas," we look at common office concerns that arise during the holidays.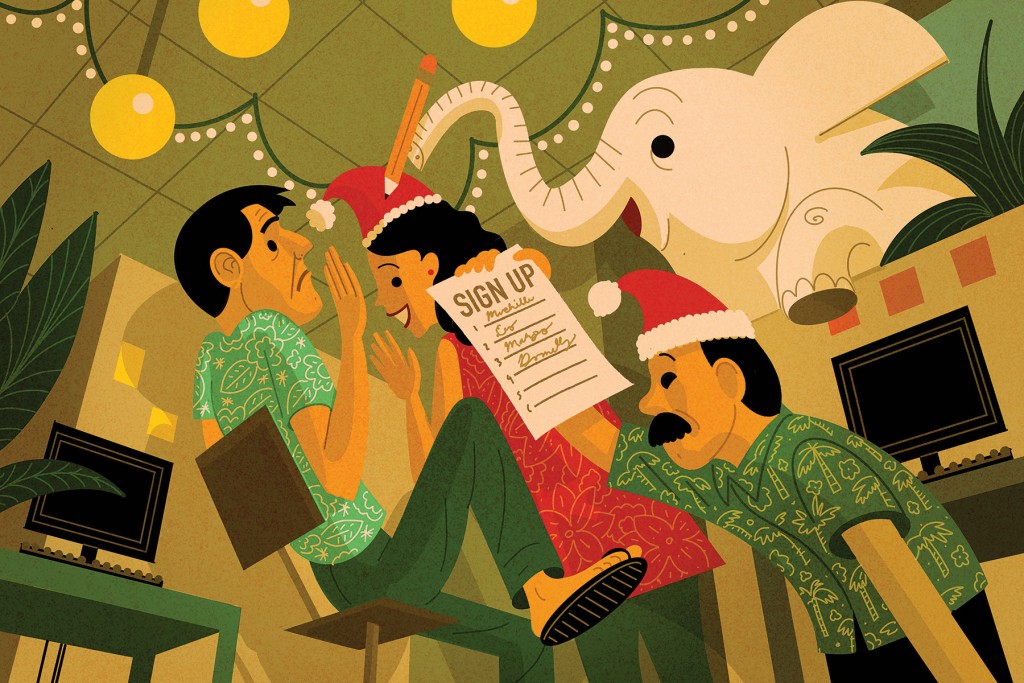 The holiday season is a lot like a string of tangled tree lights. There is the promise of wonder and sparkle, true, but there are also those pesky clumps to untangle – they represent the obligations, expectations and overwhelming feelings inherent in the busy weeks between Thanksgiving and the New Year. Inspired by the classic "The Twelve Days of Christmas," we found ways to make the holiday season less frantic and more enjoyable for everyone in the office.
On the First Day of Christmas, my office gave to me:
A white elephant swap.
Do I have to participate in the office white elephant gift swap? I loathed it last year. 
While I'd love to play Nancy and suggest you "Just Say No," I fear that refusing to play along might be equally or more awkward as feigning excitement over a Bob Ross Chia Pet.
Managers, if you're reading this, there are ways you can ensure a white elephant gift swap will be amusing for your team, rather than cringe-inducing. First, set a firm parameter on the budget ($20-$30 at the most) so no one winds up unwrapping a purse pack of tissues while another person receives dinner for two at Hy's Steak House.
Second, be clear on the goal of the gift swap. Is it to trade tacky, silly gifts – hello, llama-shaped desk duster – or more sincere gifts?
Lastly, it's a good idea to discourage alcohol, just as a blanket policy. A bottle of merlot seems harmless and neutral – unless the recipient is 18 days sober.
On the Third Day of Christmas, my office gave to me:
The food police giving me stink-eye. 
My co-worker is a major health nut. She avoids fat, sugar, salt, anything GMO, animal products, artificial sweeteners, and I'm probably leaving something out. What should I do when Ms. Healthy looks aghast when I grab a frosted holiday sugar cookie (or three) from the break room?
People's relationships with food are complex. But while it's tempting to mock her juice cleanse vibe, food-shaming in the workplace can be damaging. In Lindsey Smith's book, "Food Guilt No More," she notes that nearly 8 out of 10 women and 7 out of 10 men in the U.S. have food guilt; that is, they feel agonized about their food choices. So, if you're fortunate enough to be able to relax and savor a cookie, carry on, leaving behind a trail of sprinkles.
On the Fifth Day of Christmas, my office gave to me:
Five golden deadlines!
Every year, we have deadlines that fall between Christmas and New Year's. How can I convince my boss this timeline is awful?
This seems like a great discussion for September or October, to be tackled during a one-to-one meeting. See if you and your supervisor can agree on which tasks are holiday-dependent, such as greeting cards that need to be sent to clients, and which jobs have deadlines that could either move up or back, so you can prioritize and plan. If you are a supervisor, you can help by not having all year-end tasks and reports due on Jan. 1. Try Jan. 15 or Nov. 15.
On the Eighth Day of Christmas, my office gave to me:
Another potluck!
I have one kid's play, another kid's concert, I'm volunteering with my church, and I have to attend my spouse's work party. I do not have time to make garlic chicken for a potluck with our work team.
I once heard that people won't remember how long you were at an event, but they will remember if you show up. Volunteer to bring something you can easily pick up, like a charcuterie platter, some baked goods or a few bags of ice. Trust that your co-workers will remember you made the effort to hang out with them, not if your dish came from Grandma's special recipe.
On the 10th day of Christmas, my office gave to me:
An open bar at the holiday party. 
I'm an office manager, planning our company's annual shindig. Does it look stingy to have a cash bar instead of a hosted bar at our holiday party?
It might come across as less generous, but it may be safer. Employers are increasingly skittish about the legal liability that can arise from sloppy-drunk antics at company-sponsored events. Think social-media slips, sexual harassment concerns and DUIs – all considerable risks. If you want to treat employees to an open bar, limit the time that drinks will be available and always have a bartender, not self-serve options. You could also give everyone a few drink tickets or tokens. Ensure there are enough pūpū or other foods, and stop the flow of drinks an hour before the party ends. All this can help keep the lords from a'leaping, the pipers from piping, and that guy in accounting from barfing.
On the 12th Day of Christmas, my office gave to me:
A fear of an overdraft fee.
I'm in my first job out of college. Who do I need to get gifts for at the office? Do I need a gift for my boss? How much should I spend?
Do not rack up a credit card bill to get your boss a gift, and in fact, etiquette mavens like Miss Manners and Emily Post strongly discourage purchasing a gift at all. There's an inherent power imbalance, so any generosity should flow from the top down. If you really feel strongly about a festive gesture, a group card or a group gift for the boss is OK.
Now, for your fellow co-workers, it's really up to you, and you certainly can get gifts for anyone you are friendly with. Interestingly, people are spending more on gifts for their co-workers, according to the National Retail Federation. In 2009, the federation says people spent an average total of $19 on gifts for their co-workers, and by 2018, that average hit $26.
That's still far off from what it would cost to actually get a co-worker all the gifts mentioned in "The Twelve Days of Christmas." Personal banking company PNC has a yearly price index of the items, from gold rings to the services of 12 rocking drummers. Last year it totaled $39,094.93. Makes a small potted succulent or box of chocolate seem like a steal.
Want more? Go online to read a past column on "How to Manage Time-Off Requests During the Holiday Stampede".