The Resilient City Emerging
The pandemic is leaving its mark on cities, impacting urban design, transportation and governance. Five experts reflect on developing trends and future possibilities for resilience in Honolulu.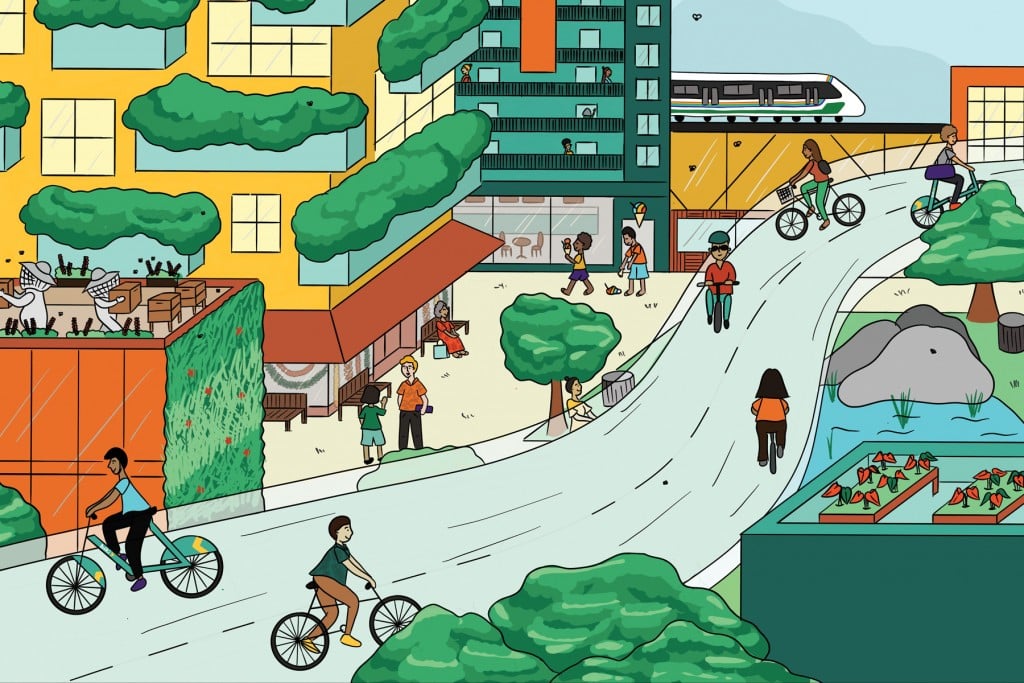 As Honolulu weathers and emerges from the pandemic, how can the city adapt to become more resilient?
Hawaii Business Magazine interviewed five thought leaders about developing trends and future possibilities: a disaster preparedness expert, a transportation specialist, a real estate developer, a lawmaker and an expert in international development. They discuss "slow cities," multimodal transportation, mixed-use development, walkable neighborhoods and the importance of civil society.
1. Disaster Evacuation in Reverse
"This disaster is different than an earthquake or a tornado," says Karl Kim, a UH Manoa professor and director of the Department of Urban and Regional Planning's graduate program in disaster management and humanitarian assistance.
"With evacuation, you're trying to get people out of the red zone as quick as possible," he says. But quarantining people requires reverse engineering the logic of evacuation to help them shelter in place and isolate.
Kim says that unlike other severe disasters, this one is slow moving and its boundaries are fuzzy. Unlike an earthquake, it's hard to say exactly when the pandemic began and even harder to say when it will end. And the pandemic's impacts ebb, flow and ripple long after an earthquake's aftershocks subside. Already, the human toll has been enormous: half a million dead in the United States, many millions infected and everyone impacted by lockdowns and closures of schools, businesses and public gatherings.
Kim is an expert in risk reduction and disaster preparedness. His research focuses on transportation, cities and resilience, and he serves as editor-in-chief of the academic journal Transportation Research Interdisciplinary Perspectives. Its March 2021 special issue covered COVID-19's impact on transportation systems worldwide and the responses by government, which allowed Kim to survey how different cities and countries are coping and adapting.
Public transit has been hit especially hard. Many public transportation systems in the United States were already operating at a deficit, and now, with even fewer riders and fares, are at risk of being shut down. Other forms of transport are on the rise, including some bike-share programs in Chicago, Philadelphia and New York.
Of course, the pandemic increased attention on public health. Kim applauds the renewed emphasis on cleanliness of airplanes, hotels and public transportation. He thinks there's room for Hawai'i to take advantage of nature – such as open air, sunshine and vegetation – as we rebuild and redesign for the future.
The long-term impacts are harder to assess, though Kim says disasters tend to amplify or magnify existing issues and inefficiencies. They also provide opportunities for collaboration and thoughtful redesign. Kim says that one thing Hawai'i needs is "an alternative paradigm for local economic development and growth, one that's not so heavily dependent on globalization or international business or international finance."
Hawai'i might draw inspiration from the Cittaslow movement, he says, which began in Italy in the 1990s and stresses environmental conservation, sustainable development and quality of life. "Slow cities" try to foster resilience through self-sufficiency, even when the result is reduced productivity and growth. Kim says leaders in Hawai'i could study the example of "slow cities" as they consider how to decrease Hawai'i's dependence on global business and finance. "Is there a way to stimulate the local economy and to use local assets, local production, local culture, local systems as an alternative?
"If we're dependent upon long supply chains, or international supply chains, those are easily disrupted, and we saw that with the pandemic," says Kim, noting disruptions in Hawai'i's supply of personal protective equipment, vaccines, and even food. "To the extent that we can stimulate local production and local consumption, that provides a pathway to resilience.
"What we seem to know best is mass tourism, mass production, mass consumption," he says. "We need to emphasize safety and quality. That's hard to do."
2. Bike Paths Through Debris
During the pandemic medical supply chains were disrupted, and stores ran out of products like toilet paper, rice and canned soup. A more severe crisis could interrupt the Islands' fuel supply, leaving drivers stranded, says Todd Boulanger, executive director of Bikeshare Hawaii, the nonprofi t that manages Biki, Honolulu's bike-share program. Boulanger says that bicycle networks offer a fuel-free, all-terrain, distributed transportation system – resilient to disaster.
Biki experienced a dramatic fall in ridership during the first stay-at-home order. But it has rebounded faster than TheBus, which su ered a similar drop. Biki ridership in January 2021 was just over 50% of January 2020, says Boulanger.
"We've lost fewer trips than public transit has," says Boulanger. "Some users kept using Biki because they thought it was the most socially distant and safest mode of transport in town."
Boulanger says the pandemic has illustrated the importance of multimodal transportation during a disaster. "Biki gives people a local mobility option that you don't need to find gasoline for," he says. "You can eat local and power your Biki. That gives you some resiliency."
And after a storm or flood, bicycles can navigate roads that are impassable to motor vehicles. Boulanger says that many cities have been adding cargo bicycles to their disaster preparedness plans for these reasons.
He contrasts a dispersed bike-sharing system like Biki with a subway or rail line: If one station or section of the line is closed in a disaster, people have to be shuttled around the break, or the system has to be closed. "Biki is a dispersed technology. Because of our network of stations, you can rent and return bikes everywhere. Our stations will keep running, even if the power goes down, because they run on solar." Boulanger sees bicycles playing a larger role in our transportation system as we emerge from the pandemic. The option to work from home has eliminated car commutes for many workers, and some may never return to their offices.
"If everyone is working from home, let's revisit the 15-minute neighborhood," says Boulanger, referring to the idea of locating residences, workplaces and commercial spaces within walking distance of each other. "Prior to the pandemic, developers like Howard Hughes recognized that not everyone needed to house a car," he says. "They could dedicate more space to housing people or shared amenities."
3. Mixed-Use Future
As President of the Hawai'i region for developer The Howard Hughes Corp., Doug Johnstone leads a team of 75 full-time sta in developing Ward Village, including two towers awaiting final approval from the Hawai' i Community Development Authority: The Park Ward Village (at the former Sports Authority site now occupied by Ohana Hale Marketplace), and Ulana Ward Village (kitty-corner from Ohana Hale Marketplace).
Johnstone says the pandemic has already led to innovations in residential design. Work from home isn't going away, he says, so future developments are being built to support this new reality. This involves technological considerations, but it also means including work-from-home spaces in floor plans. The pandemic has also highlighted the value of co-locating residences and commercial spaces, he says.
"If you're working from home, you're going to want to get out every once in a while: grab a bite to eat, grab a cup of coffee. We all need those releases sometimes. That's where the mixed-use environment and real neighborhood aspect comes into play," he says. "If you're working at home in a residence that's stand-alone, you might not have even that minimal interaction."
In response to the pandemic, Ward Village businesses are becoming nimble in their digital and physical operations, says Johnstone. Customers are doing more shopping on their phones, he says, so his team is trying to support businesses as they adapt – for example, by dedicating parking stalls for quick pickup.
Ward Village tenants can also expand into common spaces, like the outdoor eating areas at Merriman's and Istanbul Hawaii restaurants, and nearby, outside J Salon. Public parks in the area – such as Victoria Ward Park – serve as an additional "canvas for people to not necessarily have to be confined to specific spaces as much."
"With our upcoming phase, the big thesis of it is how do you get really strong connectivity and a critical mass," says Johnstone. "Within the next couple of years, you're going to see a fair amount of new commercial spaces online, a lot of new residences come into play. And with The Park Ward Village, we're going to be delivering a significant expansion of our central Victoria Ward Park and adding a fair amount of programming and places for families to gather, residents, people coming into the area and integrating that with the surrounding retail.
"Honolulu's got so many great things going for it, but getting around conveniently isn't one of them," he says. For this reason, developers of Ward Village are focused on renovating the "streetscape" along what they're calling the Auahi Street Promenade. "We're going to slow down traffic, widen the walkways up along the retail, create landscape buffers and nice shaded spaces." The goal is to create a frictionless conduit through Ward Village.
"You have consistent streetscapes, coordination between one project and another, so they speak to each other and are mutually beneficial rather than having fragmented ownership that can sometimes feel disjointed."
4. "The Ultimate Amenity"
The pandemic has has been really revealing on a couple of fronts," says state Sen. Stanley Chang, chair of the Hawai'i Senate Committee on Housing. "In the absence of widespread vaccines and really effective treatments for the coronavirus, the prescription, the medicine, the vaccine was staying at home. It really emphasized that housing is the answer to the greatest public health crisis of our time."
Many transmission clusters were associated with overcrowded housing and, Chang says, "the three or four largest clusters were all in the prisons," where people live closely together. The pandemic also led to a dramatic reduction of transient demand for housing in Hawai'i. "The pandemic decimated demand for Airbnbs and vacation rentals," says Chang. "Despite this dramatic reduction in demand … housing prices have not gone down. In fact, they've gone up."
The median price of a single- family home on O'ahu hit a record $890,000 in January 2021. "Reducing demand for housing doesn't work," he says. "What we really need is more supply." However, that new housing supply must include what Chang calls "the ultimate amenity."
"The ultimate real estate amenity in the year 2021 is not an infinity pool or a three-car garage. The ultimate amenity is a five-minute walk to everything. The most desirable real estate developed in recent years – like One Ala Moana, Park Lane, Waiea Ward Village – are able to command prices that set records per square foot in Hawai'i because they offer this magical amenity."
Chang says Honolulu's oldest neighborhoods, like Chinatown, are "built with the same premise, that within a five-minute walk you have access to your bank, groceries, post office, pharmacy, doctor, every conceivable daily need." The most desirable and successful neighborhoods around the world share this feature, he says. Think: Shibuya, Tokyo; Greenwich Village, New York; Le Marais in Paris; the North End of Boston; or Barri Gòtic in Barcelona.
"A lot of people believe that high-density high-rises are for lower-income and lower-status people," says Chang. "What Ward Village conclusively demonstrates is that professionals, people who have high incomes, do want to live with the magical amenity of the five-minute walk to everything and are willing to pay the prices to live in a community that is extremely walkable and extremely convenient, where they don't need to jump into a car. All they need to do is jump into an elevator to get to every basic service that they need.
"A lot of what we know and love about Hawai'i is reinterpreted for a new generation in Ward Village, such as a farmers' market with dozens of local vendors, farmers, artisans and craft-people; locally owned small businesses like the restaurants and stores that are not the international luxury chain brands. You are seeing a community that's built for its residents and not just for tourists."
The primary challenge, says Chang, is to increase housing supply to fill Hawai'i's persistent, decadeslong housing shortage. His proposed ALOHA Homes program (Affordable, Locally Owned Homes for All) is a plan to build hundreds of thousands of units of public housing on state-owned land near rail stations and sell them to local people. As he put it in a January 2021 op-ed for Honolulu Civil Beat, "I believe that large-scale new housing construction is critical to the future of our community."
Chang is a proponent of dense construction in urban areas, in part to preserve conservation and agricultural lands, but also because a dense population provides the support for a thriving commercial sector and vibrant civil society, as in cities like Hong Kong and Singapore. Community groups, nonprofits and other social organizations are the invisible infrastructure of a city, and they may be a city's greatest asset in the quest for resilience.
5. The Third Sector
"The pandemic has shown that civil society has a vital role to play in the city," says Ashok Das, a professor in the Department of Urban and Regional Planning at UH Manoa. Das studies international development planning, with a focus on the role of civil society in fostering equitable development and inclusive urbanization in Southeast Asia and South Asia. He travels to India and Indonesia regularly to conduct field work. Though Das focuses on developing countries, his research on civil society is relevant to Hawai'i.
In our conversation, Das presented "a gross, generalized snapshot of how things have evolved in the last 50 years": Until about the 1980s, the state (or public sector) was entrusted with economic development in the developing world. In the 1980s, development was entrusted to the market – the private sector – a process sometimes called privatization. In the 1990s, after the fall of the Berlin Wall and the collapse of the Soviet Union, there was a rise in democracy and of civil society, which Das calls the third sector.
"Today, good urban planning is considered to be a very participatory and collaborative venture," says Das. There's a growing recognition that the state and market cannot fulfill all the needs of society, and the gap needs to be filled by civil society, including philanthropy and nonprofits.
Good civil society organizations balance the excesses of the state and market, says Das. And these organizations have played a large role during the pandemic. "A lot of the support and succor that was provided to people in the cities has been provided by civil society actors," he says, and this prominent role for civil society may endure.
The pandemic will accelerate and catalyze the potential of "new ways of collaborating between the market, the state and civil society actors," he says. "Because of the scale of the problem, the complexity of the problem, the challenges in terms of gaining communities' trust and assistance … the potential for shared collaborative, intersectoral (state, market, civil society) action is going to be better."
Overall, Das has been impressed by the way Hawai' i has handled the pandemic, especially by fostering collaboration between institutions. For example, the pandemic response "has enhanced the relationship between the state and the university," says Das.
He hopes the collaboration leads to "more synergy between policymakers, the bureaucracy and the university – the ivory tower – where ideas are being explored and constantly refined and critiqued. It is one of the most affordable, efficient and effective consultancy relationships that you can foster for the constant improvement of public policy."
The key is to invest in invisible infrastructure – in the networks that connect state, market and civil society institutions. "Having good inroads into local communities – having good networks of state agencies, civil society partners, local nonprofits and community-based groups – helps when you need to coordinate action or get community involvement toward a shared goal like trying to check the pandemic," says Das. "You build that by ensuring that planning and governance on a daily basis is increasingly participatory, increasingly grassroots."