The Tour Starts Here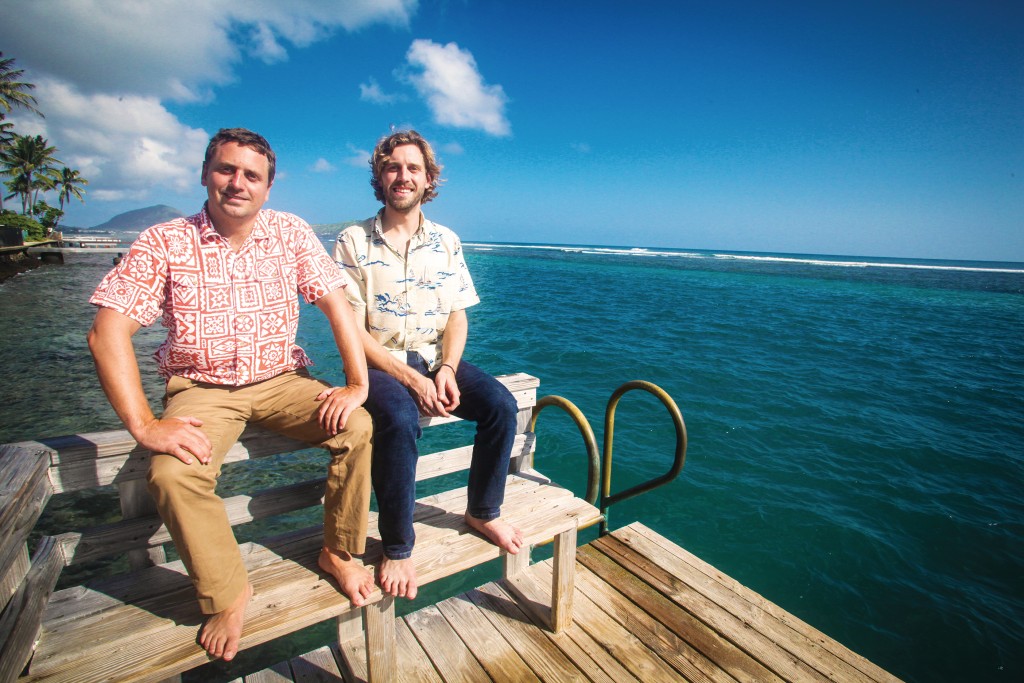 When Lawrence and Zachary Hester were booking activities for a family vacation in Hawaii, they noticed it wasn't always a smooth process – so they took it on themselves to make a change.
Their solution is FareHarbor, an online booking and management platform for more than 1,000 activity and tour companies. Since its launch on Oahu in January 2013, FareHarbor's software has been used to book tours across the U.S. and internationally, and the two-brother operation has become a family-run business with 90 employees in Honolulu, San Francisco, Denver, Minneapolis and Boston.
Not bad for a couple of guys who started out working in coffee shops and taking calls in a car with windows they couldn't roll up.
FareHarbor and its clients say the difference between it and other booking services is customer service.
"Over the course of the first year we grew very slowly, over-promising functionality and then manually delivering," recalls Lawrence, FareHarbor's 32-year-old CEO. At one point, Lawrence and Zachary, 28, were even manually sending "automated" confirmation emails. But while fine-tuning the software, the Hesters also got to know their customers well, learned their software needs and determined how to make it easy for their customers' customers to make reservations.
By the end of 2013, the Hesters and three developers had 25 clients. In 2014, they refined the software and expanded exponentially. Today, FareHarbor has more than 1,200 clients spread across all 50 states, the British and U.S. Virgin Islands, Puerto Rico and Tahiti. People can use their computers, tablets or phones to make bookings.
The Hesters have done it without extravagant spending. Their home office in Honolulu is an actual house in Aina Haina, close enough to the beach that the six employees who work there can take surf breaks during the lunch hour. The bedroom gives out-of-town employees a place to stay when work brings them to Oahu.
"We're pretty happy putting every dollar back into the business for more support and more developers, whatever is going to help the clients," Lawrence says. He estimates FareHarbor has raised 1/50th of what its Silicon Valley counterparts generally raise. "We're a break-even company."
Before switching to FareHarbor, Haleiwa-based North Shore Catamaran handled reservations over the phone. Individuals and booking agencies could look online to see when cruises were available, but had to call to book the trip. Since the website didn't update in real time, however, this system led to overlaps in bookings and the last thing owner Don Germain wanted was to leave passengers at the dock.
Germain was reluctant to make a change when the Hesters first approached. North Shore Catamaran was a mom-and-pop startup and FareHarbor was looking for its first client. But, Germain says, "I knew what they had to offer was something I had been looking for: being able to do my bookings in real time."
Customer service helped alleviate his concerns. "They really took their time with me. They met with us numerous times and went out of their way to make sure this thing happened," he recalls. FareHarbor even built North Shore Catamaran a new website.
What really impressed Germain was the Hesters' refusal to take new accounts until they were sure everything was running perfectly at North Shore Catamaran, which included training booking agents on the new system. "Once they did that, I got a lot of compliments from my agents," Germain says.
Lilia Tollefson, the event sales and marketing director at Gunstock Ranch in Kahuku, wasn't looking for reservations software when FareHarbor approached her. "I was pretty tough on them. We had another company we were working with and it's tough to switch," she says.
FareHarbor's team ultimately convinced Tollefson to try them when they promised to address all of Gunstock Ranch's concerns with the company it had been working with. "They changed all the major problems and then we gave them a list of really great things that could happen and they did that, too," she says.
Now Gunstock Ranch uses FareHarbor primarily for online bookings, but Tollefson also values the partnerships she's made with other tour and activity companies who use FareHarbor software. FareHarbor also recommended the company that redesigned the ranch's website and took over its social media, as well as someone who helped improve the ranch's marketing in Waikiki. "They helped our company grow based on their recommendations," she says.
Tollefson and Germain also say the price is right. According to Germain, other companies want a flat fee up front, starting at $1,100. But FareHarbor doesn't charge its clients; it gets paid a booking fee attached to the customers' online payments. Online customers are used to paying such fees, Germain says, so he hasn't heard many complaints. "Only one or two people have said anything. That's no problem to me."
Tollefson points out the fee system means FareHarbor makes more when its clients make more. "They would do whatever it took to help you succeed and they continue to do that," she says. "I think that probably the best thing to know about FareHarbor is their customer service is above and beyond. They've been consistent and true to their promises from the time they came in."