Ulukau Serves Many Roles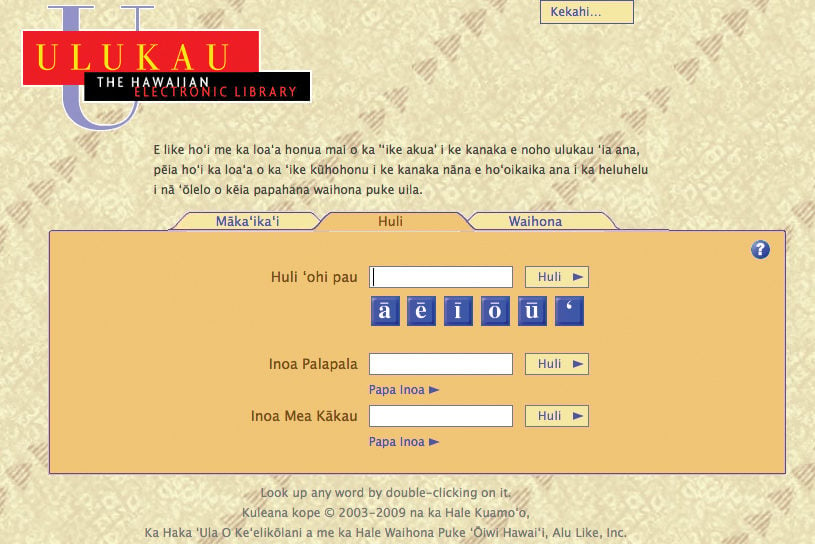 The home page of www.ulukau.org has few words in English, but a click on "English Text" reveals this translation: Ulukau: "In the same way that unexplained supernatural interpretive powers can be divinely given to a person, so knowledge and understanding can come to the person who makes the effort to read the language and words of this electronic library."
Mystical, yes, and powerful.
Hawaii Business wrote about the site in January 2014, but focused only on its Hawaiian dictionary component. That section, wehewehe.org, was launched in 2004 by Alu Like Inc. and UH-Hilo's Hale Kuamoo Center for Hawaiian Language and attracts about 700,000 hits a month from Hawaii and around the world.
But the parent site, www.ulukau.org, does much more. It holds a digital archive of Hawaiian-language materials. A click on "Browse Ulukau" reveals access to special features that include digital versions of books, fiction and nonfiction works.
The site includes the works of Mary Kawena Pukui, one of which is the Hawaiian-English Dictionary published by University of Hawaii Press, and co-written with Samuel Elbert.
"Ulukau has made Hawaiian books and archival resources accessible to the millennial generation in particular, who are accustomed to an exclusively online research environment," says Hawaiian history educator Umi Perkins, who holds a doctorate in political science
from UH-Manoa. "A database of databases, its newspaper, book and journal availability streamlines research for those without good library and archive access."
The first of the major Hawaiian databases, the Office of Hawaiian Affairs' Kipuka and Papakilo databases were built on the foundation of Ulukau, Perkins adds.