Wanted: Nontraditional Leaders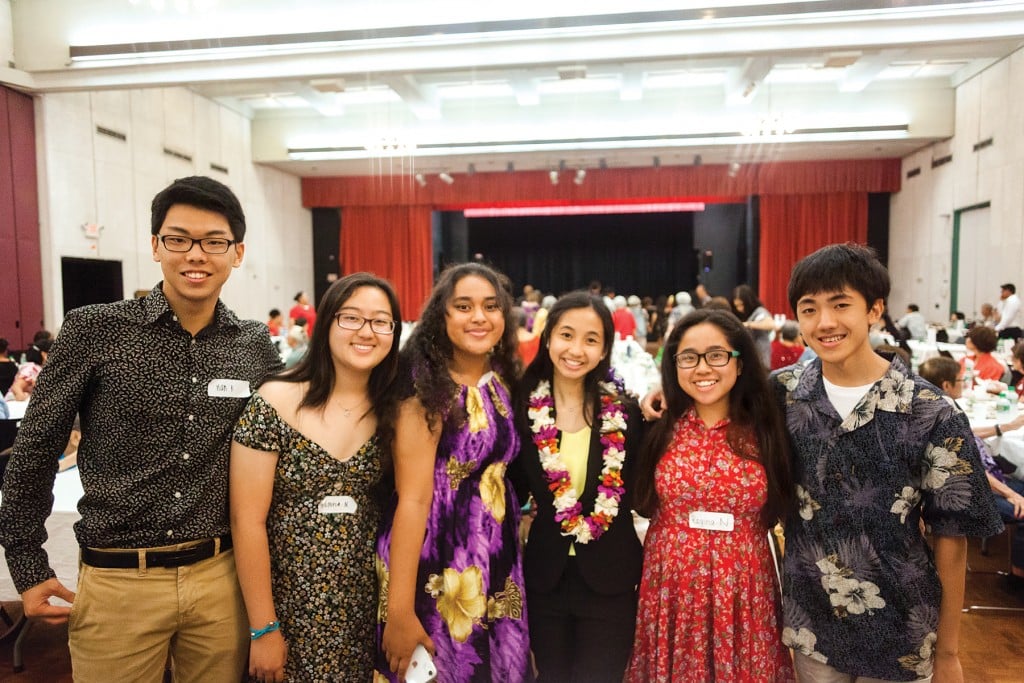 Nonprofit's programs for high school students reflect Hawai'i's diversity
The Center for Tomorrow's Leaders looks for high school students who don't fit the leadership stereotypes.
Executive Director Katie Chang says CTL empowers "nontraditional" leaders who are often less likely to take active roles in student government, sports or other mainstream extracurricular activities. CTL works with school administrators, homeroom and advisory teachers and counselors to identify candidates. Recommendations also come from programs such as AVID, a college-prep program that serves many first-generation college students.
"Reluctant leaders" seem to understand the "burden and the challenge of leadership" on a deeper level, Chang says. "Especially students who come from disenfranchised backgrounds because they know the struggle. And because of that they have a knack for resiliency, and maybe see things a little bit differently. Seeing them grow in confidence and recognize when their voice is heard, it's just really inspiring."
Chang helped develop the curriculum for CTL's Ambassadors program, which offers weekly leadership courses to more than 400 students at 13 high schools statewide.
Reflects Hawai'i's Diversity
Chang says CTL's curriculum and mission are based on a framework developed by the National Leadership Challenge, which began by educating corporate leaders before being adapted for college and high school students. CTL has tailored its programs to complement Hawai'i's social and cultural diversity.
The in-school Ambassadors program and the community service-based Fellows program organize students into small groups that identify needs within their schools or the larger community. Then the team develops a service project to address those needs. CTL's 2018 projects addressed youth homelessness, mental health, financial literacy, sustainability, political polarization and "the art of civic discussion," among other issues.
Mentors from local businesses help students develop workforce-ready soft skills, including effective communication, conflict resolution, budgeting and long-term project management. Pitch sessions following a "Shark Tank" format allow the teams to raise funding and gain knowledge and support through networking and relationship building.
"Students feel like they can do anything afterwards. It sets the students on a path to success," says program mentor Kurt Tsue, who describes CTL as "a leader feeder for Hawai'i's businesses, government and all sectors."
Tsue is a member of CTL's board of directors and the community relations manager for Hawaiian Electric Co., a CTL mentoring partner since 2016. "The experience has provided significant, positive impact on both the students and our employees," says Tsue.
Student Perspectives
Mayele Bautista, a 2019 graduate of McKinley High School, spent the past two years working on the Lokahi Project, a CTL student-led initiative to address loneliness and depression among senior citizens. Bautista says her learning experience with CTL and the lasting relationships she's built with seniors at Kulana Hale on South Beretania Street have validated her goal of a career in health care, specializing in geriatrics.
"I always knew I wanted to be a nurse or a doctor," Bautista says. "This has helped me to realize how much I love working with senior citizens."
She says interviews, presentations and public speaking once made her anxious. "I was very different from the person that I am now. I still get anxious, but the more you understand what you want to do and the more you want to voice out, the more you realize it's not about yourself. It's about the people in the community."
In addition to weekly visits to Kulana Hale, Bautista's group organized a "Senior Prom," attended by more than 100 seniors.
"Break Out of My Shell"
Zi Jun Liu, a 2018 McKinley graduate, says CTL helped him to break out of his shell. He regularly uses the communication skills he honed as a CTL ambassador both as a college student and in his job as an information technology technician at UH Mānoa. He's says he's now able to put stressed out professors and other staff at ease and confidently reassure them that he can solve their computer issues.
Liu's CTL team created a worm bin to transform waste from McKinley's school lunches into compost.
"It was very mind opening to see that there is a way that we can take waste and instead of putting it in the landfill we can give back to the land, and that ties into Hawai'i's history. You feed the land and the land will feed you," Liu says.
Emma Kāne, a class of 2016 Fellows program graduate, says her experience with CTL influenced her decision to choose a dual major in international relations and communications at Stanford University. Kāne also put her skills to work at Stanford as a marketing intern and in student government.
Chang says the programs also leave graduates with valuable career skills.
"Workforce development wants recent grads to be able to take initiative and come up with an action plan, to bounce back when they are criticized or to be able to come back from a setback," she says.
Center for Tomorrow's Leaders
677 Ala Moana Blvd #1100, Honolulu, HI 96813
(808) 681-7687 | ctlhawaii.org