Hawaii's Young Businesswomen say: We can do it!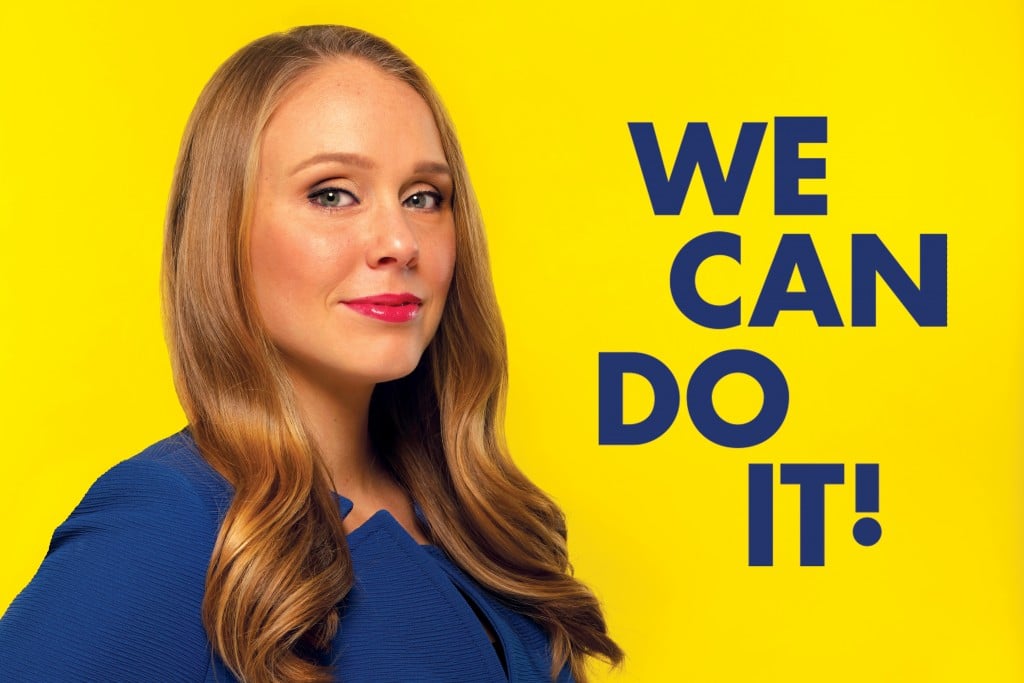 They may be young, but the women graduating from business schools these days already know what they want and they're shooting for the stars.
They're passionate, assertive, organized, ambitious, altruistic and well-trained – often with many sets of business skills. They can manage, analyze, work with complex data, design public relations campaigns and schmooze clients. They also care about their communities, know how to raise money and, yes, along the way they want to have children – by mastering the tricky tightrope of work and family. They understand that gender inequities remain, but they expect those injustices to continue falling in the coming decades.
"The women who come into the program are pretty driven," says Shidler College of Business graduate advisor Lee Higa-Okamoto. "They come in knowing it's going to be tough and demanding, and is going to help them in their career. But they make it happen.
"I've been here since 2013 and for every class I've been a part of, we've had at least one baby born. It's amazing they are able to balance a full-time school schedule and give birth, or in some cases they're even working part-time. I've had MBAs that have taken just two weeks off (after giving birth) and then they're back in the classroom." One long-time business professor is particularly proud of how her students are tech-savvy, inquisitive and goal-driven.
"Based on my 29 years of teaching experience, female students can aim high and achieve their goals if given a nurturing and encouraging environment," says Hawaii Pacific University associate professor Wendy Lam, co-chair of Hospitality & Tourism Management in HPU's College of Business, in an email. "In general, women business students are willing to take initiative and lead if they are being mentored and encouraged."
"I'm very fortunate to have grown up in a world post the women's rights movement." More and more women are enrolling in undergraduate and graduate business programs – sometimes equaling or surpassing the number of men. They're moving into traditional male fields and expect to be executives with solid paychecks, even though big money is rarely a major objective.
"My goal is to find an information systems position with a company where I can grow and take on new challenges, where I can learn and build a career," says Elizabeth Quach, a Shidler student in finance and management information systems who will graduate in the spring of 2018. "Ultimately I'd like to assume more management responsibilities and maybe end up as CEO." Quach and her classmates understand they stand on the shoulders of women who broke barriers and cracked the glass ceiling.
"I'm very fortunate to have grown up in a world post the women's rights movement," she says. "I have the career choices even my mother didn't have growing up. Now there are more and more women CEOs who do have families. It's very doable."
Quach, just 20, plans to build her career and figures it won't be until her 30s that she'll begin thinking of a family. The CEO part can come later, she says. "A lot of my friends, we all want to start in an industry first. A lot talk about starting their own businesses.
A lot do strive to be at the top or in top management. Everyone has a goal of being a CFO or a CEO. A lot of my friends are really driven."
"(For now) I'm planning to focus on world experience."
Nikki Oka has big goals. The 22-year-old Shidler graduate has five- and 10-year plans for her future, and re-evaluates and retools every six months to ensure her career is on track. This graduate with a major in international business focusing on Asia is currently working at HONOLULU, one of Hawaii Business' sister publications. But she starts soon on a series of internships ranging from Vietnam to Eastern Europe.
"For the next six months – and then the next year – I'm planning to focus on world experience," says Oka. "I'm leaving for a long time of travel and volunteering abroad. I plan to start in Hanoi – Shidler has connections there, as well as an executive MBA program in Vietnam – and I would like to meet people there and find out about their experiences."
From Vietnam she plans to go on to Thailand, Myanmar, the Philippines, India and Nepal, and then work her way across Eastern Europe. She hopes to spend time interning with the American Chamber of Commerce, perhaps either in Malaysia or Japan.
"I want to do a lot of volunteering in smaller places that really need help," says Oka. "I found some organizations I'd really like to help out, such as schools for special needs children in India."
"You're going to face biases everywhere you go. … You have to prove them wrong."
Cherie Ishihara, 20 and now in her senior year at Shidler, expects to see gender barriers as she moves up the ladder. "It's society," she says. "You can change it, but it's not going to be 100 percent changed.
"In human resources they teach you about the 'like me' bias. A lot of male executives may have a personal preference they don't even know they have … and, if they interview a female, she won't fit the 'like me' bias," says Ishihara. That may mean she doesn't get the job.
Ishihara says she will roll with that – but is also willing to leave companies that don't treat people fairly.
"Honestly, you'e going to face biases everywhere you go. I really want to move to California and I might face Asian biases. In a way, you have to prove them wrong. But it would be frustrating if I'm doing my best and someone else gets the bonuses when they're doing half par. I actually left a company that operated like that."
Hoping to work for a company with family-friendly policies
Sierra Fox, 25, who earned an MBA at Chaminade University in December, says she and her peers are definitely concerned about the gender gap – especially if families and children are part of the equation. But she is also optimistic about the future and her generation's desire to "have it all."
"I've seen and heard about companies trying really cool things and embedding new policies for families," says Fox. "I feel very hopeful that come my time (for a family), my employer would have shifted to support that idea." But she also recognizes she may be naive in expecting that change to happen within the next decade when she will be considering a family.
"I would like to think that it would not be an issue, but I worry that I've worked very hard on two degrees and put in a lot of really good time and I worry that as a woman I won't be valued enough. I don't feel that would be a risk at my current company, but it is something that a lot of my peers worry about."
Trying to juggle her many interests
Janelle Sanqui – a December 2016 MBA graduate from Chaminade – felt a business degree was the best way to prepare for the future. She plans to eventually create her own business, but hopes it will include her passions: her recent work for the Disney Aulani resort, coaching and managing the UH Rainbow Warrior Dancers, and teaching dance classes.
Sanqui perfected the female workaholic balancing act during the two years she served as Aulani's first Disney Ambassador in 2015-2016 while earning her MBA.
"I know how committed I can be," she says. "I'm one who is really big on building my brand."
But while Sanqui wants to continue with projects and opportunities important to her future, she also understands the importance of finding that personal/professional balance.
"I want to make sure I'm accommodating my life to managing myself and my own business," she says, "so having a family isn't out of the question."
"I got a business degree because it applies to everything."
Lauren Cheape Matsumoto took a unique path to her MBA: she won the Miss Hawaii pageant in 2011, then got elected to the state House to represent the 45th District (Waialua to Mililani). She recognized that an advanced business degree would offer added options. In 2015, she earned an MBA from HPU, and is working on a doctorate in organizational leadership through Argosy University to prepare her for everything from running a company to being a consultant to teaching at a college.
"I got a business degree because it applies to everything," says Matsumoto. "I may not be starting a company, but when I'm at the Legislature considering bills, having that business perspective gives me a different lens to look through. That perspective is needed. But business (training) is important in almost any avenue, whether it's running a company or not. All the leadership skills I've learned and business ethics apply to every aspect of my life. I'm a big planner, but I've also learned that I need to be flexible to see what opportunities come up."
Matsumoto also wanted a business degree to help her family's 107-year-old egg farm, Petersons' Upland Farm in Wahiawa. "While I'm not an employee," she says, "whenever they need help, understanding business has been important." (As she went door to door in her first campaign for state representative, Matsumoto handed out 3,000 half-dozen-egg cartons to constituents, leaving coupons for those who weren't home to pick up their eggs at the farm.)
She finished her MBA while serving in the Legislature and says HPU was a good choice for its ease of access and diversity.
"I'd finish my day at the Capitol and walk over for classes," she says. "I worked with women from countries all over the world and still keep in contact with many of them. It's one of the most culturally diverse schools in the nation. That was a great opportunity."
With a new baby, and the Legislature just around the corner, Matsumoto has figured out how to do it all. That includes a husband who offers full support, but also a cautionary note when she is pushing herself too hard.
"That has been a good learning curve for me this year," she admits. "I have to come to terms with recognizing there's a need to be balanced, and work more efficiently. I'm learning how to delegate. It was actually through being pregnant that I learned that."
"My generation is facing a world, especially in business, that changes all the time."
College business programs are the educational lynchpin for business success, but real-life experience adds nuance and depth. Six years after graduating with her MBA, Hawaiian Telcom's Ngoc Nguyen is director of investor relations for one of the state's largest companies. Nguyen worked at Hawaiian Telcom during a four-year gap between graduating from Shidler College and going back for an MBA. The time gave her a new perspective on what the real world was like – and how fast it can change.
"For the last five years we've been in a lot of change," she says. "Earlier on I had a career path, but the more experience I gain helps me to make myself flexible. My generation is facing a world, especially in business, that changes all the time.
"It's hard to imagine you would be doing the exact same thing 10 years down the line," says Nguyen, who has two young children and is already balancing work and family with the help of a dedicated husband who carries an equal share of the load.
"Unforeseen opportunities are created out of nowhere," she says, "and I know I need to be flexible and to prepare myself. Going back to school was one of those things to prepare myself for what's to come."
School has also been a path to understand how someday she can start a program or nonprofit to aid her home country of Vietnam, where her parents still live. "I believe in education. I would want to do my part in this field to help my countrymen."
---
Business Is the Most Popular College Major

Business has been the most common college major in the U.S. since 1980, according to National Center for Education Statistics' data compiled by the Pew Research Center. One-fifth of the 1.79 million bachelor's degrees granted in 2012 were for business majors. The MBA is also the most popular U.S. graduate degree. NCES statistics show that in 2013, 188,625 master's degrees in business were awarded by American colleges.Education was second with 164,624 master's degrees. The percentage of women earning business degrees is constantly growing. A 2015 report published online in Fortune noted that 40 percent of the students at top MBA programs are women, with women making up the majority of applicants in three programs, according to NCES statistics: master's in marketing and communications (62 percent), accounting (57 percent) and management (55 percent).
Internships are a big part of the learning experience
Like many other women, Nguyen sought work experience before seeking her MBA. Many undergraduates discover that one or more internships during college add important experience. Others, like Nikki Oka, plan on adding law degrees.
Waverly Heurtelou, a college senior at Shidler majoring in human resource management, has completed three internships. "I'm getting a feel for HR and what I want to go into," says Heurtelou, who is eyeing an early career as a recruiting or training coordinator. "Recently we had the Uber scandal regarding sexual harassment and we did a training about how we can avoid that in the workplace."
Heurtelou's internship at the Research Corporation of the University of Hawaii this past summer familiarized her with how to screen employees for hire, draft job descriptions and effectively train new employees. "I think it's a really rewarding career," she says. "It's pretty much taking care of your employees, so I really like that aspect."
For Janelle Jeremiah, human resources recruiting manager for Hawaiian Telcom, earning a master's in HR management while working was a stepping-stone to moving up in the company.
"I would love to run a department," says Jeremiah, who started 10 years ago as a temporary hire, "but I think the main thing here … is being open to opportunities. You're capable of really moving around (within the company) and learning a bunch of different things.
"I have a lot of friends and we'e all striving in challenging environments. All of us feel we've got to grow more, learn more. At this age, we're just looking for the challenges and to be in the right environment. I want to come to work and be excited for the day, and I found it here. I'm living it."
"(Internships are) like a trial run to see what I want to get into after college"
Passion and drive are part of these young women's DNA. It has seeped into each's consciousness from the time she was a child. Take 20-year-old third-year Shidler business student Dakota Chun, who is majoring in marketing and entrepreneurship. Her mother runs her own business and Chun has always seen that as the way forward.
"I kind of grew up thinking that was the only job out there – starting your own business," she says. With her business degree well established, she sees other options, and is determined to explore as many internships as possible to see what else feels right, although she already envisions her long-range future as running a department in a big company.
"It's kind of like a trial run to see what I want to get into after college," says Chun, who worked with Frolic Hawaii this past summer. "I had an internship last year with an event-planning company – that was what I wanted to do at that time – but now I like the back end, the PR side, and I'm really interested in marketing analytics. It involves compiling data about how posts on Facebook, Instagram and other social media platforms were performing. It was so interesting to see the numbers side of that. I had no idea they were tracking that kind of data. It's interesting to see how different parts of marketing can be analyzed."
Her way forward includes more internships, and an intense commitment to school clubs. As the incoming president of Shidler's chapter of the American Marketing Association, Chun says the group has been an important springboard. "It really gave me the experiences I needed outside the classroom. I learned how to interact with professionals, how to talk, and act, and dress. It's one of the most valuable things Shidler has given me. It's part of one of the most important things in Hawaii – networking – and this organization has given me a lot of the tools to be successful in it.
"If I want to be successful in Hawaii," she says, "it's important to stay here and make those connections first."
Chun's friends are equally committed – to success, to club involvement and to a bright future. "My group of friends are all very driven, passionate about careers and pretty much anything they set their minds to," she says. "A lot of my friends want to start businesses, that's really a big thing. That's why I'm majoring in entrepreneurship. It's not so much that I want to start one, but to get that business mindset. We just had a business competition and people are being a lot more creative and seeing a lot more opportunities."
They're also learning how to give back. Chun and other AMA club members at Shidler organized 10 events, including one that raised more than $1,000 for the Rotary Club. "It's important to give back," says Chun, "and it's a big part of the Shidler clubs."
"It's not about being a woman or a man but about the effort you put in"
For young businesswomen, learning and growing are crucial.
"As of right now, my focus is being able to grow myself in this business community, personally through my network, and professionally through my workplace," says 22-year-old Tori Tokunaga, a recent Shidler graduate with a major in accounting. Already she's in a full-time job with a wealth management company and immersed in studying for two certificates that will advance her abilities in financial advising.
Unlike some of her peers, Tokunaga doesn't have a set plan for where she wants to be in two, five or 10 years. "I do definitely have a vision of where I want to be at several stages of my life, but now I leave my life open to possibilities and always try my best. I used to be super into planning, and then realized it doesn't always work that way."
For the moment, there's barely time to think about a family, although in general she plans on that happening someday. "I don't have many immediate thoughts about marrying and children," says Tokunaga, "but in 10 years I'll have a totally different answer. It's something I want, and I've seen women in our office who work hard and have children and still thrive in this industry. It's not impossible, but it's going to take prioritizing and reintegrating how work and family are going to mesh together."
Tokunaga ignores concerns about a gender gap limiting her success, and believes success will rest on her own shoulders.
"There still is a gender imbalance. That's a fact," she says. "But if that's something on the forefront of any woman's focus, it's not going to do anything but set them back. I look at growing and eventually achieving the heights I want. A lot of great women have made it by working hard. Rather than the imbalance, if you focus on what you want to do and achieve it, then yes, we'e going to see a lot more women out there. It's not about being a woman or a man but about the effort you put in and what bar you're willing to set for yourself. I believe that whatever your greatest potential is, is what you set for yourself, not what society tells you. You'e going to be the one raising that bar."