Wellness at Work Pays Off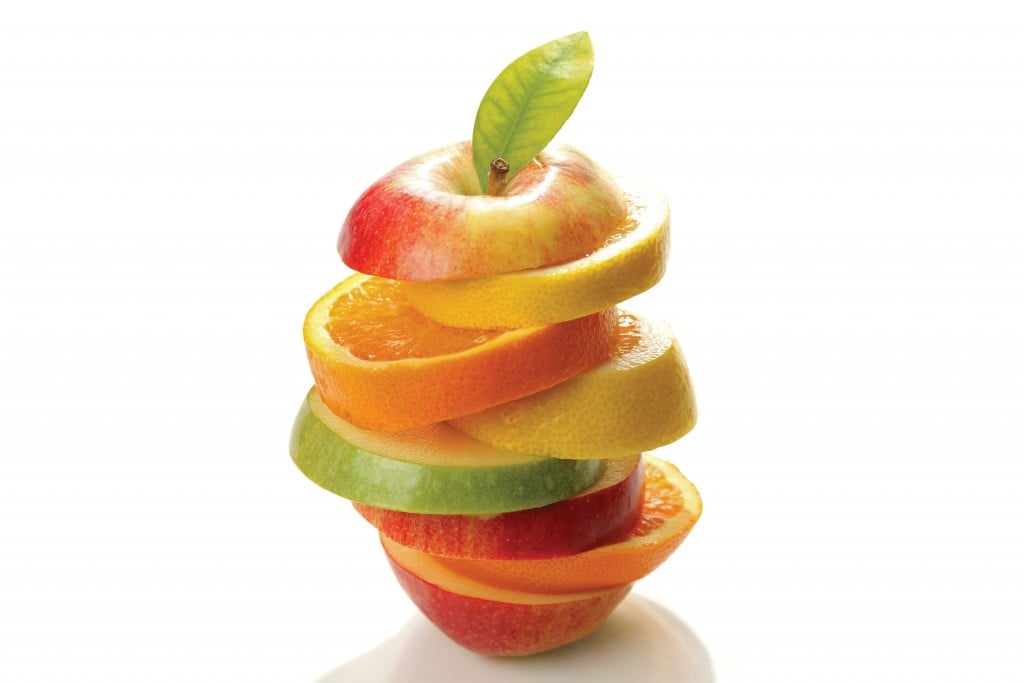 Health insurance is the second-biggest expense for most employers after payroll. And that cost keeps soaring: Hawaii companies have been paying an average 9 percent more in premiums each of the past 10 years – and that will likely continue.
But there is hope, says Max Botticelli, CEO of UHA. "Employers have a big stake in promoting a healthy workplace and that could mean lower health-insurance premiums and increased productivity," he says. Botticelli speaks from experience on both fronts: UHA insures about 32,000 members in Hawaii and is also Hawaii Business' 2010 Healthiest Workplace among medium-sized companies.
Hawaii has been slow to emphasize corporate wellness compared to Mainland companies, but local employers are catching on that wellness pays, says Deanna Moncrief, principal and founder of Benchmark Wellness, which helps businesses design wellness programs. "Employers need overwhelming proof that it works for them to make wellness a line item on their books," she says.
Proof is the easy part. Many studies have shown the financial and health-related benefits. The real challenge is getting employees to participate in worksite wellness once the right programs are in place. The best way is to offer a variety of wellness options and then pair participants with coaches who can help them set and reach their health goals, experts say.
But the tough economy means many companies are cutting discretionary spending like worksite wellness, and that may cost more in the long run. "The problem that we have in America – the reason health costs are going up – is because the prevalence of chronic disease is growing too fast," says Gary Allen, executive director of the Hawaii Business Health Council. "Fifteen percent of our population is consuming about 65 percent of the total healthcare budget. Depending on how much we pull back on wellness costs and programs, that prevalence could grow at a faster pace."
In 2008, Hawaii employers paid an average of $3,380 a year for each full-time employee's health insurance, according to a report by Ernst & Young and the Hawaii Health Information Corp. "Employers are paying the bill and in Hawaii, that's more than 90 percent of the cost of healthcare," Allen says. "If employers want any hope of managing those costs, they're going to have to take steps for themselves."
Allen says Hawaii employers could learn a lot from Mainland companies that use wellness as a business strategy. "If they can make their employees healthier, their total costs come down and their bottom line gets bigger," he explains. "That means they don't have to raise prices and that now gives them a competitive edge." Employees also see health and wellness programs as an attractive benefit, which helps reduce turnover.
Proof That Wellness Pays
According to studies by the Wellness Council of America, a $1 investment in corporate wellness programs could save an employer $3 in healthcare costs. For example, if an employee has diabetes and the employer provides one-on-one coaching to help get that person healthy, the employee will likely require fewer doctor visits and treatments, and less medication. By lowering its employees' claims, a company can lower its premiums.
Moncrief says worksite wellness can reduce "hard costs," such as health-insurance premiums and absenteeism, but can also significantly improve "soft costs," such as turnover, training and retention. The average time it takes for an employer to start seeing savings is from 12 to 18 months, while full ROI takes an average of three to five years, Moncrief says. "An employer needs to reflect on whether it is willing to spend a few dollars per employee now for the opportunity to reduce healthcare costs in the near future. It's not a leap of faith, as I've heard some say. Wellness programs do work. They just have to be done right."
In addition to better health and increased productivity, worksite wellness programs also bolster loyalty, says Caryn Ireland, vice president of Integrated Services Inc., an HMSA subsidiary that administers its HealthPass program. "The employer is really seen as caring for the employees, so that starts to build trust and loyalty, which often results in a lower turnover rate," she says.
UHA, along with Castle Medical Center and Skyline Eco-Adventures, which were named Hawaii's Healthiest Workplaces in the big- and small-company categories, all say their worksite wellness programs have produced favorable results. "I'd like to believe these types of programs have a positive impact on the morale within the organization," says Beth Davidann, the director of Castle's Wellness & Lifestyle Medicine Center. "We believe in something called sacred work, which means you can't be helpful to others if you're depleted. So the concept here is really to care for the caregiver."
No Immediate Premium Cuts
Moncrief says companies are most successful when they study the needs of their workforce and create tailored wellness programs. "It's proven – healthy employees are more productive employees," she says. However, in terms of directly lowering health-insurance premiums, that's one of the long-term ROIs. "You can't call your insurance company and say, 'Hey look, we have a wellness program,' and think they're going to drop your rates. They're going to want to see fewer claims and a better experience rating before they make any changes."
In Hawaii, rather than a reduction in premiums, employers might just see a leveling off of the increases, Moncrief says, which could still amount to a significant savings. But employers shouldn't expect to see changes overnight. "Think of it like solar – you have to make the investment upfront but the payoff will definitely happen in the long run."
Allen, of the Hawaii Business Health Council, says larger employers that are merit-rated by their insurance providers would see a shift in their premiums if their actual spending on healthcare decreased. Rather than the average 9 percent increase per year in Hawaii, he says, maybe they'd see a 2 percent or 4 percent increase.
UHA is currently looking into a rebate program that would reward healthy companies. If, for example, a group didn't spend all of its premiums and had an aggressive worksite wellness program, UHA would consider giving it a rebate on its premiums.
Engaging Employees
Once the right wellness programs are in place, getting people to take advantage of the programs can be just as demanding. Ireland believes the success of HMSA's HealthPass, which is a free health-risk assessment, is largely because one-on-one coaching keeps members focused on their goals and they get expert support throughout the process. Since HealthPass started in 1990, HMSA has expanded its resources to offer health-education classes, Web-based learning and live consultations with health coaches.
"We're definitely moving away from the one-size-fits-all approach," Ireland says.
Each year, 25,000 to 30,000 HMSA members sign up for HealthPass and, starting in 2003, it began taking the program directly to worksites. HealthPass currently performs on-site health-risk screenings for about 130 employers annually.
"We're trying to remove any barriers from getting people engaged in healthcare and a healthier lifestyle," Ireland says. "Employers are starting to see that they have a unique role in helping with the issue of healthcare costs, so by bringing HealthPass to the worksite, they're helping all of us do our part in trying to bend the curve. We truly believe that prevention is a long-term strategy."
Castle Medical Center's Davidann says it's always helpful to have a few people within the organization that can serve as cheerleaders to motivate others. In the past, Castle organized a wellness challenge modeled after the TV show "The Amazing Race." Teams visited various stations linked to physical fitness, stress management and healthy eating. "When you make wellness fun, employees are more engaged with each other, team and department pride are obvious and people are very encouraging to one another," Davidann says. "And the biggest payoff of all is that people really seemed to be more focused on living a healthier, active lifestyle." About 25 percent of Castle's 1,000-plus employees participate in its wellness program.
Incentives, such as paid time off to work out, cash rewards, discounts on educational workshops and even trips to Vegas, also work. "It doesn't have to be like dangling carrots in front of them all the time," Moncrief says. "I think it's true that it often takes a health scare to get people motivated but it's also important to try to get them self-motivated because that's when the lasting change will occur. Cash incentives will only work for so long."
Handing an overweight person a gym membership and telling him or her to be more active is not as effective as providing a health coach, Allen says. Another essential component is that upper management needs to walk the walk, too, and set a good example for employees. Wellness can't just be something a company does because it wants to lower health-insurance premiums; it needs to become a part of the corporate culture.
Last year, UHA started an exercise group that met twice a week for one hour during normal paid work hours. The company rented space in its building, hired a fitness trainer and about 60 associates lost a total of 173 pounds in six months. They worked out in honor of Dani, an employee who had severe diabetes and died from kidney failure. "We knew Dani was ill but we really didn't do enough," says Botticelli. "So we decided that we needed to get more proactive and if we can identify employees who are at risk, then we're going to do whatever we can to get rid of those risks. That's why we offer regular health-risk assessments for all of our employees." Botticelli said despite a strong start, after about six months, participation dwindled and UHA later put a hold on Dani's Group to re-evaluate the program's impact and approach.
Moncrief warns there are risks when employers habitually start and stop programs every time they fail. "It can wear the employee out," she says. "Then the credibility of the employer is at risk." The better approach is for companies to collect business intelligence about their population and then implement targeted programs in a way that will be most effective. "Be transparent about the costs involved and let the employees know what the company's investment is," Moncrief says. "Show them the benefits of the program and how it could have a positive impact on their health and well being. Most importantly, get their feedback before implementing a program so you don't waste time and money."
UHA associates can also earn points by attending regular physical examinations, exercising three times a week or joining wellness groups. "The idea of our wellness groups is for employees to support each other," Botticelli says. When they reach a certain number of points, employees are eligible for up to eight hours of paid time off every six months. UHA spends about $103,000 on its wellness programs annually.
Allen, who also chairs the Nutrition and Physical Activity Coalition's Worksite Wellness Task Force, would like to see a tax credit for employers who offer approved wellness programs. NPAC's state director, Jennifer Dang, offers another way to guide employees. "Don't offer the chips and candies in the vending machine and also offer healthier snacks," she says. "Make the healthier alternatives the only choice. It's important to remember that you can change behavior by what you have available."
The cost of absenteeism
Multiply your payroll by 0.15 to estimate the cost of absenteeism – when employees are paid but not at work, says Deanna Moncrief, of Benchmark Wellness.
Wellness and your bottom line
Studies have shown that worksite wellness can result in:
25.3%
Reduction in Sick Leave
26.5%
Reduction in Health-Care Costs
40.7%
Reduction in Workers' Compensation costs24.2%
24.2%
Reduction in Disability Management
Source: "Proof Positive: An Analysis of the Cost-Effectiveness of Worksite Wellness," by Larry Chapman, chairman of Summex Corp., which provides health-management services to employers, hospitals and managed-care organizations.
What's the Cost?
"A good rule of thumb is that a successful wellness program will cost between $100 to $400 per employee per year."
-Deanna Moncrief, principal,
Benchmark Wellness
Calculate Your Wellness ROI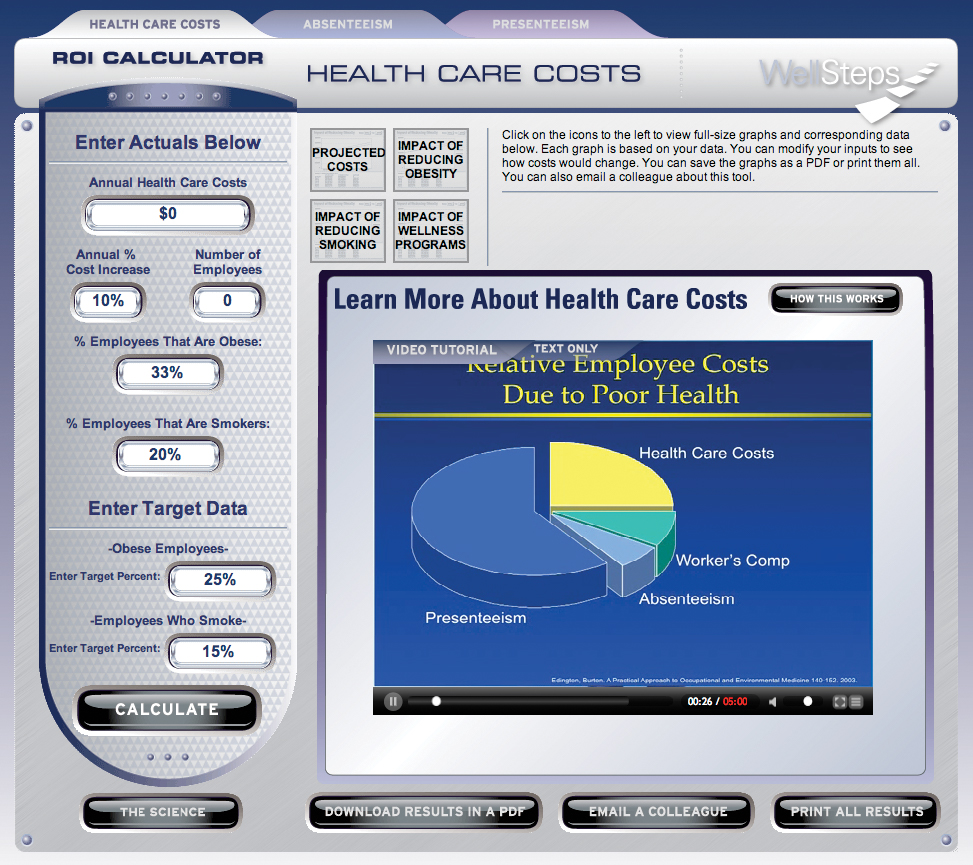 Visit www.wellstep.com and click on Tools to use the ROI Calculator for healthcare costs to find if a wellness program makes sense for your company. You can also calculate the costs of absenteeism and presenteeism (that's when your workers aren't absent, but they're not working).
Ways to Make Wellness Pay Off
Tap into your insurance plan's willingness to pay for wellness:
• Create a benefit plan design so wellness can be cost neutral. For example: Raise your benefit cost by $100 to $200 per employee. Some worksites will split the cost with the employee. This extra money is your wellness budget. The catch is, employees who participate can get their money back at the end of the year in cash, premium reductions or other incentives. Employees who do not participate will not get their money back. In essence, nonparticipants pay for the wellness programs.
• Create worksite policies and environmental changes that support health.
• Use the right wellness message to increase participation, improve morale and enhance engagement.
• Make use of all your free community resources.
Source: Wellness Council of America