West Oahu Magazine 2019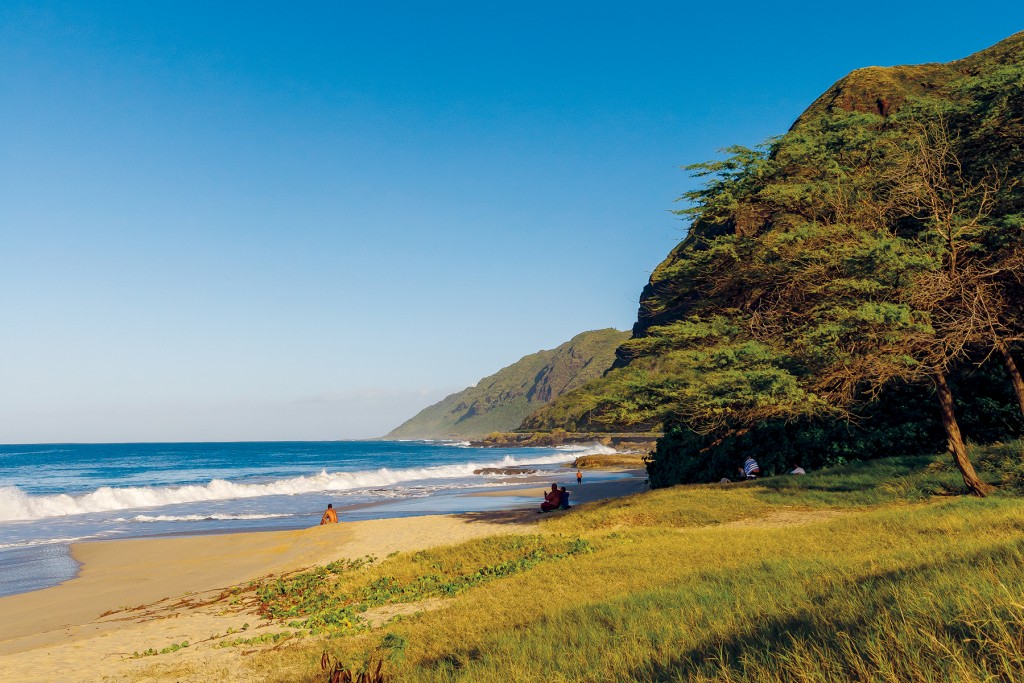 Table of Contents
Introduction:
Westside Stories
Education:
A Legacy of Learning
People and Place:
Suluape Keone Nunes
Healthcare:
All in Good Health
People and Place:
Dalani Tanahy

Company Profiles
Hawaii Pacific Health
Gentry Homes Ltd.
University of Phoenix
Island Pacific Academy
Avalon Development Group
Sunetric
Kroc Center
Island Ready-Mix Concrete
Kahi Mohala
EK Fernandez
━━
Transforming the
Community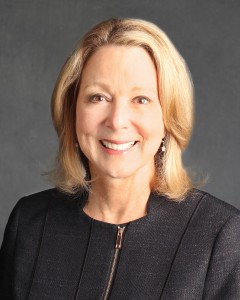 I have had the pleasure of living and working in West Oahu for the past five years, and it has been exciting to witness the area's transformation into a vibrant working community—my community. Residents, leaders, businesses and organizations have a strong sense of how special the west side is and how fortunate we all are to help shape its future.
With more families discovering the wonderful housing, restaurants, schools, shopping and beaches of West Oahu, its rapid growth will continue. Having access to quality health care close to home is important to support this progress. It also is what we deliver at The Queen's Medical Center – West Oahu.
Since Queen's West opened in 2014, we have established a strong community presence starting with essential services to support emergency care. It is now time to look at innovative ways to extend our services to the region.
This year not only marks the hospital's fifth anniversary, it also is the start of an expansion project to provide more specialists, primary care and wellness programs. This renovation will extend the Queen's mission, which includes broadening our ability to elevate the health of Native Hawaiians and the entire West community.

Susan Murray, MBA, FACHE
Senior Vice President, The Queen's Health Systems, West Oahu Region, Chief Operating Officer, The Queen's Medical Center – West Oahu
━━
Elevating Lives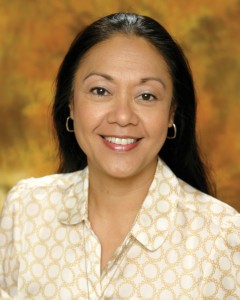 Aloha Mai Kakou!
The University of Hawaii — West Oahu is the fastest-growing public baccalaureate college in the United States. Our principal commitment is to transmit and generate knowledge in ways that engage students in complex problems that prepares them to apply newfound wisdom and skill to improve their communities. We offer students a variety of baccalaureate degree options with signature programs that address the demands of our 21st-century economy, including creative media, cybersecurity, health science, hospitality and tourism, sustainable community food systems, accounting/finance and risk management, public administration, and teaching preparation.
As a West Oahu anchor institution, we are responsive to the needs of our community in partnership with our ever-expanding network of business and industry, government and non-government institutions to strengthen the future of this region. Our intellectual capital coupled with a diverse student population enable us to collaborate with our neighbors to build human capacity and community wealth. We believe that if all of our region's institutions – individually and collaboratively – can harness what we each do well, we can leverage this productive power as a place of well-being for all of our residents.
We welcome you to join us in our journey to elevate our community and those around us!
E malama pono!

Maenette K.P. Benham
Chancellor, UH West Oahu
━━
Pioneering Care for Central and West Oahu
In the early 1980s, Dr. Joseph "Joe" Nishimoto and his wife, Maude, led a community effort to establish a hospital in Aiea so West Oahu families would not have to drive into town for medical care. In 1989, his vision was realized with the opening of Pali Momi Medical Center.
Since then, Pali Momi has been committed to providing high quality, accessible care to the residents of Central and West Oahu as it works toward its mission of creating a healthier Hawaii. With more than 500 physicians on its medical staff and more than 1,200 employees, Pali Momi provides award-winning, nationally recognized care to thousands of patients each year.
It is the only facility in the region designated as a Primary Stroke Center and Level III Trauma Center, which means Central and West Oahu residents have access to lifesaving care closer to home when every minute counts. Pali Momi also has the area's largest and most experienced cardiac team with expertise in heart and vascular conditions and access to the latest in diagnostic and advanced minimally invasive surgical technology. The Pali Momi Women's Center offers comprehensive women's health services, including bone and breast health care, OB-GYN services, and numerous events and health and wellness classes.
Pali Momi continues to invest in new technology and services in order to advance its excellent care for the community. This includes the first comprehensive cancer center in Central and West Oahu, which opened in 2017, and is the only one in the region accredited by the American College of Surgeons Commission on Cancer. The Hawaii Pacific Health Cancer Center at Pali Momi Medical Center offers coordinated cancer care, including diagnosis, treatment and support services in one convenient and centralized location. Pali Momi also is expanding Bone & Joint services, now offering adult and pediatric sports medicine, dance medicine, joint replacements, spine surgery and rheumatology.
Pali Momi offers the benefits of collaboration and coordinated care with Kapiolani Medical Center for Women & Children, Straub Medical Center and Wilcox Medical Center on Kauai as a part of Hawaii Pacific Health, one of the largest health care providers in Hawaii. Together, they are working to provide high quality care and improve the health of the community.
━━
West Side Stories
Welcoming the growth, opportunities and promise of West Oahu.
Once there was sugar and cattle, then came a water park and movie theaters, and, now, there's a second city. The west side of Oahu transformed from arid acres, cloaked in historic beauty and laced with legends, to a highly-populated countryside thriving with diverse communities and cultures.
"Back in the 90s, I was working out at Campbell Industrial Park and it was all just sugarcane," recalls Mike Mita, an employee of Tamura Enterprises. "Then there were those commercials that used to play way-back-when, promoting all of the developments in Makakilo. I remember, when west side development started growing, people would try to drive through Kapolei which would take forever—the traffic was horrendous. My coworkers who lived out there told me that a lot of people would get on the freeway, go to Kunia and turn around because it was faster than trying to cut through Kapolei. Crazy, right?"
Mita also remembers Tamura's being one of the only grocers on the west side in the early days of development. And, just like Mita, almost everyone who works or resides out on Oahu's Leeward side has significant memories about the way it used to be. Fields of sugarcane for miles, walking the red-dirt pathways to the family-owned crack seed store after school, and the burgeoning idea of a second city comparable to the prominence of Honolulu. Recalling the past landscapes and lifestyles of West Oahu feels more like coming to terms with its new actuality rather than nostalgia. "It's exciting," Mita says. "They're building great communities out here—and they're affordable. There's so much to do and a lot of job opportunities too. It's really come a long way in a short period of time."
In 1977, the City & County of Honolulu designated the Ewa plains as a future development area to accommodate Oahu's prospective growth, with Kapolei as it's new urban epicenter. That was over 40 years ago. It wasn't until 1990 when the James Campbell Estate finally broke ground on the City of Kapolei and housing developers sorted parcels to begin the assemblage of various master-planned communities to alleviate town's overcrowding and high home prices. "West Oahu will continue to be the epicenter of new home development for the next decade and beyond," says Rick Hobson, Vice President of Sales & Marketing for Gentry Homes. "As a Gentry homeowner living in Ewa for the last 14 years and as VP of Sales and Marketing for almost 23 years. Our west side community today offers goods and services that rival any found in town. Our community is all grown up now, but West Oahu will continue to be the place for many local families to buy their first home and make their first memories."
Over the last decade, West Oahu has seen several new regional shopping malls, an increase in commercial development, massive land acquisitions, and new resort and non-resort hotels. Today, there are about 1,000 active businesses—both big and small—in the region, providing locals with nearly 30,000 jobs. As resorts were erected and new neighborhoods formed, many local businesses set up shop out west to put their trades to the use of the ongoing construction. "We've been proud to be a part of West Oahu's development since 1983," says Shorty Kuhn, Vice President and general manager of Island Ready-Mix Concrete, Inc. "As a local business, we've been happy to contribute to the growth of communities we love and live in."
Imagine a place where the conveniences of big cities exists with a lovely, small-town friendliness. For generations, West Oahu has grown and attracted community-minded individuals—hoping to share and preserve these special places they call home. "I love the people of West Oahu," says Linda Fernandez, President and CEO of Fun Factory, Inc., who's watched all the development evolve from the company's headquarters in Campbell Industrial Park. "They are my favorite part about this place."
Although the west side is in constant change these days, there is a sense of permanence and ownership from its long-time residents and homegrown businesses. "West Oahu is a different market from town," explains Monica K. Toguchi Ryan, owner at Highway Inn Companies. "Town is 'the thrill of the unique and new' whereas West Oahu appeals to a sense of familiarity and family friendly. Not to say these are exclusive descriptions, as we thrive in both, and our customers eat at all our locations. Service expectations are different, with a more relaxed atmosphere out West. A business in West Oahu also needs to appeal to the broader demographic base who are not chasing the latest trend."
Her grandfather established Highway Inn in a quiet strip mall in Waipahu in 1947, and the family has been drawing crowds with their timeless take on Hawaiian food ever since. The long-time family-operated business gave town the convenience of their delicious dishes in 2013 with a Kakaako location and 2015's Bishop Museum spot.
"West Oahu has really given small businesses a chance for success," says Michael Lam, VP of Hunt Companies. "And from these entrepreneurs spring further job opportunities for local people. It's a community of businesses that are really forming around each other out there. It has everything. Willing, able and talented people that live in the area; distribution and supply services, and a lot of industrial resources out there. Everyone is kind of working together and that's really exciting."
Developers are being thorough and strategic with west side projects. When Christine Camp, President and CEO of Avalon Development Group, understood the needs of West Oahu, she set out to provide them. "We realized that West Oahu needed more job centers to help the residents find employment opportunities without having to drive to town," she explains. "In that effort, we acquired and are currently developing the 178 acre Kapolei Business Park. We are completed with the Phase 2 and now are in construction for the third phase, Kapolei West. Our goal is to always be grateful for the opportunity to serve. It is with that feeling of gratitude that guides us in our daily decisions to ensure that the trust is not broken. Community means to us those who are impacted by our decisions. And it is our desire and our want to do better to serve our community well."
Where there is space there is opportunity. Years ago, the resorts at Ko Olina demonstrated the economic activity and impact potential development could have on the area. Since then, dozens of new businesses have popped up to support the growth. Shopping complexes such as Ka Makana Alii and Kapolei Commons are pulsing with new entertainment and activities for locals and visitors alike. The vast options of eateries, industries and communities out west provides Oahu residents with the golden opportunity to do something very unique to this island—have what you need right where you are. The neighborhoods' structure and proximity to amenities, and the ample job opportunities offers people a chance to have a better work-life balance by working within a few back-road miles of where they live.
In fact, DR Horton Hawaii's newest master-plan community, Hoopili, is designed to be completely self-sustaining. Hoopili aims to encompass everything residents ever need—from jobs, to goods and services and recreation—all within walking or biking distance. Featuring seven planned community and recreation centers, more than 200 acres of proposed commercial farms and community gardens as well as up to 3 million square feet of planned shopping and dining options. Hoopili will also offer its residents convenient access to the new rail line with three rail stops currently under construction. The neighborhood includes five DOE public schools situated within walking distance of many Hoopili residences and is located near University of Hawaii West Oahu campus, as well.
"Akoko at Hoopili, the second multi-family phase at Hoopili, is planned to include 124 multi-family homes, including townhomes and stacked flats, a portion of which will be sold as affordable under the city & county guidelines, providing local families an opportunity for homeownership," explains Lee S. Tokuhara, of DR Horton Hawaii.
Families are receiving opportunities in many ways out west. As a solution to Oahu's large homeless populations, the state, in partnership with private sector and nonprofit resources, has developed various housing projects to quell the rise of homeless families. According to the Honolulu Department of Land Management, last spring Waianae's Kauhale Kamaile Project housed 24 adults and 38 children. Being part of a community means being responsible for it, as well. "We live in a very different way today than even just a generation ago," says University of Hawaii Hawaiian language instructor Haalilio Solomon. "The meaning of community has evolved. How do we create community given the manner in which we live today? The way I understand it, community implies a sense of mutual accountability among its members. Accountability boosts morale among members who are born into and raised both in, and sometimes by, the community."
Fulfilling the promise of the past, especially in today's economic climate, has been a challenge well received by many West Oahu businesses and residents. And, continuing to respect the needs and dreams of the community will be the source of its future success.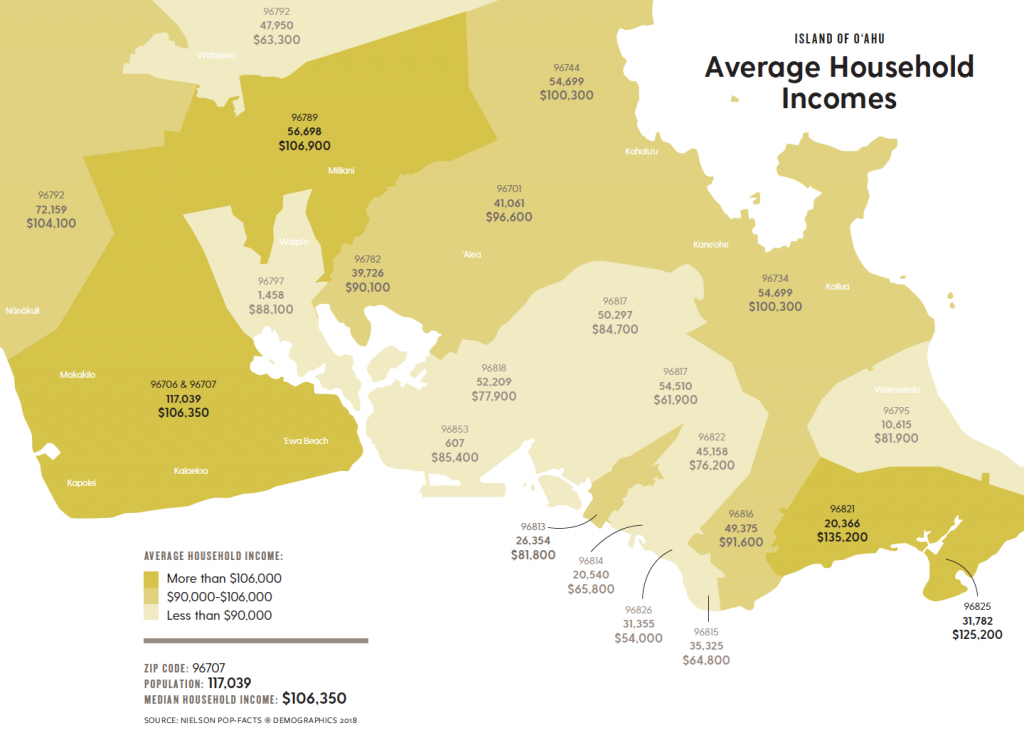 ━━
Gentry Homes Ltd.
Gentry Homes has always been on the cutting edge of home building in Hawaii. From being a pioneer in developing homes and a master planned community in West Oahu to being the first major residential developer to install solar hot water heaters as a standard feature, the name "Gentry Homes" is synonymous with "quality and innovation."
Today, Gentry's "Technology Driven Designs" allow its homeowners to live in the modern hi-tech age, while saving money, conserving resources and increasing the comfort of daily living. Rick Hobson, Gentry Homes' Vice President of Sales and Marketing, noted that "new technology" is emphasized in Gentry's most recent community, Coral Ridge, and is carried out with such features as pre-wired CAT-5 computer-grade cable for high speed networking, and the new Home Electronics Protective Device (HEPD80) that provides surge protection for sensitive electronics in the entire home.
Design features also include a 120-gallon HECO-approved solar water heater with automatic timer; direct fiber optic cable; LED lighting package; energy-efficient air conditioning with a filtration and light-purification system; the energy-saving 20 SEER Rheem Eco Bee thermostat; a commercial grade Merv 8 filter for clean air; dual pane low-E high performance vinyl windows with UV protection; and open-cell foam insulation which seals all Gentry homes from outside noise and dust pollens and reduces air conditioning loss. Homes are framed in wood, a sustainable building material that requires 40% less energy to produce, is a renewable resource, and conducts 400 times less heat which can save buyers money in the long run. Wood framing is also flexible and absorbs more sound when compared to steel framed homes. Every Gentry home comes with a 30-year warranty on this energy saving feature.
For more information about buying a Gentry Home that combines solid construction practices with new technology, visit: www.gentryhawaii.com.
━━
A Legacy of Learning
Partnership programs motivate students of all ages to pursue academic and personal growth.
Elmarie Manuel is not afraid of a challenge. Her drive is an inspiration to others—as well as to herself. "You can't do anything unless you want to," she says. "My personal goals drive me to continue my education. I want to be able to expand my knowledge of the world around me."
Manuel graduated from Waianae High School in 2017 as part of the GEAR UP Cohort. In five years, she hopes to be in medical school; but, currently, she is a college freshman and a mentor to west side youth as a College Prep Student Assistant for the current GEAR UP program. GEAR UP (Gaining Early Awareness and Readiness for Undergraduate Programs) is a federally–funded grant program considered one of the largest and most effective programs focused on increasing the college and career readiness of low–income and underserved student populations nationwide.
The U.S. Department of Education recently awarded the University of Hawaii-West Oahu (UHWO) a $2.7 million federal GEAR UP partnership grant that will help more than 500 students prepare for and succeed in postsecondary education in the Waianae Coast area. This is the college's second consecutive, multi–year GEAR UP partnership grant award. Uniting institutions and educational resources—such as UHWO, Kamehameha Schools, and the Hawaii State Department of Education (HIDOE)—GEAR UP is providing Waianae Intermediate, Waianae High, Nanakuli High and Intermediate with necessary funding and personalized academic support.
Building relationships with those that support similar goals has improved the education and quality of life for all of West Oahu's students at every age level. "These programs have a huge effect on not only me, but on Hawaii's youth," says Manuel. "GEAR UP has hosted workshops teaching students how to save money and know the differences between our needs and wants. Also, having early college courses make a huge difference. Students are able to know how college classes run and learn about time management. With these classes, it could help students transition from high school to college."
With 1,711 full-time students and 1,417 part-time students, UHWO offers educational options to a variety of student demographics. Currently, traditional and non-traditional (i.e., transfer students and working adults) students, as well as Native Hawaiian and Filipino students are UHWO's largest student demographic, especially those living in lower socio-economic regions of Oahu like the west side. With 10% of students enrolled exclusively online while living on neighbor islands, 10% of students are early college high school students, 8% of students are military veterans, and 16% of students are ages 35 or older, UHWO boasts an eclectic mix of opportunities to fit every need.
The past 10 years have brought significant improvements to the educational opportunities in west side neighborhoods. And, as communities grow, so do options. National higher-education institution University of Phoenix saw the need for a permanent presence within leeward communities, establishing a central campus in Kapolei to support four-year degree seekers and non-traditional learners with evening courses. On-campus resources, such as conference room rentals and faculty advisement, draw west-side students to the Kamokila Street location.
With the breadth of learning opportunities growing as steadily as the surrounding communities, west side schools choose to band together toward progressive goals, rather than fight for applicants. "This is not a competition in terms of student populations," explains Gerald Teramae, headmaster at Island Pacific Academy. "We are here to support Hawaii's children and families. It's a collaborative effort and we all come together—whether a private, public, or charter school, or higher ed—as an educational community. It's a unique opportunity for us on the west side to be able to work in that manner, and we've seen nothing but positive impacts on our students."
"These programs have a huge effect on not only me, but on Hawaii's Youth. Gear Up has hosted workshops teaching students how to save money and know the differences between our needs and wants."
– Elmarie Manuel, Student at UH West Oahu
The Leeward side offers growing families affordable educational options as well as impactful community resources. Located on 15 acres of land in Kapolei, The Kroc Center is the largest community center of its kind in Hawaii, providing educational and recreational opportunities for all ages. "We believe we can transform the world by transforming one life at a time," says Major Phil Lum, Kroc Center Hawaii Administrator and Corps Officer. "We're here to support the thousands of new aspiring families and our growing senior populations, as well."
"This is certainly an important moment in the history of Ahupuaa o Honouliuli, in fact, for all of Moku o Ewa and Moku o Waianae," says UHWO's Chancellor Maenette Benham. "There is much growth, hence, much responsibility on anchor institutions in partnership with community and governing agencies to make pono and good decisions that adopts a mission of deploying our resources to grow and sustain our communities abundance."
Major grants, such as GEAR UP have been imperative in boosting college enrollment from west side neighborhoods. In 2011, the UHWO obtained their first GEAR UP partnership grant named "Holomua: GEAR UP on the Leeward Coast." The results from the grant included a record 20 valedictorians from the 414 Holomua GEAR UP students who received their diplomas from Waianae High School in May 2017. The students were at the top of their class, with grade point averages pushed above 4.0 by taking college courses.
The educational opportunities on the west side have undergone an evolution and reorganization in the past 10 years. "Schools on the Waianae Coast gets a reputation of high drop–out rates and poor academic performance," says Jean Javellana, GEAR UP Program Coordinator. "Today, Nanakuli–Waianae Complex Area and its community partners, continues to transform education to ensure an equitable education for disadvantaged students and to bolster economic competitiveness by advancing their practices that promote college access and success, and promoting higher academic achievement."
Manuel keeps her schedule busy and her days filled. She wakes up every morning excited to greet the day and make a substantial impact on West Oahu's youth—kids who were just like her, holding every dream and hope closely, ready for that chance to shine.
"The place you come from does not define you," she says. "I come from Waianae and sometimes others will doubt you, but only you can define/doubt yourself. Also, I want people to know that only you should make your own choices. I believe that you should always do things that would make you happy."
━━
University of Phoenix
The University of Phoenix, Hawaii Campus has proudly been established in Hawaii for 25 years. The University of Phoenix was built for the working adult, the non-traditional student. The campus which is located on 949 Kamokila Blvd. in Kapolei offers a variety of degree programs, such as: business, criminal justice, information technology, healthcare, and education. For programs offered at the campus, classes meet one night a week for 5 weeks at the undergraduate level and one a night a week for 6 weeks at the graduate level. The campus also offers a Flex Net Program, which provides even greater flexibility for the busy adult, wishing to pursue his or her educational goals. Stop by anytime at the campus, our staff will be delighted to provide you a tour of the campus and answer any questions you may have.
For more information: (808)674-5683 | Hawaiifeedback@phoenix.edu
━━
Island Pacific Academy
Island Pacific Academy is more than a premier independent school option for families on the west side of Oahu. It is a teaching and learning community and culture with a common goal to provide rigorous academic and real world experiences and opportunities for every student in a culture that also is a place where moral values matter. Our educational vision and mission thrive in a culture of mutual respect, the recognition of the inherent value of each human being, generosity of spirit and the power of human kindness. We also emphasize and support the development of life skills such as the ability to think critically, to problem-solve, to be creative and innovative, the ability to access and analyze information, and to be curious and imaginative to help our students to flourish not only at school, but in our community and beyond, as we prepare our students for possible careers and the expectations of an ever-changing and ever-evolving global society
— Mr. Gerald Teramae, Island Pacific Academy Head of School
━━
Avalon Development Group
For the Avalon Group, real estate development is more than a business, it is a growth opportunity for both Hawaii and its people. Led by president & CEO Christine Camp and its two Executive leaders, Steve Kothenbeutel and Laurie Ann Chan, Avalon prioritizes its engagement with the community before any real estate project breaks ground. "We believe in a community based approach in developing real estate that serves the community and forges advancement for the foreseeable future," explains Steve Kothenbeutel, who heads up Development and Acquisition at Avalon. "Our Kapolei Business Park provides business owners the opportunity to own their own facility. Industrial occupancy is at an all time high, spurring the development and repurposing of new industrial spaces for future growth. Avalon's Kapolei Business Park offers small and corporate clients with the opportunity to own fee-simple, and others with the opportunity to lease quality, first generation industrial space."
Avalon is a woman minority owned business that employs a wide range of individuals, with a deep bench of leadership and expertise, working together to achieve the common goal of meeting its clients' and investors' expectations.
What began as a humble real estate consulting firm in 1999 has blossomed into a thriving real estate company, initiating new developments and offering vital expertise throughout Hawaii. With a staff of over 40, the diverse team has been able to adapt to the ever-changing real estate market and expand Avalon's portfolio to include a wide array of value enhancing services—including leasing, investment, construction management, project management, asset management and property management.
Working together as a team and collaborating with its partners, Avalon determines the best solutions and achieves optimum results to benefit the whole and help complete the bigger-picture perspective for our Islands. "We work with a sense of gratitude—to the community, to our customers and clients, to our investors and supporters," says Kothenbeutel.
━━
Sunetric
Founded in 2004, Kailua based Sunetric is a leading full-service renewable energy firm operating throughout Hawaii. Its parent company, RGS Energy, has 40 years of solar experience as America's Original Solar Company® and is the exclusive manufacturer for POWERHOUSE™, an innovative and visually stunning integrated solar shingle system.
The locally managed and operated Sunetric team is dedicated to top-notch service and providing innovative solutions, diligent hard work, and industry knowledge to the community. Sunetric is committed to help the state achieve its goal of 100% clean energy by 2045. With a current renewable portfolio standard at less than 30%, there is a lot of work to do. Fortunately, the Hawaiian Electric Company has recently expanded their renewable program options. The NEM+ program is great news for Sunetric's existing customers, as additional non-export capacity is available to their home or business without affecting their NEM status. Hawaii is leading the country when it comes to distributed energy resources and Sunetric has the qualified staff to assist clients determine the best available program (offered by the utility) for their needs.
The threat of a hurricane is always a concern for Sunetric employees and customers. More and more people are looking for renewable solutions to keep their homes powered during grid outages. Since Sunetric's first battery installation in 2006, their team has followed the advancements in chemistries and has the experience to choose the best storage solution for each individual customer.
Sunetric recently expanded their service department to fulfill requests from customers whose original installation company is no longer around or does not have capacity to service their system any longer. From small residential to large commercial, there is experience behind Sunetric's photovoltaic design, installation, and service. They have grown from their home in Kailua to now offering world-class solar expertise across the nation with the acquisition by RGS Energy. Considering more than 260 megawatts installed, PV installations completed for every branch of the military, 25,000+ happy customers across all industries, and the success of POWERHOUSE™, Sunetric is Hawaii's solar authority.
━━
People & Place:
Suluape Keone Nunes
Saving the life of a cultural art form is more than a task, it is a journey. Waianae-born Keone Nunes shares his story, his hopes, and his mastery with us.

Uhi (Hawaiian tattoo)
Moli (tattooing needle)
Kakau (tattooing)
━━
How did you first become involved with the art of traditional Hawaiian tattooing?
The action of tattooing is kakau and what remains is uhi. My involvement started long before I actually started practicing it. When I was in high school, I would talk story with kupuna (elders), and they provided me with second-hand knowledge of uhi. In 1989, after looking for a tattooist for several years, I decided to get some work done on myself. I was looking for someone who wouldn't mind having a lot of the traditional protocall around my tattoo. I went to Candy Everett, and she noticed I had the tapping knowledge of tattooing. She encouraged me to explore further into this art form.
Was there anyone practicing uhi at that time?
No. In 1990, that art form was lost. It was gone. When I started my tattooing practice, I had at first tried making traditional tools, but I didn't have the best results. So I started tattooing with a machine. It wasn't until 1995, when I was invited by the most respected traditional tattooist in the world, Sua Suluape Paulo, to journey to Samoa with him and study under him. I spent two weeks there, where he showed me how to make traditional tools. I started practicing with him until 1996, and studied with him until his death until 1999.
What tools do you use?
I use traditional tools and I make my own ink. I use a comb made out of ivory, specifically hippopotamus tusk because it is very hard and strong, which is lashed to a handle. And, moli is the stick and the hitting stick is called laau. The ink that is used has to be slightly thicker than regular commercial ink. I make that out of kukui nut and I mix it with some commercial base. The designs are our tools, as well. I was taught a palette of designs, and from that palette I'm able to pull together images that are unique to the individual. The design that I put on one person would never be put on another person, not even family members or even twins. Everything is specifically tailored and meant for the person receiving the tattoo.
What is something you would like readers to know about uhi?
There are several misnomers about uhi. People think it takes a long time and it hurts more than modern tattooing, but it is actually the opposite. Tapping is a lot quicker than machine and oftentimes hurts much less than with a tattoo gun. Also, people should know that if they really want to get work done, then they have to allow time for the process to see itself through. It's not just walking into a shop and getting the tattoo, and then walking out. It is a process. It is an art. It takes thought and energy and patience. I'm not interested in tattooing everyone that asks because the intent has to be there. I am one of a handful of tattooist that does it this way in the whole world. Although I understand the intrigue with it, it has to be a bit more than that. There has to be a love and appreciation for the art form, for the cultural practice, and for the culture.
How many apprentices are you training right now in the art of kakau?
Currently, I am working with five apprentices at my contemporary version of a traditional tattoo house in Waianae. Although it is a cultural practice, aesthetics play a large part of this type of work. It has to be aesthetically pleasing and significant to the culture and person, as well. This is the challenging part. This is what I try to emphasize with my apprentices, I want to make sure they can translate the meaning through design.
What do you love about Oahu's west side?
I'm from Waianae and I've lived there all my life. There is a strength to that area that is undeniable. The people that come out from Waianae reflect that strength. That's what I love the most—the understanding of the place. It can either nurture you or, unfortunately for some people, it can destroy you, and it depends on who you are as and individual. There are so many people who have come from that area who have achieved great things. Waianae teaches you to be humble and have humility, which is an interesting trait. There is something about the winds that blow—and, when you feel the breeze, you know you're home. That's something I've always appreciated and loved about our coastline.
How do you feel now about the future of this practice?
I would love to say that it's going to be very solid and that this art will never be silent again, but the reality is that I don't know that. All I can do is teach the next generation what I know and what they do with that knowledge after that is entirely up to them. In 2001, I was honored to be given a chiefly name, the name of Suluape, in Samoa in a ceremony. I was taking on that title not for myself or for those who came after me. I took that name to honor not only my teacher, but this tradition and these practices. Uhi should not die. It's beautiful in itself.
━━
Kroc Center
Located on 15 acres of land in West Oahu, The Salvation Army Kroc Center Hawaii at 200,000 square feet, is the largest local community center of its kind in Hawaii. It is a place where people, young and old, have opportunities to learn, grow, and thrive. Fitness enthusiasts will love our Health and Wellness Center with group exercise classes, state-of-the-art equipment and experienced fitness coaches ready to help you achieve yours goals. Creatives will appreciate our Art Studio with classes available for both youth and adults. If your creativity leans more towards music or dance, try out our piano, 'ukulele or strings lessons, available through a group setting or private instruction, or join our Haa Hula Program or Ballet Program—beginning or experienced dancers are welcome! Relax along the lazy river or make a splash down our water slides in our sprawling Aquatic Center. Serve it up with our Athletics teams—volleyball, soccer, judo or archery, in our spacious Gymnasium and Outdoor Activity Field. Our NAEYC accredited Kroc Keiki Learning Center preschool is the perfect place for youngsters to nurture their curiosity and take their first educational steps under the guidance of devoted and caring teachers. Celebrate a birthday, milestone or special occasion, or host a conference or corporate retreat in one or more of our event venue spaces. Discover your spirituality in our weekly church services or by getting involved in one of our ministries. As your home away from home, we encourage our Kroc ohana to thrive physically, mentally, and spiritually. Whether you're looking for a little getaway for your family, want to try new things, or simply looking for a place to celebrate, Kroc Center Hawaii has something for you.
━━
All In Good Health
West Oahu healthcare options offer a spectrum of resources for wellness and care.
As communities grow, so do their needs. Along with beautifully planned neighborhoods, booming business scene, and the epic scenery of the Waianae coastline, West Oahu needed new resources to keep its residents happy and healthy.
With over 800 employee and 200 on-staff doctors, and as the only hospital facility on the west side, The Queen's Medical Center – West Oahu takes pride in its host of state-of-the-art equipment, unique resources, and wellness programs. Queen's – West Oahu is also the first and only hospital with a K9 Unit; the dogs enhance the safety and security of the staff, patients and families.
When Queen's – West Oahu opened over four years ago, it brought sorely needed medical services to the fast growing West Oahu communities. Emergency services were in immediate demand and, now, Queen's – West Oahu has the second busiest emergency department in the state. Currently, the hospital provides major care services including an emergency room, inpatient and outpatient surgery, imaging, a women's center, orthopedics, cardiology, diabetes care and specialty clinics. "We recently expanded our Imaging Services area with a brand new Magnetom Aera Open Bore 1.5T MRI machine," explains Susan Murray, MBA, FACHE; Senior Vice President, The Queen's Health Systems, West Oahu Region; and Chief Operating Officer, The Queen's Medical Center – West Oahu. "The 3T MRI machine we had, and still use, was running seven days a week and close to 14 hours a day, and even that wasn't enough to keep up with demand. The new scanner will allow us to meet the growing needs of the community and expand our breast program in the future."
Health and wellness is more than what they teach and preach, it is their practice, as well. Currently, The Queen's Medical Center – West Oahu is the only hospital in the state on track to becoming a Blue Zones Certified Employer. "This means we work on eating healthier, moving naturally, and caring about the mind-body-spirit of our employees, patients and community," explains Murray. The Blue Zone Project is a community-wide well-being improvement initiative brought to the state by HMSA to help Hawaii residents make healthy choices easy and fun.
With a deep love and understanding of the surrounding communities, Queen's – West Oahu is continually working to fulfill the needs of the high-growth region. "We also believe in providing the right care, in the right setting, at the right price.," explains Murray. "That's why we opened our Pediatric After Hours Center in 2017. And now, it's become the After Hours Center because we expanded services to include treatment for grown-ups! We wanted to meet the needs of a busy, working community. So when non-emergent issues happen after regular business hours, Queen's – West Oahu provides the expertise and treatment for children and adults. They can get the right care, without going to an urgent care clinic or emergency department."
"…We work on eating healthier, moving naturally, and caring about the mind-body-spirit of our employees, patients and community."
– Susan Murray, Senior Vice President, The Queen's Health Systems, West Oahu Region
To accommodate the growing populations, especially the troves of young families shifting their lives west, many major healthcare providers are upgrading and expanding their Leeward facilities. Operating a busy Kapolei clinic since 2000, Kaiser Permanente is investing in expanding care options for residents of West Oahu with the development of a $60 million medical office. The planned 40,000-square-foot medical office—which will include primary, specialty care, keiki care and women's health services—is projected for completion in 2021, and will be centrally located at the corner of Kapolei Parkway and Kamokila Boulevard.
"In Kapolei alone, there are over 35,000 households," explains Art Gladstone, CEO, Pali Momi Medical Center and Straub Medical Center. "That number is expected to increase more than 50 percent over the next two decades. We also know that this population base is a younger one with growing families who have a need for access to health care in their neighborhood where they live and work."
Hawaii Pacific Health recently began construction on a new clinic, as well. As one of the state's largest and most diverse health resource systems, Hawaii Pacific Health strives to add convenience of care to it list of notable attributes. The organization will be opening its new facility at Ka Makana Alii in Kapolei in the summer of 2019. This clinic will provide primary care, family medicine, pediatrics, OB-GYN, sports medicine, and other specialty care services from physicians throughout the Hawaii Pacific Health system. It will also feature urgent care services as well as on-site imaging and laboratory services. "In addition to providing greater access to health care services for the residents of West Oahu, this clinic will also provide employment opportunities," adds Gladstone. "We will be hiring to fill more than 50 new jobs that this new clinic will bring to Kapolei, including medical assistants, nurse practitioners, physicians and other clinical and administrative staff.
"We believe in providing a tranquil, welcoming environment where a client can experience a complete menu of clinical services…"
– Leonard Licina, CEO of Sutter Health Kahi Mohala
Wellness comes from various remedies. As the largest of 14 Federally Qualified Health Centers (FQHCs) in the state of Hawaii, the Waianae Coast Comprehensive Health Center balances the resources of its state-of-the-art medical campus with indigenous healing practices to mend the mind, the body and the soul, and provide optimal care for its west side communities. Waianae Coast Comprehensive's Native Hawaiian Traditional Healing Center offers traditional Native Hawaiian healing and cultural education, practices and traditions—including lomilomi (Hawaiian massage therapy), laau lapaau (herbal medicine), laau kahea (spiritual healing), and hooponopono (conflict resolution).
Being healthy involves more than just the occasional morning run and lunchtime salad, and West Oahu provides its residents with various resources to keep their physical and mental well-being in check. Kahi Mohala means "a place to blossom, open and shine."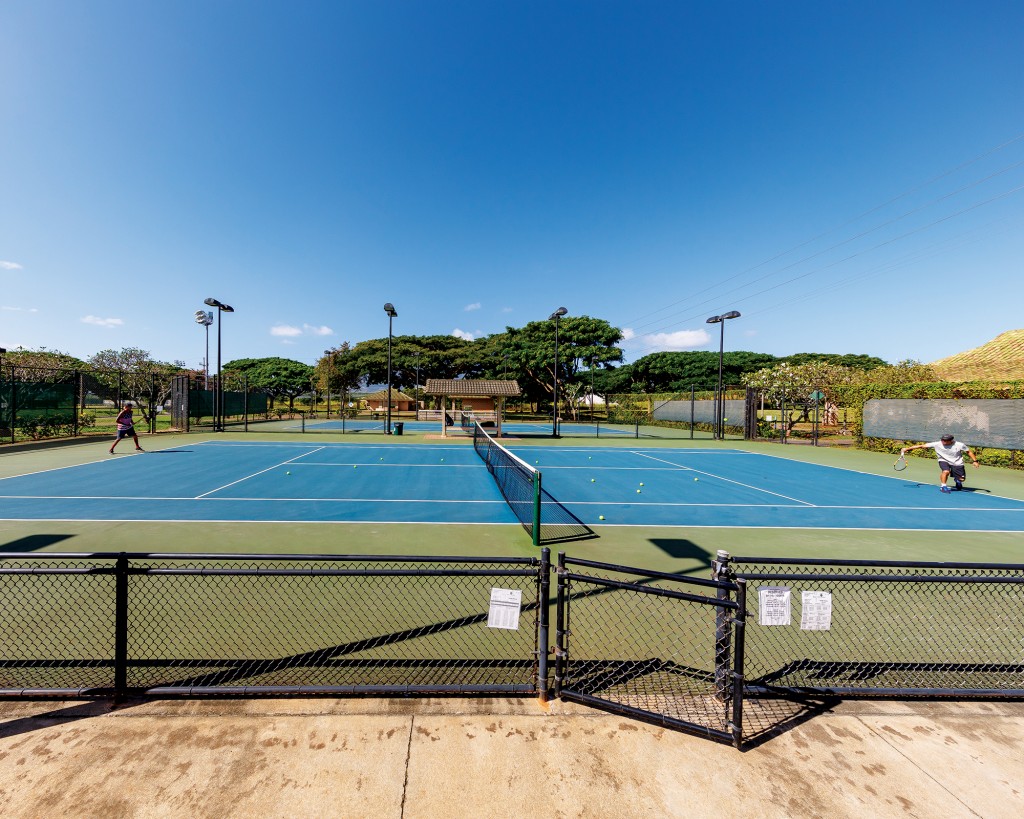 Taking the translation of its name to heart, the caring staff and professionals at Sutter Health Kahi Mohala center is dedicated to improving the quality of life and restoring hope for individuals and families affected by mental illness. "At least 20 percent of our population experiences mental illness or depression at one time or another," explains Leonard Licina, Sutter Health Kahi Mohala CEO. "The need is particularly acute for young people who are vulnerable to the stresses of childhood particularly when in addition, many have violence, poverty and homelessness in their background. We believe in providing a tranquil, welcoming environment where a client can experience a complete menu of clinical services, including occupational and recreational therapy."
Psychiatric care presents special challenges and has special needs. Independent facilities such as Kahi Mohala are separate from the regular health system and offer a cost-efficient and effective way to deal with mental health problems.
West-side health facilities are all working to promote a more holistic approach to community and personal health. With the ample resources available in Leeward Oahu, residents can take preventative actions and rest assured there is top-notch care nearby.
━━
Island Ready-Mix Concrete
LIVE. WORK. PLAY. Those three words epitomize West Oahu today. From agricultural beginnings West Oahu has grown to the second city that planners had envisioned. Since 1983 Island Ready Mix Concrete has been a part of that growth, providing concrete to residential and commercial developments as well as infrastructure projects. We are proud to have been a part of that growth and more importantly a part of the neighborhood, we look forward to being a part of the future of West Oahu.
For more information, contact us at: (808)682-1305 ext. 1 or visit us online at www.islandreadymix.com
━━
Kahi Mohala
In a serene 14.5-acre pocket of former Ewa sugar land nestled between Old Fort Weaver Road and Farrington Highway rests a place of refuge and healing.
Hawaii's only freestanding not-for-profit psychiatric hospital, Sutter Health Kahi Mohala, focuses on children and teenagers.
"It's tough being a kid," said CEO Leonard Licina, a 23-year veteran at the Ewa facility. Beyond the stress faced by any child, trauma, abuse, homelessness or dysfunction within intact households can lead to serious behavioral problems. That's where Kahi Mohala comes in.
"In any population one out of five have a diagnosed mental illness of some kind," Licina said. Treatment options in Hawaii and the nation are falling short as residential programs close or the focus shifts to short term treatment.
"If a child ends up in a hectic emergency room, there must be a quick referral. That environment is not where you want to be when you're in crisis."
Enter Kahi Mohala, with 88 licensed beds and a full clinical staff of some 200 mental health professionals. Clients experience full days of group therapy, occupational and recreational therapy including classroom time (for those of school age). Families participate in support groups.
When Kahi Mohala opened, it was a pioneer on the Ewa Plain. The site has proximity to the freeway connecting it to the rest of the Oahu. It's a key piece of Hawaii's health system and an economic driver.
At 35 years old, the red-roofed buildings on the shady Kahi Mohala campus are inviting, but its age means upgrades are due, Licina said. In recent years, monies for projects, including a new playground, has come through from private sources, foundations, City and County of Honolulu, and donations from Kahi Mohala's own employees.
Being able to attract some of the best mental health professionals in the region might be in part because of location, Licina said. Kahi Mohala is quiet and rural, yet perched on the edge of Hawaii's fast-growing second city.
With its swimming pool, gardens, walking trails, Hawaiian-themed R.O.P.E.S. challenge course and new children's' playground, Kahi Mohala presents unique and culturally relevant options for recovery.
━━
People & Place:
Dalani Tanahy
Perpetuating the beautiful art of kapa, Dalani Tanahy bestows her meaningful practice and historical knowledge to the Island.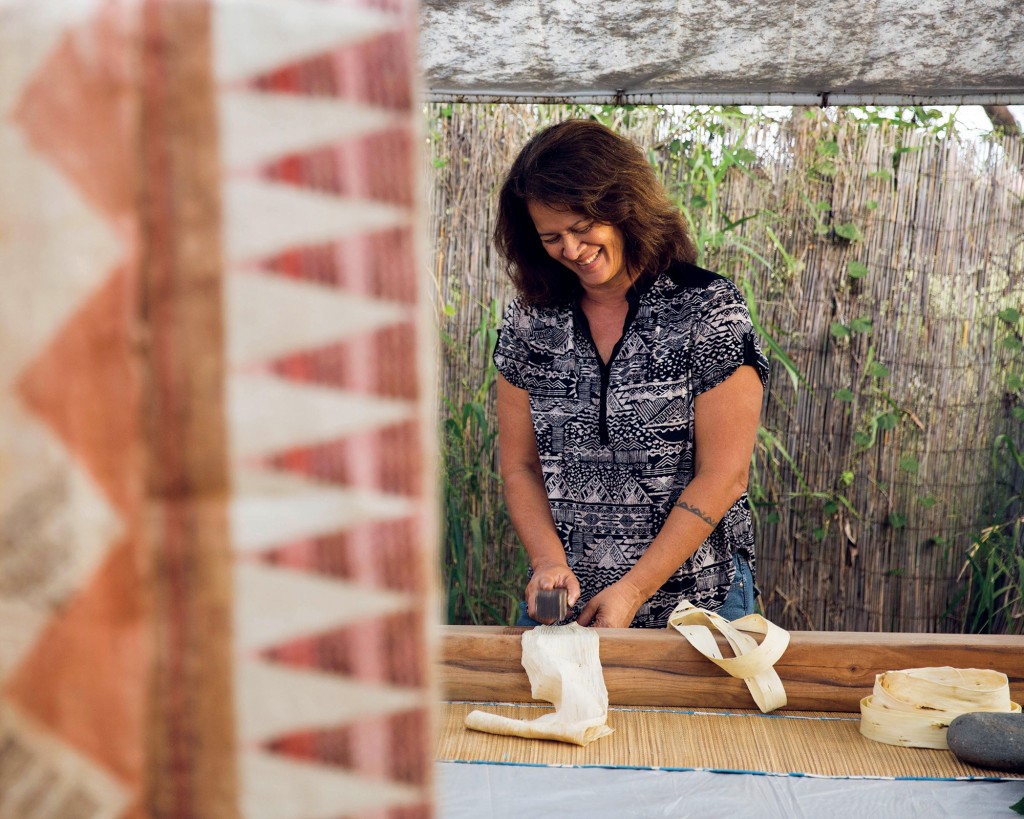 Where did you grow up?
I'm originally from San Diego, CA, but my mother is from Maui and her family is here. I moved to Oahu when I finished high school in 1979, got married and lived in Laie, then Utah, then Ewa Beach and finally Makaha since 1986.
When and how did you start practicing your art?
My first close to kapa experience was in about '94 when I took a kapa tool making class from Kawai Aona-Ueoka. I made my two kapa beaters and she gave us a few little wauke trees with the unspoken instructions that "You have what you need to begin your journey now, on your own." There was no Mr. Google back then so I learned by trial and error and hopefully some DNA. A few years later I got hired by The Cultural Learning Center at Kaala to be their kapa teacher and that's probably where I did my most of my learning, as a kapa teacher to fourth graders.
What inspires your kapa creations?
Most of my kapa work is commissioned so I am usually given a story or experience that the person wants on the kapa. These images are not literal, so I rely on the patterns and designs of our kupuna to guide me. We do not know what kapa designs mean on the old kapa so I have to be somewhat fluid in my translations. It's always a happy challenge to create something that people will love and be happy to have in their home.
Can you provide a little history and cultural significance of the kapa-making practice?
The tree most used for kapa is the paper mulberry tree, called wauke in Hawaii. It originates from Asia and was brought here by people likely from the area now known as Taiwan. It was carried throughout Polynesia and established on just about all the islands so it is considered a canoe plant. There is also a native 'genesis' story regarding kapa, about a man named Maikoha and his two daughters. When he died, the wauke plant grew over his grave and he had previously instructed his daughters to use this plant to make clothing. The daughters were Laahana and Lauhuki and they also became known for their skills in making and printing the kapa. Kapa making in Hawaii eventually stopped by the end of the 1800's but not before Hawaiian women, influenced by western contact, innovated upon it substantially, creating entirely different types of cloth from what was gathered by Captain Cook during his first voyages to Hawaii.
What would you like readers to know about you?
As one of a relatively small group of people who have devoted themselves to the arts of kapa, I know that I have a great responsibility and kuleana to teach this art as well as create it, give it purpose in people's lives and opportunities to provide experiences so that everyone who wants to learn about kapa or have kapa, is able to.
How would you describe the energy of West Oahu?
I have always enjoyed the slower pace of Waianae, but at the same time it is an energetic place. When I first moved here I was involved in canoe paddling, surfing, bike riding and aerobics classes as training. I surfed with a group of women and all our children would be at the beach everyday. That was in the 90's and it is a precious memory to remember our Westside Wahine surf club and the wonderful times we had in the Makaha Beach surf.
What makes west side communities unique?
Like any community you have good things and less so. One day there is kanikapila in the garage and the next day someone calling the cops for something. It's a real place with real people. I have always appreciated that quality about this side, you don't see much of pretenses. Living in Hawaii, everyone is struggling to raise families and make everything work. But people here are quick to help and take care of each other. When we had the big mountain fires in Waianae this past summer, the fire came kind of close to us. The firemen were in our streets and many people made sure to take out food and drinks for them and support them as they worked to protect our neighborhood. There is a real abundance of aloha out this way.
Visit www.kapahawaii.com or www.hawaiiankapa.com to learn more about kapa, order kapa, or sign up for classes about kapa.
━━
EK Fernandez
The Fernandez family has entertained Hawaii's families for 116 years, while also giving its time and resources to the community and nonprofits through programs such as Fun Factory's Honor Roll and FUNdraising programs. For over 40 years, nearly 75,000 students in grades K-12 with As and Bs have participated and over $400,000 in tokens have been awarded to these deserving children. In the summer of 2014, the FUNdraising program was launched and offered to schools, sports teams, and nonprofit organizations to raise funds – keeping 50% of the sales! Today, combined funds raised between participating schools and organizations total close to $80,000!
Fernandez Entertainment continues to design themed indoor entertainment centers such as Jungle Fun Island at Ala Moana Center, Island Fun in Louisiana and Pelican Pier in Long Beach, California. Recently, Fernandez Entertainment combined the elements of its Fun Factory and Johnny Rockets restaurants to create Rock 'N Fun, which opened at Ka Makana Alii in April 2017 – a venue available to schools, nonprofit organizations, sports teams and businesses in the area to hold meetings, parties, and celebrations.
A household name and tradition in the Islands, Fernandez says the business's aloha spirit is what makes it popular with its customers. "That personal touch is always there," Fernandez says. "They know that our number is listed everywhere. If anybody has a problem or didn't like something they can reach us, they can call anyone in our company and many know us by our first name and that's how we want it."
For more information, visit ekfernandezshows.com