What Makes a Workplace One of the Best?
Some of Hawaiʻi's Best Places to Work are adding special benefits to help turn new hires into lifers and keep them excited about their jobs.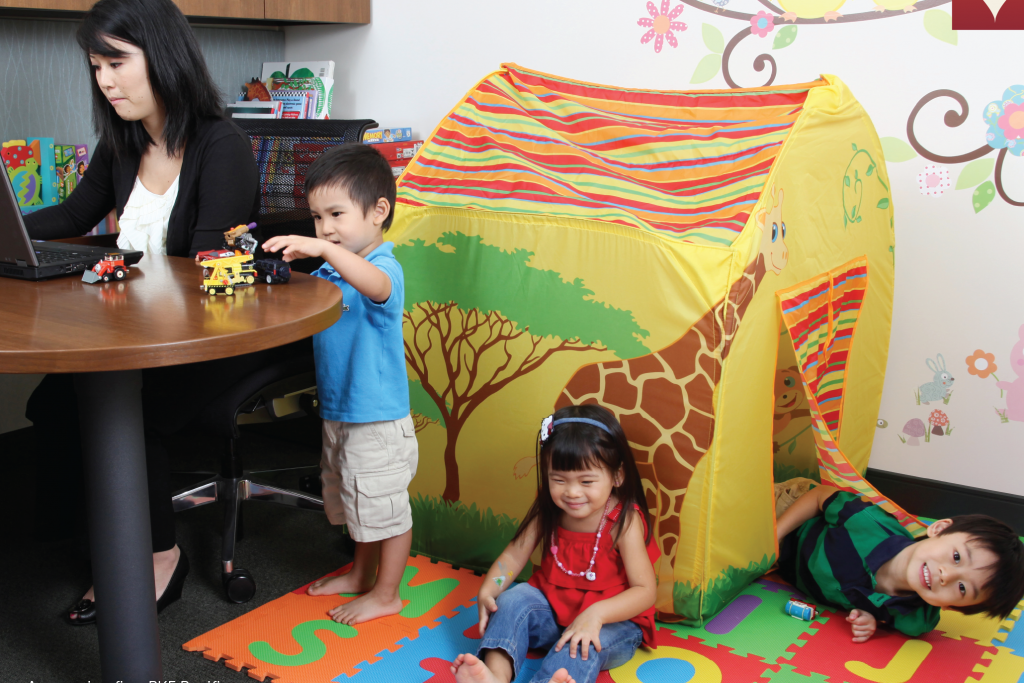 Awards Reward Good Work
Every year, an outstanding member of theMaui Family Support Services staff gets a Cookie – the company's most prestigious award.
The honor, more properly known as the Irene "Cookie" Chong-Kee Award, is named after an employee who became legendary at the agency, which serves 4,000 people a year on the Valley Isle.
"She had such a passion for the work she did," says Cindy Coleman-Jakubczak, a longtime coworker. "If a family is going through a crisis, you can't just say 'My day ends at 4. See you.' No, not Cookie. She would make sure they were set before she left, and that was sometimes late into the evening. And if her clients needed rides to places like doctor's appointments, she made sure they got there. … She put in hours here, and hours at home."
Chong-Kee died of cancer in 2002, but her legacy continues to inspire others. The award named in her honor also offers important recognition when employees are doing a superlative job.
"It's easy enough to say, 'You're not doing something right,' " says Jani Sheppard, CEO of Maui Family Support Services, "so what I say to our team members, especially supervisors, is to make sure people know when they're doing things well. People need to know they're appreciated for what they do.
"So recognition happens constantly – in the hallway, in the parking lot, in a meeting. It happens often and it's ongoing."
Awards can also be an important team-building tool. At Intech last year, president Samuel Gridley introduced "The Gold" and "The Goat" – humorous trophies meant to memorialize both the fabulous and the flub at the company.
"It brings the team together," says Gridley. "We're like an IT department for hundreds of small businesses and we have to function as a team because we share the workload. We're cooperating to reach a common goal."
The Gold and The Goat work on the basis of peer recognition, staying with individual employees about a week at a time until someone else performs a task worthy of one – or the other. At such points, they'll be passed on. Often, employees will award The Goat to themselves when they mess up.
"Of course, they'll apologize, and everyone will say, 'No problem, but you know what you have to do!' " says Gridley. "And they'll grab The Goat and put it on their desk."
Investing in the Workplace
There are good reasons companies such as Google, Nike and Facebook invest millions in lavish campuses: Employees who feel valued, comfortable and proud of their workplace are typically happier and more productive. Some local companies share that philosophy and make similar investments on a smaller scale.
PKF Pacific Hawaii, a locally owned accounting firm in Honolulu, believes that happy employees translate into happy clients. That's why it provides spacious work areas, two mini-kitchens with refrigerators stocked with free beverages, a fancy single-shot coffee maker, a high-tech conference room, a sleek, new training center, and a wellness room with a massage chair, a mini fridge and relaxing music to recharge employees.
The company prides itself on being a family-friendly workplace and has an office playroom filled with toys and games. Employees are allowed to bring their sick children to work or hang out after school in the playroom if they don't have alternate childcare options. Desks in the playroom let parents work there with their child nearby.
PKF managing partner Patrick Oki says the benefits of these amenities outweigh the costs. Partner Trisha Nomura puts it another way: She says it would actually cost the company more not to provide those extras.
"If half our staff has to walk several blocks to Starbucks for a cup of coffee every day or if people can't come to work because their kids are sick, that costs us more," she says.
Servco Pacific also invests heavily in the well-being of its nearly 900 employees. In 2009, the company opened a 3,090-square-foot wellness center next to its Mapunapuna headquarters to increase employees' physical activity, improve morale, strengthen relationships, raise productivity and lower absenteeism. The center houses a basketball/volleyball court, table tennis, a Wii-Fit/DVD center, stability balls and weights, and hosts free group exercise classes four nights a week. The company says about 20 percent of employees who work at the Mapunapuna location regularly use the center, which costs Servco about $30,000 annually to maintain and operate.
Pacific Administrators, which manages benefit services for many of Hawaii's unions, spent $3,200 to transform an empty office into a quiet room equipped with five reclining leather massage chairs that are used by about a dozen of its 46 employees every day.
"Because our work is very paper intensive, it's just a means of stress relief," says Alton Komori, VP, COO and CFO at Pacific Administrators. "It's also just one way we can show employees how much we appreciate their hard work."
Hawaii Human Resources CEO Matthew Delaney has similar reasons for outfitting the firm's office with table tennis, foosball and a Wii game system.
"We have a great team and we want people to enjoy coming to work," says Delaney. He then gestures at the empty room and says with a laugh: "I am the reigning ping-pong champ of everyone here in this office right now."
Ramping up the fun
As Atlas Insurance Agency president Myles Murakami donned giant white bunny ears and a fuzzy costume in his Bishop Street office last Easter, he felt pretty foolish.
It was the first time his assistant, Sandy Tsukada, had suggested he wear an outrageous costume to amuse the staff – but it hasn't been the last. Murakami was game for the bunny role as part of an office party and then agreed to ride the elevator in his bunny suit to three other office locations to hand out pink fruit smoothies.
"Sandy thought it would bring a lot of laughs to the office, which it did," he says. "If you've got happy employees, they'll be able to serve our clients much more effectively. They're willing to go the extra mile when they're happy."
Dishing up fun at the office and fostering camaraderie shows up on the bottom line, according to the 2008 Gensler U.S. Workplace Performance Survey.
The Gensler survey, conducted by the international architectural design and consulting firm, found that employees in the most successful firms in today's knowledge economy can spend up to 20 percent of their time in office social interactions. "Firms that develop a robust social infrastructure are likely to be more successful," notes the 2008 survey. "Companies with the most effective workplace environment show higher profits, better employee engagement and stronger brand position."
But having fun has to be about more than just ramping up the cash flow. "Part of it is just to make people feel comfortable," says Murakami.
Having fun also makes employees want to come to work, says Dawn Mahi, a program administrator at Kokua Kalihi Valley Comprehensive Family Services, which operates seven healthcare locations. She says the staff consider each other family and work together with a spirit of trust and generosity.
On Friday afternoons – "Zumba Fridays" – employees don workout clothes at the main clinic on North School Street for an hour of exercise and dance moves. Staff members often get together to share lunch or someone will cook for the whole gang.
"It's fabulous because you feel like you're supported by your coworkers," says Mahi. "It's like your family. You know, if you have a problem, you have your sisters and brothers there to help you. It makes you feel like you have a more trusting environment and it makes you want to go to work."
Island Insurance also offers Zumba classes and is pondering topping that off with kick-boxing, yoga, pilates or weightlifting programs.
Bowers + Kubota Consulting builds solidarity among its far-flung staff by bringing them together for monthly meetings and employee recognition awards, included a catered dinner. The company also brings the whole crew together annually for a Christmas party, a nine-hole golf tournament and a University of Hawaii game –picking up the tab for tailgating supplies and hotel rooms.
"The company has 105 employees now and we're spread all over the Islands, so the owners make a point of having one gathering a month so employees get to know one another," says project manager Kurt Kunimune.
Back at Atlas Insurance, president Murakami finished out 2010 in another costume – a local-style Santa Claus outfit with a giant white beard and eyebrows, and a red suit with short pants and slippers.
To celebrate July 4, a vice president and another manager passed out free lunches dressed as a hot dog and ketchup. Valentine's Day brought red roses and chocolates to all the desks. Each August, the whole office is sent to the movies for an afternoon with $10 each for snacks. A committee with a rotating membership helps plan events that everyone will enjoy.
"The fun speaks a lot about Murakami and the spirit he brings," says his assistant, Sandy Tsukada. "We're a mid-size company and I believe this helps employees build a relationship with him. He's the president, but he's human and he's fun to be around."
Empowering Employees
After the shock and grief brought on by the sudden death of real estate analyst Harvey Shapiro last year, Honolulu Board of Realtors staff member Floyd Murashige went into action. He closeted himself and went through Shapiro's notes, formats and mysterious methodology.
"Four days later, he said, 'I think I've got it. … I figured out his process,'" remembers the board's CEO, Rochelle Lee Gregson.
With help from other economists, and using Shapiro's techniques, the board produced its monthly real estate sales report "without missing a beat," says Gregson. Murashige's actions were just one of many examples that show that the board's staff feels comfortable solving problems without first running their ideas up the chain of command.
As study after study has shown, empowering employees pumps up their job contentment, hastens the resolution of complaints and trumps even money in keeping them happy.
"Employee empowerment has a stronger effect over employee satisfaction than other variables, including employees' salaries," says human resources expert Victor Voisard, writing in the California Sociology Journal in 2008. "Employee empowerment may offer organizations an invaluable tool in their quest for organizational competitiveness."
Companies that rank high in the Best Places To Work survey know this and make it part of their corporate culture. While some call it empowerment, others speak about offering workers autonomy, or building a strong connection with company values, or a strong sense of mission.
At Servco Pacific, chair and CEO Mark Fukunaga highly values a self-reliant staff. "The thing we discovered is that for people to take that step for their own development, and to grow and really get excited, they've got to, among other things, believe in what the company stands for," he says. To that end, Servco went through a values development process a decade ago to build a sense of shared company values.
"You need a foundation of values," says Fukunaga. "That's where it starts. And that's also a foundation of trust. People aren't going to go the extra mile in their jobs and their own personal development unless they trust what's going on."
After that foundation of values was built, Servco's profits climbed and employee engagement rose from less than 60 percent 10 years ago to 82 percent now, according to annual surveys. "They've all gone up together – customer satisfaction, employee engagement and profitability," Fukunaga says.
Shell Management Hawaii, which oversees five vacation ownership resorts in the Islands, preaches a similar message, says regional VP Linda Anthony.
"We really think nothing of an employee running out and running a special errand for a guest," says Anthony. "Say an employee discovers it's someone's anniversary or birthday; they're empowered to make sure we get flowers or champagne to that guest. No employee would think, 'Oh, I can't bring this up because I'll get into trouble.' "
Employees at Shell thrive on knowing they can make decisions and make things happen – without first checking with upper management.
At the Kona Coast Resort, employee Alena Callejo heard that four couples traveling together had decided to renew their vows during their stay. "At the drop of a hat, she went to great lengths to arrange music, to get a minister to come and to get flowers for everyone, all within a day's notice," Anthony says. "The people were just floored."
Shell does extensive employee training to develop this culture. "We have a director of training who comes to the resorts at least every quarter and the training focuses very heavily on customer service. The same kind of thing happens if an employee learns a guest is dissatisfied. They don't have to go through layers of management to fix it. They can just do it."
Above-Average Benefits
Today, when you talk about benefits, many employees – especially the best and brightest – expect more than just good medical coverage, vacation days and paid parking. So some of Hawaii's Best Places to Work are adding special benefits to help turn new hires into lifers and keep them excited about their jobs.
For example, Aloha Pacific Federal Credit Union's 401K plan offers a 200-percent employer match on the first 5 percent of annual pay.
"This is great, because, by contri-buting 5 percent, the employee is actually getting 15 percent of their pay with the company match," says Malcolm Inamine, director of HR administration. Almost 100 percent of the credit union's 150 employees participate in the 401K plan.
Booz Allen Hamilton, a worldwide management and technology consulting firm with an office in Honolulu, doesn't just take care of its employees; it also provides for their families. The company offers benefits for domestic partners and a Vision Scholarship Program open to college-bound dependents of employees. Every year, the company awards five $3,000 scholarships nationwide that are renewable for up to four years. BAH also has a merit-based awards program for employees, which ranges from electronic thank-you cards to bonuses of up to $2,000 or two round-trip tickets to anywhere in the U.S.
Financial advisors at Edward Jones can also win two all-expenses paid trips per year for meeting targets and successfully diversifying their clients' portfolios. Jennifer Rappenecker, Hawaii regional leader for Edward Jones, who has an office in Kihei, has won about a dozen trips since 2000, traveling to such places as Barcelona, Rome, Vancouver, Alaska and New Zealand.
Edward Jones' philosophy is that business owners think and act differently than employees, so every associate with a minimum three years of service can be considered for limited partnership. "We try to create a culture of excellence at the firm where everyone wants to make the business successful," Rappenecker says.
Matthew Delaney of Hawaii Human Resources is deploying a different method to engage and energize employees: food. Last year, HiHR spent $68,000 on daily, catered lunches for its staff of 25. And we're not talking about tuna sandwiches.
"We mostly buy our meals from our clients or prospects," Delaney says. "Sometimes it's from Carval Catering, Wahoo Fish Tacos,Café Laufer or Beaches and Backyards."
Employees loved the program, but complained they were gaining weight, so HiHR revised it. It still offers free lunches two to three times a week, but added a refrigerator stocked with healthy foods and reimbursements for gym memberships or other fitness expenses.
The lunches are expensive, Delaney admits, but, "If you look at how much it costs and the inefficiency of most of the staff leaving for lunch, that's costly, too. If we provide lunch, employees stay in the office and many of them eat at their desks, where they will respond to e-mails, read reports or take client calls. The commitment, loyalty and extra service our staff provides our clients, that's all part of the deal, too."
Flexibility Earns Loyalty
Showing up to work every day shouldn't feel like checking into a high-security prison. Companies that offer flexible work schedules are more likely to attract and retain top talent.
"Nobody likes to feel like they're chained to their desk," says Terrance Arashiro, senior VP and chief engineer at Austin, Tsutsumi and Associates. Arashiro, who's been with the company for 15 years, says the firm's corporate culture became more flexible as it hired younger staff.
"With the younger generation, there's a stronger desire to have work-life balance," he says. "We understand how important it is to have a solid family life, so if our employees need to leave early to go to their kids' games or have a doctor's appointment, we are more than happy to work with them to accommodate their needs as long as the work gets done."
ATA also offers flexible start and end times, the option to work from home to care for a sick child, and a perk employees seem to enjoy most: half days every Friday.
"We thought of ways we could reward our employees and wanted to do something that would really make a difference, and that's how we came up with our 4.5/40 work week, meaning, we work 40 hours in 4.5 days."
Arashiro says employees enjoy the instant gratification and the new schedule was easy to implement. "Our people are great because they do what they need to do to get the job done, so oftentimes they'll work 'love time' if they need to, but, so far, it's been working out well."
For some businesses, telecommuting is also a popular option. With access to laptops, WiFi and smartphones, many employees can do just as much work remotely as in the office. Last year, HiHR purchased six Apple iPads for its sales/marketing team so they can be out on the road meeting with clients and receive wireless Internet coverage just about anywhere.
"We're definitely not clock-watchers," says Delaney. "Ultimately, flexibility comes down to trust."
PKF's Patrick Oki says that with all of the technology available today, business often infringes on personal lives.
"People are working at home in the evenings and checking e-mails on their phone on the weekends, so it's only fair that they should be able to do some of their personal matters during business hours," Oki says. "All we care is that the work gets done and the clients are serviced."
Traditionally, public accounting has had a reputation for high turnover because of long hours and work that can be tedious. "We want to put an end to that," says partner Trisha Nomura, who adds that PKF employees probably work fewer hours than their competitors due to ample staffing, good planning and sufficient resources. "To us, success is not just measured by profits; it's also about taking care of our people, and that means being flexible as an employer."
At Limtiaco Consulting Group, one of the staff's favorite nods to flexibility takes a different twist. Each year, everyone gets a free "Ugly Day" – an extra day off available at a moment's notice. In a company that prides itself on transparency and sharing with staff – including financial information – the holiday promotes honesty, too.
"It's up to the employees how they want to use it, and they love it," says president/partner John Katahira.
The free ugly day arose in response to a common emotional dilemma, he says. "Everybody has a day when they just don't feel like working. The tendency is to call in sick when they're not sick. So rather than having people struggle through that emotional turmoil, we have one ugly day a year that's yours to do whatever you want. No hard feelings. No feeling guilty about not coming in.
"People will actually e-mail the office, 'I'm ugly today,' and there are no questions asked."