Yelp Me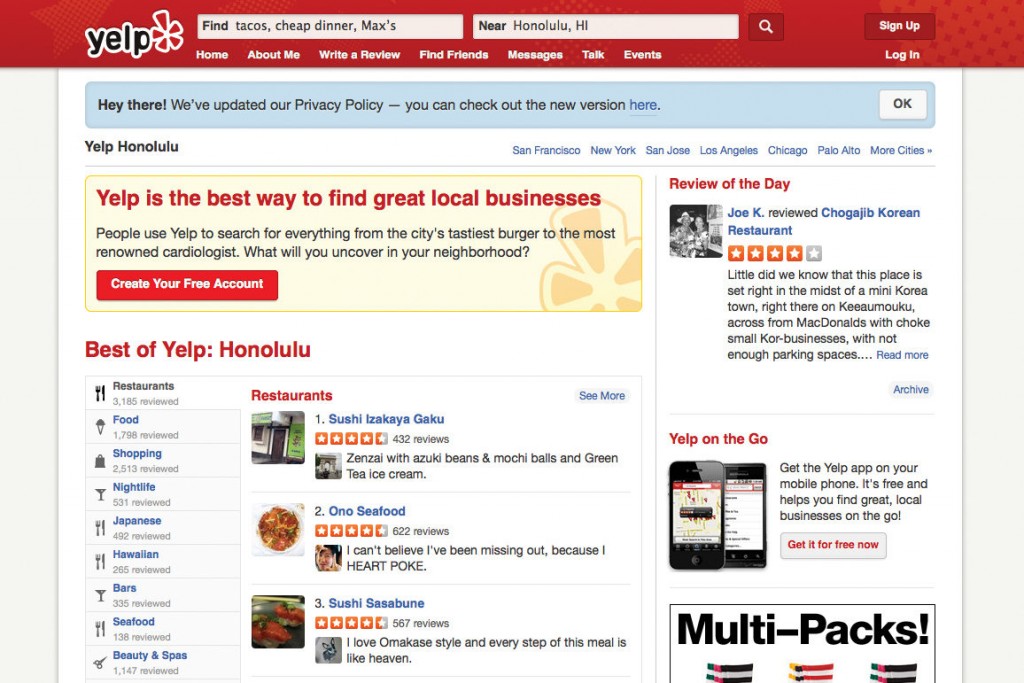 Some local businesses have an anxious relationship with Yelp, the international website that carries consumer reviews about everything from restaurants and stores, to auto mechanics and plumbers, and even hikes and radio stations.
They say there are several reasons for their unease. A few businesses wonder why some positive reviews their customers write are "filtered" off the Yelp site, while negative reviews remain.
Maggie Parks, owner of the Magnolia boutique at Kahala Mall, saw a negative review of her store on Yelp and responded by referring other customers to the Yelp website. But the positive reviews those customers wrote were kept off Yelp.
"They filtered every single one of them, every single one," Parks says. "I don't know what their criterion to filtering is, but it didn't seem to make sense. The reviews didn't all come up at one time either. Even when good ones came in months later, they were filtered."
Bubba Smith, owner of A1 Auto Repair in Kalihi, says he faced a similar situation. At last check, Yelp was carrying two negative reviews and one positive review of his business, but there were 31 filtered reviews from customers, almost all of them 5 star reviews, the highest possible rating.
Yelp acknowledges that legitimate reviews from customers are sometimes filtered by its automated system, but says the site would rather accidentally filter a few legitimate reviews than allow illegitimate reviews to slip by. "The whole purpose is to show customers the most useful reviews right up front," says Rachel Walker, a public relations specialist at Yelp. "Customers can always look into the filtered reviews if they choose to."
However, finding the filtered reviews is not easy for a Yelp novice. A Hawaii Business editor spent a couple of minutes on the website before finding the tiny, light type that says "Filtered," where you can click through to read all reviews. Using his phone's Yelp app, he was unable to find the filtered reviews at all.
Vince Sollitto, Yelp's VP of communications, says the algorithm that governs Yelp's automated filter system aims to sort out untrustworthy shills or malicious reviews to protect the site integrity and provide viewers with genuine content. "Yelp's review filter maintains the usefulness and helpfulness of our content, in turn allowing consumers to trust Yelp when deciding where to spend their hard-earned money," Sollitto says.
Yelp keeps the details of its algorithm confidential, but says it is designed to filter reviews if business owners ask customers to write a review and if competitors intentionally write negative reviews.
While Parks was dealing with the frustrations of her positive reviews being filtered, she got a call from a Yelp advertising representative, she says. The rep asked her to buy an ad on the Yelp site. "It seemed to me, though it was not outright said, that things would be OK if you advertise, and I didn't like that at all," she says.
Parks, also an attorney, says the Yelp salesperson did not explicitly say that reviews would improve if she paid for advertising, but says she feels there was a definite implication. "It seems like they are trying to extort. They are trying to get you to pay for advertising to control the content of your page, that's what it seemed like to me," she says.
Yelp depends on paid advertising to pay its bills, but it insists that buying an ad will not improve a business' rating and failure to buy an ad will not drive ratings down. "There is absolutely no amount of money you can pay Yelp to manipulate reviews," says Walker. "That is absolutely out of the question."
Yelp has been sued repeatedly on the mainland over its reviews, but has usually prevailed in court.
Yelp ratings can be very important to small businesses. A study conducted by professor Michael Luca of the Harvard Business School and published in 2011 showed that a one-star increase in average ratings on Yelp led to a 5 to 9 percent increase in revenue for local, independent restaurants. However, the study also found that chain restaurants were largely unaffected by Yelp reviews, presumably because their advertising had already created a strong public perception.
About 108 million users visit its site monthly, including loyal Yelp users in Hawaii, says Emi Hart, Yelp's Honolulu community manager.
Hart says that while some business owners focus on negative reviews, successful businesses on Yelp have figured out how to take advantage of negative critiques to perfect their overall service. "When you offer amazing customer service, amazing products and really love your customers, you're bound to get positive reviews," she says.
Kamaaina Acupuncture in Kaimuki is ranked as a five-star business on Yelp, with 47 reviews. Despite being approached numerous times by Yelp representatives to buy advertising, owner Joe Bright says he has never paid a cent for advertising and has never been told by the salespeople that failing to buy ads will impair his reviews.
"I've had business owners tell me that Yelp removes reviews if you don't advertise with them, but I don't find that to be true," says Bright. "I've watched my reviews since I got a page on Yelp and I have never seen any of them being moved."
Frequent reviewers sometimes become members of Yelp's "Elite Squad." According to Yelp's website, Elite members are selected based on a variety of factors, including review usefulness, accuracy and ability to "sway a community." Elite members get a profile badge and invitations to exclusive Elite parties.
Camille Komine, owner of Camille's on Wheels, a gourmet food truck and catering business in Kailua, maintains a 4.5-star average rating on Yelp. How- ever, she believes that many Yelp reviewers are not qualified to critique. She refers to the Yelp Elite as "Empty Lives Inclined To Expertise" and feels that negative reviews can leave business owners helpless. Komine says she once received a low rating by a Yelp Elite user in rebuttal to an article in which she was quoted as voicing disdain for some Yelp reviewers.
"It's like Lord of the Flies. If you say anything about Yelp, they will rally like flies and attack your business, pointing at it with spears," Komine says. "Yelp members can write negative comments about businesses and we have no voice. We can't go to Yelp and say this is inaccurate; it's like being muzzled, like being gagged, we can't say anything back. It's so subjective."