You're Wearing That to Work?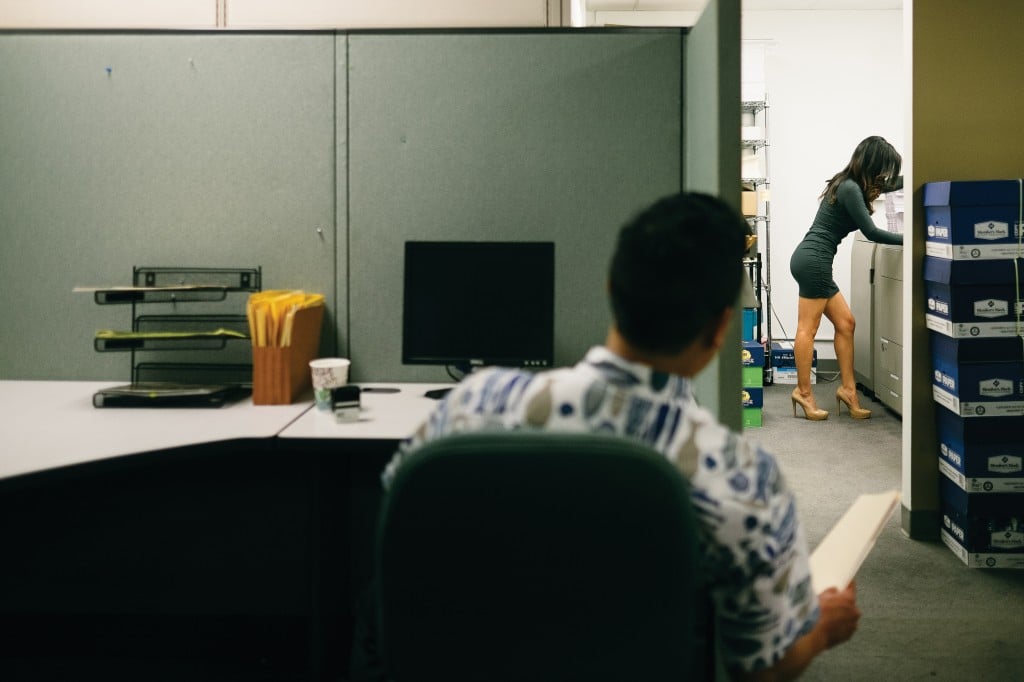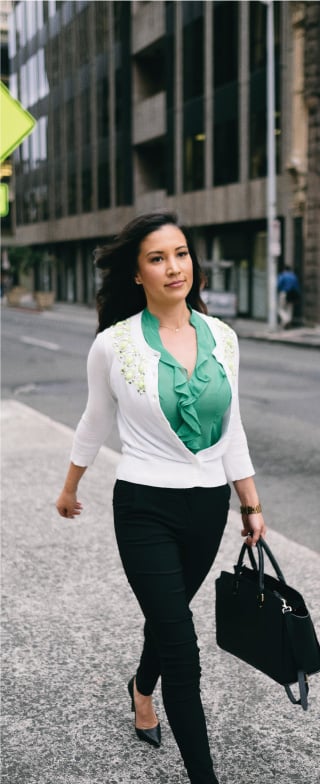 When I was a little girl, in the 1950s, my father sometimes took me downtown for a piece of the Alexander Young Hotel's fabulous lemon crunch cake. It was a special time to have my busy businessman father all to myself for a few hours. After our treat, we would walk down Bishop Street to his office in the Dillingham Transportation Building. I remember he seemed to know everyone we passed by name. Daddy wore a brown suit, crisp white shirt, tie and hat with a feather lei. All the men we passed also wore suits and hats, and the elegant women wore either tailored suits (skirts, of course, no pants) with starched blouses, or twin sets with skirts, always well below the knee. And high-heeled pumps and hose, of course. Bishop Street looks quite different in 2015. If you see anyone in a suit today, you immediately think, "That's an attorney going to court."
Dressing for work is more of a free-for-all in these casual times. Few employers have strict dress codes – or any dress codes – and a lot is left up to the personal style and judgment of the employee.
"Either there are no policies or policies are so liberal from company to company that we can't set strict rules, so I need to keep a very open mind these days," says Kathy Inkinen, president and owner of Inkinen & Associates, an executive search firm. When working with people seeking executive positions, she seldom mentions attire. "Unless a company vehemently says 'We prohibit X in our dress code,' I have to look at all other qualifications equally and it's up to the employer to decide" whether or not to hire this person as is.
Signe Godfrey, president and owner of Olsten Staffing & Professional Services, concurs. "The majority makes it right, instead of following rules and a strict situation such as we used to have. So much has changed with our dress code," she says.
NO DRESS CODE
The Hawaiian Electric companies are typical of workplaces today in that they doesn't have a formal dress code. According to Peter Rosegg of HECO's corporate communications department, "Given the variety of jobs and work environments from office to power plants to the field, our primary concern is safety of all employees where they work and where they might have to be. An office worker who might have to go into a power plant or a substation or construction and maintenance site on short notice needs to be dressed appropriately for such a possibility.
"Special circumstances, like appearances before formal PUC hearings, generally require a coat and tie or the equivalent. Of course, all employees know that they represent Hawaiian Electric when they're out in the community and we trust their good judgment when it comes to attire," Rosegg added.
Bank of Hawaii has a dress code, but it is generally enforced at the unit level or by individual branch managers.
BOH's dress code states: "A professional appearance is essential to a favorable impression with customers, clients, co-workers, visitors and the public. Good grooming, cleanliness and appropriate dress reflect employee pride and inspire customer confidence."
A lot depends on whether the employee is "customer facing" or "non-customer facing," according to Tammy Nakamatsu, senior human resources manager. "For customer-facing employees, more of a conservative and professional style is expected at Bank of Hawaii." Employees not seen by the public have a more relaxed dress code: polo shirt, jeans or khakis are often acceptable. "But nothing torn or ratty looking, ever. It depends on the business unit. In downtown we usually have a professional, conservative image, but, say, in the Kapolei call center, they can wear polo shirts and jeans. But it still has to be clean, neat and appropriate for the workplace. We don't want to be offensive to our fellow employees."
COST IS AN ISSUE
Sometimes dressing down in the workplace is at least partially driven by the price of clothing. Classic, well-made clothing is no longer affordable to many working men and women. Stores such as H&M, Forever 21 and Target are staples of the working person's shopping today. Many mass brands are cutting clothing a little skimpier to save money and satisfy customer tastes, so hems climb and necklines plunge. In addition, many of the fabrics used are more flimsy – or even see through – than better-made clothing.
"Nothing is surprising these days. In the past, dress codes dictated a longer list of not permissibles, but today I think it's a very short list."

—Kathy Inkinen
President and owner, Inkinen & Associates
"It has a lot to do with what you can afford," Godfrey says. "It will be stuff you wear at home or casually and at work. I see a lot of yoga pants at work. People will see what they can get away with because that's what they already have in their wardrobes."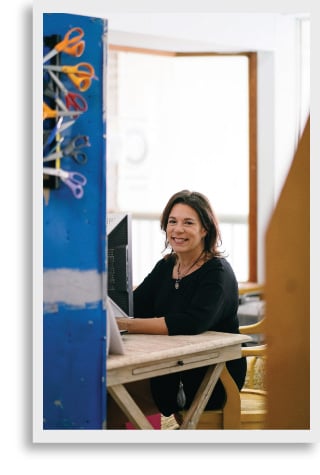 Toby Portner, co-founder of Hifi, the Hawaii Fashion Incubator, wishes there were more clothing restrictions and dress codes so people would dress more appropriately for their jobs and business situations. During her "day job" at the Department of Education, Portner says, "I'm always amazed at what I see people wearing to meetings.
This morning I was in a professional meeting and a woman was wearing a full-length zebra-print dress and a sequined sweater over the top of it, and she kept fidgeting with the sweater because it was falling off her shoulders. It was so distracting."
"I'm always amazed at what I see people wearing to meetings."

—Toby Portner
Hawaii Fashion Incubator
Distractions are best avoided in a professional setting. Dangling earrings, clanking bangles, too much cleavage or thigh, or visible underwear can all distract from the business at hand.
However, Godfrey says, "I see women who expose more cleavage and it's become more acceptable. That's the way it is today, and no one says anything about it – the employers or the employees."
At Bank of Hawaii, it's all about the customer, Nakamatsu says. "We want to ensure that our employees don't present anything that's offensive to our customers."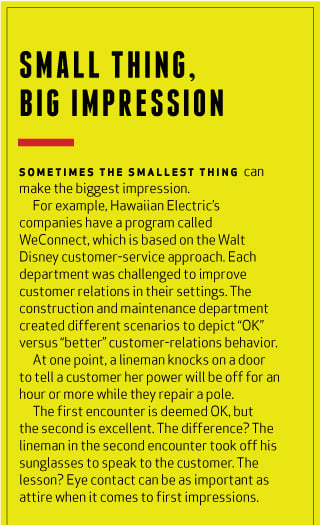 In a creative environment such as an advertising agency, establishing an environment that encourages creative thinking is paramount. Doug Harris, founder and CEO of The Harris Agency, says he strives to make his employees confident, relaxed and happy to be at work. "It's not like you're putting them in a cubicle," he says, or making them wear a uniform. Unless they are meeting with a client, "You can wear whatever you want and express yourself. When dealing with creative personalities, they tend to be sensitive and their best work will come out of them when they can be relaxed and where creativity can be valued. People have a different comfort level about how expressive or casual they want to be."
For a client meeting, the Harris employees "Want to make sure we project professionalism and respect, but we dress for the client," Harris says. They choose what to wear to these meetings according to what the clients wears in their offices. Sometimes they dress up and sometimes they dress down. For example, at Jamba Juice, where shorts and slippers are the rule, Harris Agency folks dress more casually for the client.
THE RIGHT SIZE
Wardrobe stylist Therese Wahl, who lives on Oahu's North Shore, has lived and worked in New York, Los Angeles and Minnesota. Not surprisingly, she finds Hawaii far more casual than those cities. But the biggest mistake she sees here is that Island men and women wear the wrong size and style of clothing.
"It's more about wearing the right style and size for your body," she says. "A lot of people try to wear clothing that's the newest trend but not what fits on their body." It will never look quite right on them.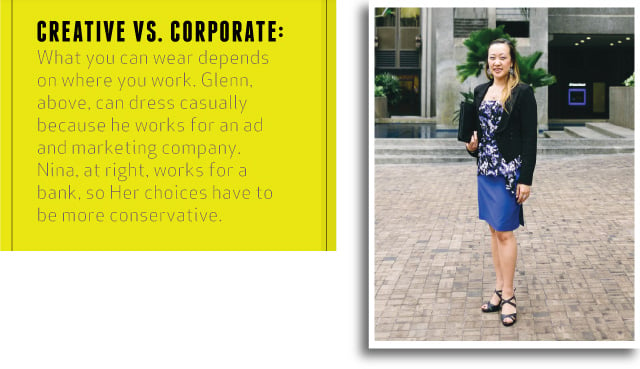 Men often wear aloha shirts that are a size too large and pants that are a size too small or too short or too long. Women choose styles that are too tight and skimpy or too loose and boxy, either revealing lumps and bumps or making the body look larger with volumes of fabric surrounding it. Alterations are not expensive and nearly everybody can benefit from having clothes tailored to fit.
Wahl sees a sort of "uniform" that has evolved for Island men in the business work place: "The aloha shirt, with more of a muted, softer color, as opposed to the bold and bright-printed ones that are more for going out. Khaki casual pants, maybe with a flat front or cuff on the hem to add some style. Shirts tucked in but appropriate for in or out. And covered shoes." Pleated pants, she warned, "May be comfortable but they'll put weight on you. To look slimmer, wear flat-front pants."
Wearing a monochromatic outfit from head to toe can elongate the look of the body and make you appear taller and slimmer. Wahl recommends wearing a simple, classic monochromatic outfit and jazzing it up with an element of surprise such as a blouse in a bright, bold color, a statement necklace or beautiful scarf to highlight your personality.
SHOE STORY
Once women began to shun pantyhose and pumps back in the 1980s, shoe choices took a decidedly casual turn. Now it's not unusual to see slippers in Bishop Street high-rises.
While a boring pump is no longer required, the general consensus is that a shoe worn to work should have a strap at the back. If the shoe makes a flip-flop sound, it's an office no-no.
Slippers can be as distracting as too much cleavage, but sky-high stilettos can also distract, especially when women wobble in them. The whole teetering thing can put people on edge, poised to break the seemingly inevitable fall.
Portner says no to stilettos in the office: "I'm amazed at how people wear really high, high heels at work. Those hooker shoes do not belong in a meeting. I think sometimes people think expensive designer things are appropriate because they're expensive, but that's not appropriate for the office."
REGARDING TATTOOS
A 2012 Harris poll found that 26 percent of adults in the western United States have a tattoo. In Hawaii, with its tradition of Polynesian tattoos, the percentage is probably higher. That's a lot of visible – and permanent – ink. How do employers feel about revealing tattoos?
"While it's prevalent, I think tattoos are still not totally acceptable," says Inkinen. "The middle road is people have tattoos, but they're hidden in business attire where you can't see them, on parts of the body that are not exposed. But now I see more and more of it." She thinks many employers are unsure what do to about visible tattoos: Whether to insist that employees cover them up or just let them be.
At Bank of Hawaii, Nakamatsu says, "We usually do not have our employees have exposed tattoos, but it's up to the unit. Some areas are more relaxed than others."