13 Great Things About Waikiki (Plus 13 Awful Things)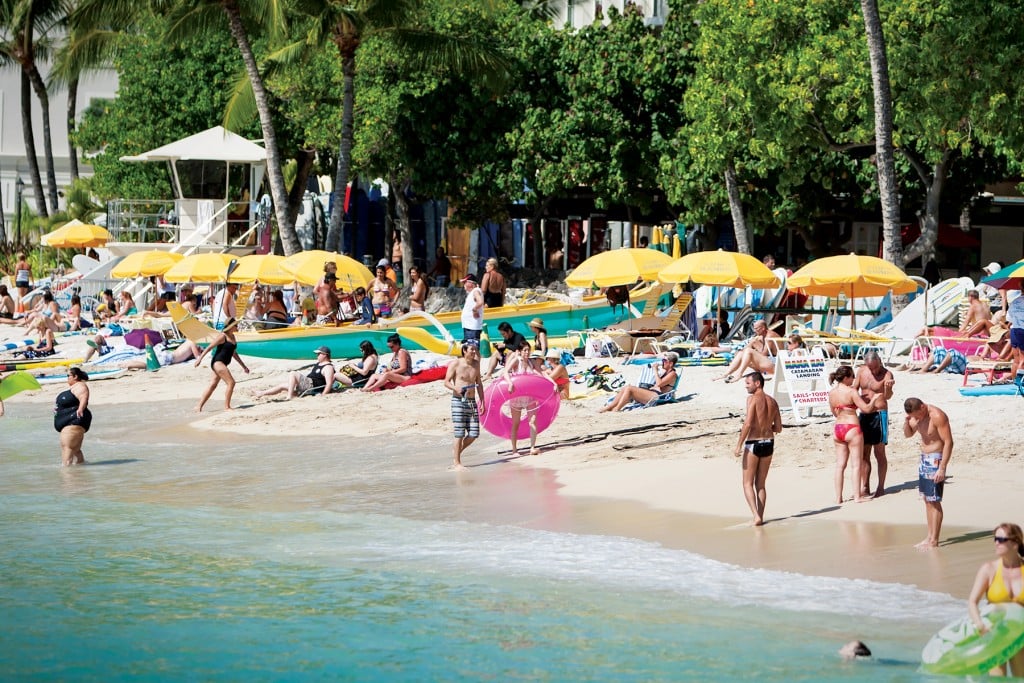 A Hawaii Business team of four reporters, four photographers and four interpreters (two Chinese, one Japanese and one Korean) invaded Waikiki. We asked tourists, workers and business owners what they liked and didn't like about the tourist mecca, and here are the most common responses.
---
Great No. 1
Safe and Child-Friendly
Tanya and Peter Collins and daughter Sasha, 5, are repeat visitors from Sydney, Australia. "It's safe, that's our No. 1 criteria for choosing Waikiki. And child-friendly," Peter said. "The beaches are safe, the hotels and restaurants are welcoming for children. Six months out, Sasha will ask, 'When are we going to Hawaii, Dad? I want a coconut!' "
Great No. 2
Repeat Visitors
About half the tourists we talked with said they were repeat visitors. Among the many we talked with, Yoshiki and Haruhi Kato from Japan were the champions. They first came to Waikiki in 2004 and have been back about 20 times. When we caught up to them, they were on a JTB package for $1,500 each because their timeshare at the Hilton Grand Waikikianwas not available. On this trip, they bought a second timeshare week.
"We love Waikiki," he said. "Hawaii is warm and welcoming. It has been worth the money every time we come. We have already booked trips for March and July."
Great No. 3
Really is Paradise
Most tourists said they loved the great weather, but they also appreciated so many other things that locals may take for granted. Shen Jia Shenli, who lives near Shanghai, said, "The most attractive thing is the air. It's really fresh." She said she and her fiancée never felt rushed or busy, and were happy to wander and shop safely.
Newlyweds Trista and Andrew Huang, from Taipei, Taiwan, said, "Hawaii always seemed to us like a dream island and, from what I see so far, it really is."
Peter Parsons, 24, came from Las Vegas to work and surf. He lives in Waikiki and can walk or bike to work at Cheeseburger in Paradise. "I love the beach and atmosphere. There's not a thing I don't like about living here. You can't go anywhere without being close to the beach."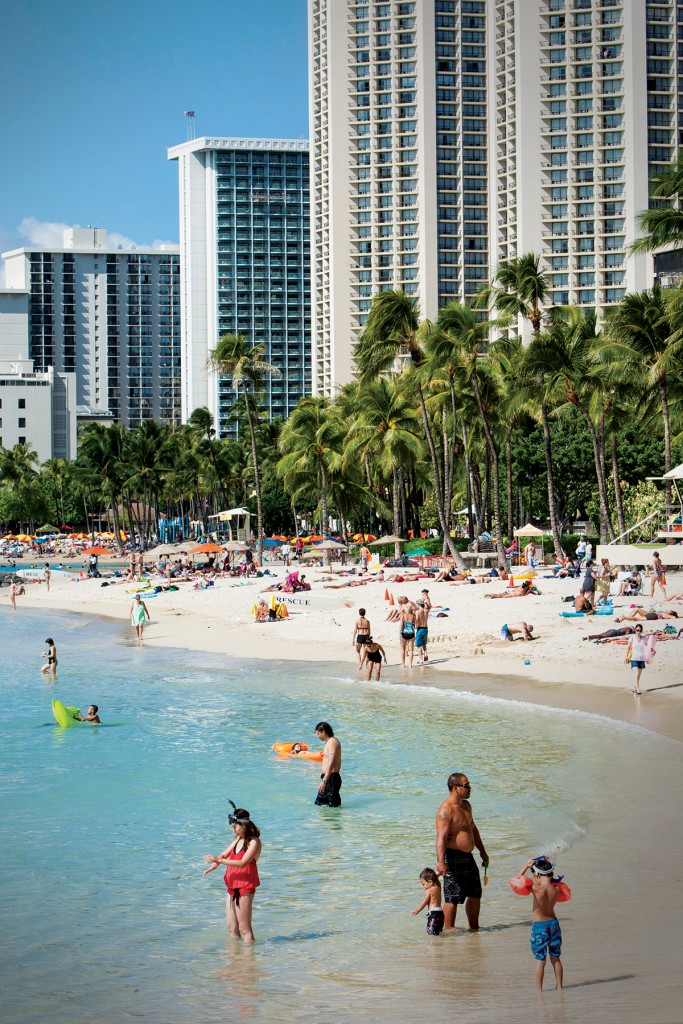 Great No. 4
Walkers' Haven
Demetrick and Christina Clayton from San Pedro/Long Beach, Calif., have been coming to Waikiki annually for four years.
"I like to walk," Christina said. "I put on my tennis shoes and go all the way to the marina and back." Another plus for walkers: The all-directions-at-once crosswalks at key intersections along Kalakaua Avenue have made it much easier for pedestrians.
Great No. 5
Your Money's Worth
Tourists disagreed about whether Waikiki was expensive or not. In general, Asians, Australians and New Zealanders thought it was a good deal, while Europeans and many Americans said it was expensive. Chinese, Japanese and Australian tourists usually told us that hotels are well priced and brand-name goods cost 30 to 50 percent less than at home. Plus, Oahu's "sales" tax of 4.71 percent was much lower than they were used to.
"We definitely feel like we've gotten our money's worth here," said Letitia Uren and Barbara Joyce from New Zealand.
"For example, with the meals, the portions are huge compared to what we get when we go out to eat at home."
Great No. 6
Aloha Spirit
Travel agents Shen Jia Shenli, 31, and Ma Mei, 30, who live near Shanghai, were on their pre-honeymoon with a group of 50 Chinese and everyone was loving every minute. "Here is like heaven for a tourist," Shen said. "People are friendly and the beach (is great). You can feel the aloha spirit." Feeling safe and unrushed while laden with a half dozen bags of cosmetics and chocolates as li wu (omiyage) for friends back home, the young couple were already envisioning a post-wedding trip back.
Great No.7
Relatively Close to Australia
Simon Wilkom, traveling with five others from Sydney, is on his second visit. For Australians used to long vacation flights, Waikiki was "such an easy holiday – nine hours on the plane for us. … Overall, Waikiki is a reasonable price. And it's very safe."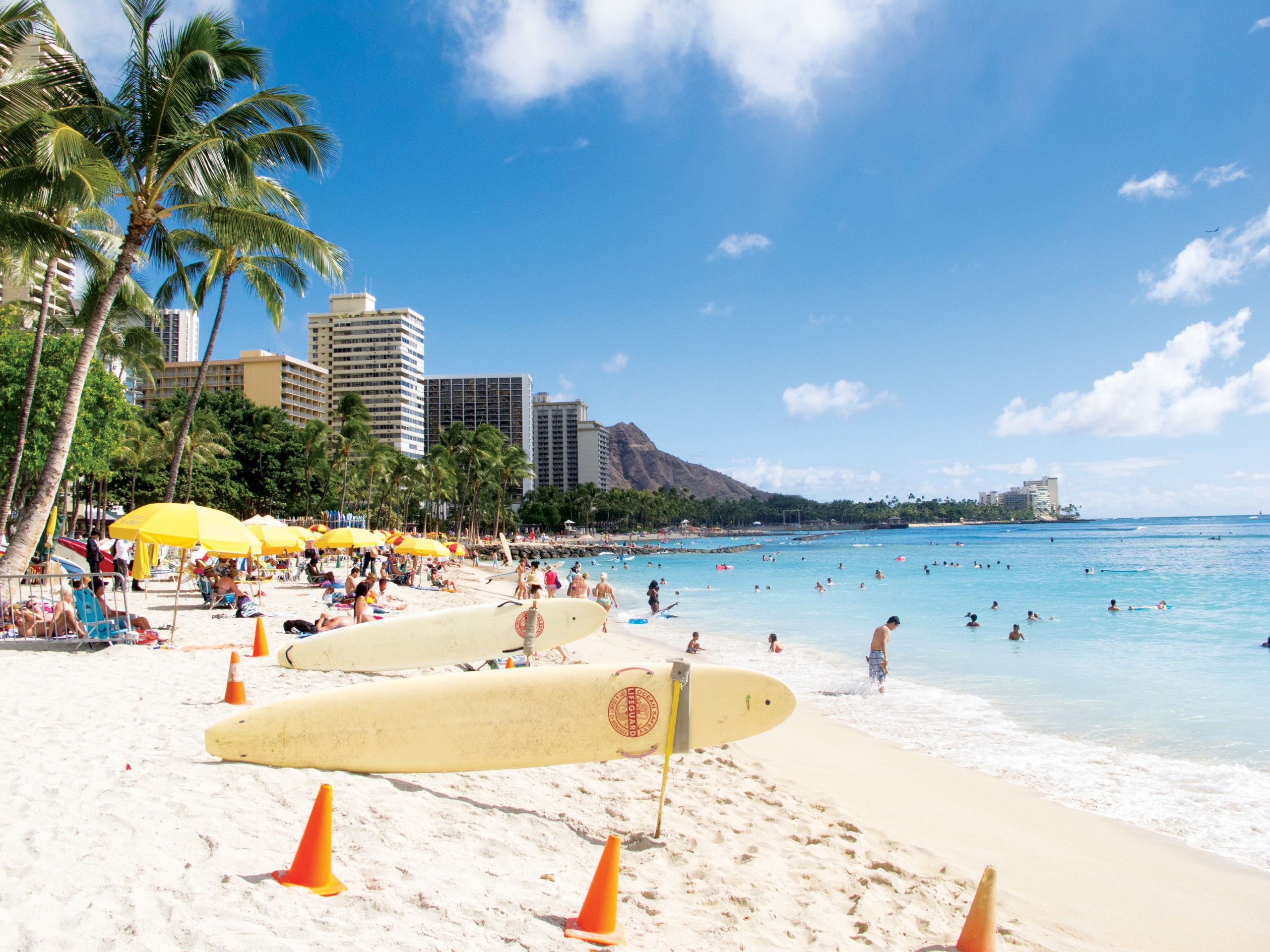 Great No. 8
Good for Business
Manu Faumuina has built Mahalo Adventure Tours over the past five years by offering shuttles from Waikiki to shopping districts like Waikele. His eight buses each hold 25 tourists; he fills them by charging just $10 for a round trip and making sure to bring his customers back to Waikiki. However, he said, some unlicensed operators "leave people stranded wherever they take them."
How do you survive in such a competitive business? "You've got to hustle every day," he said.
Great No. 9
People Watching
Yukihiko Kikenawa from Sendai, Japan, has been back to Hawaii 11 times with his wife since their first visit in 2001. On each visit, they take the Maitai catamaran cruise two or three times.
"We're here for two weeks this time and never get bored in Waikiki because of the people. We like to walk around and look at the people from all around the world."
Great No. 10
Perfect with Friends
Yume Kokubo of Yokohama, surrounded by her packages, was relaxing with friends on couches – one was asleep – at the DFS center in Waikiki, recently rebranded as the T Galleria. She was delighted with the shopping and swimming and, most of all, being able to share it with friends.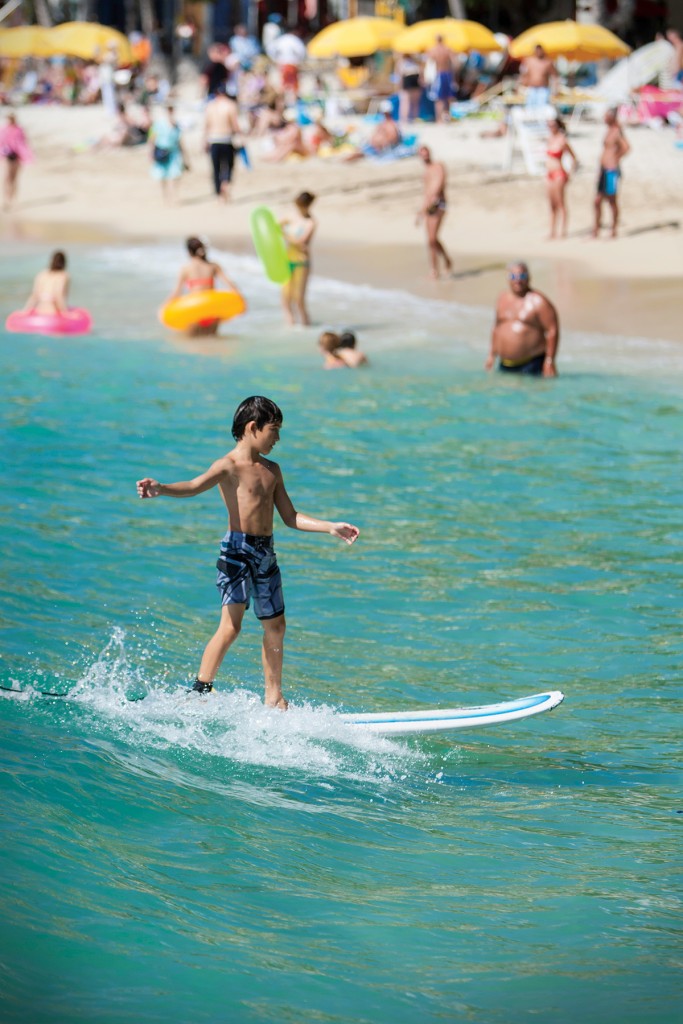 Great No. 11
Fun After Work
"I have fun every night after work," said Jerome Emor, a dishwasher who has been working in Waikiki for a year. He can join the throng on Kalakaua Avenue and spend time with friends. Emor, originally from Chuuk, lives with his family in central Honolulu and gets to work by 9 a.m. after what he called an easy 45-minute bus ride.
Great No. 12
Daytime Parking Deal
If you use "Early Bird" parking and you're in before 9 a.m. and out before 5 p.m., it costs just $7 to park all day at the Waikiki Trade Center, located at 2255 Kuhio Ave. That rate is valid seven days a week and requires no validation. To enter, drive Diamond Head on Kalakaua Avenue, turn left into Seaside, which is one-way mauka, and turn right into the parking garage just before Kuhio Avenue.
Great No. 13
Christmas Shopping
"I do all my CHRISTMAS shopping here and a lot of Aussies do their Christmas shopping here," said Tanya Collins from Sydney. "I come with half a suitcase empty! The T-shirts are high quality, and products in a store like Sephora cost half what they do in Australia. Plus a lot of Aussies come here for Christmas."
---
Awful No. 1
Kuhio Avenue Needs Upgrade
Keith Teranishi, a vendor for ABC Stores for the past 10 years, makes a circuit through Waikiki servicing 12 stores with golf souvenirs twice a week. Because it's hard to park, he leaves his car by the boat harbor and walks the loop.
"Appearance-wise, Waikiki is nicer than it was, especially Kalakaua. It went more upscale. But they need to work with Kuhio Avenue a little more. It's rundown."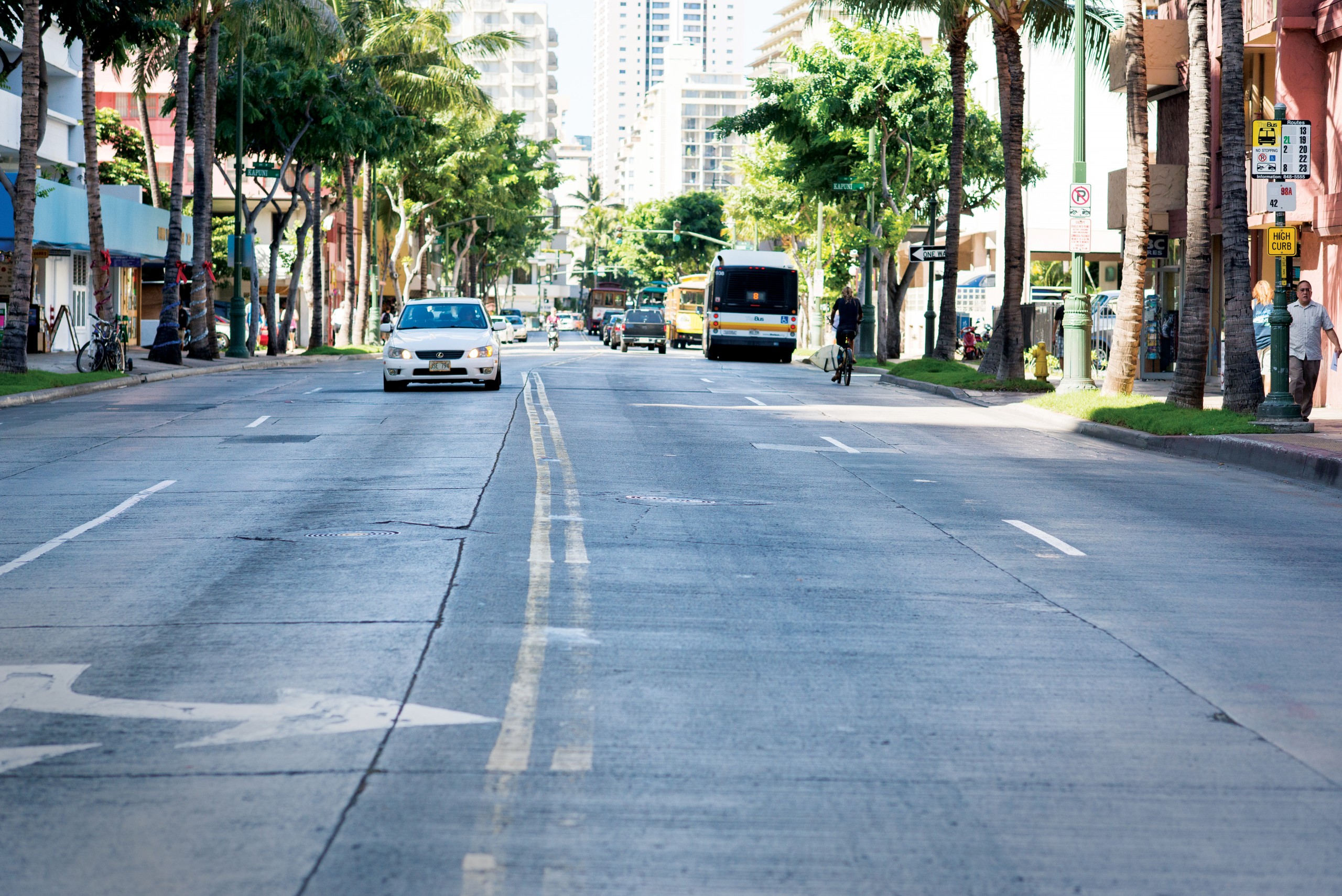 Awful No. 2
Graffiti and Hooligans
Tim and Joyce Overmeyer from Chicago have been to Hawaii a total of seven times between them. They feel safe in Waikiki, but, "We notice a lot more graffiti. And we are up early, around 5:30, and notice a lot more street people and hooligans since we were here four years ago," Joyce said. "They need to cover up the graffiti and make it look less trashy and do something with the homeless people. Build a shelter or something."
"It's kind of hard to see the homeless in the street," said Christina Clayton from San Pedro/Long Beach, Calif. "Back home, we have them, too, but to have them on the main street in Waikiki is hard."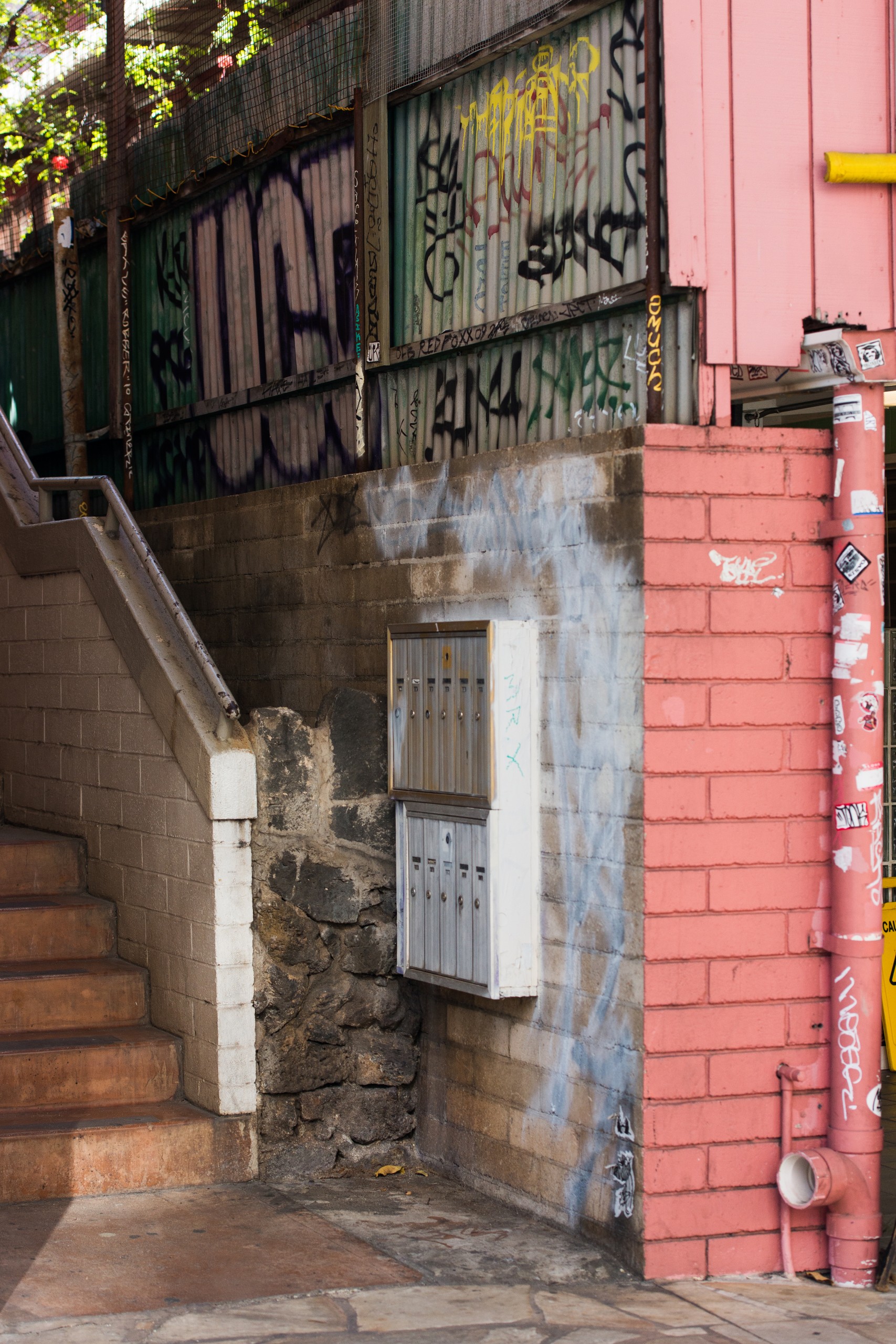 Awful No. 3
Long Ride to Work
Winnie Del Rosario gets up at 3 a.m. to ensure he gets to work by 6 a.m. The 46-year-old lives in Ewa Beach, spends 1½ to two hours on the bus – sometimes asleep – to get to his job tending plants in and around the Royal Hawaiian Center. "It would be better if I worked close to Ewa Beach, but it's hard to look for a job now."
Another worker complained about how crowded TheBus can be for commuting Waikiki workers. "We don't have enough buses for them. A lot of people have to stand all the way back to Ewa side," he said.
Awful No. 4
Taxi Ripoffs
Several tourists thought they were cheated by taxi drivers. Carlos Perez, 30, of Cheyenne, Wy., was on an eight-day Oahu vacation with friends and waiting to board the Na Hoku II catamaran for what he called a 90-minute all-you-can-drink "booze cruise." "Waikiki is OK, but it's a lot busier than I thought it would be," he said. "It reminds me of L.A. Can't believe the taxis are so expensive. We took one from my friend's house in Aiea to Waikiki and the cab went three exits beyond. It cost $60. That's even worse than Vegas."
Awful No. 5
Not Enough Signs in Chinese
Ya Zhou Yu, Guan Ju Hau and another friend were on a rewards trip as the top three salesmen for their electronics company in Anhui. "Everything is Japanese," says Ya Zhou. "More Chinese signs, please."
Xiaquion Chen, 28, and Chen Yu Lin, 28, from Shanghai, China, were in Hawaii for the first time, killing time before they could check into their room at the Hilton Hawaiian Village. "We had trouble communicating at the front desk because they don't understand Chinese," said Chen. "The taxi fare from the airport was $37. We gave the driver $50, but he didn't give us change. We wondered if it was because we had luggage. How do we find out? It would be good to know what the etiquette is, but everything is in Japanese and nothing is translated into Chinese."
Kelly Zhang, 32, a first-time visitor from southern China, loves everything about Waikiki – the weather, the shopping, the whole experience – but said the Chinese food is so-so. "There are not many Chinese restaurants, just Japanese restaurants. We need good restaurants," she said.
Awful No. 6
Old Hotels and Traffic
Jerry and Cheris Uhri, from Washington State, were "very disappointed" with their first trip to Oahu, though they plan to return to Kauai. "Our hotel here in Waikiki looks like crap. We had to upgrade the room because there was no space and the TV literally hung out over the end of the bed," Jerry said. "We went to Germaine's Luau last night and there is so much traffic on this island that it took two hours to get there."
Awful No. 7
Hard Work for Housekeepers
"The hardest workers are the maids, the housekeeping staff," said one man, who asked that his name not be used. "It's a hard, hard job. They've got to do so much in half an hour for each room and there's no break. You've just got to have so many rooms done on your shift, and that's it."
Awful No. 8
Too Little Local Flavor
Many tourists love brand-name shopping, but there is less and less local flavor, especially with the closing of the International Market Place. "It seems like mall stuff is going in and we're going to lose the resident population," said one worker, who was not willing to share his name.
Awful No. 9
Hold the Plastic
Uta Goelnitz, 38, and Katja Waehnert, 36, from Hamburg, Germany, love so much about Waikiki and Hawaii, but not the plastic cutlery served by some restaurants or the hearty American breakfast of ham, eggs and potatoes. "The breakfast is not our style," Goelnitz says. They were worn out by their trip here but delighted with the price: It took them an entire day to get to Hawaii from Europe, but the round-trip only cost about 850 Euros.
Awful No. 10
Too Costly for Residents
"For many of us that work in retail, the cost of living is too high," said Nao Hikichi, who moved to Hawaii from Yokohama, lives in Moiliili and manages a Waikiki retail shop.
"Waikiki is really nice for tourists, but for residents it's completely different. Imagine how hard it is to live here on a retail income. I was in Boston before, and it wasn't that expensive." Mika Ijiri also works in retail in Waikiki, and has been here 13 years, but doesn't think she can afford to retire in Waikiki or anywhere in Hawaii.
"I live in Waikiki, and it's so expensive. Every year, the prices go up and up. It's a good thing my husband is working, too. For retirement, I don't think we can live in Waikiki. Traffic is getting bad, too."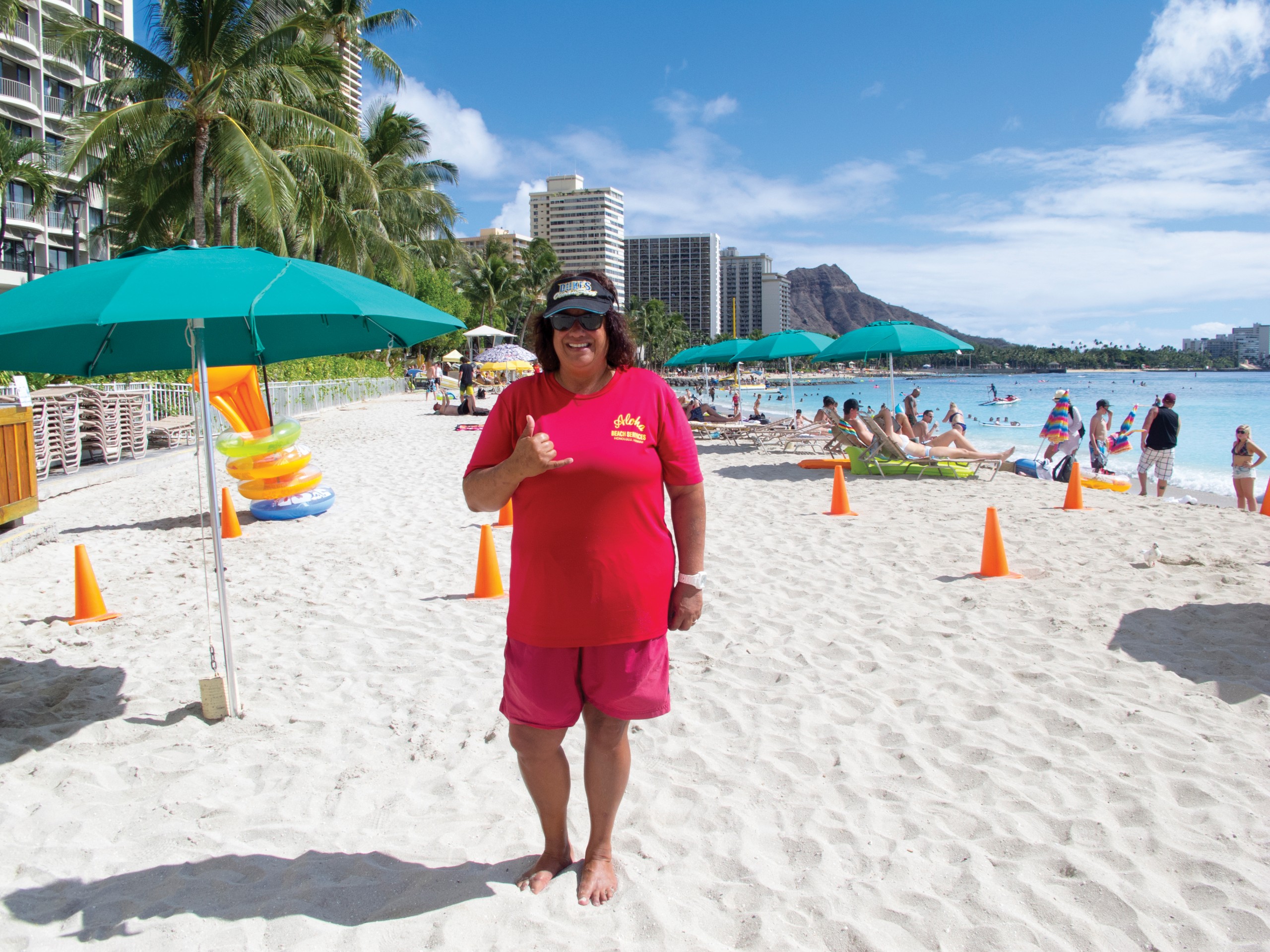 Awful No. 11
Not Like It Used to Be
The bronze statue of Hawaii's most famous waterman, Duke Kahanamoku, stands with open arms on Kuhio Beach, welcoming visitors to Waikiki.
Head a few hundred yards Ewa along the beach from the statue and the legend of the Duke lives on at Aloha Beach Service Rentals, a vendor that has been renting beach equipment for more than 50 years.
The business is run by Duke's nieces and nephews and, on this day, grandniece Jill Kahanamoku, 52, works the kiosk. She practically grew up on Waikiki Beach and has seen many changes over the years, including to the beach itself.
"The currents changed when they dredged the sand and now there's erosion," Kahanamoku explained. "But there are more turtles and box jellyfish. I don't remember any jellyfish invasion when I was growing up."
Kahanamoku says you can't trust leaving your bags on the beach anymore, as you could in the old days.
"I see a lot of bags get stolen here. They just pick up the bag and start walking fast. One time I saw this happening and I grabbed the bag back from the girl who stole it," she said. "But now the cops patrol a lot, walking up and down the beach. That has really helped."
Awful No. 12
International Market Place Closes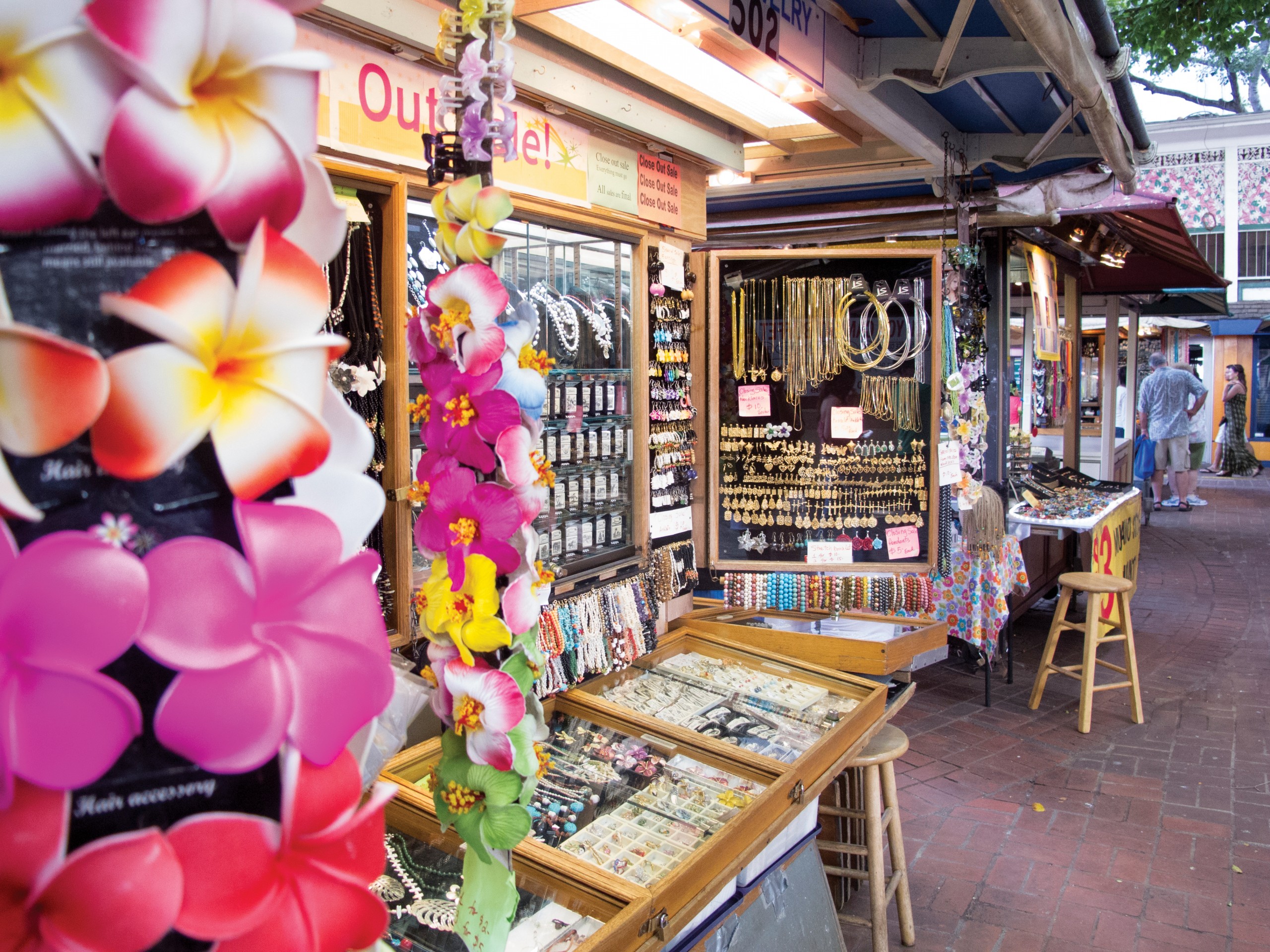 Awful No. 13
Homelessness