Hawaii's Top 250 Companies 2018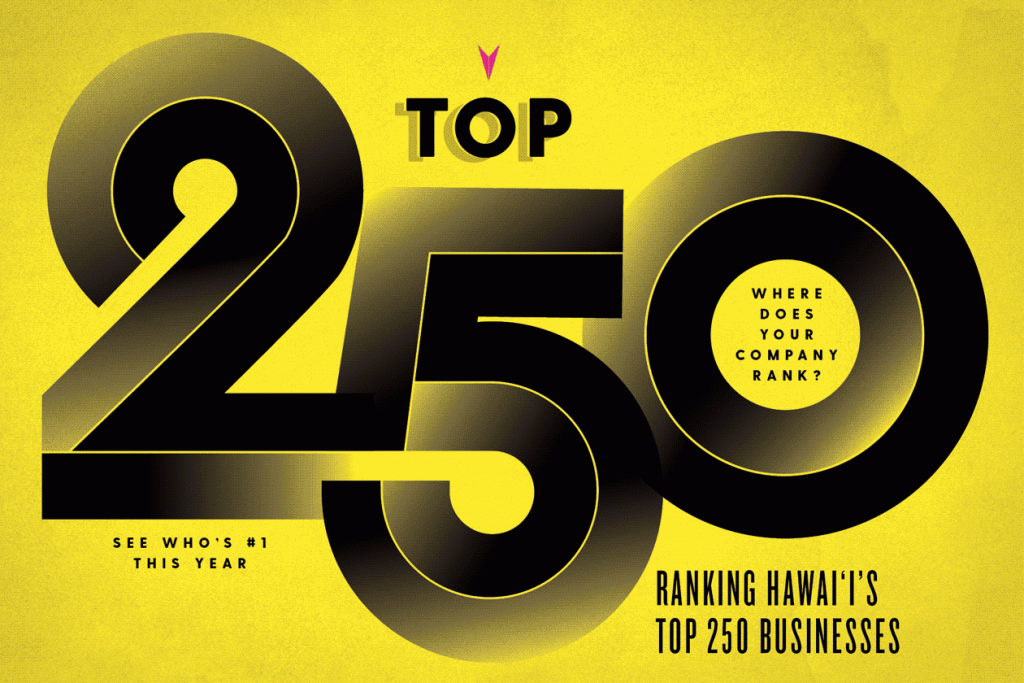 A Guide to Hawaii's Biggest Companies and Nonprofits
7 Fascinating Highlights from the Top 250
We have new looks from longtime leading companies, big growth from many of them, and some fresh faces and businesses on this year's list.
If the overall Hawaii economy is like a sports team, then Top 250 companies and nonprofits are its most valuable players.
The detailed Top 250 ranking in these pages – based on gross sales in 2017 – shows how well each of these players performed. Instead of touchdowns and home runs, it shows how much revenue they gained or lost, whether they added or cut employees and how many. Some companies list new names in their C-suites, and a few added subsidiaries.
There are 250 different stories on this list – the numbers reveal a lot about performance during 2017 – but before you dive into those numbers, here are seven highlights we found especially interesting.
Back at No. 1
No surprise that HMSA tops the 250 for the third straight year after passing Hawaiian Electric Industries with its 2015 results. Health insurance premiums have been soaring for years and they continue to rise and HMSA is the dominant health insurer in the state.
What surprised us was just how much HMSA has grown. In 2009, as Hawaii and the world began to climb out of the Great Recession, HMSA's revenue was $2.41 billion. Last year, it was $3.64 billion, a 51 percent increase in just seven years.
Michael Stollar, with three decades at HMSA, took over as CEO from Michael Gold in January, which creates stability as the nonprofit continues to experiment with how to compensate doctors and other health care providers beyond the traditional fee-for-service model.
Managing Editor Gina Gelber asked Stollar how long he thinks HMSA will lead the Top 250.
"To be honest, it doesn't need to last forever – and it shouldn't last forever," Stollar says. "Part of gross revenue is based on what we need to charge for premiums. So we would much rather flatten out, which would mean that health care costs aren't rising as fast. It is not our goal to be at the top of your list, which is odd compared to most businesses.
"The other thing that is odd compared to most businesses is that we try to pay out as much as we can. Historically, for every dollar we bring in we pay out about 93 cents. There are very few businesses that want to pay out that much. We target margins of 7 percent. Almost no bottom line. It is just a different business being a not-for-profit business."
See Gina's Talk Story interview with Stollar here.
No. 2 and growing
Hawaiian Airlines leapfrogged Hawaiian Electric Industries last year into second place on the Top 250. This time HA solidified its hold on No. 2 with another year of strong growth – 10 percent in 2017.
If HMSA's growth since the recession was remarkable, Hawaiian Air's has been absolutely amazing. In 2009, gross sales were $1.18 billion. Last year, gross sales were $2.70 billion – more than doubling in seven years; in fact an increase of 129 percent. With plenty of further growth halfway through this year, expect another big increase on next year's Top 250.
There was also a stable transition at the top of Hawaiian Airlines. CEO Mark Dunkerley, who led the company out of its second bankruptcy in 2005, retired and longtime No. 2 Peter Ingram moved into the top job in March. His main task: shepherding further growth while battling all the other airlines in the Hawaii market, including Southwest's plan to compete in both Western U.S.-to-Hawaii and interisland routes. Clearly, Southwest will be a more formidable opponent in the interisland market than the underfunded Island Air, which shut down last November.
Still growing
Longtime No. 1 Hawaiian Electric Industries is now No. 3 on the Top 250, but it continues to grow – 7.6 percent last year – albeit at a slower rate in recent years than the two companies that overtook it for No. 1 and No. 2.
One especially bright spot for HEI is its American Savings Bank subsidiary, which would have been split off as an independent bank if the NextEra takeover had gone through. ASB reported net income for 2017 of $67.0 million compared to $57.3 million in 2016, as it benefited from federal tax reform, as did many Hawaii companies. Next month we plan to publish our list of Hawaii's Most Profitable Companies to see how well other local businesses initially did under tax reform.
160 years young
You already know that First Hawaiian Bank is the state's oldest bank, founded by Charles Reed Bishop back in 1858. But you may not know that FHB is Hawaii's sixth-oldest surviving business overall, according to Hawaii Business research, predated only by three surviving ranches – Princeville, Parker and Kualoa – plus Love's Bakery (1851) and the Kaanapali Land Management Corp., which was once Amfac and began in 1849 as a dry goods store in Honolulu called H. Hackfeld and Co.
First Hawaiian had another strong year in 2017, its first full year after a split from parent BNP Paribas. Gross sales increased 5.4 percent to $776 million, placing it 12th on the Top 250. It was also ranked ninth overall this year on the Forbes list of the Top 100 Banks in America, while Bank of Hawaii placed 16th. Forbes says it ranked the banks based on 10 metrics related to growth, profitability, capital adequacy and asset quality.
Energy leaders
Renewable energy may be Hawaii's future, but aside from the utilities, Hawaii's energy powerhouse companies of today are focused on oil and natural gas: 5th ranked Par Hawaii, 9 Island Energy Services, 18 Aloha Petroleum, 44 Hawaii Gas, 50 Kalaeloa Partners and 55 Hawaii Petroleum.
You have to go much further on the list to find the first companies focused on renewable energy: Haleakala Solar at 152 and RevoluSun Smart Home at 185.
Construction's big gains
The fastest growing companies on this year's Top 250 were mostly in construction and development. Biggest of the big gainers was Swinerton's Hawaii operations, which enjoyed a 92 percent increase in gross sales, from $146 million in 2016 to $280 million. It jumped from No. 55 on last year's Top 250 to 33 on this year's.
Learn more about Swinerton's incredible growth in next month's Construction Issue, when Gina interviews Hawaii Division Manager George Ehara in our Talk Story column.
Other big gainers on this year's Top 250 in construction and development were Royal Contracting Co. Ltd., up 65 percent in gross sales to $102.2 million, and The Gentry Cos., up 52 percent to $95.1 million. See the full list of biggest gains on page 40.
Newcomers we uncovered
Most of the companies on the Top 250 submit their financial information voluntarily to Hawaii Business each year. (If you want your company or nonprofit to be included next year, contact Jeff Hawe at jeffh@hawaiibusiness.com today to start the process.) However, not every organization submits its records, so we dive into public records to find financials and make the Top 250 as complete as possible. This year we expanded our search of insurance companies operating in Hawaii and placed these six companies on the list for the first time:
#19: Wellcare Health Insurance of AZ Inc. (operating in Hawaii as Ohana Care)
#29: State Farm Insurance Co.
#80: Allstate Insurance Co.
#101: Humana
#110: United Services Automobile Association
#119: Liberty Mutual Fire Insurance Co.
---
Other newcomers:
Fifteen other companies submitted financials to the Top 250 research team for the first time (or the first time in years) and we welcome them aboard. They include:
#73: Wyndham Vacation Ownership
#137: Heide & Cook LLC #138 (Construction & Development)
#180: Pacific Meritage dba Chili's Grill & Bar
#223: Barbers Point Aviation Services, whose owner, Reginald Perry, was named Small Business Person of the Year for Hawaii this spring.
#237: Gourmet Events, named by Hawaii Business this year as the state's best woman-owned business; it's led by founder and proprietor Kathleen Lin-Hurtubise.
How We Compile the Top 250
Welcome to the Hawaii Business Top 250, which has highlighted the state's biggest companies for 34 years. Our ranking tool is gross sales, a key indicator of market dominance and influence.
To assemble the list, we tap into a variety of public records as well as self-reported data from the companies themselves. Nevertheless, some companies with large local presences do not appear on the list for a host of reasons, including:
Their U.S. or international parent did not provide separate data for Hawaii operations.
The company is Hawaii-owned, but is privately held and declined to disclose its annual gross sales.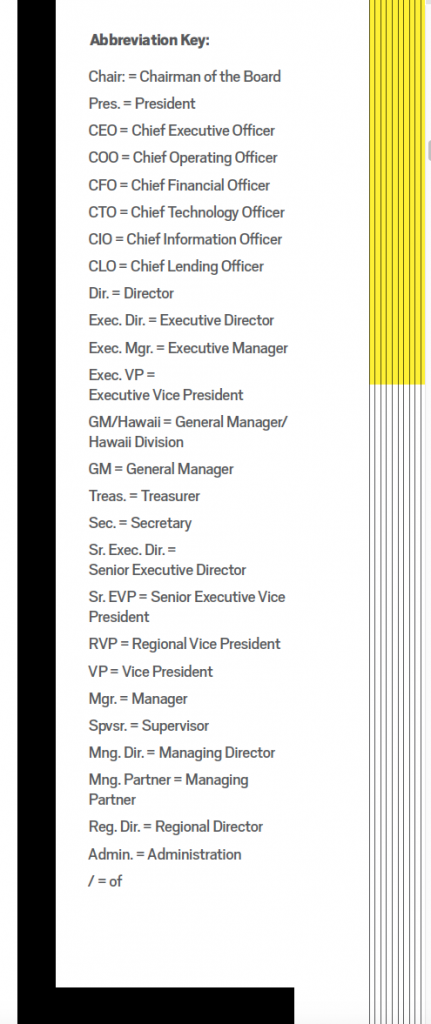 Collecting the Data
Each January, Hawaii Business researchers lay the groundwork by delving into annual reports, databases, referrals and previous Top 250 lists.
HB researchers also use public sources such as filings with the federal Securities and Exchange Commission, federal tax forms 990 and current investor relations reports. When these documents were not available, our researchers surveyed the companies directly and asked for self-reported financial data.
Businesses are asked to use generally accepted accounting principles for their industries in calculating gross sales for 2017. If questions about GAAP arose, we relied on the expertise of the accounting firm Accuity LLP.
Nonprofits reported their total annual revenue. Depending on the organization, this might include contributions, funding for services or proceeds from activities that support the nonprofit's mission.
Our Definitions
Rank: Companies and nonprofits are ranked by total gross sales. Some companies are tied based on the data we collected; others may appear tied, but are not, because the figures have been rounded.
Gross sales: We use the latest available annual revenue for each company's local operations and its subsidiaries. Calendar-year revenue for 2017 is requested, but fiscal-year revenue is reported if calendar-year information is not readily available. For companies headquartered in Hawaii, sales reflect the revenue of the company and its subsidiaries worldwide. For a company whose parent is based outside of Hawaii, revenue reflects Hawaii sales only.
Employees: In most cases, the figure reflects full-time employees only.
Parent company: This refers to the parent of the ranked company. Each company surveyed was asked to identify its ultimate parent company and its headquarters location.
Should Your Company Be in the Top 250?
If your company would like to be considered for next year's Top 250, email jeffh@hawaiibusiness.com or call 534-7529.
Log in to view the Top 250 List. Not subscribed? Sign up here.