2022 CEO of the Year: Paul Yonamine of Central Pacific Bank
He led transformative changes at Hawai'i's fourth largest bank, improved its financial results and helped drive innovation across the state.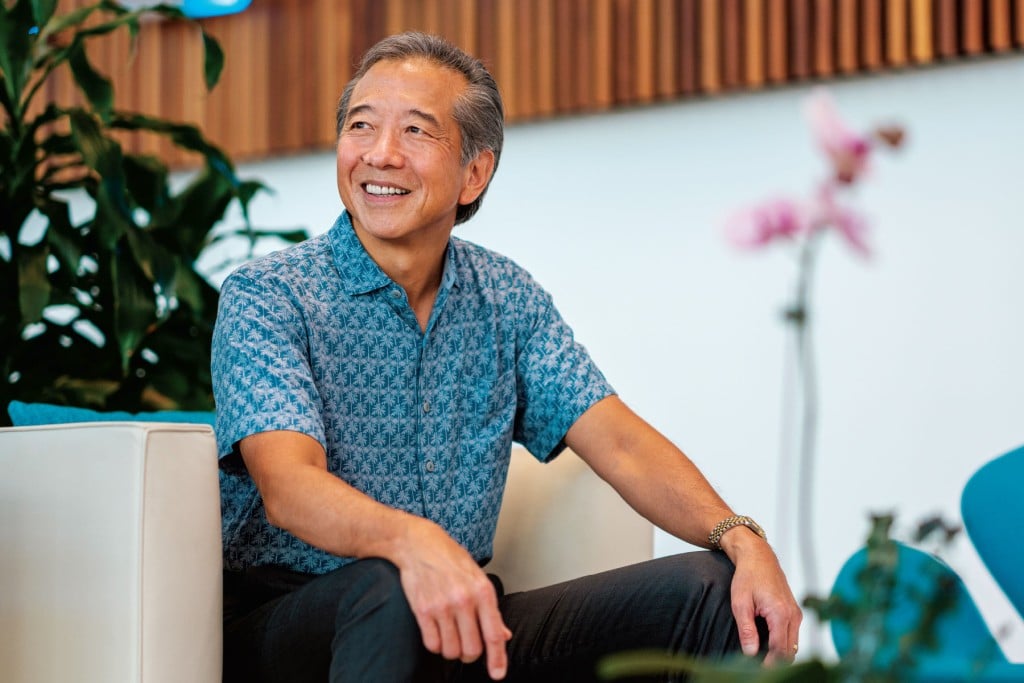 Sitting at the bright blue lounge chair in the atrium of Central Pacific Bank's flagship branch, Paul Yonamine takes out his wallet and flashes his Shaka card like a 16-year-old who just got his license. With its whimsical colors, the online banking card looks like something the cool kids would carry, and that's exactly what he's going for.
"This is not your grandfather's bank card," he laughs. Shaka, CPB's 100% online checking platform, is an integral part of the makeover of the bank that Yonamine master-minded, a complete overhaul that launched a languishing institution headfirst into the brave new era of digital banking.
"When I first joined the bank, our average customer was in their late 50s," shares Yonamine, who became executive chairman and CEO of Central Pacific Financial Corp., the parent company, and executive chairman of Central Pacific Bank in October 2018. "Which tells you something, right? Your days are numbered unless you start going after the younger set." That sparked a massive campaign to reimagine the bank's brand, update outdated practices, and revitalize its brick-and-mortar downtown headquarters.
In 2019 the CPB team went to work. They installed a fleet of smart ATMs that can disburse cash in cus-tom denominations. They assigned influencers, including Olympic gold medalist Carissa Moore, to be customer-facing brand ambassadors.
They gave the ground floor of the head office a face-lift, filling it with midcentury modern accents to create an airy, vibrant coworking space – free to the public – serviced by Starbucks and Aloha Beer. ("Who would have imagined a beer garden at a bank?" one observer notes.)
"That's all Paul," says CPF board member Crystal Rose, a partner at the law firm Lung Rose Voss Wagnild, describing how the dim lobby was transformed into a hive of productivity – on time and within budget.
"Reenergizing this part of downtown is a huge giveback to the community," she says with a nod to Yo-namine's global vision, which she believes bridges the past and future and allows him to look beyond what currently exists in Hawai'i.
Equally impressive is CPB's aggressive implementation of digital-first banking. The bank says the Apple user rating for its mobile platform jumped from 2.1 before the re-fresh, to 4.9, the highest in Hawai'i. The Android rating is 4.8. In its first year, Shaka saw more than 4,000 new accounts.
---
The 2022 CEO of the Year celebration honoring Paul Yonamine will take place on Thursday, December 8, 2022. For more details click here.
---
Since Yonamine joined CPB, the bank reports, net income has grown 30%, core deposits 50%, total assets 28% and earnings per share 40%. CPB says it is the number one lender in the state for residential multifamily projects. (Bank of Hawai'i is the state's number one lender for home buyers. An earlier version of this story said CPB was the number one lender for home buyers.)
One consequence of online banking is having fewer customer touch points a year. "People don't really need to come to a bank any more, so when they do come, we want to make it worth it," Yonamine says. At the beginning of the year, he brought on Kisan Jo, the former president of Prince Hotels, "to double down on service quality."
These bold strides have not gone unnoticed. In 2022, Central Pacific Bank was named Best Bank in Hawai'i by Forbes and Best Small Bank in Hawai'i by Newsweek. For his transformational leadership at CPB, Hawaii Business Magazine selected Yonamine as Hawai'i's 2022 CEO of the Year.
It was during a San Francisco Giants baseball game in 2018 that aio CEO (and part owner of the Giants) Duane Kurisu asked Yonamine whether he was interested in returning to Hawai'i. Yonamine said yes, and two weeks later, Kurisu, who is also a CPB board member and the owner of Hawaii Business Magazine, called and offered him the job.
Ever since, Yonamine has been checking off the boxes of sweeping change at CPB. He recently ticked what he considers the most important one: planning his succession. A month after Hawaii Business selected him as the CEO of the Year, CPF announced he would be stepping down as CEO at the end of 2022. His successor will be the bank's current president, Arnold Martines.
Yonamine is attuned to the economic pulse of Hawai'i while simultaneously appreciating the beauty of its nature and people. Putting his Shaka card away, Yonamine swivels around to gaze at the wall behind him, where a kinetic art piece composed of 48 oscillating rain sticks creates a soundscape that mimics waves washing onto shore. The rain sticks move in response to real-time data from wave buoys bobbing in Hawai'i waters. Currently, they're guided by a North Shore buoy, and the loud swish means the surf is up. The environment is almost meditative, so it's not surprising that he often comes here when he needs space to think. "Waves are good luck in Japan," he says.
A Tale of Two Cultures
Yonamine grew up in Tokyo. Twice a year he made trips to Hawai'i, where he spent each summer playing baseball in 'Aiea and Pearl City. His father, Wally, a Farrington High School graduate originally from Olowalu, Maui, and his mother, born Jane Iwashita, a Roosevelt grad who was raised on Parker Ranch on Hawai'i Island, met in Honolulu. Wally became the first Japanese American to play professional football after he was drafted as a running back by the San Francisco 49ers in 1947.
After an injury, he pivoted and played pro baseball for the Tokyo Giants, and later became the first American to be inducted into the Japanese Baseball Hall of Fame. Wally was 25 years old and Jane 21 when they arrived in Japan in the wake of World War II. It was a challenging environment, especially for Jane, who couldn't speak the language and had to fend for herself while Wally was traveling. But they ingratiated themselves to their community, and Japan became home, where they stayed until they passed on – Wally in 2011 and Jane in 2016.
"My mom was an amazing sales-person. She had quite a following," Paul Yonamine shares, referring to the long line of famous customers – from Robert De Niro to Vanessa Williams, Joe DiMaggio to Florence Joyner, and four U.S. presidents – whose photos adorned the walls of the pearl shop she opened in 1964.
"I used to wait after school for her to finish work and see her in action. She was just so customer-centric. She would remember what customers bought.
"In Japan there's a word called omotenashi. It means the way you anticipate how customers think and how you service them," he continues. He recalls his mother helping a customer who couldn't choose between two necklaces. One cost 100,000 yen and the other twice as much. To his surprise, his mom recommended the cheaper one, because she genuinely believed it looked better on the woman. Jane gained a customer for life, a loyalty that spanned two more generations; when the business closed in 2018, the woman's grandchild came in for one last visit.
"When you really take care of people that way – when it's not just about making money, and it's about doing the right thing – they keep coming back to you," Yonamine says. "That was a very valuable lesson for me at a young age."
It was while Yonamine was teaching English at a Japanese accounting firm in Tokyo the summer after his sophomore year at the University of San Francisco that a profession other than baseball piqued his interest. "I found what they were doing to be very interesting, how they went to different companies, auditing and attesting to their financial performance," he remembers. He excelled at accounting and finance, and landed a job at accounting firm Peat Marwick (now KPMG) in Los Angeles.
Because he was bilingual, Yonamine offered to help Japanese executives who didn't speak English. "They were having a tough time. They were going to restaurants and eating hamburgers every day, because that's all they could read on the menu," he recalls.
During the day, the young manager would do audits; at night he helped the newcomers rent apartments, buy cars and file tax returns. "I enjoyed that. That's when I decided I wanted to be in the services industry. The reward was seeing the gratitude in their facial expression."
That wasn't the only reward. When Yonamine moved back to Tokyo in the late 1990s to start a new branch of KPMG Consulting from scratch, those very executives, who came to hold prominent positions in Japan, showered him with business. "What goes around comes around," Yonamine insists.
The man who hired him for the gig at Peat Marwick straight out of college was Yukuo Takenaka, the first Japanese partner at a Big 8 accounting firm. Yonamine describes Takenaka as a charismatic business developer who remains his mentor today.
"About 20 years ago, he was lecturing me about something, and he was so wrong that it showed on my face, like, uh, 'You're so wrong,' " Yonamine shares. "He goes, 'Paul, you have no humility right now. Even if I'm wrong, you should sit there and listen to me. Whether you actually take my advice, that's your choice. But you should show some respect, because I'm spending my time providing you with this lecture.' "
The reprimand continues to resonate with Yonamine. "To this day, he occasionally reminds me, 'How are you doing on the three K's?' " The three K's are kansha, to have gratitude for people who help you; kenkyo, to have humility; and kon-jō, to have the courage to make the right decisions. "That's a very simple lesson that young entrepreneurs should embrace.
"Some people want to hit a home run day one and make a bunch of money on an IPO," he continues. "But there aren't any shortcuts to these three principles that create a brand for you – not as a successful businessperson, but as a human being. In the end, you want to be a success in life, not just in business."
Mover and Shaker
When you look at his career path, Paul's had relatively short stints in his various leadership positions," says CPF board member and Chair of Island Holdings Colbert Matsumoto, who met Yonamine in college five decades ago. "A lot of that is by his personal preference and design, because Paul is a change agent."
The corporations that Yonamine has led include IBM Japan, GCA Japan, Hitachi Consulting Co., and BearingPoint Asia Pacific (formerly KPMG Consulting). His friend Ed Schultz, CEO of Hawaiian Host Group, points out that these companies were underdogs – not first in the industry – when he joined them, and he knew he needed to find a competitive edge that seldom comes from acting on traditional terms.
---
The 2022 CEO of the Year celebration honoring Paul Yonamine will take place on Thursday, December 8, 2022. For more details click here.
---
"What Paul is really good at is bringing a fresh vision and strategy. He's good at introducing new ideas and new ways of operating, and getting the organizations to change course," Matsumoto offers. "That takes a lot of energy. It takes a lot of commitment, and Paul certainly has demonstrated he has the tenacity to see these kinds of initiatives through.
"Once you've launched changes like that, going forward it's a different kind of skill set, one that requires more of a steady hand at the steering wheel," Matsumoto continues. "That doesn't suit Paul, because it's too comfortable. I think he prefers being in a much more dynamic leadership role where he's challenged and has to accomplish something."
Yonamine's tenure at CPB met that ante, and the pandemic raised it to another level. "As soon as March 23, 2020, came around, our management team got together and anticipated that businesses were going to hurt, and the community was going to hurt," Yonamine recalls, describing how Waikīkī instantly became a ghost town when the state went into lockdown. "It was frightening, right out of a science fiction movie. Nobody wanted to come out of their house. The money just stopped."
The dire circumstances reminded him of two other crises he's encountered in his career: the SARS outbreak in the early 2000s, and the 2011 Tōhoku earthquake and tsunami that resulted in the nuclear meltdown at Fukushima Daiichi. During the Tōhoku crisis, Yonamine was president of IBM Japan with a staff of 23,000. "I sent my family to Hawai'i – all the foreigners left Japan – and I stayed there with my employees," he remembers. "My job was showing my face every day to let them know, 'I'm here with you.' "
When Covid hit, he relied on past experience to bolster his confidence to lead. "Especially in the midst of a crisis, not all decisions are going to be popular. Not all of them have consensus, either. A leader has to make that tough call based on limited information and has to have the courage to be willing to be judged for the outcome," he says.
Under Yonamine's direction, the CPB Foundation reimbursed diners $308,000 in the "Keep Hawai'i Cooking" program, which paid half the tab for meals ordered from participating eateries. The stopgap effort incentivized residents to choose delivery and takeout options that helped buoy the local restaurant industry.
Meanwhile, the government announced that the first tranche of Paycheck Protection Program loans to help businesses maintain their workforces would be offered first come, first served, and the CPB staff hit the ground running. The bank says about 200 employees worked around the clock to help their clients crank out applications, and the bank's digital team devised a way to interface more rapidly with the Small Business Administration to expedite the process.
"I was so impressed with our people. Everybody stepped up," Yonamine says, remembering how his wife baked cookies late at night to support the team. "It was that kind of mindset."
According to Executive Vice Chair Catherine Ngo, CPB was responsible for 28% (amounting to $850 million) of all the PPP loans in Hawai'i, the largest state market share of any bank in the country. What surprised Yonamine was that many small businesses were so pleased that they moved their accounts to CPB. Plus, the bank ended up capitalizing from the lenders' fees paid by the SBA.
Decisiveness under pressure is an expectation Yonamine is comfortable with. "You have to make decisions with as much information as you can get, and the rest is just instinct," he says. "If you're wrong, you pivot and course-correct. You don't just sit around and stay idle."
Matsumoto, the Island Holdings chair, says one secret to Yonamine's success is that he won't take "no" for an answer. "He does it in a way that is persuasive, not coercive," he clarifies. "If the first answer is 'no', he'll figure, OK, is there a better proposition that will turn the answer to 'yes'?"
Adds CPB President and COO Martines: "Being an effective leader is not a popularity contest. You have to make decisions that will move things forward, and that means you're asking people to change the way they do things. Paul is great at convincing people to do things that they themselves didn't know they were capable of."
When he does sometimes ruffle feathers, Yonamine takes the heat. "When people criticize you, it hurts sometimes. I don't think anyone is made out of steel. You always have to keep it in perspective," he offers. "I've been very fortunate. I have a family that accepts me unconditionally. My kids don't care if I have a great quarter or not. They're still in my camp.
"Business always has conditions. You have to perform, and things always turn against you at times," he continues. "The guiding principle is always doing the right thing. In my experience working for 44 years, it always comes back."
Central Pacific Bank pressed its momentum into 2021, when the bank says the number of its SBA loans exceeded the total of all the other Hawai'i banks combined. And as the pandemic lingered into that year, Yonamine's digital investments paid off. Customers took advantage of being able to bank remotely, and CPB had its best financial performance in its 67-year history.
It makes Yonamine particularly proud that the institution continues to uphold the legacy of its founders, a group of nisei World War II veterans who established the bank in 1954 to support local families and small businesses that the bigger banks rejected.
"A lot of that is still in our DNA," says Yonamine, who recognizes a similar plight in the modern-day ALICE population – people who are asset-limited, income-constrained, employed – that struggles to make ends meet in Hawai'i. "One of the messages instilled in our employees, not just by me but by my predecessors, is to have compassion, show empathy, and help as many people as they can."
Since 2020, CPB Foundation has made $5.3 million in community contributions. This can only happen, he stresses, if the bank is profitable. "At the end of the day, we're a public company. Our job is to create shareholder wealth. When we give back to the community, there is an inherent purpose that it comes back to the business.
"We make this choice to work for a for-profit entity that allows us to do well and give back to the community. That's what I'm attracted to," he continues. "I love working in institutions like CPB, where I can do well for my family financially, I can have the satisfaction of bringing young people up the ranks, and also do well enough to give back to the community. That's the win-win."
Innovative Future for Hawai'i
Leilani Farinas says: "One thing Paul has taught me is that when it comes to innovation, you don't need to have all of the answers. Don't let that stop you from making things happen. Faster is better."
Farinas is the executive director of the nonprofit TRUE, the Technology Readiness User Evaluation initiative. Chaired by Yonamine, TRUE leverages public and private collaboration to create demand for technology solutions.
TRUE shows businesses how they stand to benefit by offering tangible examples from organizations that have successfully made analog to digital leaps, such as digitizing basic tasks like filing and invoicing. Once documents are uploaded and stored in a cloud, the data can then be translated to an analytics platform to enhance productivity. She explains that people who are trained to do these tasks – employees who become tech-enabled – develop a more valuable skill set than workers who print out paper and put it in a folder.
"If we create local demand, we create value. People get paid better," Yonamine says. In its shift to digital, CPB brought on many tech-enabled staff. "They're local, and we have a road map for them to stay here to retirement if they want.
"By creating demand, then we start creating an ecosystem," he says, looking further down the road. Unlike Silicon Valley, Hawai'i, he explains, lacks some essential ingredients to fuel a tech hub: hawkish investors with deep pockets, a feed-er of talent like Stanford University, a large market like San Francisco. "Then who knows, we might have people coming up with fantastic ideas where venture capital wants to invest, and something could happen. But that's point C. We have to get to point B first."
Yonamine recognizes that exposure invites buy-in, and that the channels for exposure and communication have changed dramatically.
He shares a story about how his son one day surprised him with, "Dad, do you want to see the PC I built?" – a result of chatting with fellow online gamers.
He also muses about how his daughter, who was working remotely during the pandemic, and her colleagues kept Zoom on all day, even when nobody was speaking. On-screen chatting resumed when they went on a coffee break. "I'm thinking, wow, this is really strange," he laughs.
In July, TRUE launched Hawai'i's first esports lab at the Waipahu Public Library, where anyone with a library card can learn about gaming and software development. It was Farinas' first initiative, and she appreciates the space Yonamine gave her to develop the framework and launch the pilot.
"Paul is like a highly respected family member who can motivate you to excel at the highest level and exceed your own expectations," Farinas says. "And when you need his guidance, he is always there to give it."
Yonamine's executive team at CPB also appreciates the way he empowers them. "He sets high standards, but he's always there to back you up," Martines says. "He may be pushing you, saying, 'You need to get this done,' but if you turn your head, he's right there with you."
Adds Ed Schultz: "Paul finds good people, which you always need as a leader because you can't do everything yourself. He's always got a great energy about him that helps him connect with people at all different levels."
---
The 2022 CEO of the Year celebration honoring Paul Yonamine will take place on Thursday, December 8, 2022. For more details click here.
---
Schultz also recognizes the unique value of Yonamine's Japanese business acumen, knowledge and resources that Yonamine readily shares to help Hawai'i prosper – something Schultz experienced firsthand when he arrived in Tokyo to market Honolulu Coffee.
In 2020, Yonamine championed local business accelerator Mana Up by accompanying Hawai'i entrepreneurs to Japan and introducing them to high-powered Japanese executives. "I can't think of any other person who goes above and beyond so much to do that," Schultz says. "He's going to be an asset for the state of Hawai'i for a long time to come."
Currently Yonamine serves on three corporate boards in Japan: Sumitomo Mitsui Banking Corp. (the second-largest bank in Japan), Seven & i Holdings (which boasts $70 billion in revenue and 90,000 7-Eleven stores worldwide) and Circlace Co. (a software as a service implementation firm). He also serves as chair of the U.S.-Japan Council, which aims to improve U.S.-Japan relations and foster the next generation of Japanese American leaders.
In May, he traveled to Japan with Gov. David Ige to promote economic development and Hawai'i travel. "Paul is a visionary leader who has a sincere passion for making the State, and its economy, better for all," Ige wrote in his nomination letter to support Yonamine as CEO of the Year.
Rose, the CPF board member, underscores Yonamine's extraordinary impact on Hawai'i: "When I look at leaders in our community, goodness, being a good person is as important as greatness. Paul exudes both. I see it when people follow him and they're willing to dig in and do what needs to be done to execute on a vision."
The Next Big Swell
Recently Martines and the executive team presented Yonamine with a framed quote credited to Harvard Business School professor Frances Frei: "Leadership is about making others better as a result of your presence and making sure that impact lasts in your absence."
It became a particularly meaningful parting message as the bank announced Yonamine's plans to retire at the end of the year. "From the minute he joined the bank, Paul was focused on the next generation of leaders. He always set the example, so his mark on the organization will last forever," says Martines, who will take over as CEO on Jan. 1. "I am very blessed to have been part of the transformation he led and to understand why we did it." Yonamine will continue to serve as chairman emeritus of the bank and the holding company and advisor to the CEO. Catherine Ngo will become chair of both boards.
Says the 65-year-old Yonamine: "There is some truth that as you get older, passion and ambition start waning, and you get more family-oriented. That's when you need the young blood. They deserve a shot. My successor, Arnold Martines, he's got the drive, he has the aloha for the community, he's smart, he's been in banking for a long time and he deserves it. He'll do a great job."
After a glorious wave, surfers will often throw their arms up in a victorious "claim." Yonamine's kick-out won't be so showy. He's happy to have more time for his family: his wife of 33 years, Lynda, and three kids: Bryan, John and Andrea. His plan is to live in Hawai'i but also spend time in Japan and California. He doesn't say it explicitly, but he's keeping an eye on the horizon, watching for the next wave.
"I'm absolutely not done working," the tireless trailblazer promises. "I want to find new challenging things, maybe another turnaround. Or something totally different. Who knows?" Behind him at the bank's headquarters, the rain sticks on the wall tilt a different direction, swishing a cryptic response to his question. "Twenty years from now, I hope I'm still banking here," he quips. "And I expect good service."
---
The 2022 CEO of the Year celebration honoring Paul Yonamine will take place on Thursday, December 8, 2022. For more details click here.