24 Hours in the Life of Hawaii Business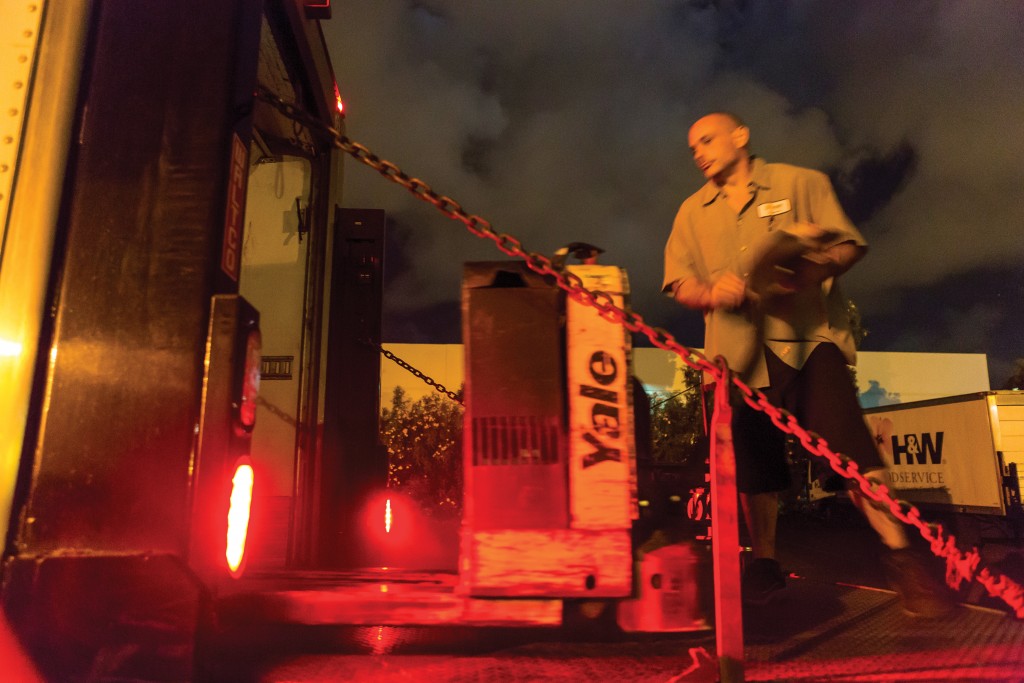 H&W Foodservice & Palama Meat
Kapolei

Early each day, H&W Foodservice trucks are loaded at the Palama Meat packing plant with steaks, chops, ribs, ground beef and dozens of other products. The overnight shift of 14 uses brawn and forklifts to load the trucks before H&W's drivers start their day at 4:30 a.m.
The team of 13 drivers will deliver to as many as 325 outlets in a day, everything from big supermarkets to mom and pop stores. The biggest of the those trucks carry up to 10,000 pounds, says Jon Crail, H&W's distribution manager. The unprocessed meats arrive at Honolulu Harbor in refrigerated containers from the Mainland, New Zealand and Australia, and the containers are hauled to the plant.
H&W is known in the business as a "broadliner," a company that offers a broad line of goods. Along with Palama, its sister company, H&W is "the only broadliner that has a cutting facility," says Wally Marciel, GM for the food service company that opened in 1962 and is one of the island's largest.
Inside the packing plant, butchers slice, dice, grind and chop 35,000 pounds of meat a week, says Palama's production manager, Jordan Tanoue. About a quarter of the product is sold under the company's brand, May's Hawaii.
USS Chafee
Off Pearl Harbor

After eight months at sea, the guided-missile destroyer USS Chafee eased into its home port at Joint Base Pearl Harbor-Hickam just a few days before Christmas.
Officials boarded from an inflatable Zodiac boat, which then preceded the destroyer into the harbor as the crew lined the Chafee's bow and the brass monitored the approach from the bridge.
The destroyer, with a crew of more than 350, had an eventful eight months at sea. It conducted bilateral exercises with ships of the Chilean, Brazilian, Japanese, Mexican and Peruvian navies; it steamed 42,000 nautical miles and visited 10 ports across the Pacific and around South America; it transited both the Panama Canal and the Straits of Magellan at the southern tip of South America; and it boarded 19 U.S. and foreign fishing vessels to assure compliance with fisheries regulations.
When the ship needs repairs, it goes to the Pearl Harbor Naval Shipyard, which is the largest repair facility between the West Coast and the Far East. The shipyard – the state's largest industrial employer with a combined civilian and military workforce of about 5,000 – maintains and repairs the U.S. Pacific Fleet, and remains a one-stop regional maintenance center for the U.S. Navy's ships and submarines.
Green Point Nursery
Kurtistown, Hawaii Island

The splashes of red and pink anthurium are unmistakable as the early morning pickers work at Green Point Nursery's Kurtistown greenhouse. Thousands of these floral icons of Hawaii are bundled for daily shipment to the other Islands and the Mainland, and twice weekly flights to Canada, Japan, Guam and Saipan.
"We harvest daily, about 5,000 dozen a week," says owner Eric Tanouye, "and maybe around 240,000 dozen annually just of anthurium."
Green Point is one of the largest nurseries on the Big Island and, in addition to anthurium, ships other tropicals, including orchids, protea, heliconia, birds of paradise, and red and pink ginger, plus foliage and wedding materials.
Green Point employs 50 people and contracts with about 100 small farmers whose soil or weather are ideal for certain flowers. Green Point also operates a complex cachement system (partly shown at bottom left) that harvests all the water it needs from rain.
Westin Moana Surfrider
Waikiki

The Moana, Waikiki's first hotel, is celebrating its 115th anniversary this year. Many of its guests return year after year, drawn by the hotel's enduring elegance and grace, including Darleen Licina-Tubbs and her husband, Raymond Tubbs.
We caught up to them sitting in the teak rockers on the front lanai of the Moana, watching the world go by on Kalakaua Avenue. It was their 19th trip together to Hawaii from Monroeville, Pennsylvania, just outside Pittsburgh.
Darleen was a guest at the Moana 29 years ago as she recovered from a devastating car accident. "I came here several times that year," says Darleen, now 62. "It was just calling me back."
The couple say they save all year for their two- or three-week trip to the Moana.
"It's always wonderful when we get off the shuttle bus at the Moana and the other folks say 'Ohhh, what a beautiful place!' " says Darleen. "It's elegant, and we like that part of it. It's like coming home."
Hawaii Center for AIDS
John A. Burns School of Medicine, Kakaako

In the next few months, the Hawaii Center for AIDS expects to launch a clinical trial of an injectable drug that replaces daily medication for HIV patients yet is designed to last up to six months. It has already proven effective in small groups of patients.
Patients for the larger trial will be recruited from different places in Hawaii, including the center's Clint Spencer Clinic, shown here, which moved from the former Gold Bond building to the medical school in December.
Dr. Cecilia Shikuma, the AIDS center's director, says the new medication is called Cabotegravir and "will be especially good for those who have a problem adhering to a daily regimen, who lose their medication, are not very compliant, are substance abusers or may be homeless."
Meanwhile, the center continues to seek an AIDS cure. Dr. Lishomwa Ndhlovu is testing an antibody to neutralize a molecule that stops the body's immune system from fighting the AIDS virus. "This is exciting," says Shikuma. "Hopefully we'll enter trials in animal studies and from there get a chance to try it in humans."
The Hawaii Center for AIDS brings in about $1.5 million a year in research funding from the federal government's National Institutes of Health. "Hopefully we've played a role in keeping some HIV-infected individuals healthy and functional and working." Today, most infected people are able to work and live relatively normal lives, she says, whereas 15 years ago, most were not able to work.
HPower
Campbell Industrial Park, Kapolei

Remember that old couch you left out for the city's bulky item pickup? Chances are it was burned along with a lot of other trash in one of three boilers at the HPower, the garbage-to-energy plant that generates 68 megawatts – enough electricity to power over 60,000 Oahu homes.
HPower can handle up to 2,900 tons of waste daily and has more than 150 employees.
On a typical day, 200 truckloads come from both city and commercial haulers. Plant operators, like the one shown above, use grapples to carry waste from the 20-foot deep storage pit to a boiler. The boiler generates steam that powers the turbine generator.
"The benefit of the HPower facility is that it takes refuse that would otherwise go to the landfill and instead turns it into fuel that generates clean, renewable energy that is sold to Hawaiian Electric through a power-purchased agreement," said Covanta business manager Barry Nakamoto. Covanta has a contract with the City & County of Honolulu to manage the plant.
"According to the EPA," Nakamoto says, "for every ton of municipal solid waste processed at an energy-from-waste facility, greenhouse gas emissions are reduced by approximately one ton. This is due to the avoidance of methane from landfills, the offset of greenhouse gases from fossil-fuel electrical production, and the recovery of metals for recycling."
Honolulu Rail Project
Ewa

Giant legs of concrete now marching across the Ewa plain will one day hold the rail transit line that's going to cost at least $5.1 billion, or substantially more, depending on whose figures you use. As of January, a little more than $1 billion had been spent.
The Oahu rail system is the state's largest construction project and could last another five years before the last station is completed near Ala Moana Center.
Spalding House
Makiki Heights

Art is either installed or taken down all year round at the Honolulu Museum of Art's three locations, but these fiberglass pieces were especially challenging because of their weight and height. They are part of an exhibit at Spalding House called "Plastic Fantastic?"
"They're complicated because they're heavy and then they have to sit in these fragile little bases," explains Marc Thomas, the museum's chief preparator. "Inside the bases they're reinforced, and also attached to the floor, so they can't tip over."
The pieces are by Yugoslavia-born artist Vasa Velizar Michich and will be on display through July 10. They are part of the museum's permanent collection, but haven't been on dislay for 30 years.
A total of 26 temporary exhibitions, including seven major shows, are scheduled this year at the three museum locations: the main museum on Beretania Street, Spalding House (the former Contemporary Art Museum) and the museum at First Hawaiian Center downtown.
Handling the millions of dollars worth of art is done by an eight-member team skilled in wrapping, packing, unpacking and handling. "We handle everything from a 3,000-pound bronze sculpture to something as light as a feather that is very delicate, and everything in-between," says Thomas, a 20-year veteran preparator.
"If I know something (difficult) is coming up, I will ponder the process for a long time. We handle all the installations and all the shipping, including building crates. We ship individual pieces on loan to other places around the world."
"We treat everything as high value. And obviously, something like the Monet, everyone knows it's high value. Part of the job is the preservation of the art works so we have to consider every aspect of what we do … (including) the climate they're moving in and out of."
University of Hawaii Cancer Center
Kakaako

Researchers at the Cancer Center have broken new ground by finding a marker for the cancer caused by asbestos exposure, mesothelioma. In a separate development, a clinical study will explore if properties of the noni fruit ease cancer symptoms.
The center, with 300 employees, is involved in about 120 national clinical trials. Federal grants from the National Cancer Institute fund many of these studies, bringing in around $4.3 million to the state annually. Center researchers have also successfully competed for about $20 million or more in National Institute of Health research grant funding annually.
However, the funding is not enough to offset costs, including about $8 million in annual mortgage payments on the building, so consultants have recommended looking for private funding or perhaps a partnership or co-ownership with local hospitals.
Cancer is the second leading cause of death in Hawaii. More than 6,000 people are diagnosed with cancer each year in Hawaii and 2,000 die from the disease.
TheBus
Middle Street Depot

At Oahu Transit Services' maintenance warehouse, aisle after aisle with shelves 20 feet tall hold parts and equipment for Honolulu's city buses.
Herb Barboza, VP for maintenance operations, says there are 12,000 different parts and a total inventory of more than 7 million pieces.
Maintenance is performed regularly on the city's 540 buses; for instance, each vehicle has its brakes inspected every two weeks either here or at the Pearl City maintenance yard. The operation employs 240 technicians and includes one shop where components are rebuilt, instead of new parts used, which has saved millions of dollars over the past five years, Barboza says. For instance, a new dual-power inverter module costs $62,000, but it can be rebuilt for $12,600.
DevLeague
Manoa Innovation Center

At the Manoa Innovation Center on Woodlawn Drive, DevLeague is training computer programmers almost around-the-clock. For $10,500, DevLeague says, groups of five to 12 students get the equivalent of a degree in computer programming in 12 weeks by studying 11 hours a day six days a week. Some sleep on cots in the training room and use the building's showers.
"Basically we train them how to build software for the web – everything you need to build a lot of the software," says co-founder Jason Sewell. Russel Cheng and Sewell launched DevLeague in 2013 and already have had nine cohorts and 62 graduates. The program also has a part-time component or a shorter, cheaper "prep" class.
Cheng and Sewell offer scholarships, aimed in particular at women and those with financial need. Sewell says the national average of female graduates at computer science programs is 14 percent; DevLeague's average is 31 percent, with some cohorts at half or more women, he says.
Sky Waikiki
Waikiki

Tourists and locals alike are drawn to Sky, an indoor and outdoor restaurant, lounge and nightclub that takes advantage of Hawaii's starry nights and glittering skyline.
It opened August 29, 2015, and now a busy Saturday night could draw as many as 600 people to the nightclub and 200 for dinner. "It's a restaurant every day of the week, from 5 to a last seating at 10 p.m., and then a nightclub on Friday and Saturday nights as well," says marketing executive Kainoa Akina, who works with both Sky and the Top of Waikiki. Sky's on the 19th floor and Top of Waikiki on the 21st of the Waikiki Business Plaza at 2270 Kalakaua Ave.
About two-thirds of the clientele are tourists and the rest local. "A lot come from 5 to 7 to have drinks after work," Akina says.
Part of the draw is the way the decor reflects Hawaii: colors on the outdoor deck mimic the ocean, coral and sunset, says Akina. In the lounge, there's more wood and deep reds that reflect the mountains and volcanoes.
Favorite nosh for visitors is the "crazy good cheeseburger," Akina says, plus the surf and turf. For kamaaina, it would be the garlic chicken sliders. The drink? "A deconstructed maitai."