LocalKineBiz: Keawe Adventures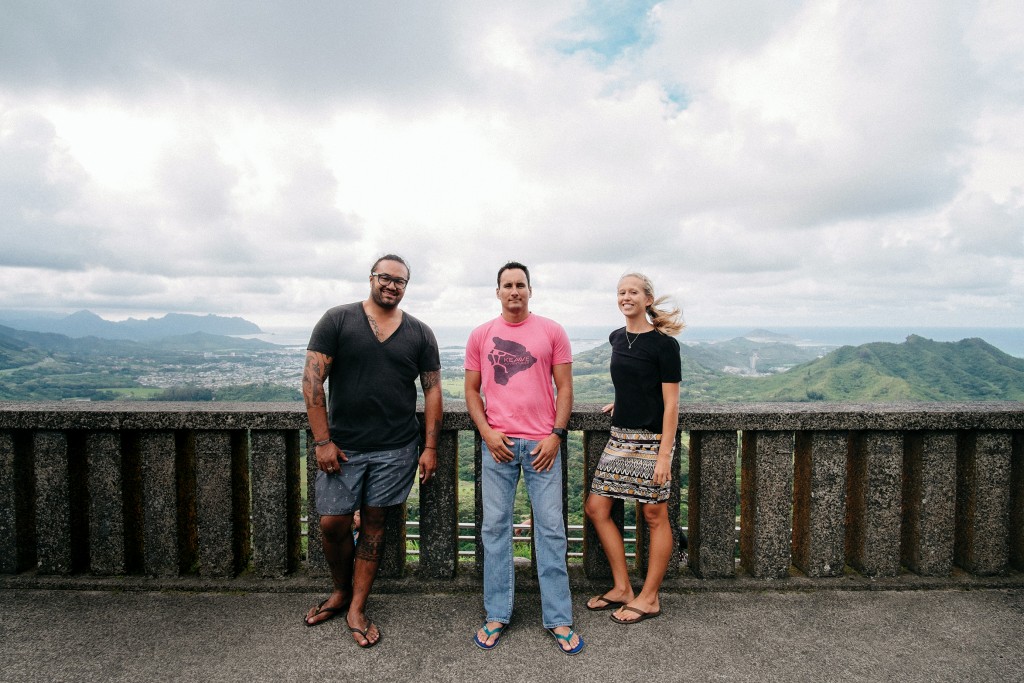 Ex-Marine captain's company, Keawe Adventures, struggled for four years until a concierge at the Halekulani gave him a chance. Now his business employs 12 people and focuses on small tours with six or seven visitors at a time.
Makani Christensen is always "up" for something.
The 35-year-old former Marine Corps captain and the owner of Keawe Adventures tour company (as well as the founder of the nonprofit Hunting, Farming and Fishing Association) wakes up at four every morning to work out at the gym, despite his physically demanding job.
"If there's a possibility that we can make a tour happen, we'll make it happen," says the always-on-the-go Makiki resident, speaking to the spontaneous nature of visitor tours.
"I love running my own business. It's challenging, fun and anything that happens to the business is your responsibility. You can't blame anyone else. That's what keeps me engaged.
"But wherever you go, you always have to remain humble. Remember where you came from. Otherwise, it'll all fall apart like a Jenga set."
The Native Hawaiian father of two young children was born in Kihei, Maui, raised in Hilo on Hawaii Island, and can trace his lineage back to the half-brother of Kamehameha the Great, Keawe, after whom Keawe Adventures is named. The Kamehameha Schools graduate studied systems engineering and oceanography at the U.S. Naval Academy, then spent five years in Afghanistan and Iraq, where he experienced live combat.
"Once one of the concierges gave me a chance there, it was like all sorts of doors opened for me and we started to get steady bookings."
When he got out of the military in 2008, Christensen cast about for what he wanted to do next. "I knew I wanted to start my own business, and that it would be outdoors. I looked around and saw that tourism's the No. 1 industry here, so, if the money's there and you can share Hawaii with visitors – and when they leave they're more educated about the people, the history, the areas, or they learn a new activity – then that would be something I could be proud of." Thus was born Keawe Adventures.
At first it was tough. Christensen pounded the pavement in Waikiki, handing out flyers about his hiking, snorkeling and spear-fishing tours. "My business plans changed 50 to 100 times. I knew we had to find our niche among the existing tours out there, so I focused on only private groups of six to seven people that could fit into a small van or truck. I stayed away from large, mass tours, and stressed personal, quality service, with professional guides."
Also a commercial fisherman at the time, Christensen "was barely surviving" with his tour business for the first four years and "was in debt constantly," using his credit card to pay expenses. But, his persistence and a lucky break at the Halekulani paid off. "Once one of the concierges gave me a chance there, it was like all sorts of doors opened for me and we started to get steady bookings."
Christensen once conducted all the tours himself in his personal truck, but now employs 12 people using seven vehicles, "and we'll probably add two more cars by the summer," he says.
Drawing partly on his personal expertise, he's expanded the types of tours offered to include not only hiking, snorkeling and spear fishing, but also fly fishing, stand-up paddleboarding, surfing, circle island, downtown and Pearl Harbor. Keawe Adventures has contacts with guides on Kauai and Maui, and Christensen himself knows the Big Island.
"I'd like to eventually open a storefront location with a bar where people can relax after the tours, and to grow to about 10 guides per island who are salary-based, along with managers, but then to never lose that personal touch with our tours."
He says Keawe Adventures has been fortunate to have had prominent clientele such as the CEO of 7-Eleven, the former CEO of BP and former Army general Barry McCaffrey.
"All these people were so cool to share their advice with me about my business, such as leadership challenges, communicating with people, and how to take an idea from the corporate world and have your staff embrace it."
Frank Hernandez, chef concierge at the Halekulani, enthuses, "We really rely on Keawe Adventures for so much with regard to tours of the island. We usually have guests who want go on their tours on a daily basis.
"In my years, I have seen tour companies come and go, but the reason Makani is successful is solely because of who he is as a person. He is a great leader and wonderful with all types of people."
Test-drive These Tours:
• Wailua River Stand-up Paddleboarding/Kayaking: Get personalized instructions on how to maneuver a standup paddleboard, canoe or kayak along Kauai's Wailua River.
• Hawaiian Spear Fishing: Learn how to handle and shoot a three-pronged spear at Oahu's Sandy Beach, Maunalua Bay or North Shore.
• North Shore Tour:
Check out the surf capital of the world, including Pipeline, Sunset Beach and Waimea Bay, explore historic Haleiwa town, and see where famous films and TV shows were shot.
Keawe Adventures
(808) 780-1253
www.keaweadventures.com