Building Bridges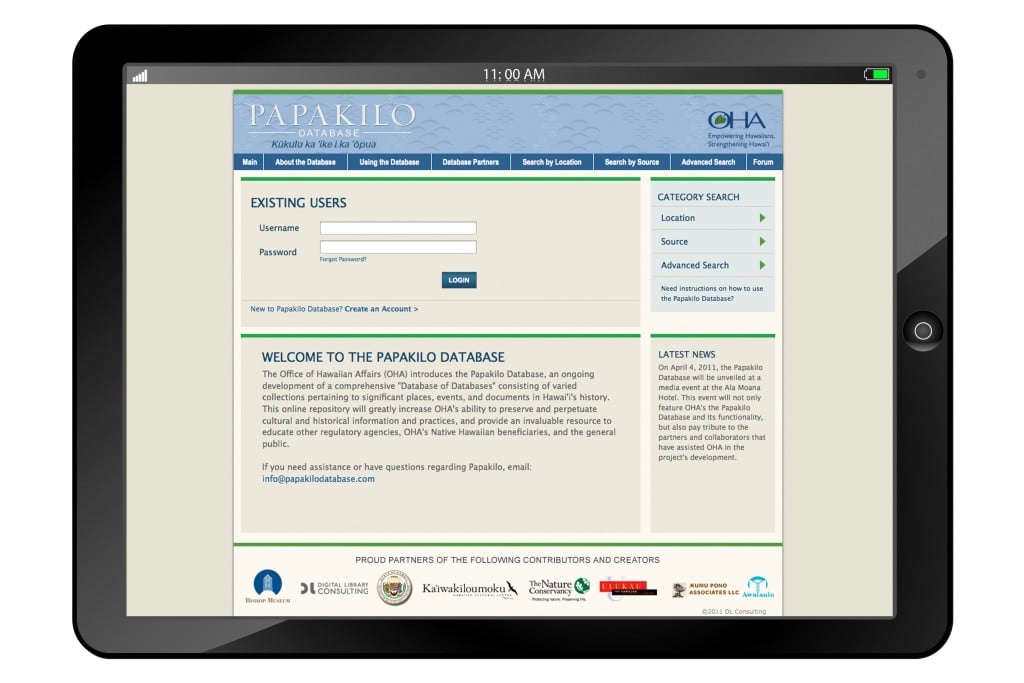 The Office of Hawaiian Affairs' Papakilo search engine and database aims to become a one-stop site for all things Hawaiian.
Though still a work in progress, Papakilo's creators consider it a "database of databases" as it offers online access to more than 500,000 records from local archives. Many documents can be downloaded and others are provided with index information that allows them to be physically located in the archives. Papakilo users can look up land records from the 19th century, trace their genealogy and references to their family name, or simply dig out an old map or a community plan for their neighborhood. People of Hawaiian ancestry are using the database to find records qualifying them for kuleana tax exemptions, Hawaiian Homelands benefits or admission to Kamehameha Schools.
One of the goals for Papakilo and its partners is to translate into English crucial land privatization documents issued after the Great Mahele of 1848. Papakilo also plans to include a click-and-translate feature for these and other Hawaiian texts, allowing users to look up the meaning of individual words.
This option might be especially valuable for those who wish to get a glimpse of daily life in 19th century Hawaii. One of Papakilo's creators, Kale Hannahs, says Hawaiian newspapers are an especially fascinating source of information because of their inclusive nature. "Newspapers were the original Facebook," he says, "as they were not written by professional staff. Instead, regular people were commenting on anything in their environment that caught their attention."
By the fall, the Papakilo team hopes to include photographs, more maps and other materials from the Bishop Museum archives and, by next spring, environmental assessments up to the 1990s. Contemporary subjects are also available, including ecological and cultural impact reports about the Honolulu rail project and developments in Kakaako.
"Through this database, we have been acknowledged as one of the leaders in preserving indigenous information," Hannahs says.
Papakilo's developers recognize it is far from complete. "We're just scratching the surface," says Kepa Maly of Kumu Pono Associates, a husband-and-wife team that helped assemble the Mahele Aina Index of post-privatization landowners. Maly, who is based on Lanai, also points out one of Papakilo's greatest advantages: Neighbor Islanders don't need to fly to Oahu just so they could visit archives. In fact, out of the more than 30,000 unique visitors to Papakilo, the top communities in terms of average duration of visit were Mountain View and Pahoa on Hawaii Island, followed by Kaunakakai on Molokai.