5 Ways Companies Support Charities
Hawaiʻi's corporate foundations bring some stability to local giving. But foundations aren't the only way for big corporations to give. And many companies supplement their cash giving with donations of time, resources and services.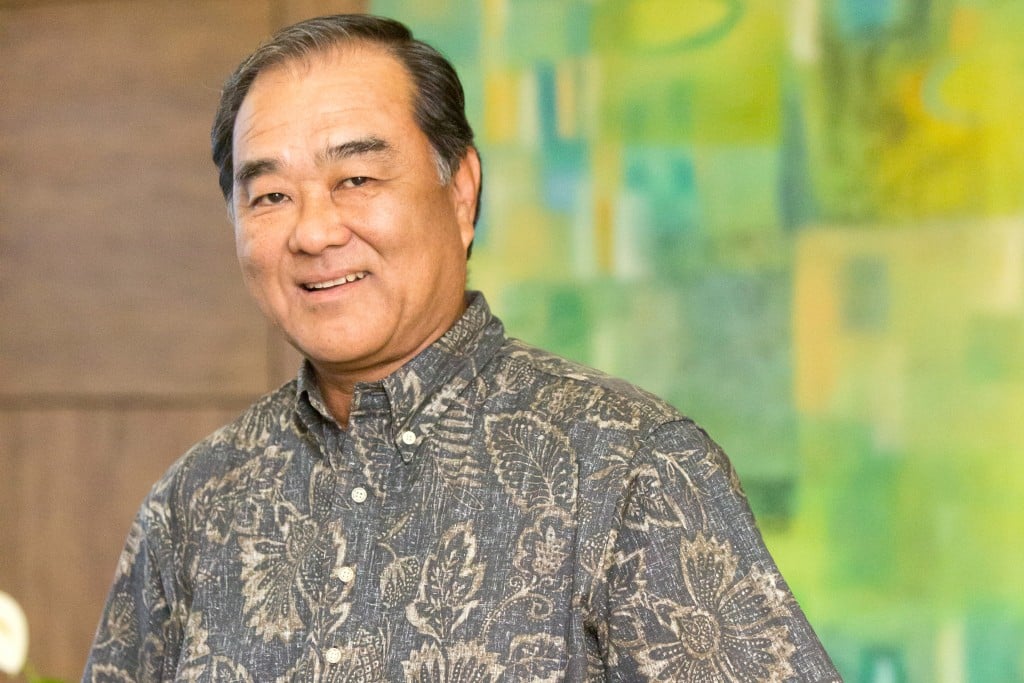 1. Foundations
Last year, hoping to improve the company's ability to make charitable donations, Central Pacific Bank formally created its own nonprofit foundation.
By establishing a 501(c)(3), CPB followed the lead of some of Hawaiʻi's largest and most charitable companies. "Every other bank in town had a foundation," says executive VP and CFO Denis Isono. In fact, seven of the state's top ten corporate donors channel much of their charitable giving through their own foundations. Many other large donors are privately owned companies closely associated with family foundations. That's because using a foundation solves many problems for charitable companies.
For CPB, the problem was consistency. "In the past, we always gave donations directly out of the bank," says Isono. That strategy of corporate giving worked well, allowing the bank to generously support community organizations for nearly 60 years. But, as CPB discovered during the Great Recession, the approach also means corporate donations are contingent on the vicissitudes of the economic cycle.
"We've learned that over the last several years," Isono says. "When the bank was in trouble, we couldn't support the community anymore. Our donations virtually went to zero. That's what gave rise to the concept of stepping into the foundation arena."
So, when the bank returned to profitability in 2011 – and was released from its consent decree by the Federal Deposit Insurance Corp. – CPB launched its foundation with a donation of $5.7 million (a total of $8 million in the 18 months since the foundation was created in May 2011), vaulting CPB to the top of Hawaii Business' first list of Hawaii's most charitable companies.
Isono is the first to acknowledge that this recognition comes with an asterisk. "Of course, we don't expect to spend all that money at once," Isono says. "The idea is to keep that as the corpus of the foundation and to spend the growth. That will allow the bank to give even when it's having a tough time. And that's not to say we won't put more money into the foundation in the future; but the whole purpose was to create an endowment so we could continue to support the community." That constancy is one of the central reasons corporations create foundations.
If you only count donations that actually went to local charities in 2011, First Hawaiian Bank is Hawaii's largest donor, edging out Hawaiian Electric Industries and Bank of Hawaii. And a big chunk of those companies' donations were through their foundations. But even First Hawaiian Bank Foundation, with a portfolio worth about $13 million, is underfunded compared to the donations it makes.
"We give away $2 million to $3 million a year," says First Hawaiian CEO Bob Harrison. "You're not earning that much on a $13 million portfolio, so we're constantly adding additional money to the foundation." It's much the same with other local foundations.
Even so, Harrison notes, Hawaii's corporate foundations bring some stability to local giving. "It means we can be consistent in our giving," he says. "We want to make sure we can support the community, even though we might have an off year." He also points out that having ready capital is critical so the community can respond to crises like the Japanese tsunami and to opportunities like the Salvation Army's Kroc Center in Kapolei, where $23 million in local funds, largely raised from foundations, were needed as a match for a $110 million grant from the estate of Joan Kroc.
2. Direct Giving
Foundations aren't the only way for big corporations to give. In fact, one of Hawaiʻi's oldest and biggest companies, Alexander & Baldwin plans to phase out its corporate foundation. Alexander & Baldwin Foundation, a longtime supporter of local charities, donated more than $1.6 million last year in addition to about $250,000 of direct giving by the company. But, after spinning off Matson Navigation in July, A&B has decided to spend down the foundation's corpus and revert to giving directly from the company through its Kokua Giving Program.
Meredith Ching, A&B's senior VP for community affairs and president of the foundation, says the change is largely because of the complexity of administering a foundation. "We have a long, sustained legacy of cash giving. It's part of our corporate culture," she says. But she explains there's no longer any advantage to using the foundation as the mechanism for that giving. That's tied to how the foundation started. The initial funds, Ching says, came from a donation of appreciated assets from the company. "Stocks, for example, that had a low basis, but had appreciated. The foundation got the benefit of that appreciation."
The foundation approach amplified the company's donation at the time, but the company no longer has those kinds of assets, so it's changing its strategy. "So now we're going to fund it out of the company's profits," Ching says. "It's a little easier administratively. But we now have the challenge of explaining it to people." On the flip side, A&B loses some of the stability that comes from having a foundation. But, as Ching points out, "There's a good story for people to learn: The ability to give is correlated to profitability."
The return to direct company giving certainly simplifies things, and not just for the company. Most foundations use grants to give. That gives them more control over how the money is spent, but it can also entail a complicated system of grant applications, reviews and ongoing reports – a process that can swamp the resources of small nonprofits. Direct giving sometimes only requires a phone call to the right person. And, on the company side, it avoids any confusion with foundation law or the IRS, which can look askance, for example, at donations by nonprofit foundations that appear to benefit the corporation. That's why companies use their own money to buy tables at fundraisers or supply uniforms to Little League teams. It's just easier.
One fascinating blend of company giving and foundation giving is the Parker Ranch Foundation Trust. The foundation was created in 1992 by Richard Smart, the last heir to the Parker family fortune, to support the Waimea community after his death. What sets this foundation apart is that it's held in trust for four designated beneficiary organizations: North Hawaii Community Hospital, Parker School Trust Corp., Hawaii Preparatory Academy and The Richard Smart Fund, which is managed by the Hawaii Community Foundation.
"The trust has two principle assets," says Dutch Kuyper, CEO of Parker Ranch Inc. "One is an investment portfolio, which is managed in a style that's typical of a university endowment or any other highly diversified foundation portfolio. The second is Parker Ranch itself and its land and ranching operations." In effect, the trustees manage the investment portfolio and the ranch to maximize long-term returns for the beneficiaries. With prudent management, the foundation can still distribute income to the beneficiaries even when the company experiences short-term losses. In 2011, for example, the beneficiaries received a total of about $2 million despite Parker Ranch losing $3 million.
3. In-Kind Donations
Many companies supplement their cash giving with donations of time, resources and services. One company that has built in-kind donations into its business model is the Hawaii Foodservice Alliance. This fast-growing food distributor supplies large retailers, such as Costco and Sam's Club, with baked goods, milk and eggs. These items are perishable, so HFA buys back about-to-expire food from customers and donates it to organizations like the Hawaii Foodbank. Sometimes, employees volunteer and deliver truckloads of food directly to homeless families on a beach. This year, HFA founder Chad Buck expects to do close to $50 million in business, so, throughout the year, the company will provide hundreds of thousands of pounds of food to Hawaii's needy families.
"It's just shy of $1 million at cost," Buck says. "But, if you had to go to a grocery store, it would be much more." Put another way, that was 2.2 percent of the company's gross revenues in 2011, making HFA, by one measure, Hawaii's most generous corporate donor. (As we've seen, Parker Ranch, which gives nearly 12 percent of its income to its beneficiaries, is a special case.)
Food is an obvious form of in-kind philanthropy – there are always hungry people in need – but there are other industries where in-kind giving makes the most sense. Last year, Kyo-ya, Waikiki's largest hotel operator, gave away more than $600,000 of free and discounted rooms and meeting space to Hawaii nonprofits. Director of planning Jason Ito points out that those in-kind donations are frequently accompanied by cash donations. "If they hold an event at one of our hotels, we're probably going to buy a table," he says. That's how it works at many hotels.
A smaller company that magnifies its charitable contributions through in-kind giving is Kahala Nui, an upscale retirement and assisted living community on Oahu. That's all the more remarkable because, as CEO Pat Duarte points out, Kahala Nui is a nonprofit. "Our mission is to serve the seniors in this community," he says. "That includes the roughly 460 seniors who are here at Kahala Nui at any one point, but we also feel that our mission is to go beyond that."
In-kind giving serves that expanded mission. For example, since the Kahala Nui kitchens are already preparing meals for residents and staff, the company simply adds an extra 50 meals a day to donate to Meals on Wheels. "We subsidize all the raw food costs," Duarte says. "We donate the labor and facilities. And on Fridays, two or three members of our management team have a delivery route; we go in teams to deliver food to a group of seniors in Upper Palolo."
Kahala Nui's mission-based approach to giving allows it to work with any nonprofit that supports seniors: Catholic Charities, Lanakila Senior Center, Project Dana. "Much of that is through our nursing staff," Duarte says. "Bringing students in and doing special training, because there's going to be a need for trained manpower in the future." The idea, he explains, is to partner with existing nonprofits, not to replicate or compete with them. It's a strategy, he says, that can work for any organization, whether for-profit or nonprofit.
Hagadone Printing's leadership has a diversified giving strategy. Much of it, as you would expect, is in-kind – donated or discounted printing services for Hawaii nonprofits. "I see the materials and labor sheets for the things we've done – posters or banners or programs – and it adds up pretty fast," says CEO Clint Schroeder. In fact, in-kind donations seem to make up the bulk of Hagadone's total donations, which, as a percentage of income, are among the highest in the state.
But the company is also a hotbed of volunteerism. Hagadone executives and employees are members of, or serve on the boards of, more than two dozen community organizations. In one extraordinary effort, the employees have adopted Puuhale Elementary School, even testifying before the Board of Education when the Kalihi school was threatened with closure.
"I think that's the way of life in Hawaii," says Schroeder. "Successful businesses are the ones that are present, the ones who are at the table when the work needs to be done."
But he also notes the difficulties inherent in trying to account for all that charity. "What's difficult for us is, gosh, how do we quantify that time. I don't consider employees' volunteer time to be in-kind giving, especially when I'm asking them to do it on their personal time. So, it's difficult to put a number on that." In the end, like so many Hawaii companies, Hagadone underestimates its overall charitable impact by quantifying only the easy part: in-kind donations.
4. Employee Volunteering
Accounting for corporate giving can be a gray area: Where do you draw the line between employee volunteering and in-kind donations? For example, the executives that run First Hawaiian Bank Foundation and Hawaiian Electric Industries Charitable Foundation are unpaid. Is the service they provide a gift in-kind or simply volunteering?
Consider "Smart Money," Bank of Hawaii's popular financial education program. "That's one of our areas of emphasis for community support," says Donna Tanoue, the bank's vice chairman and president of its foundation. "It makes sense, right? We're experts in the financial area, and we believe that's something everybody in the community can benefit from. So, we have a broad array of seminars that we provide for free. Some are done at the branches, but many of them are in the public schools, particularly Title I schools." She notes that the program also helps seniors by bringing "How to Avoid Fraud" seminars to retirement communities and senior centers.
"We're particularly proud of the fact that we've provided financial education to more than 86 different organizations," Tanoue says. On its face, "Smart Money" looks like a classic case of in-kind giving. After all, it's essentially the donation of professional services to organizations and individuals who otherwise couldn't afford them. But in 2011, "Smart Money" involved 3,109 volunteer hours by bank employees conducting 123 different seminars. So the bank just calls it volunteerism.
Any way you look at it, the ability to inspire and mobilize employees as volunteers is one of the most powerful philanthropic tools companies have. Indeed, most of the companies on our list have tabulated thousands of hours of employee volunteerism, something a quick glance at the boards of directors of Hawaii nonprofits will confirm. First Hawaiian Bank employees racked up an astonishing 36,827 volunteer hours in 2011.
According to CEO Bob Harrison, employee volunteering is more important than any other form of charitable giving the bank does. "Employees participating in their communities – and we're talking about 96 percent of the employees at the bank – that's the real story. It's time and expertise, not just money. In a sense, everything the bank does is gravy; the meat and potatoes is the employees."
5. Employee Donations
Another gray area in corporate giving is the distinction between employee volunteering and employee donations. In some cases, the two categories are virtually synonymous. At Kyo-ya, for example, employees donated nearly $177,000 last year, largely through the hotel industry's big fundraiser, Charity Walk. In that case, there would have been no donation without the volunteering.
Similarly, at Hawaiian Hotels and Resorts, which owns the Royal Lahaina Resort, the Kaanapali Ocean Inn and the Royal Kona Resort, most employees volunteer to participate in the Charity Walk. "Employees really get competitive," says company president Tom Bell. "They really want to win. Last year, Royal Lahaina was No. 3 in the county of Maui, right behind Grand Wailea and Hyatt. That shows you even a small, independent hotel company can participate at a meaningful level." It's worth noting that, last year, Maui County hotels raised over $600,000 in the walk – more than any other county – all of which goes to Maui nonprofits.
In some ways, the most popular form of corporate philanthropy is through organized employee giving programs. Traditionally, these programs have been fostered by the Aloha United Way – and, indeed many still are – but more and more companies are creating their own programs. Typically, they're run by volunteer employees, who designate qualified nonprofits, sponsor fundraising events and allocate the funds. In some cases, like Finance Factors and Architects Hawaii, employee giving exceeds the companies' cash and in-kind donations.
For the larger companies, the amounts employees donate can be huge. At Hawaiian Electric Industries, employees raised a $630,000 in 2011. First Hawaiian's Kokua Mai program raised upwards of $575,000. Bank of Hawaii's Employee Giving Campaign donated more than $520,000 to 20 local charities. Remember, most of this money comes from the rank and file.
Central Pacific Bank, though new to the foundation scene, is an old hand at employee giving. Like many other Hawaii companies, the bank sponsors its own nonprofit fundraiser, CPB Walks for You, which was attended this year by more than 80 percent of the bank's employees. The bank also continues to support AUW through its employee-giving program. In all, CPB employees donated nearly $114,000 in 2011. But it was in 2010 and 2009, before the company returned to profitability, that employee giving really mattered for the troubled bank. Then, in the dark days of TARP and spiking loan loss provisions, the employees maintained the bank's tradition of philanthropy and gave even when the bank couldn't.
In-Kind Giving: Where the Food Comes From
The Hawaii Foodbank welcomes cash donations because it can leverage that money effectively to buy food and fill in the gaps of food donations. But those purchases account for only 18 percent of the food it distributes to the needy. Most of its food comes from donations.
Big Companies' Foundations
Seven of the top 10 most charitable companies in Hawaii channel many of their donations through their own foundations. Those seven, ranked by charitable donations in 2011, are:
Central Pacific Financial Corp.*
First Hawaiian Bank
Hawaiian Electric Industries
Parker Ranch**
Alexander & Baldwin***
Bank of Hawaii
Island Insurance
*CPB is one of the 10 largest donors because of its initial funding of its new foundation.
**Parker Ranch is owned by the Parker Ranch Foundation Trust.
***Alexander & Baldwin Trust effectively ceased operation in July 2012 after Matson and A&B split into separate corporations.
Top Five Recipients
We asked each company to list the top five nonprofits or charities each donates to. Here are the responses we received.
First Hawaiian Bank
Kapiolani Health Foundation, REHAB Hospital of the Pacific Foundation, Japan-America Society of Hawaii (2011 tsunami relief), Hospice of Hilo, Easter Seals
Hawaiian Electric Industries Inc.
Aloha United Way, Enterprise Honolulu, Hawaii Island United Way, Maui United Way, Hawaii Community Foundation
Parker Ranch Foundation Trust
North Hawaii Community Hospital, Parker School Trust Corporation, Hawaii Preparatory Academy, Hawaii Community Foundation
Alexander & Baldwin Inc. (including all subsidiaries and the A&B Foundation)
Aloha United Way, Maui United Way, Kapiolani Health Foundation, Maui Memorial Medical Center Foundation, UH-Maui College
Hawaii Foodservice Alliance LLC
Hawaii Foodbank, River of Life, Hawaii Medical Service Association (HMSA), American Cancer Society, Aloha for Japan
Kyo-ya Company LLC
Aloha United Way, Hotel Industry Foundation (Charity Walk)
Kahala Nui
Senior programs at: Hawaii Meals on Wheels, Kokua Kalihi Valley,  Catholic Charities, Project Dana, Palama Settlement
Nordic PCL Construction Inc.
Aloha United Way, Hawaii Pacific University, The Queen's Health Systems, American Red Cross, Boys & Girls Club of Hawaii
Hawaii Medical Assurance Association (HMAA)
American Red Cross, American Diabetes Association, American Heart Association, Boy Scouts of America, March of Dimes
Swinerton Builders Hawaii
Great Aloha Run, Child & Family Service, Hawaii Arthritis Foundation, Hawaii Foodbank, Salvation Army
Aloha United Way
Catholic Charities, Hawaii Foodbank, Institute for Human Services, Parents and Children Together, American Red Cross
Aloha Auto Group Ltd.
Friends for Life, March of Dimes, Malie Foundation, Saint Francis School, YWCA of Oahu
Pflueger Automotive Group
Friends of Hawaii Charities, E Pule Kakou, Governor's/Mayors' Prayer Breakfast, The Navy League, Easter Seals
Hawaii Human Resources, Inc. (HiHR)
Aloha United Way, American Cancer Society, Muscular Dystrophy Association, BBB Foundation of Hawaii, Keiki O Ka Aina Family Learning Centers