5 Ways to Protect Yourself from Cyber Threats
In 2017, the state of Hawaiʻi defended itself against 45 million unique attacks to its cyber security each day, says Todd Nacapuy, the state government's chief information officer.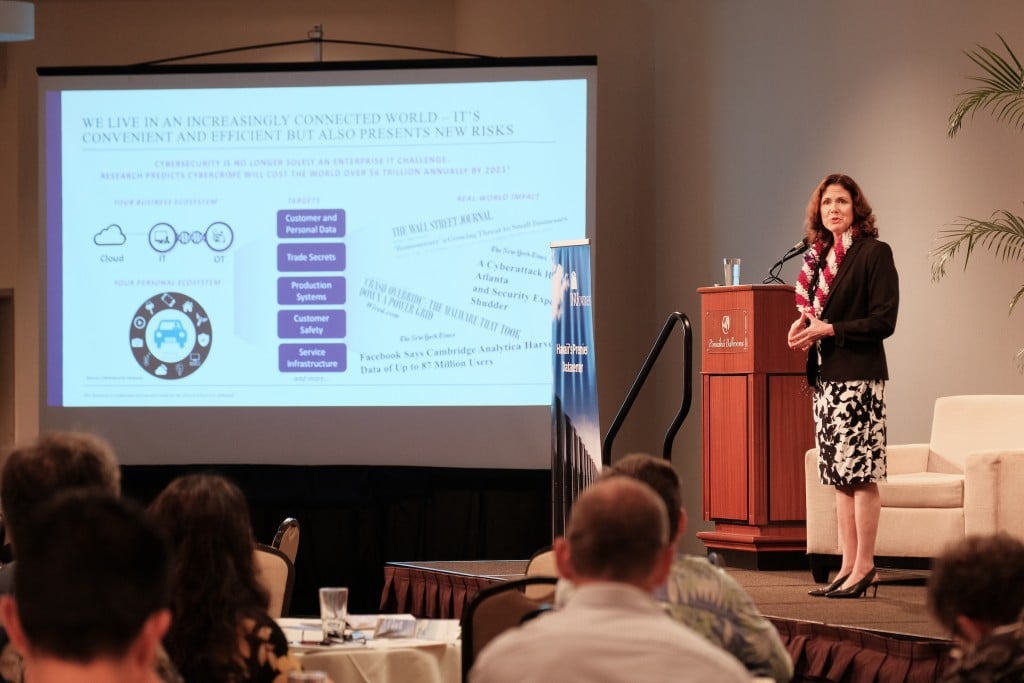 This year that number jumped to 65 million a day, which poses the question: Are you and your company "relentlessly prepared" for today's cyber realities?
"Relentlessly Prepared" was the theme of Wednesday's Hawaii Business breakfast event at the Pomaikai Ballrooms, part of the C-Suite series of events.
"There is a lot of opportunity when it comes to data, technology and being connected but with that comes threats," says keynote speaker Angie Messer, chief transformation officer of Booz Allen Hamilton. Everyday things such as public Wi-Fi or USB drives were described as potential risks to cybersecurity if necessary precautions were not taken.
Here are five cybersecurity tips offered by Messer, Nacapuy and Matt Freeman, director of Information Security at Hawaiian Telcom:
The latest in strong passwords: More important than using special characters is long passwords – at least 12-18 characters, says Nacapuy. "The easiest thing is to create a phrase. My employees like the phrase, 'The CIO is losing his hair.' "
Cyber insurance: Nacapuy also suggested that cybersecurity insurance is a wise investment because the insurance company will familiarize you with best practices and help you create a cyber incident plan in the same way you have a plan to cope with a hurricane or other disaster. Messer says it is also a good idea to use tests like controlled phishing emails, as Booz Allen Hamilton sometimes does, to help make employees more aware and vigilant about their personal"cyber hygiene."
Thumb drives: Mini-storage devices like USB drives can also be untrustworthy unless completely wiped and reformatted upon purchase. "If it was manufactured overseas in Asia there's a possibility that there was built in rootkit. This unexpected software can give someone unexpected access," says Freeman. "If it's your USB drive: flash it, clean it, reinstall it and use it. Don't share if you don't have to and don't pick things up off the ground. Anything you would tell a 5-year-old."
Wi-Fi: Free public Wi-Fi is common but new hardware allow hackers to create fake access points that anyone can connect to. This lets hackers into the systems of those who thought they were connected to something secure, to then steal or manipulate their data. All guests on the panel agreed that never connecting to public Wi-Fi is one way to keep your data safe.
Social Media: If you don't have a social media account on every popular platform including Instagram, Facebook, Twitter and Snapchat, the panel suggests you make them now – even if you don't use them. Someone could easily create an account in your name and use it to scam others by posing as you. This is one example of something bad happening you wouldn't even know about, explains Messer.
Angie Messer's PowerPoint presentation