6 Family Business Essentials
A family business is one of the oldest forms of capitalism, but that doesn't make it easy.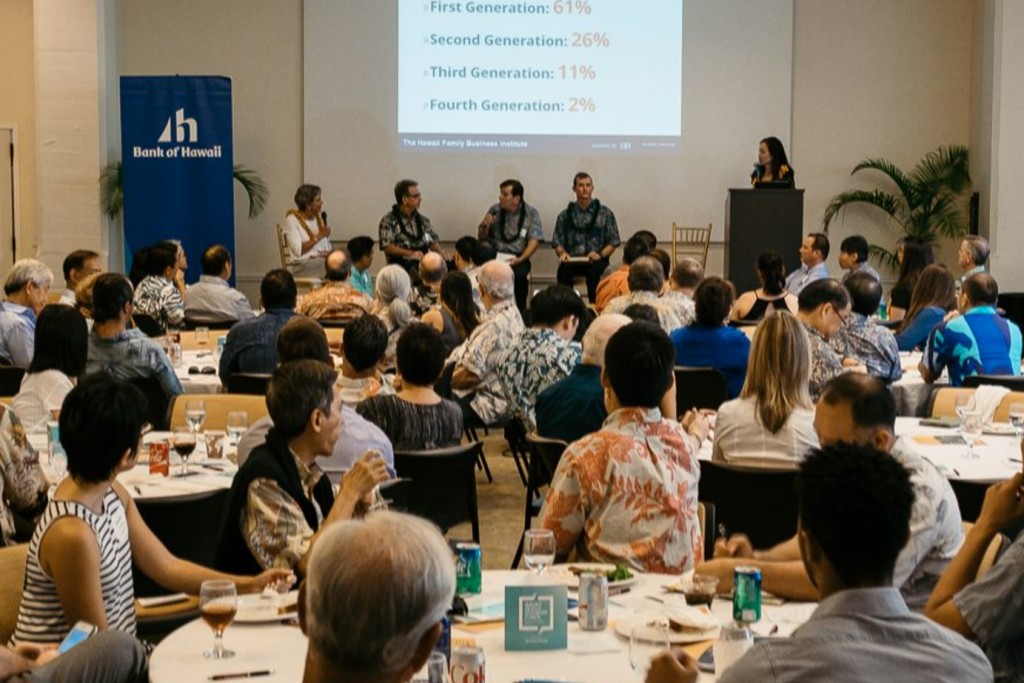 "It's hard enough running a business, but then you have all of these family things that are overlaid on top of it," said Laurie Foster, a longtime consultant to local family businesses.
Foster (above), partner at Business Consulting Resources, was one of the expert panelists at Thursday's Hawaii Family Business Forum hosted by Hawaii Business Magazine. About 150 people attended the two-hour event at the YWCA on Richards Street. The panel of four experts released the results of a statewide survey of family businesses and then offered solutions to the problems those family businesses faced.
Here are six takeaways from the event:
1. Consumers Love Family Businesses
Promoting a local family business as a local family business is a powerful marketing tool in Hawaiʻi, says Ken Gilbert, partner of Business Consulting Resources. "I would love to have Hawaiʻi be the leader where family businesses put in all of their literature, 'We are a family business,'" he said. "I just think we have an opportunity to make that statement as a state… because it's one of the most powerful models of business."
2. All Family Businesses Have Conflict
"When you look at other family businesses, you quickly find that we're all the same … we're all in the same boat," said Dr. Chuck Kelley, the former chairman of one of Hawaii's most successful family businesses, Outrigger Hotels and Resorts. The Outrigger family business was unusual in its longevity: It lasted 70 years and reached to the fifth generation before the Kelley family sold it last year. Managing conflict was essential to that success, said Chuck Kelley.
Conflict can arise out operating the business or out of family tensions. For instance, culture in Hawaiʻi emphasizes respect for elders and can lead to younger family members not speaking up when they disagree with the family patriarch or matriarch, Foster said. Simmering tensions can build up until there is explosion of emotions that cripple a family business.
Foster urged families to have tough but respectful discussions, and to be especially careful as they approach the conflict "danger zone," where tempers and emotions can flare. The survey showed that 80 percent of local family businesses have informal family discussions to deal with conflict, which is a good starting point. Foster, Kelley and Ken Gilbert, another partner at Business Consulting Resources, all agreed that a third party – such as a trusted adviser, mediator or consultant – can help keep those discussions civil and productive.
3. Governance Rules and a Constitution Help Manage Conflict

Family members who work together every day necessarily solve problems and learn to work together. Once a family business moves into its second or third generation, an increasing number of family members are no longer involved in that daily struggle.
"If you want the family to survive, to continue as a legacy family, those people need to be incorporated into the decision-making process, the struggle, and that's done through what we call family governance," Kelley said.
Governance can take many forms: boards of directors, family charters or constitutions, and employment policies govern who works in the business, who gets paid and who gets leadership roles. It takes years to create those governance policies, says Gilbert, so start early. Don't wait until the company founders are ready to retire.
4. Conflict Can Be Healthy
"All families have conflict," Kelley attested. "You don't want too little conflict because then things build up, and you don't want too much because things blow up, so there's a healthy amount of conflict." Governance rules let family businesses manage that conflict productively.
Moderator Steve Petranik, editor of Hawaii Business Magazine, suggested that "conflict" and "innovation" should be seen synonyms. "Without conflict, there is no innovation," he said. "Innovation is simply someone looking at the status quo and saying, 'That's wrong, we have to change that.' "
5. Communicate Roles, Rules and The Big Picture
A family business constitution should address issues such as compensation of family members, entering and exiting the business, and performance evaluation. A constitution acts as an enduring document that removes emotion while outlining family priorities. Starting a conversation about strategy and governance rules will increase group buy-in and help each family member to understand the larger vision of the business.
6. Lay Out a Succession Plan

Among the family businesses surveyed, 70% of respondents said they had no succession plan. All the panelists agreed that developing a succession plan early ensures business continuity and provides time to mentor family members or employees who will be assuming leadership roles.
Gilbert says some families think employees will be frightened by talk of succession planning. Actually, he says the opposite is true; the employees are more likely to be frightened because they are kept in the dark. When employees are involved in succession planning, "The reaction is very positive… The employees say, 'I'm so glad we're talking about this," Gilbert says.
The survey of 140 local family businesses was conducted earlier this year by Market Trends Pacific, a research company owned by Wanda Kakugawa. The survey highlighted family business advantages and challenges specific to Hawaiʻi.
Download the event presentation:
Hawaii Family Business Survey Findings – Final.pdf
CLICK HERE TO VIEW PHOTOS FROM THE EVENT