808 Cleanups Shares the Concept of Aloha 'Āina
Volunteers started out cleaning graffiti. Now they restore beaches, hiking trails and other natural places from mauka to makai.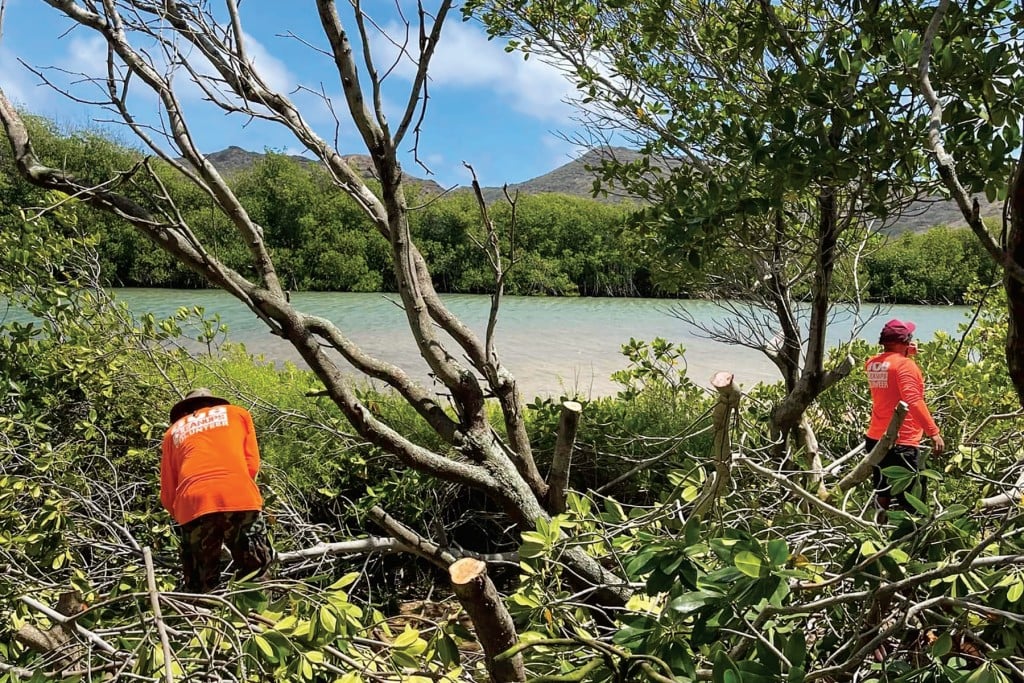 The greatest message that 808 Cleanups shares is the concept of aloha 'aina," says Kimeona Kane, director of community outreach for the nonprofit.
Michael Loftin founded 808 Cleanups with his friends in 2014, and they initially focused on restoring natural surfaces marred by graffiti. The nonprofit has since expanded to cleaning up beaches, hiking trails and other natural places from "mauka to makai."
"I met Michael and the team out of embarrassment," Kane says. "Their organization was cleaning up in my community at Waimanalo; I was so embarrassed that someone from outside our community had to come in and clean it."
Soon after first volunteering with 808 Cleanups, Kane joined the executive board. His job concentrates on integrating Hawaiian cultures and values into the nonprofit's work: honoring Native Hawaiian practices and helping preserve and restore sites that are valuable to their heritage.
The walls of the communication building in Pu'u O Kaimuki Park were covered in graffiti before artist Solomon Enos led 808 Cleanups volunteers to complete a mural representing natural and astronomical elements significant to Hawaiian culture.
The organization continues to restore the park every Friday, providing supplies that volunteers use to remove invasive species, care for native plants and organisms, and pick up litter. 808 Cleanups volunteers have collected almost 800,000 pounds of rubbish statewide, Kane says.
Those volunteers who are not of Native Hawaiian blood get the chance to learn more about Hawaiian culture, he says. "The opportunity to seek additional ways of grounding themselves, but also humbling themselves that they're guests here in Hawai'i."
"Hopefully they can explore some of the deeper things to Hawai'i that they didn't care to see prior."
Learn more or donate at 808cleanups.org