Nohea Gallery: A Lifelong Love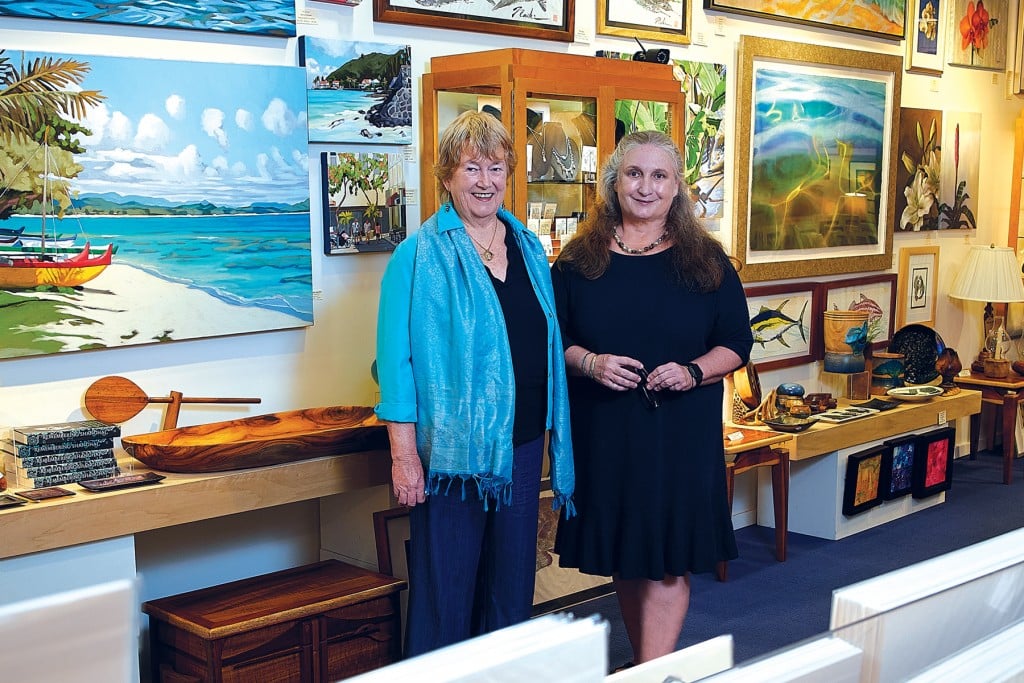 Laurie and Gail Baron's Nohea Gallery offers local art at stores in Kahala Mall and the Hyatt Regency Waikiki
Laurie Baron has loved art since childhood.
Her early years were spent in Mānoa, then her family moved to Boston when she was 9. Her mother, Gail, got her master's degree in city planning at Harvard while her father served in the Vietnam War as part of the Hawaii National Guard.
"Although I was just a kid, I took every class I could at the Cambridge Adult Education Center in printmaking, painting, metalsmithing and anything I could take after school," recalls Baron.
When she returned to Hawai'i in 1980, Laurie worked in sales at the Artists Guild in Ward Warehouse, then became the buyer and manager at Following Sea. In 1990, she and mother Gail opened Nohea Gallery in Ward Warehouse, where it stayed for 27 years. Since Ward Warehouse's closing, they have operated two stores: at Kahala Mall and the Hyatt Regency Waikiki.
"Nohea in Hawaiian refers to beauty, and 'gallery' may make people think things are unreachable, but we have original paintings and then we have prints that are only $20," she says. "Our bread and butter are items like affordable jewelry under $20 and hand-screened, locally made kitchen towels."
Almost all of the artists displayed are from Hawai'i, and the company is big on recycling. "We've never used a plastic bag in our 30 years in business," says Laurie, who also has an interest in environmental science.
"The Slow Food of Art"
In the beginning, it helped that Gail had worked for what was then the city's land utilization department and later in commercial leasing. "With Mom's understanding of transit and commercial real estate, she could deal with our leases," says Laurie. All told, the pair had 11 leases at various locations on O'ahu and Maui over the years. At Nohea's peak in the late 1990s and early 2000s, the mother-and-daughter team operated four branches at once.
"But now we want to think of ourselves as 'the slow food of art.' We work on making sure customers get quality and value. We'd rather be concentrated and in a good area."
The move from Ward Warehouse to the Hyatt and Kahala Mall was like "surviving a big transition, but we're thriving."
"At Kahala Mall, the space is larger so we can do a lot of workshops like watercoloring, glass mosaic-making, hanafuda card lessons, and we hope to have live-drawing meetings."
The customer mix there is 90% locals and 10% visitors. It's the opposite at the Hyatt:  90% visitors and 10% locals.
"When the APEC summit was held in Honolulu in 2011, Michelle Obama came to us to order gifts for all the spouses," Gail says proudly. "They were custom-made, three-dimensional sterling silver orchid pins, each placed in a lauhala box."
Laurie remembers Jean Ariyoshi, the former governor's wife, often arriving early at the store and shaking the doors to get in. Another first lady, Vicky Cayetano, and Gov. John and Lynne Waihe'e were also regular patrons.
30th Anniversary
Naoki Hayashi is a Kailua artist who has been a supplier for Nohea since the mid-'90s. "I supply them with my original gyotaku fish prints, along with some three-dimensional decorative art pieces. I also offer live demonstrations to the public to promote the gallery.
"I enjoy working with Gail and Laurie since they are very experienced in retailing art to the local market. With Nohea's reputation, it gives more credibility to artists like myself to be shown by them."
2020 marks the gallery's 30th anniversary; in that time, Nohea has shown the works of over 2,200 local artists.
"Sometimes … we don't realize how gifted the Hawai'i artists are," Laurie says.
Nohea Treasures
Koa wood urns:
"Mom and I understand what people are going through when they need an urn," says Laurie, whose father's ashes were placed in a beautiful koa urn when he died in 2001. "We offer quality koa and mango urns that ease the financial stress on local families."
Paintings and prints:
"Part of arranging any home or office is choosing art to make the space your own. We continue to focus on original art by Hawai'i's artists. In addition to the smaller prints that are ready to go, we print large giclée prints that are lightfast and don't require framing."
Ti leaf and maile wedding rings: "These rings let people carry classic wedding lei with them every day. The ti leaf and maile lei rings are made in Hawai'i by Ulana O Kukui of sterling silver and 14-karat gold."
Nohea Gallery
Kahala Mall
762-7407
Hyatt Regency Waikiki
Beach Resort
596-0074